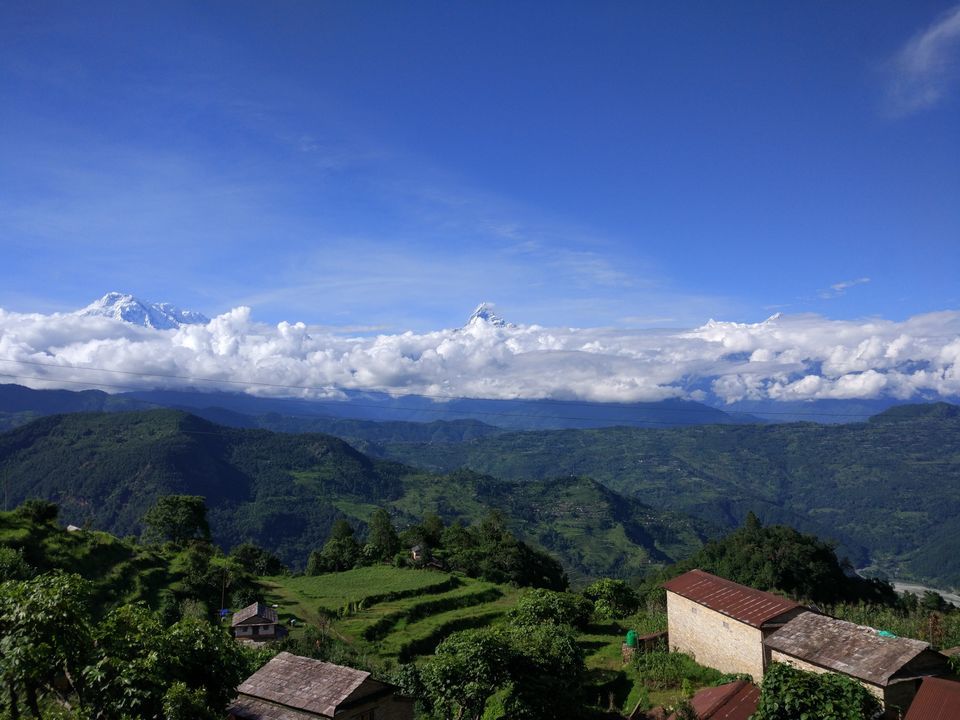 Mountains never call anyone, it's better off without us! But if you insist it has called you, respond to it fully – embrace it, feel it, cuddle it or even better: climb it.
As an introduction to trekking in the Himalayas, Panchase will always remain a milestone to me. Panchase is a short trek considering it's in the Annapurna region: requires 18hrs of trekking in 3 days. It has been super hectic, but it's completely worth 32 gruesome leech-bite that I have endured. For some of us, climbing 2,500 meters does feel more like 8,202ft tall. Though it doesn't require you to be super fit – if you live on kacchi biriyani and coke most of the year – you better take a boat ride at Phewa lake instead of this.
Panchase is atypical of other treks in the Annapurna as told by our guide Bam Bahadur Tamang (who is apparantly 40 years old, but barely looks like he reached legal drinking age). This trek included gilmse of the calm village life, hidden forests and fields, buffalos coming to haunt you from nowhere, meeting Yoga sadhu in a cave on top of the mountain etc. Leeches deserve a special mention for sucking the life out of me discretely – since it's monsoon, it's party time for leeches.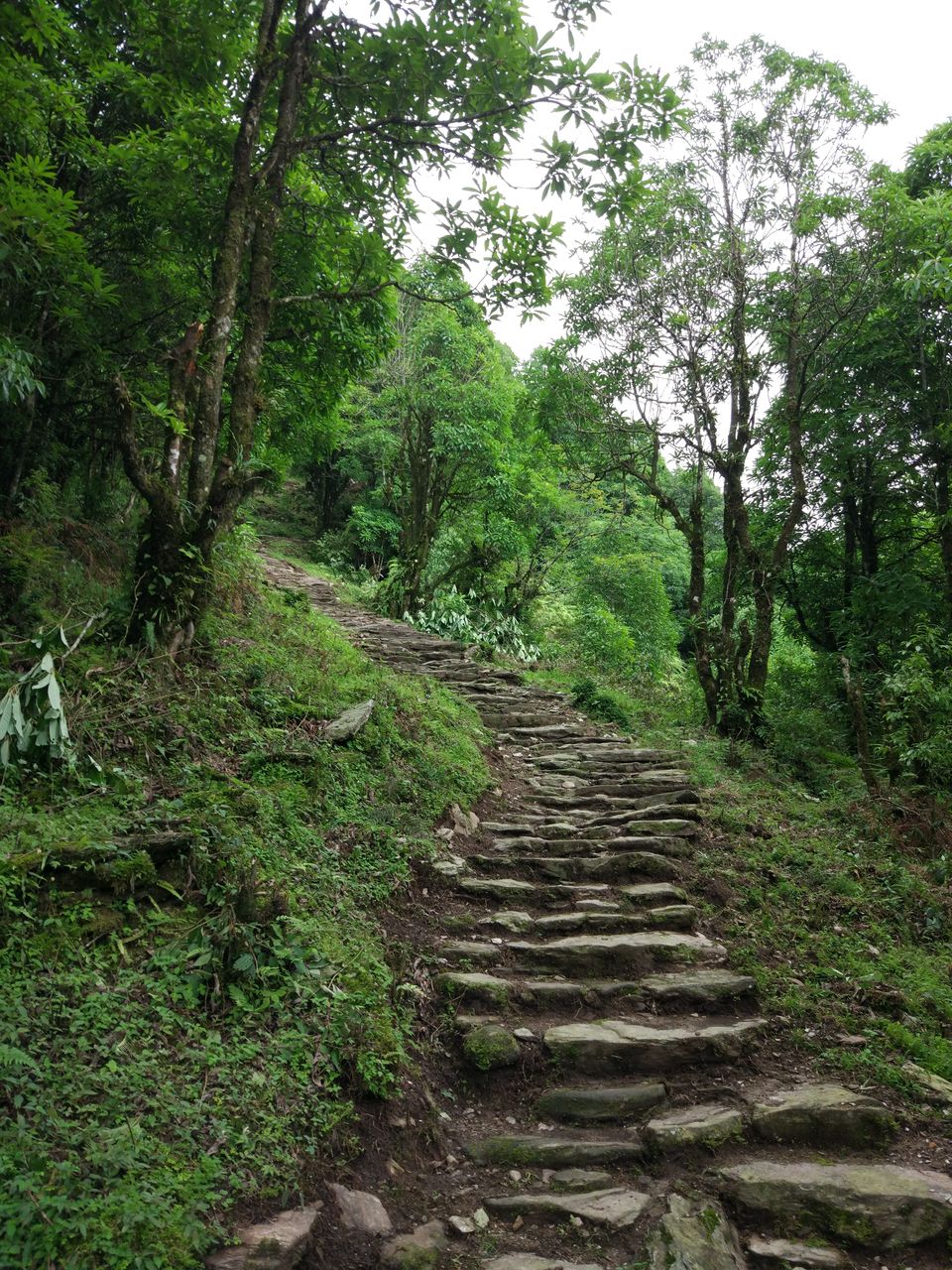 All treks in the Annapurna region are based in Pokhara, the tourist capital of Nepal; for this one we took a bus to Khare/'Australiam Camp' from where we started the trek. I feel the most difficult part of any trek is the first 20/25 mins of ascend, where you doubt your choices. Soon it starts to make sense, as the view only keeps getting more surreal and its cooler as you climb up. After climbing 900meters for about 2 hours, we halted for lunch at Bhadaure. Anyone who has been to the mountains know how warm and hospitable people in the hills are. Mathematically speaking, I feel people's level of kindness increases with altitude. When we placed our request for lunch, they started preparing it from scratch, including plucking the shaak from the field, to peeling of potatoes. So after chilling for sometime and contesting with local kids for an hour – lunch got served. There is a thing about fresh food, from the time you have it, you feel fresh. By purpose I didn't lay down to take rest at any of our food breaks – just to keep the momentum alive.
After lunch, the most beautiful walk I have taken in my life began. The sense of wonder is probably the best thing we humans are gifted with. I walked through jungles where birds were singing and fallen trees (due to storm) blocked our way, only to realize birds aren't the only animal out there. It was a raw adventure where you must get seriously get worn out and dirty, unlike amusement park adventures like buying a ticket for zipline flying or a freefall jump. Despite walking relatively fast so that we can reach before it gets dark and scary, we couldn't stop rain from falling. By the time we reached the place where we will stay the night, we were fully drenched. Rain always equalled to love for me, but today it took the greatest test of my love, causing havoc like an obsessive lover. There could be nothing worse than rain at that moment.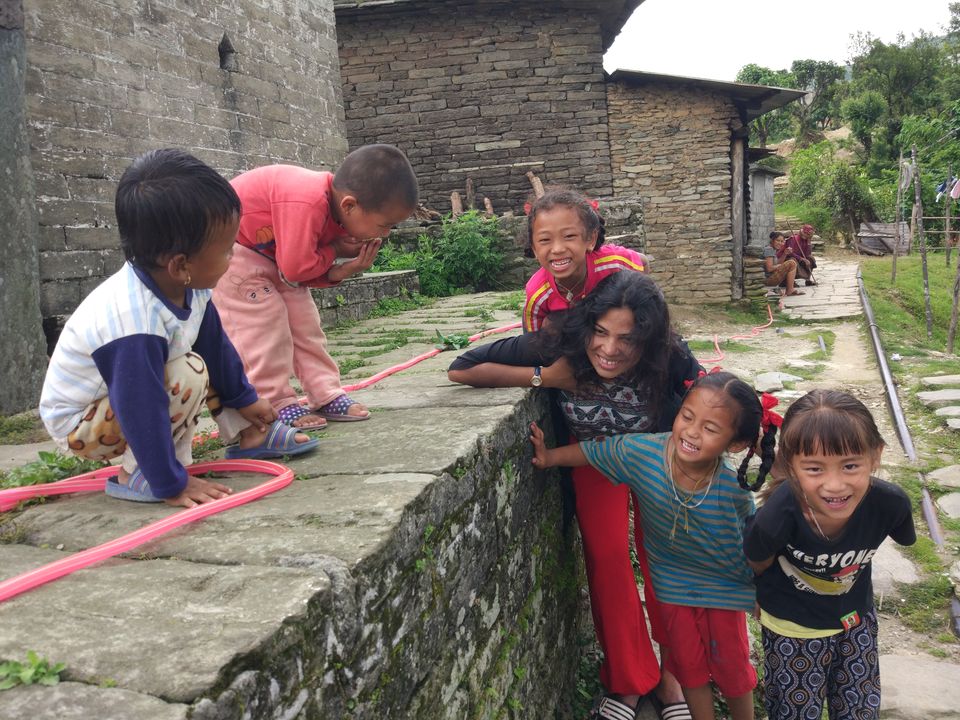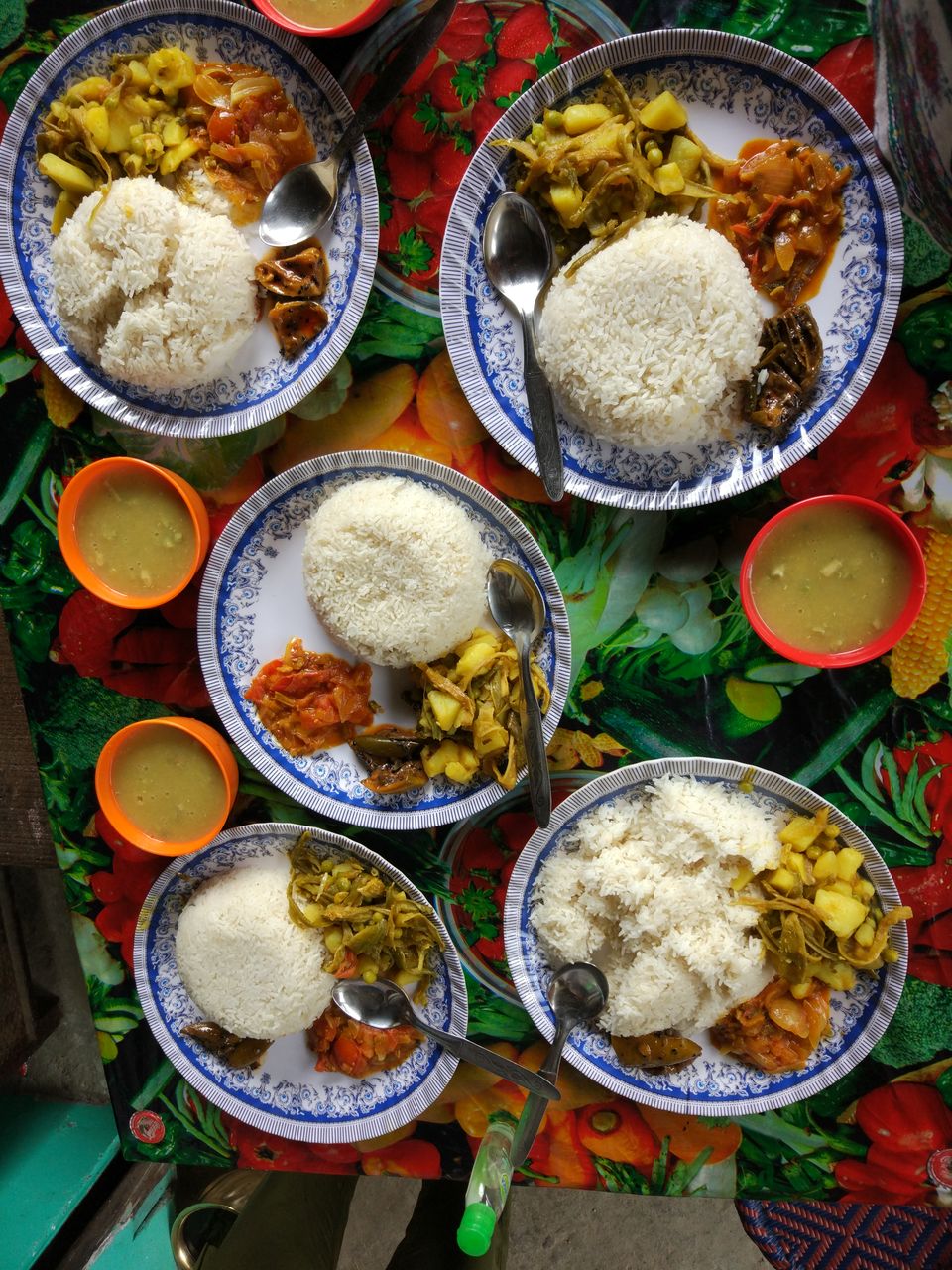 So trekking for today ends at Bhanjyang, which is 2,065 meters tall – about 80% of Panchase hill that we are committed to summit in this trek. Bhanjyang village has at most 30 human beings- with same number of buffaloes, and few cats – that's about it. The owners of the homestay are comfortable with English; however, Bangladesh is a new word for all of them. As mentioned about the positive relationship between kindness and altitude – they operate on Naugat version of kindness (latest, beta tested). Food gets expensive as you go higher, but that's not a thing to worry considering the quality and freshness. Portion is not fixed; just like home, you can take as much as you like. Price is particularly higher for packaged items, as they take the pain of transporting it to 2,065 meter. For instance, a 1 litre water bottle that's NPR25 in the plainland, is NPR100 on top. For adventure's sake, we refilled our water bottles with their supply water (coming directly from natural source) and dropped one water purifying tablet to each litre – and voila! Please include it in the list of life choices I am proud of!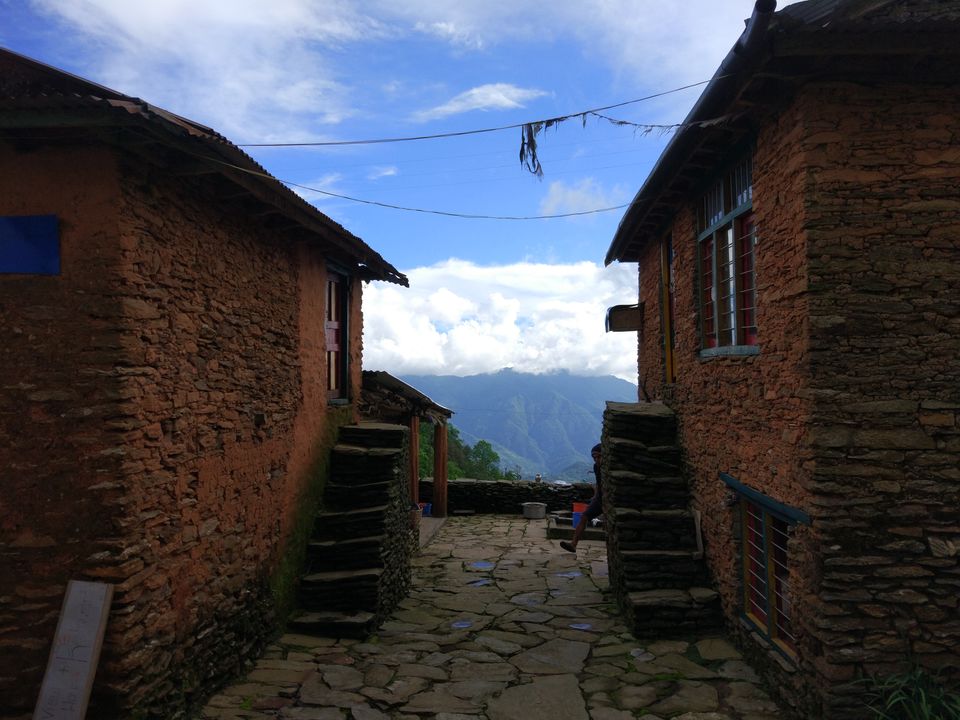 Accomodation is basic, but you'd feel grateful to God to find someplace neat and tidy out of nowhere. I think when you pass a challenging day like that, your sense of gratitude is heightened. Its really cheap as well. I woke up in the middle of the night; felt I am inside my grave. I am not sure if it was darker with eyes closed or open. It took about 10 minutes to come reality. With darkness and storm outside, even taking a loo trip required courage. Rain, the obsessive lover, won't go away and came in full force again in the middle of the night and didn't stop until ruining our plan to rise to the summit for sunrise. We started our trek for day 2 only after 11am due to rain.
Rise to the top is a steep chapter, lot of pressure on the thigh muscles. Since I made it a point to stop and smell the flowers, I was rewarded with more leech bites again. It got cooler very quickly, part of it also because it was cloudy. My mantra for the day surely was, 'Clouds, not today' – after all, we have climbed 2,500 meters for an Annapurna panaroma, right? While I was definitely bothered with heavy clouds blocking the view, one person was surely not bothered. Meet Sadhu Baba Rajendra, meditating in his cave. Reduced to bare minimum (flesh, clothes and longings in this world), he claimed to be meditating his 'secret mantra' for 2 years questing for higher purpose of his being.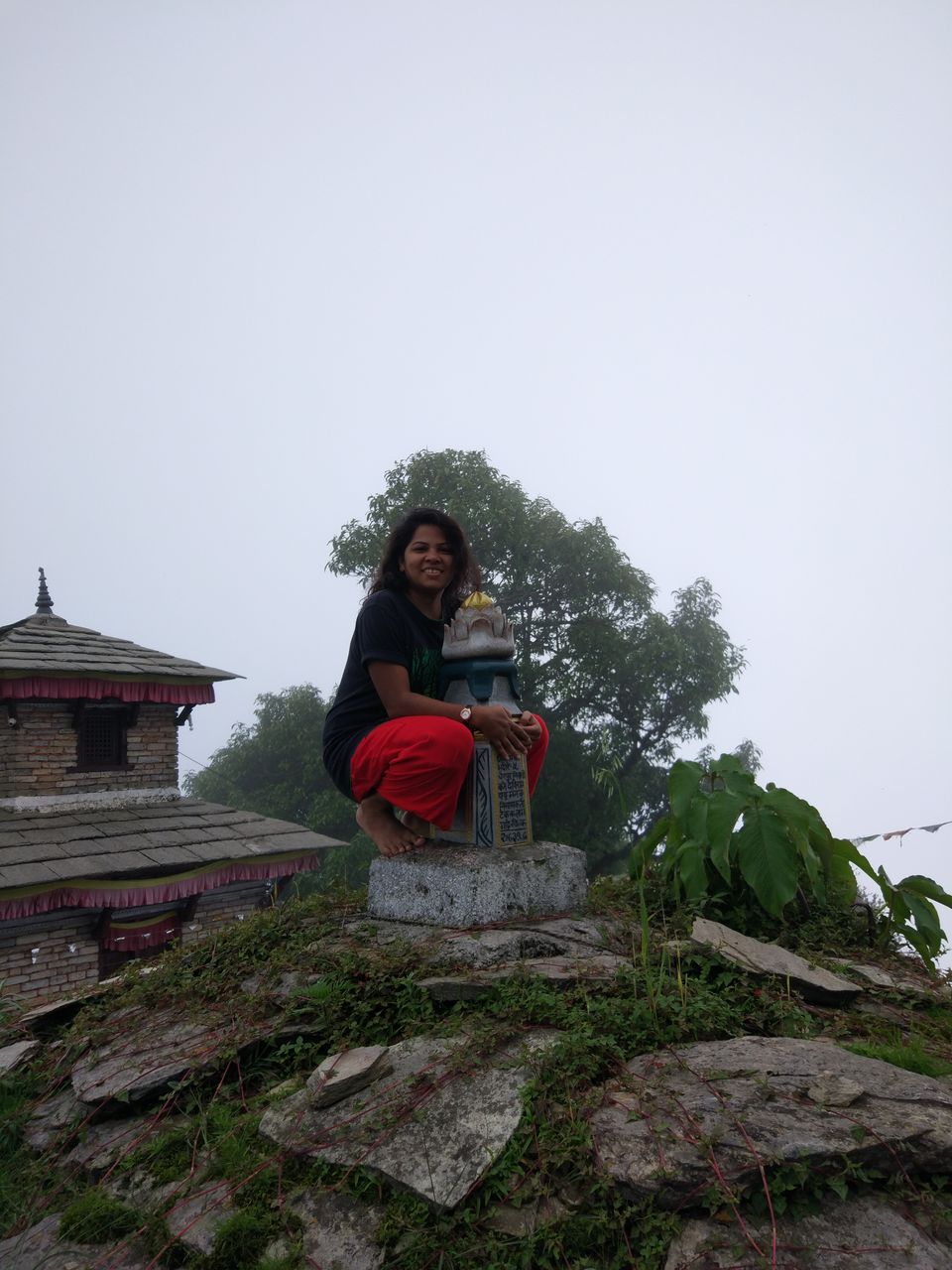 Anyway, panaromic sight or not, we have summited the mountain, hashtag victory please. Ascending a mountain isn't easy and it's surely not for everyone – and it takes you out of your comfort zone. If you wonder why your company's annual goal setting meetings usually has a mountain on its backdrop – you will get the answers. Your company wants you to bleed, push yourself above your limits and reach there. You can't stop when its hurting, its already October and you haven't reached 60% of your KPI. When you reach the top, nobody waits for you with a trophy, but the sense of achievement is incredible. A climb up lifts spirits for some, while for others it only inflates the ego. I am not a fan of putting a national flag on every little nothing done – so I trade a bit of myself at places like this one. Clouds were quiet stubborn that day. They never went away completely, but maneuvered across the sky through which we treated our eyes with the majestic Annapurna range. I don't know why the view of mighty beings like that never ceases to give you a sense of purpose. Every peak is within reach if you just keep moving.
After spending an hour at the peak we started to descend to Bhanjyang, where we were to spend another night; slightly hurt because of clouds. So problem number two when you trek during monsoon – begging for a panaromic view.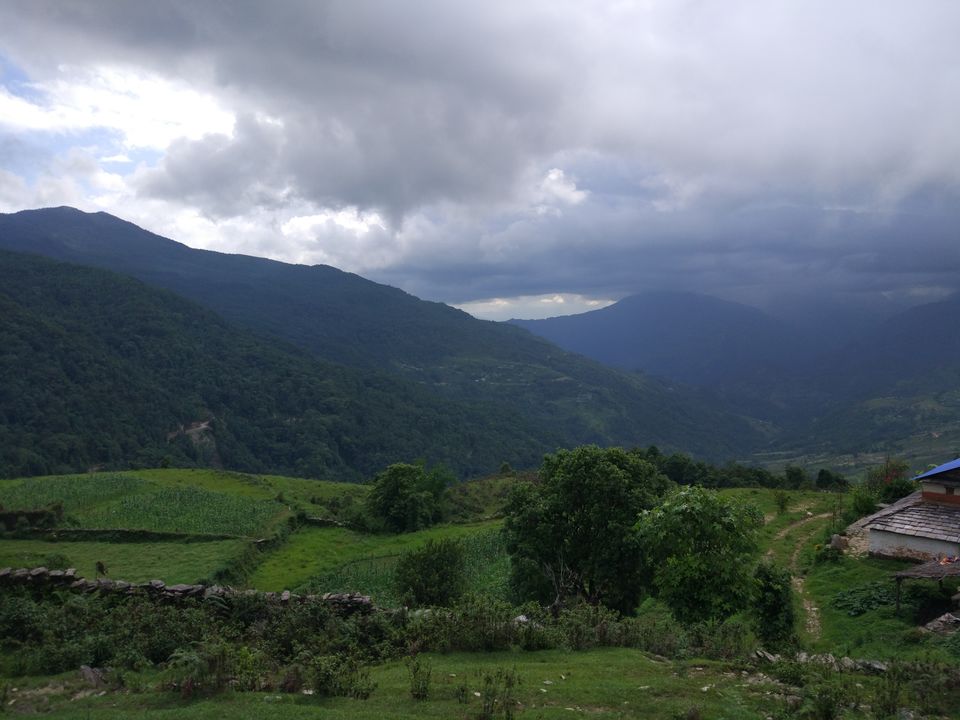 It is after we took supper in the evening we were able to get a clearer view of the Annapurna range. The air felt lighter, and sunset was picturesque. Space limitation forced us to leave DSLRs back in the plainland, so apologies for my lack of words to describe the beauty of the sunset from Bhanjyang.
Day three has a long descend ahead. We were to take different route to climb down: One, because we wanted to experience new landscapes; two, because storm in last couple of days have made the previous route dangerous. It felt smooth in the beginning, until I realized my legs are too tired from two days of continuous walk. The landscape surely was different; it started with a road under construction followed by road abandoned due to landslide, many small fountains, staired rice terraces, etc. At one point, we crossed a path guerilla military style, a rocky plateau-ish road destroyed by landslide. The Annapurna and its family members revealed itself often today – taking the game of hide and seek to a whole new level.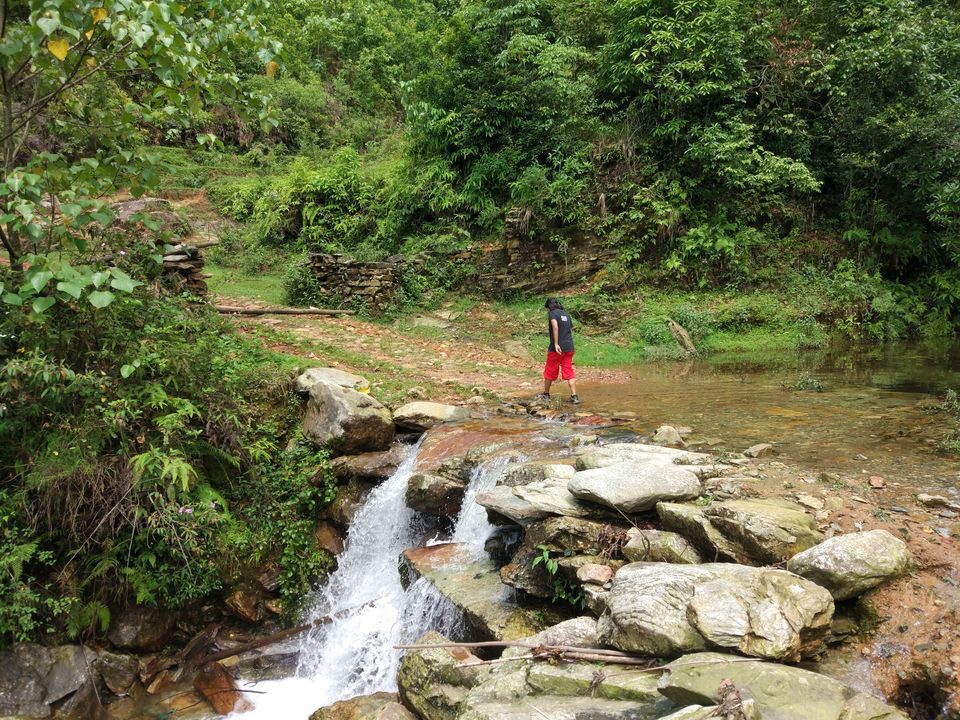 This walk isn't probably less charming than day one – but fatigue faded the charm to some extent. And as the number of leech bites multiplied it became something of huge concern. This walk is the longest time we walked in all of three days. Strange how we took less time to ascend than to descend – and how monotonous it can get after it crosses the time-limit set in your head.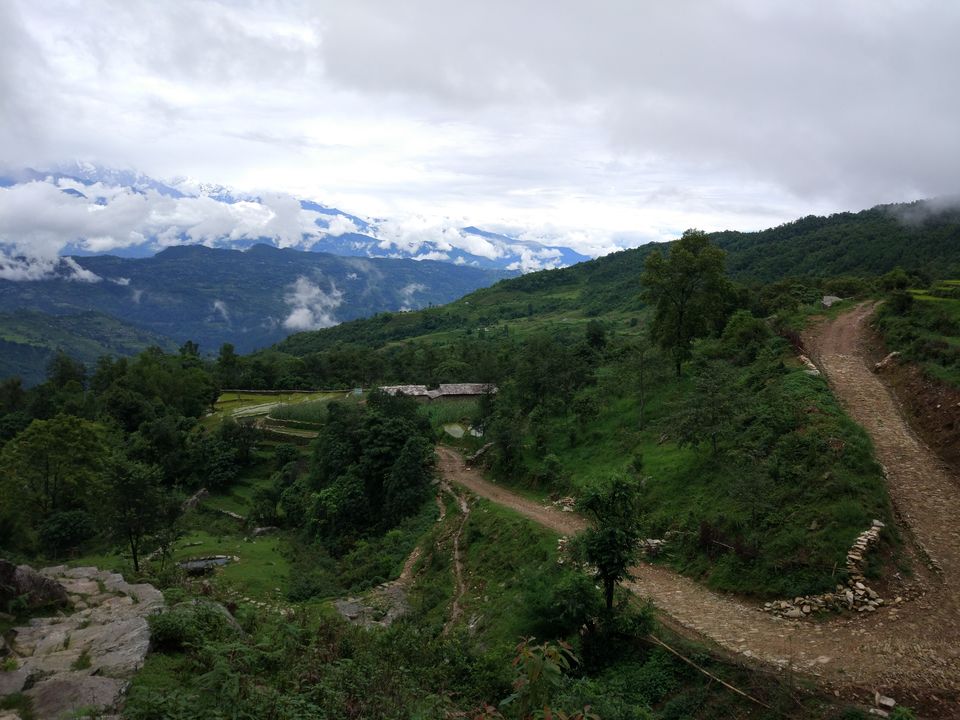 This time we halted for lunch at a typical Gurung homestay in Makkhanpur, which is 1,300 meters tall. A farming village where we had fresh Nepali daal-bhaat meal for the last time. Prices went down by NPR50 per meal due to drop in the altitude. It also appeared to be the place were some farmers come to take rest and lunch. The sight of farmers will remind you of yester years, before modern farming with tractors (only replace lungi with shorts). Though its called daal bhaat (veg), not one meal is identical wih the other and each have their own harvest so we had the opporunity to try a good variety of vegetables in 3 days.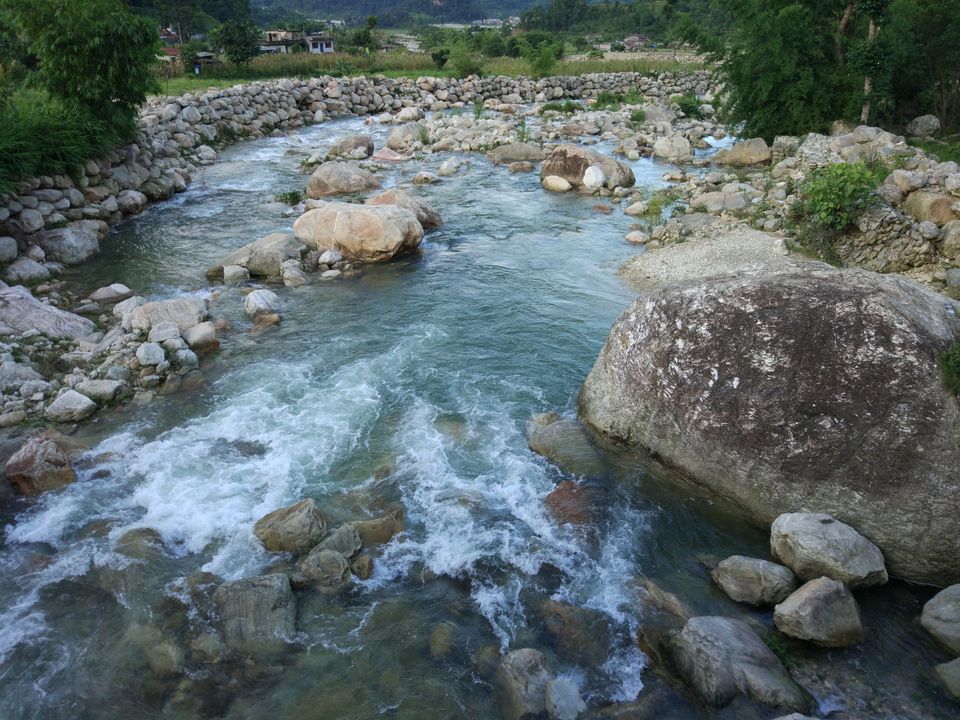 The onwards journey after lunch is extremely steep, head spinning is a possibility if you are prone. With Annapurna not in sight and legs soaring – this is the time where one wishes to give up the most. After another 3 odd hours, just before the sunset – we made it to the plains. Its not the same place from where we started the trek. From Ghachina (flatland), we had to take a jeep to return to Pokhara – one of those times when there is no room for bargaining since that's all you got (or it was made to appear). We couldn't imagine to be more tired than that), so a 1 hour jeep ride was hired at NPR2,500.
The height travelled in this trek is just below the point from where altitude sickness kicks in (3,000meters); but you could be panting for first half an hour. As you get more of fresh clean air, it only gets better. Three day is ideal, but you can go at a slower pace and do it in four days. It doesn't require Govt. permission so it's convenient too. If you are experienced, you can take the nicely illustrated map at NPR480 or can just hire a guide+porter. This is offered by all major trek agencies but if I do it again I will just call Bam. When you hire somone through trek agency, the agency usually takes a massive commission out of it and ultimately your hard-working guide earns less. Though I am a pluviophile, I'd still advice against doing this in monsoon.
The problem with mountains is, it's never enough. It asks you to reach new heights everytime (for real, not the KPI lines). Life is surely tougher as you go up; but an opportunity to breathe clean air, eat real food and meet genuine souls is simply unmissable. The more time spent away from the chaos in the plains, more the opportunity to cleanse and liberate yourself. I started this journey without much preparation to be honest – but that's the thing, you can never be fully prepared. You might think to yourself you were nonsense to try this even. But once you are back, you feel the opposite for the rest of your life. I am not saying you shouldn't know your limits, but only to grow beyond them. Once you come down, you will meet a bunch who will tell you 3 days is nothing and they have walked 18 days straight – and also people who will judge your sanity for forcing your way out of comfort zone. If you were able to elevate your spirit along with your body, you know it doesn't matter if anyone appreciates or not. We can never conquer the mountains, but we can conquer ourselves!