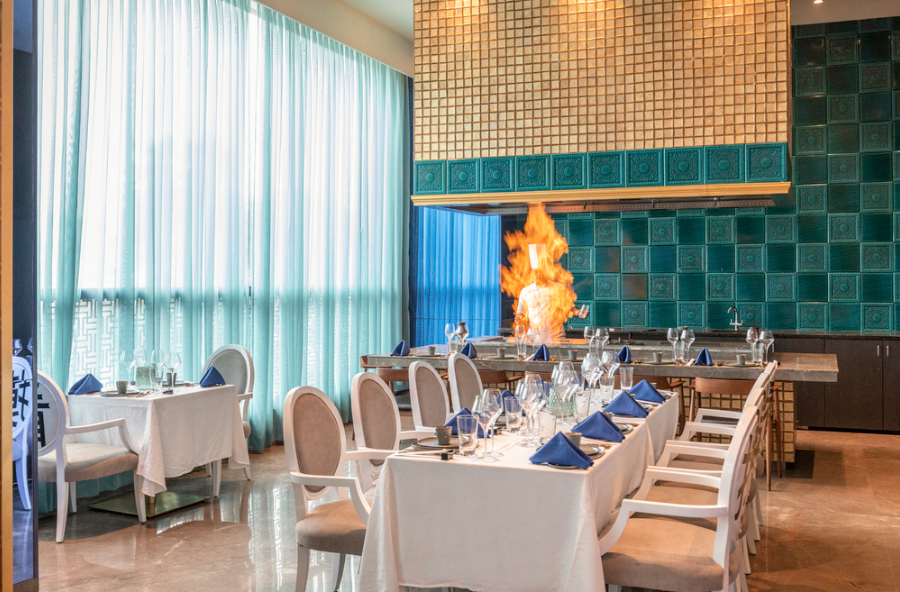 Whenever I visit a new city, one thing that I like most about the place is exploring the food that it has to offer. All cities have a variety of restaurants that must be explored by food lovers. I recently took a trip to the eastern city of Vijaywada in Andhra Pradesh and explored many restaurants in the city. Since, this was in the middle of the COVID 19 pandemic, I planned my stay at Novotel Vijaywada Varun because I trust the hotel to ensure safety and hygiene that is important for my health. The hotel has many restaurants on it's premises that have a wide variety of cuisines from across the world. I did not even have to step out of the hotel to get what I wanted, they had everything I needed to satisfy my food cravings. The ambience and food offered at each restaurant is worth exploring. A different day, a different vibe and a cuisine from a different destination somewhere across the world. Dining at Novotel Vijaywada Varun was an experience to die for!
1. Sky Deck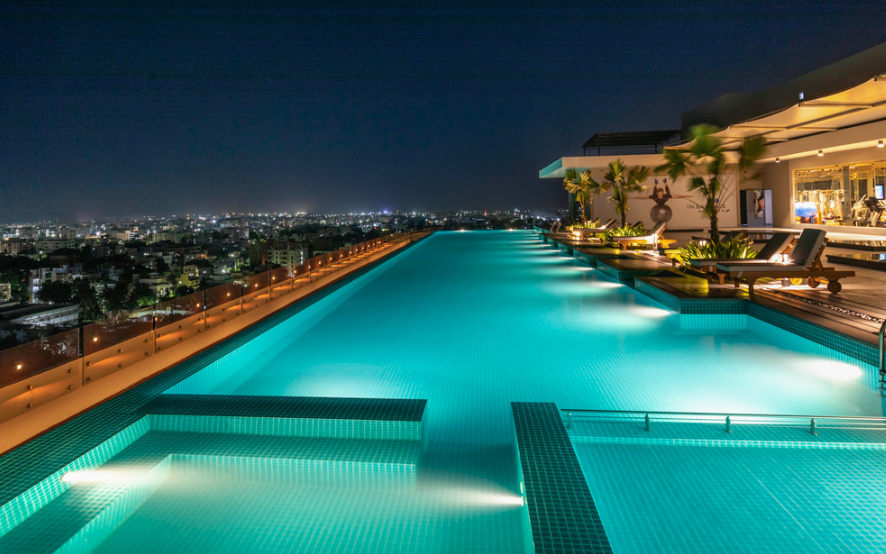 Ambience - The Sky Deck is located at the rooftop of Novotel Vijaywada Varun. It is one of the best places in town because the vibe is chill and fun. You can enjoy a grand view of the entire city from The Sky Deck because it is located at a good height. The Sky Deck is designed like a club lounge leaving ample space for people to dance and groove to music. With an in-house DJ, Sky Deck promises guests an experience of a lifetime with a night to remember forever.
Cuisine - The cuisine at Sky Deck will leave you awed. Being Indian, I have tried Indian dishes in different parts of the country but I still haven't come across a place like Sky Bar that serves such an amazing fusion of Indian and continental food. I tried some insane dishes here where I couldn't imagine what my plate was going to look like when food was served. So many vegetarian dishes had been prepared with a much needed twist. The food at Sky Deck will bring out the food lover in you since you can enjoy the best of fusion food here.
PS: Do check out the Infinity Pool by the Sky Deck to enjoy your evening even more!
2. Wugan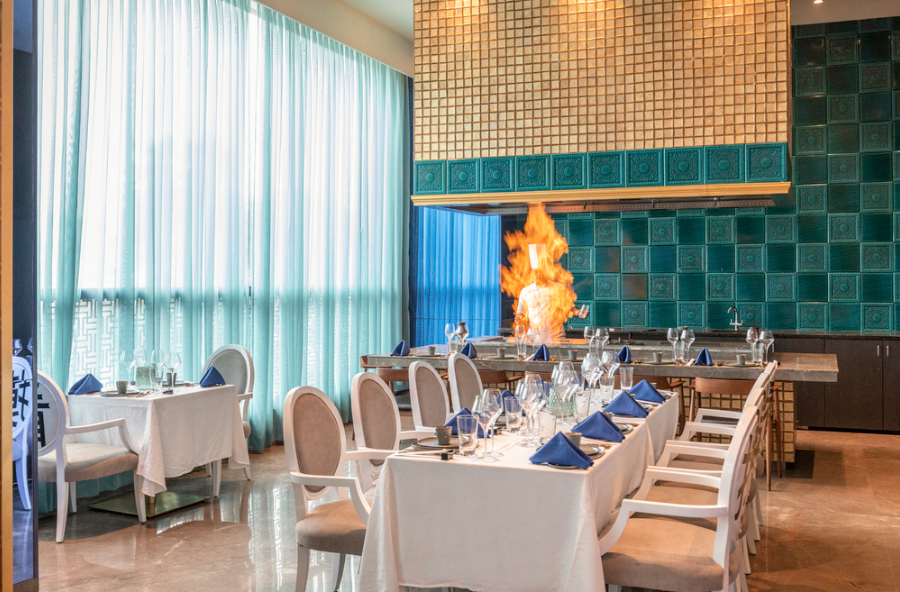 Ambience - Wugan is like a portal into Japan. The ambience is blue and white in colour and looks like an anime film. All the chairs at Wugan have some Japanese text on them that represent eating well and leading a well balanced life. If you have read the book "Ikigai", Wugan is like a doorway into that world. It also has a live Teppanyaki counter and makes the guest feel a sense of care and belonging. As soon as you enter Wugan, you feel feel like you are able to focus on the food much better and really enjoy your meal.
Cuisine - At Wugan, you can expect to eat the best pan-asian food of your life. You can try their sushis, dim sums, stir fry, jasmine rice, mushroom stir fry and dishes that can be made on the live Teppan counter. For those who don't know, Teppan is a live counter where you can really experience Asian food and feel involved in how it's made. On a Teppan counter, you sit on a table while facing the chef and the food directly. This makes you focus on yourself at the same time.
PS: I have tried the food at Pan-Asian restaurants across the world and Wugan still stood out. That makes it even more amazing.
3. Food Exchange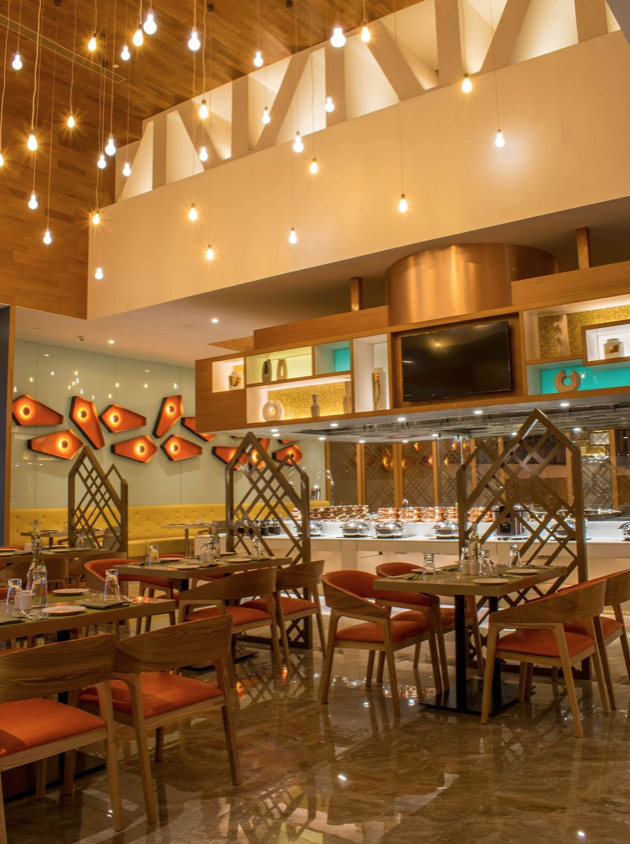 Ambience - Food Exchange is a buffet restaurant that is ideal for all meals - breakfast, lunch and dinner. The buffet here is well planned to suit all palate choices - Indian, continental, asian and even includes lesser known dishes from local Andhra Pradesh. Food Exchange is perfect for business lunches, dinners with business partners, family brunches, and even for breakfast with friends. It is a safe choice for large gatherings because it has something for everyone that you bring here with you. The lights above the dining area are beautiful - a crowd of yellow bulbs hang from the ceiling and create a modern day illusion like appeal.
Cuisine - Every cuisine that you can possibly imagine is present at Food Exchange. Their breakfast is to die for with the best Andhra style dosas and idlis. The filter coffee that I had at breakfast here made me feel more awake and prepared me for the rest of the day. It was an all in all great experience. I also tried specially made local Andhra dishes which blew my mind. They had two huge counters filled with different breakfast options. The spread was expansive with yogurt, eggs, desserts, dosa, idli, mashed potatoes, filter coffee, sandwiches, noodles and even stir fry.
PS: You can follow Novotel Vijaywada Varun's social media to keep track of their offers and events at Food Exchange. During festivals and public holidays, Food Exchange organises special themed buffets for the event. Even more reason to explore it!
4. The Gourmet Bar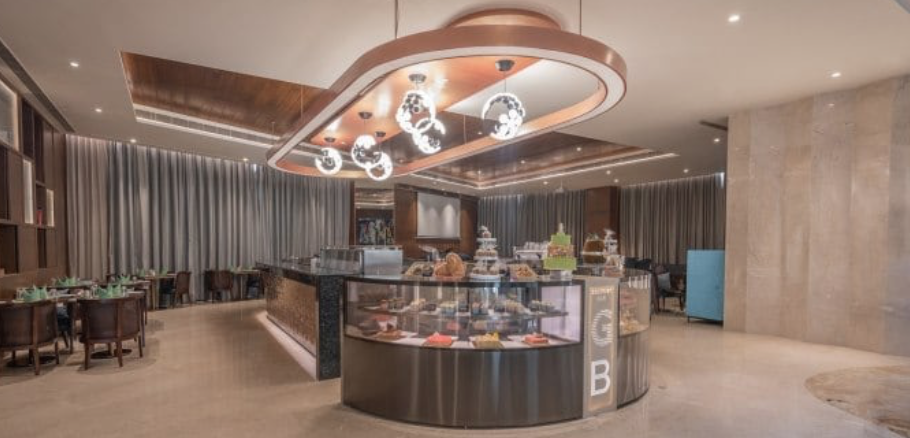 Ambience - The Gourmet Bar has a sleek modern appeal and looks like a fancy bar that you want to plan a date at sometime in the evening. With tables at the bar and a seating area around the bar, you can choose to sit at tables of different heights ideally meant for different relationship statuses. Single people or those on first dates choose to sit on the bar table where the bartender can serve them directly. People with friends and family choose to sit on lower tables away from the bar where they can bond, look at each other and talk intimately. The Gourmet Bar has many sports screenings that attract people from all over town. You really need to explore the drinks at The Gourmet Bar or you are missing out in life. With generous bartenders who care about the experience you are having, you are likely to enjoy a light evening.
Cuisine - The Gourmet Bar has great finger food like fries, pizza, sandwiches and other dishes that you normally want to eat while drinking. For people who don't enjoy drinking, you can try out their mocktails that are served in sleek looking glasses that are imported from different parts of the world from where the mocktails have originated. Being the green tea lover that I am, I ordered for a green tea at The Gourmet Bar and fell in love with how it was served.
PS: During sports events like IPL and other key sports matches, The Gourmet Bar has drinking and dining offers that make the place even more fun to be at. If you want to enjoy a sports screening, you should follow Novotel Vijaywada Varun's social media page where updates are posted about special offers. It will be worth it.
5. The Courtyard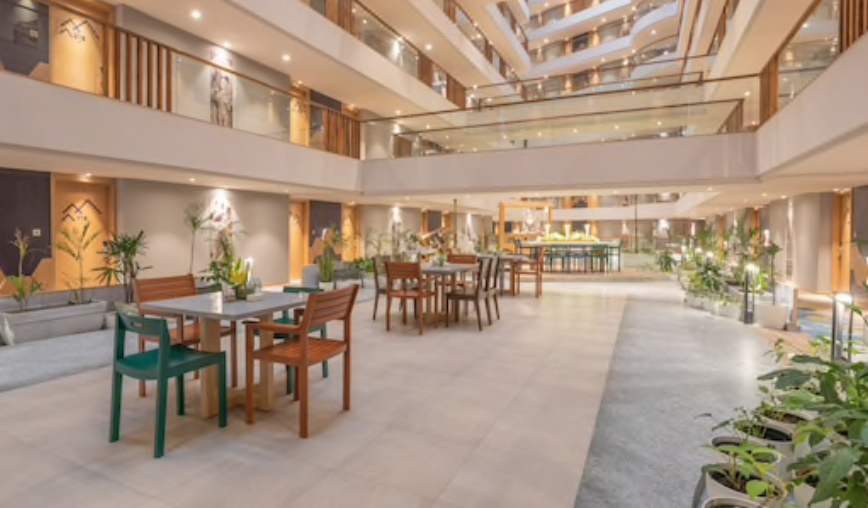 Ambience - The Courtyard is located in Novotel Vijaywada Varun and looks like an indoor courtyard with plant pots around the eating area. In hill stations, people generally eat outside in the middle of greenery and enjoy eating with friends and family. This tradition is prominently called "Kachri" in Uttarakhand and is even popular in local Andhra villages. With live counters for high tea, The Courtyard is the perfect spot where you can enjoy an afternoon with friends and family. It is a place that is designed for you to bond with people you are close to. The best part of The Courtyard at Novotel Vijaywada Varun is that it is located indoors, away from the summer heat and it still maintains an outdoor vibe.
Cuisine - High Tea is served at The Courtyard with a variety of teas, coffees and other beverages that you might fancy. Tea cakes, sandwiches, namkeens (Indian crispy snacks) and local Andhra dishes are popular during high tea at The Courtyard. You can even place and order for things that are not a part of the high tea buffet that you want to enjoy.
PS: There is a beautiful snooker table near The Courtyard. You need to check it out. It's not a table that you can play on, but it has a great story behind it and is historic in many ways. The table was auctioned and got to the hotel and has the autographs of some iconic snooker players.
Note: If you want to enjoy eating at all these places, you can definitely get a stunning room at Novotel Vijaywada Varun and plan a staycation there.