If you have the soul of an adventurer and the spirit of a foodie, here's an exciting dining experience in Thailand that you need to put on your must-do list. Sonevra Kiri, a premier resort in Koh Kood, located on an island south of Bangkok has redefined culinary experience by introducing dining in a Treepod!
What is Treepod Dining?
Treepod dining is a spectacular experience where guests are seated in a bird's nest or pod, which is then elevated up to 16ft. in the air. Once seated in these pods, you will be enveloped within the peaceful rainforest of Thailand, becoming a part of massive canopies. The entire forest where Treepod dining is located, is untouched and un-manicured so that your experience up in the trees is authentic. The Treepods accommodate up to 4 people, with all safety precautions like seat-belts in place. Imagine hanging in a nest in the middle of a lush-green forest, overlooking deep blue waters of Gulf of Thailand, with mystifying sounds of nature taking over all your senses. Sounds absolutely delightful, right? Well, the experience doesn't just end here.
It Gets More Interesting: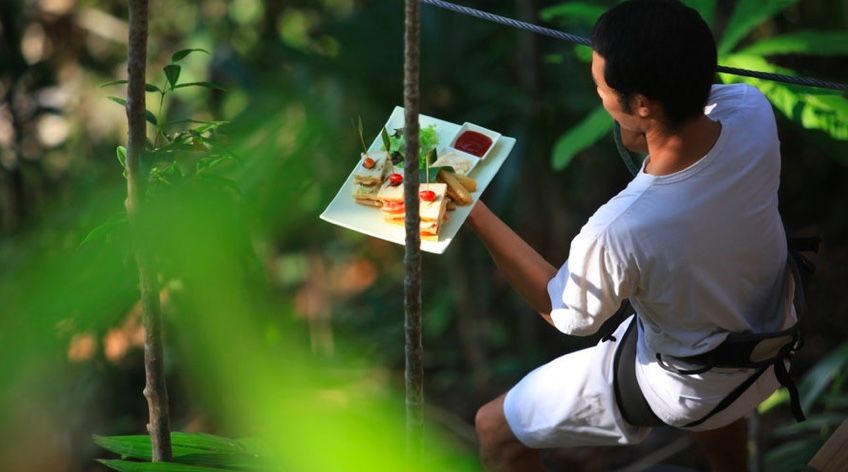 Before you get used to majestic views from the top, you will be welcomed by waiters who arrive at your pod on zipline! Yes, you read it right, the waiters at Treepod are no less than superheroes who suavely zoom onto platforms attached to your pods to serve you.
Food At Treepod:
The food at Treepod is as amazing as the setting it is served within. The menu features starters called "Canapé in the Canopy" which comprises of palate cleansers. The next course is called "Forager's Basket" which includes authentic Thai flavours, followed by "Woodland Offerings" that feature prawn, pumpkin dishes and different variants of Thai pistou. All ingredients used are homegrown and organically produced, which makes the food all the more delicious.
So on your next trip to Thailand, don't get too busy partying, visit these Treepods and have an unparalleled experience!
If you've had more such unique experiences while travelling, tell us all about your adventure by creating a blog on Tripoto.
Check out Tripoto's Youtube page for inspiring travel videos.