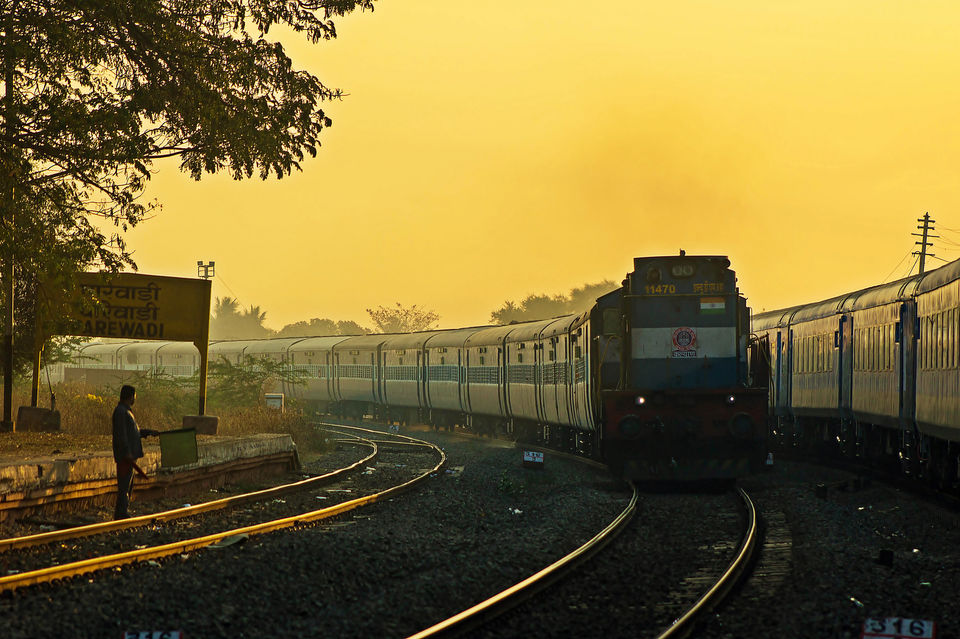 Being a Mumbaikar, the Mumbai locals have been a very important part of both my college and professional life. It's the fastest and the most cost effective way to get around my city. I think my love for train trains though, began much earlier. Long distance train travel is something I associate with holidays taken during summer and Diwali breaks when I was in school. I could swear, I wouldn't trade the joy of getting off the train every time it stopped at an unfamiliar station and taking a stroll with my dad, to see what the hawkers on the platform were selling. There was also the thrill of making it back in time, before the train set off again. It's only later when I grew up and had to start buying train tickets on my own, that I realised how difficult it was to get past the IRCTC website to book myself a train ticket. I hated it. My worst experience was trying to book a Tatkal ticket. It was nightmare-ish, to say the least. While I'm still not great at this hassle-free booking business, here are some things I learnt from my online research and repeated trial and error.
1) You need high speed internet and a fast computer
Lets start with the basics. If you are trying to book tatkal tickets or even regular tickets on the IRCTC website, you need to have a high speed internet connection. If you were to go by expert advice, it's best to avoid private providers and opt for slightly more reliable service providers such as BSNL. It's also best to close or log out of all other gadgets and apps that you use through wifi. Apps like Skype, Facebook and email accounts can reduce the internet speed. Disable all automatic download options in your computer at the time of booking. Since the speed of your computer will also matter, apart from the internet connection, it's best to restart the computer and make sure that the computer is operated only for booking purposes.
2) Temporarily Disable Anti-Virus Software
I wasn't sure of this advice when I first read it on a techie blog online. I asked a few of my friends, who I thought were more tech savvy than me, and all of them confirmed that since the antivirus software scans all incoming and outgoing traffic, it slows down the booking process. Ideally, you should temporarily disable the anti-virus until your tickets are booked.
3) Choosing the Right Browser
Apparently, the browser makes a difference too. I was told that Firefox consumes more resources and Google Chrome is a better bet as it works faster and effectively even on a system with low resources. I've always used Chrome so you'll have to try this out and see for yourself.
4) Get help from browser plug in programmes
I found this tip on a social media platform and it works. Using browser plugin programs like IRCTC Magic Autofill which automate IRCTC tatkal ticket booking can be helpful. We spend most of our time on the IRCTC website, to fill-up forms. This program helps automate each field of the tatkal ticket form such as selection of train, passenger details and payment options, so that the entire process is pretty streamlined and simple.
5) What payment option are you using?
The traffic is said to be highest when using SBI for payment. Avoiding it and trying the other listed banks might make things faster. The trick is to avoid any payment gateway options that redirect you many times and to too many pages. If you have an E wallet like a Paytm, it will save time that you'd otherwise spend entering the card details or net banking details.
6) Captcha Issues
This is the main thing I detest about booking on IRCTC. Firstly, there are just too many Captcha entries, even while you are making a regular booking. Captcha entries displayed during tatkal hours are even more difficult to execute. The number of failed logins using wrong captcha increases the difficulty of the captcha text displayed. Use the option, captcha reload and zoom the captcha before you enter, to make it clearly visible.
7) Having a back-up id might work
Sometimes logging into your IRCTC account, even if you have the correct id and password, can be a pain. If you have a backup id or a friend's id that you can use, it may help. One id sometimes responds faster than the other and it can also help when there are errors and re logging in is an issue.
8) Using the app instead of the website may work
On the web it is mandatory to give your ID while booking tatkal tickets. The app is faster and wont ask your id unless you add to master list.

9) Transferring your ticket to someone else
If you have a confirmed ticket and cannot travel, you can now transfer your reservation to another person or to a family member.
* The Chief Reservation Supervisors of important stations are authorised by the railway administration to permit the change of name of a passenger having a seat or berth reserved in his name.
*A passenger can transfer his confirmed ticket to another member of his family (father, mother, brother, sister, son, daughter, husband and wife. Not a friend). He/she just needs to make a request in writing 24 hours before the scheduled departure of the train.
* For government employees, proceeding on duty, an appropriate authority has to make a request in writing 24 hours before the scheduled departure of the train. If the change is for passengers who are students of a recognised educational institute, then the head of the institution can make the written request 48 hours before the scheduled departure and the reservation made in the name of any student can be transferred to any other student from the same institute. In the case of passengers who are members of a marriage party, any person deemed to be head of the group can make a written request while if it is a group of cadets of the National Cadet Corps any officer, who is the head of the group, can make the written request 24 hours before the train's departure.
However, in case of students, marriage party and NCC cadets, such request for change in excess of 10 per cent of the total strength of group shall not be granted.
If you know of any hacks that can help make the booking process on IRCTC better, or if you've tried any of the ones we've mentioned above, write to us and share your experience with fellow travellers. To watch exciting travel videos, check out our YouTube channel. If you enjoy what you see, hit like and subscribe.