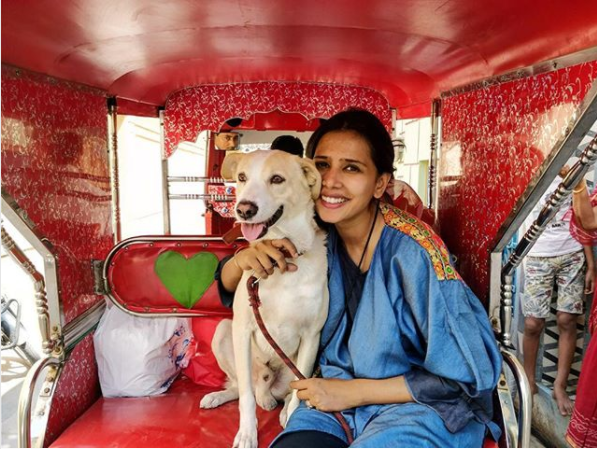 Dogs make the best life companions they say but who would have thought they could be amazing travel buddies as well. Delhi based freelance journalist and ardent traveller Divya Dugar has come up with a unique travel idea. She is travelling across India with her two dogs who seem to be enjoying the journey as much as she does.
Divya's Instagram feed depicts many wonderful stories of exploring the country. Speaking about her unique trip, Divya says that travelling with her dogs has completely changed her perspective on travelling and helped her rediscover India.
"I had three dogs, and now two. I rescued them all when I was living in Nizamuddin West. Tigress and Pondi were my office dogs. When the office closed, they were back on the road and just kept waiting for the door to open. They were young pups back then of eight and four months. I couldn't see that, so I decided to take them in and make them my family," she says. "Marcopolo was the last entry, he is Pondi's pup and the most spoiled of the lot."
When her dog Pondi passed away last year, Divya and her husband, decided to travel with their two dogs to spend more time with them and to make beautiful memories. They set off on their journey with the aim to create awareness about rescuing and adopting dogs.
Divya tells that India is not the most pet-friendly country in the world and at times it becomes really difficult to travel with her two furry friends. That, however, doesn't mean that she never had any positive experiences during her journey.
"Yes, there are a lot of people who mock us or laugh at us. It is hard sometimes to hire a car or rent a car, as people do not want dog hair on their car seat, but mostly I have to say, lot of people went out of their way to help us and make friends with us."
Divya further shares her first experience of travelling in train with the two dogs. She admits being hesitant and apprehensive but appreciates Indian railway for their cooperation.
"Indian railways came to our rescue," she says. "We were a bit hesitant and worried in the beginning about travelling on train, but our first journey from Delhi to Madgaon of 32 hours changed our perspective."
"Marcopolo and Tigress loved travelling on the train. They can watch the world go by the window and enjoy their treats," she adds.
When asked about the kind of preparation it takes to manage the journey with two dogs, she tells that they have to keep with them meals and medicines.
"We prepare well, with all the necessary meals, medicines and also making a list of stops for toilet breaks."
Divya is also very appreciative of Goa and she calls it the most pet-friendly state in India. Availability of many different accommodation options in different budgets is one reason for her claim.
Further talking about the experience of travelling with dogs, Divya says it has changed her perspective of moving around. Ever small part of their journey from trains, sunsets to beaches and roadside stalls are now a fresh experience.
"Traveling with our pets is a completely new take on how we move around, our perspective has completely changed, it is no more about following guide book or top recommendations but it is charting our own way through the country," says Divya. "It is like having fresh eyes to see the world all over again from rediscovering our love for train travel, going to the beach for the first time, finding road side stalls for date nights and watching sunsets all huddled together."
Divya's journey is indeed an inspiration for all the pet owners who had been cancelling their long travel plans. Her pictures and experiences are enough to prove that dogs can be the best companions at home and on roads.
Divya and her husband are now working on a guide of best hotels and experiences for pet parents.
Quotes sourced from Divya Dugar's interview at NDTV.