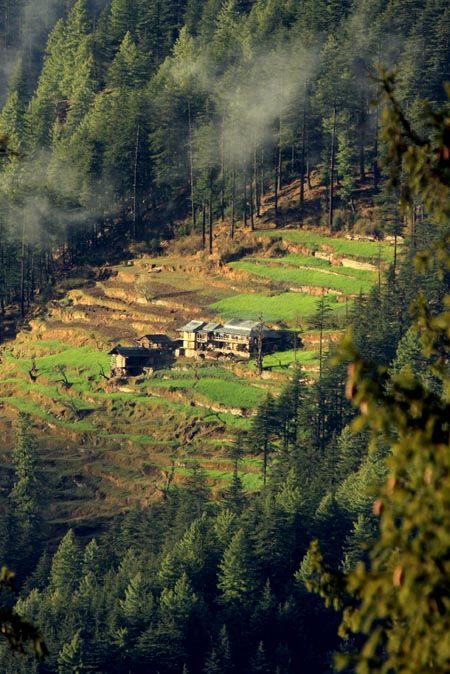 Few places would lay out the red carpet as Shoja would, as you drive on a 38 kilometer long path lined with apple orchards from Aut to your destination. What awaits is a place that can certainly be regarded as one of those tucked away wonders travellers may miss out on till someone tells them about it.
Off the highway leading to Kullu in Himachal Pradesh, Shoja can be as quiet and picturesque as a writer or artist may wish for, or as adventure filled as any adrenalin overdosed visitor may want it to be. A part of the Great Himalayan National Park, it is just the setting to take walks in the woods and be very close to all the diversity nature has to offer.
If the drive from Aut sets a buoyant mood for your holiday, your hosts at Banjara Retreats provide the cherry, or apple, on the top. Unless you are fine with roughing it out in Government rest houses, Banjara is your only option to stay at Shoja. A mid-budget property, the retreat deserves full credit for the setting they provide. Designed to be in sync with its natural surroundings, with its wooden structure and eco-friendliness, it offers the perfect views of the valleys and peaks around. With its own sunflower bed – the flowers being of a size and colour you only see in pictures – and apple trees, it will take a lot of tugging to get you to move away from here once you are all settled in. The management spoils you even further with very comfortable accommodation and sumptuous meals.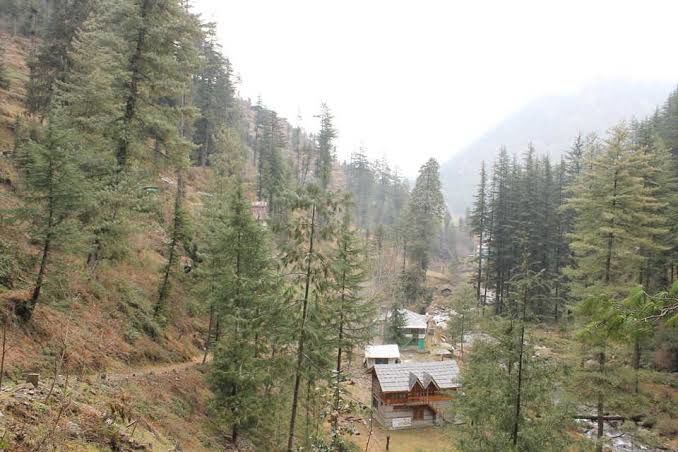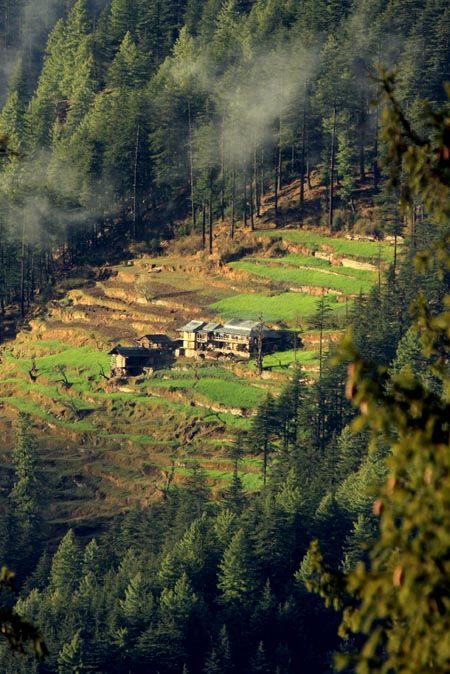 But once you do decide to explore what lies beyond this property, the best way to warm up may be by taking an hour's hike to a nearby waterfall, again hidden away unless someone guides you to it. The trail branches out from the road leading to Jalori pass – it is an easy walk, although you still need to watch your footing and some steep edges. Do mind the palm sized mushrooms growing in the middle of the path – if you have a good macro lens, they make for lovely pictures. Once at the waterfall, you can get yourself wet if the chilly water is your idea of fun, and lay out a picnic followed by a siesta.
If you are keen on a road hike, take the five kilometer uphill one from the retreat to Jalori Pass, enjoy a few cups of tea with Glucose biscuits or even a light meal at the dhabas there and head back on foot or in a passing bus. You can also drive up to this pass, park your car and hike to Raghupur Fort. A flat trail, with some steep stretches, through forests of oaks an rhododendrons takes you to a high point on the way offering an almost 360 degree view of the Himalayas, Dhauladhar and Kinnaur ranges.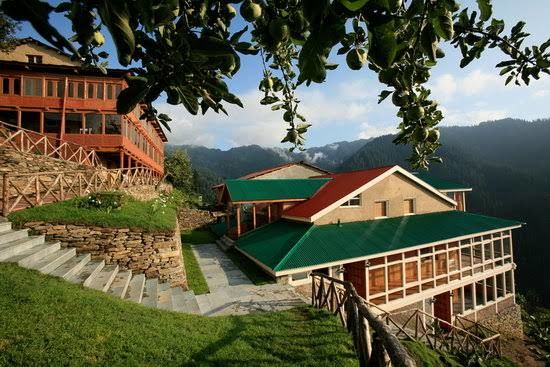 Getting There
Shoja is a 522 km, 10-12 hour drive from Delhi. After Ambala, take the NH22 to Zirakpur, and then the NH21 to Aut via Chandigarh, Kurali, Roopnagar, Kiratpur, Swarghat and Mandi. At Aut, 29 kms short of Kullu, turn right. After crossing the Beas, drive through Larji and Banjar to reach Shoja. Aut-Sojha is 38 kms.
You can also go via Simla crossing Narkanda, Kingal and Jalori Pass but this may take longer.