Many a times my friends used to ask me what do you like the most, mountains or beaches and I never use to have a definite answer for this question as I'd never been to a beach yet. Like other teenagers from my college days I use to plan my trip to Goa. Goa would have been my first choice whenever my friend's thought of a trip but nobody uses to count my point. It took me 8 years to make my dream come true (long wait I know).
I and my friend Charu (college friend) promised each other that if ever in life we went to goa it would be together but without boys. After a long 8 years of struggle we finally made it on my birthday. Yes, it's a girl trip and who else I, Charu and Kajal (Kamini if I say according to her passport). Everything got booked in a rush, just two weeks ahead of my birthday. Flight, hotel all set. We went for 3 day 4 nights as due to our busy schedule and jobs (source from which we could even think of trips) came into our way.
There was no such itinerary made by us. We trusted our own Google baba and common friends who have lived there dream before us. So we were bit clear in our mind (rest Kajal made a list each morning, which we like never followed literally….lol).
Goa is a party that never ends. With its beautiful beaches, blue water mixes up with different shades of sky and palm trees telling me that you are in Goa dear. Goa has everything for everyone just the stories are different. It's a place open for 24*7 and 365 days (so if someone tells you it's not the season to visit Goa, well they deserve an ignorant smile).
In my visit we went to Vagator, Anjuna, Calangute, Candolim and Baga . All the beaches were awesome and different from each other. If you ask my favourite one, it would be Anjuna and Baga. But that depends on person to person I was looking to relax by the sea side which I found in these both beaches. Do visit Curlies at Anjuna. It's a shack. They serve an amazing food, If you love non-veg do try their sea food. Spent a quality evening sitting there, enjoying the sunset and waves.
Transportation is cheap and fun in goa, as you can hire a bike or jeep and explore goa according to your will. I love driving and goa roads are best for it.
North goa is more for party life and south is a bit relaxing one. Being my first visit to goa I preferred exploring North Goa. You can find all types of hotels depending upon your pocket. We went for Zense resort at Candolim. I had a great stay there. Staff was helpful, rooms were clean and same as shown online.
Apart from Beaches you can also explore Chapora fort. Reaching there, my first thought, are we here for trek or what. It's a 100 m high walk. It got famous because of ''Dil Chahta Hai'' movie (need not to explain everyone knows about it). We Indian's are mad about Bollywood movies and can easily relate to our lives, if it doesn't make sense also. So once you are done with the trek you enter the fort, rickety walls but that doesn't attract you. I guess the surrounding and the view from the fort makes all your worries melt away. Sound of water and breeze makes you dance on their beats. Telling you that everything around you plays and important role in make your life special, so be RAW. Fell in love and cherish what you have.
P.S. Don't forget to click Dil Chahta Hai pose with your friends (Bollywood fever).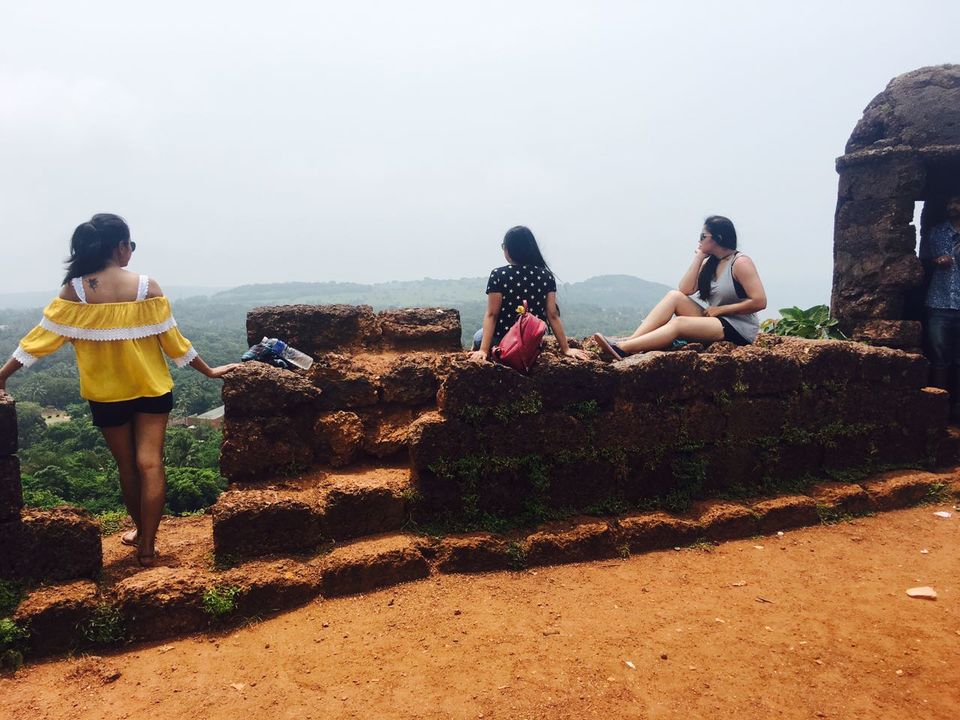 Night life in Goa is fun. There are N number of bars, Pubs and restaurants that you can explore. You can go to Baga, Anjuna beaches, party at next level. Most of them get started after 10pm so no need to rush. Girls take your time to get ready and boys can plunge in the hotel swimming pool till that time. We went to Tito's club at Baga. Decent place, decent prices. Quality of food and service was good. The music is good and the most important crowd was peaceful not like other crowded places.
Mambo's is also in the same lane. One of the best spots to hang out till late in the night. Dancing, drinking, really good music, enjoyed thoroughly. Apart from these famous one there are many other options for which you can go. Goa does not sleep, so party hard till morning. Explore Goa in your way and in your style.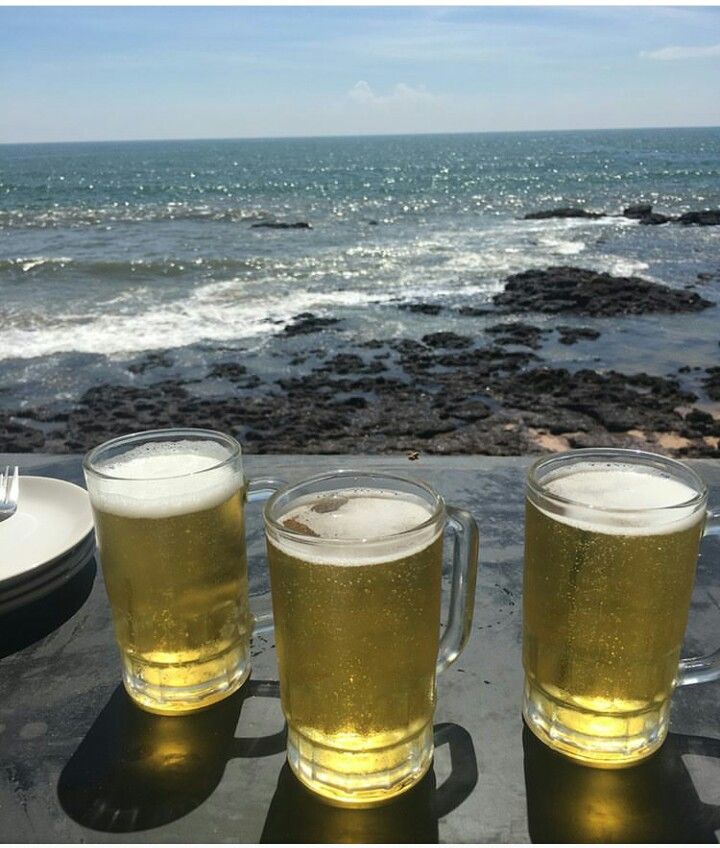 I'm not writing this blog to tell people that what all places you should visit being in Goa. Baba google can do it much better than me. This blog is to make me realise that exploring a new city or a new place does not mean to visit the most famous or crowded places ( no doubt I did the same…as we all do….lol). But it should be more about exploring yourself being in new place. In some or the other way, we get so caught up in our daily chores… office… work.. presentations bla bla that we forget to vivify fun. Just eating, sleeping and working are not life. Sometimes what we've confined ourselves into.. four walls of our house does not really let us realise what good new vicinity and ones propinquities to the aura could do to us.
Talking about me, I could have never ever though that I'd be capable enough to express my emotions in words. I'm an emotional person but when it comes to express it I somehow turn so monotonous like a robot. This trip has not given me memories to cherish for rest of my life, tanning for which I'm using my mom's home remedies or endless laughing moments but searched a new person inside me who knows that love, life and happiness needs to be shared with other people but without expecting anything in return. We human beings always focus on results and plan our actions according to it. Sometimes we should keep it simple and leave it to destiny. Like Sea, It travels millions of mile, touching endless shores, spreading countless happiness without knowing what is written in next page for it.
So take a back seat in your life, relax and think about things that you want to do but just stopping yourself with the thought what other people would think. For me, it would be telling my parents that I'm not yet ready for getting married (not sure would ever be), Telling my crush how I feel about him, Stop thinking a lot, find a better career for myself or maybe a world tour. Let's give some work to destiny here, might be something great waiting for you (or me) in the treasure box. :)