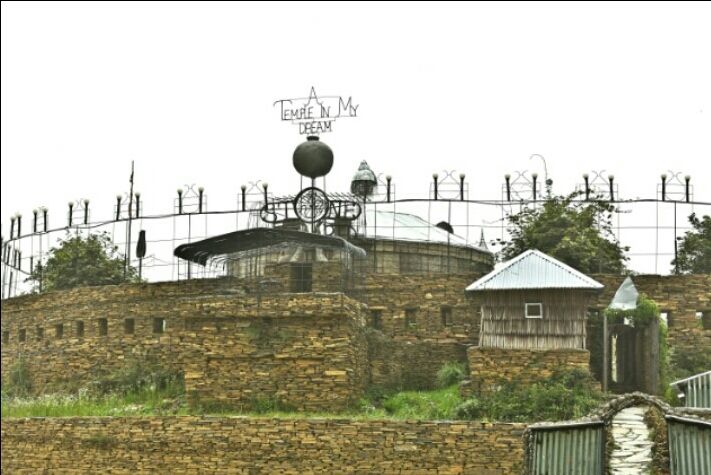 In the morning we started of our journey by walking to chail palace, chail gurudwara and kali ka tibba. These are popular tourist attractions in chail.
Chail is a small town in the lap of himachal. It was established by maharaja ranjit singh of patiala. Its beauty lies in the serene environment n breathtaking views.
We group of friends started our journey from Chandigarh. Took bus for kandaghat n further local bus for chail. We stayed at exotic residencia guest houses which was in chail bazaar at a distance of 16 metres from bus stand.
How to reach chail??
Take bus from isbt 43 to kandaghat. All buses going to shimla take halt at kandaghat.
At kandaghat there are local buses named as lovely buses which will take you the the chail. They come after an hour gap.. So you have to wait..
After 25 kms from kandaghat via sadhupul you are in chail..
We wanted to explore a new place in chail. We came to know about stoned shiv kumbh temple which was built a single man from past 36 years and still is under construction..
We were mesmerized by seeing the temple. The sign above the temple said - A temple in my dream.
It is built in very artistic and creative way by using cement, ropes, tin sheets, slated rock pieces. One cannot imagine that using these simple items one can make such a alluring temple..
We wanted to talk to the person who has made it...but he was nowhere to be found..
It was heaven... One just can sit whole day long n admire the serene smile of bholeynath idol there...
How to reach there??
👉Take bus from chail bus stand to janedghat. After reaching janedghat walk straight for about 1.5 kms.
  👉You will see left cut which will be going up on the hill with a board stating as shiv temple.
👉Trek or take your car uphill approx 1 km to reach this beautiful temple.
Tip- if you are a trek lover or love walking on the roads.. Then just walk from chail till the temple. The distance is 4 kms. The roads offer beautiful views with pine trees. Just take ur speakers with crazy friends n hop off....