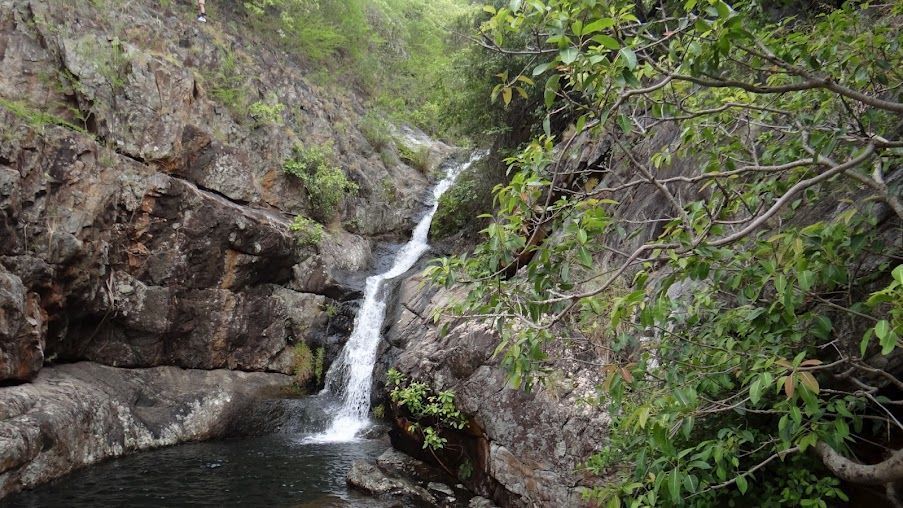 About 120 kilometres from Chennai, lies the quiet town of Nagalapuram, a destination that has become well renowned among trekking circles. Situated in the Eastern Ghats in Andhra Pradesh, nature-lovers love hiking here during the weekends, and find themselves following the trail into the woods, to any of the three natural pools. For a single-day trek, Nagalapuram Waterfalls trek has a lot of fun to offer.
Locating the Basecamp
Nagalapuram is located in the Chittoor district, approximately 280 kilometres from Bangalore. This southern part of Andhra Pradesh is famed for its numerous waterfalls. The basecamp for this trek is Arai village. A motorable road runs till the Nagala dam, where people usually park their vehicles. This is the starting point of the trek.
The Trail
The trail starts near the dam, which is not very far from Arai village. Trekkers follow the trail as it winds inside the forest. The trail is drawn towards the sound of flowing water. Soon enough, the stream is visible, one which flows along the left-hand side of the course of the trail. There are three natural-pools along this path, located fairly apart. The trek is challenging but any healthy individual should be able to complete it. The last pool is the deepest of the lot, and swimming tubes should be used for one's safety. The way back to Arai village is pretty straight-forward. Speaking from personal experiences, getting lost in the wild is very probable during any trek. One advice for this particular trek would be to stay close to the stream. People usually start early for Nagalapuram Waterfalls trek when they do it in a single day. There's always a group though which wants to spend the night in the woods, enjoying the blissful silence right in the middle of nowhere.
Details about the trek
Total Distance: 13 kilometres (or 9-10 hours)
Difficulty level: Easy
DIY or not: Trek is organised by groups like Chennai Trekking Club every year. Since it's a single-day trek, many groups do it on their own as well. But most of them are experienced trekkers. In any case, it is advisable not to attempt a solo-trek.
Cost: INR 2000-3000 per person
Season: It is advisable to hike during winter (November onward) when the heat is bearable.
Don't forget to pack: Tents (if you plan on camping), swimming tubes, poncho, personal hygiene kit, lighter, anti-bacterial cream and flashlight.
Have you been to Nagalapuram waterfalls? Share your story here with Tripoto's community of travellers.