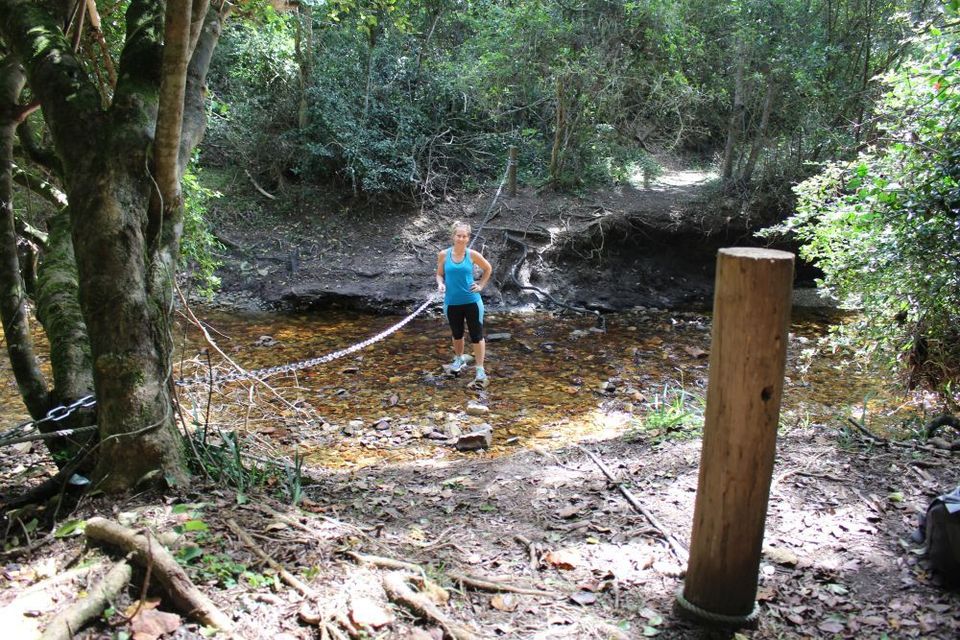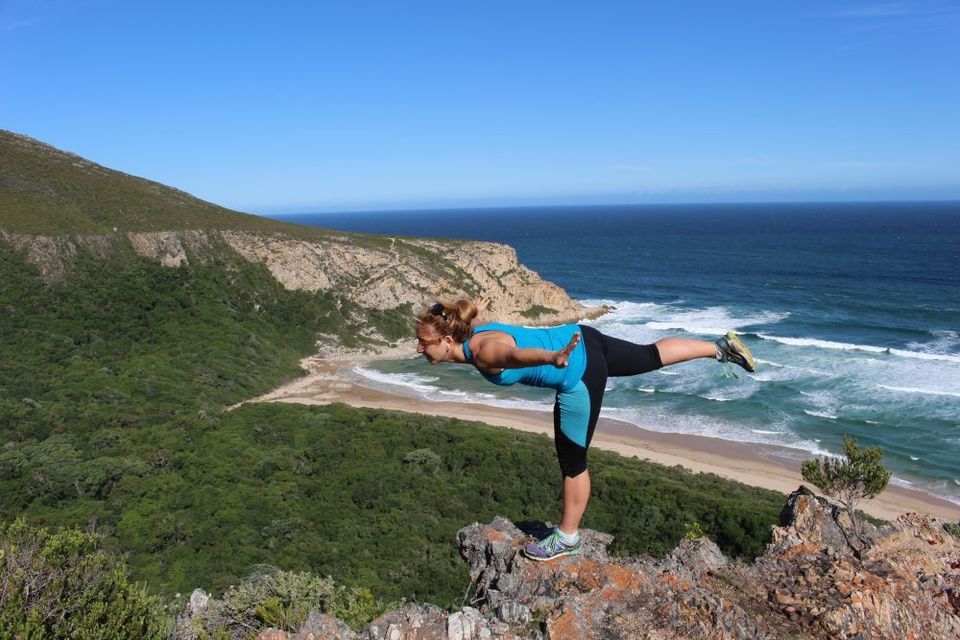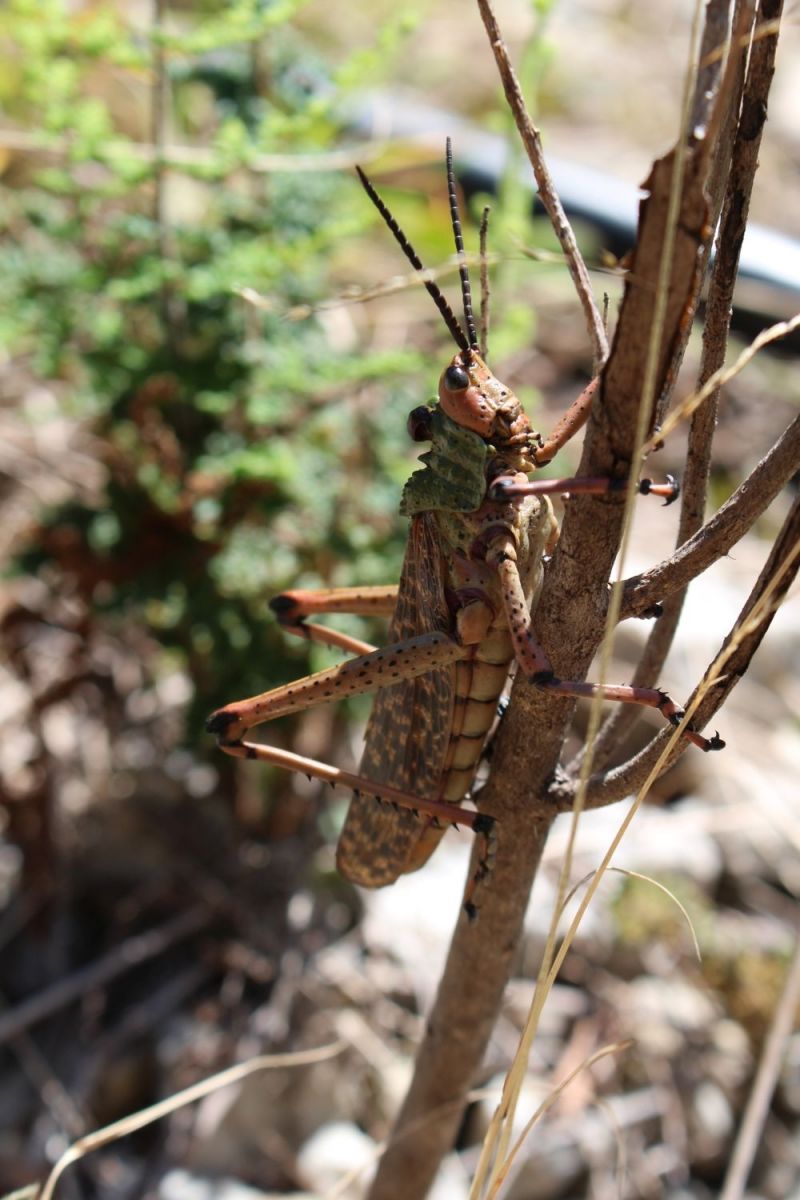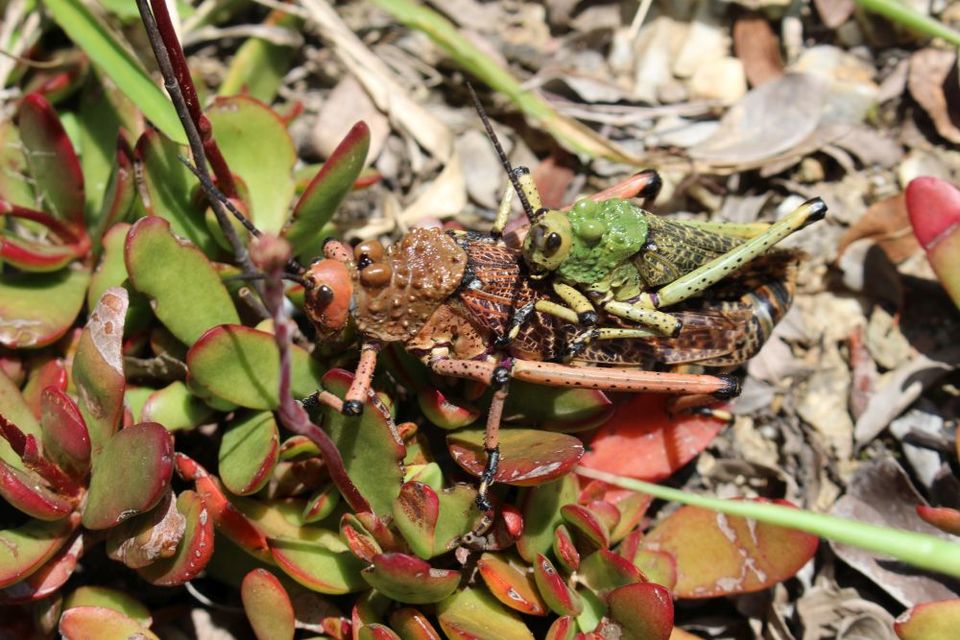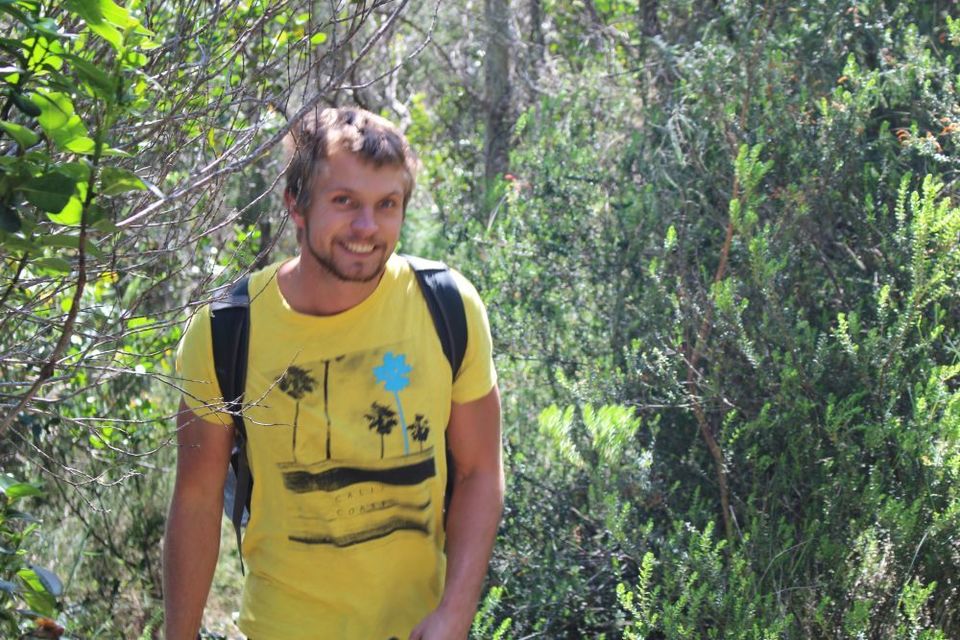 Our sense of adventure and some advice from our next couch surfing host Oscar (who we had't met yet) took us to Natures Valley, an area with many hiking trails up surrounding mountains and along the long stretch of beach. Along the way we started a new game – who can pop the most car tyres. I was in the lead by one. Stopping in at the caravan park, we got some information about the hikes and chose the Grootkloof route; a combination of the mountains and beach.
Part way through our hike we noticed a sign that said "Grootkloof route closed". Everyone knows sign are only there for guidance, I mean, how can a hiking route actually "close"? Trundling off fuelled with confident arrogance, we followed the clear cut trail ahead. So far so good. After about 30 mins of uphill hiking and dodging giant grasshoppers littered all over the ground, we came to a clearing looking out over the river winding its way between the two mountains.
Further along the trail it started getting thicker and thicker. Armed with our phones compass and a Google satellite image of the trail only fed our 'ability' to follow the trail. Slowly but surely, we became Alice as the trail became more akin to that of an overgrown burrow. It was official, we were totally lost. The trail has disappeared behind us long ago and our hike had become more of a climb through dense forest. Nevertheless, we persevered and committed to following compass and walk on through. Eventually we conquered the hike, the easy-to-moderate rated hike. We looked like we crawled the entire way with cuts and grazes all over our arms and legs.
But I'd literally do it all over again to see the view from one of the tallest points of the mountain, which jutted out from cliff face to form a sharp point from where you can see two beaches separated by the river.The beach at base of the mountain was an excellent place to have a quick workout – gotta keep up that = fitness somehow.
Our next stop on the road trip is Port Elizabeth (PE) where we would spend the night with the Miller family – Warren, Oscar, Luke and Alex (an honorary Miller). These guys are amazing, but more about that in the next post.
This trip was originally published on 'BJs Around The World'.