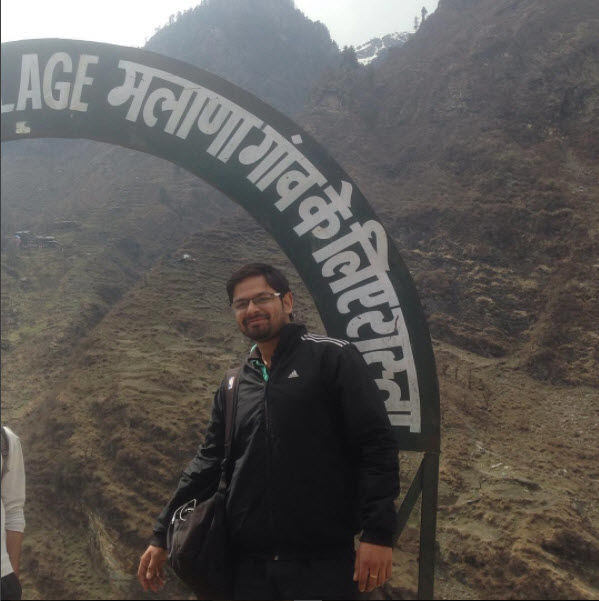 There will always be times when you are too too bored of your 9 to 5 job and feel like going to someplace and do wildest ever possible things on planet.
I too had the same feeling when I thought of Malana trip (Here I am not promoting any "High" THING or any such trip to anybody). So, It was my such thought to do so and its a personal decision. I thought and just went // it was a backpack trip..
I board a bus from ISBT ,Delhi to Bhunter and then took Jeep to manikaran as I had no plans for Kasol ,which lies between these two places So, I decided to go to Manikaran sahib first and then to Khirganga trek.. I reached Manikaran saheb..it was AMAZING as always as I enjoy being at religious places I spent around 2-3 hours there as I reached early morning to manikaran by completing over night journey..Well , Hot springs is another attraction there other than Guru-dham..I was waiting for a jeep to go to "Bershaini" the starting point for "Kherrganga" trek. but found few collage boys who started asking what I am upto.. And told them at I am Solo trekker and up for kheerganga trek. I was in my Treksuit and thats the only luxury I had at that moment other than my bag and bottle ;) They started telling me that I should not go without warm clothes and proper planning but i was not listening to them. It was half an hour we guys were waiting but they were unable to convince me. Finally , we found a jeep who took us to bershaini but till we reached there It started Raining..(I decided not to go remembering those guys words..and it started bit chilling) I sat at bershaini and had 2 pastries and decided to go to Tosh instead of Kheerganga..
I trekked till tosh and found whole commercialised shit happened to that place.. I decided to go further in village and found Boom shiva cafe above there and decided to stay as trip looked bit shakky at that point of time.. The guy there looked like some hippy with a pony tail and has two other "chellas" to accompany him while they were rolling some joints.. i sat and told them i am just chilling and looking for some food and stay.. so they offer me the round and I turned up the music and my trip ;) (later I came to know the "maal" was whole fake shit which he only brought from some fake supplier and put oil and pack it to give a genuine feel.. I told him that i am from rohtak ,haryana and came to know that he is from kurukshetra , after that he offered me hot water to bath and asked me to join everytime he rolled joint and food whenever they ate.. as evening approached two families came stayed and a group of 3 boys and later 3 chicks who stayed there..i had quite good time there and in morning i decided to go to malana and
board a jeep till to kasol than to jeri -the starting point to malana trek..(I had 6-7 joints during my stay from ppl who were there but thats whole shit supplied by that owner). So, its my urge to taste some original or i can say the best one "Magic valley stuff" ;) This place is some isolated village which i reached after 2hours of trek+taxi..I encountered one XUV and a bullet feel miserable on the way looks like where the hell we have came..Then "welcome to malana village" sign board flashes and i see a ray of hope and a huge crowd coming back from a hilltop and bridge to that sign board.. it was afternoon and i started trekking , here i should mention i met two collage guys who i met on the way from jeri to malana signboard ;) later we became bros till our return back journey till chandigarh.. ;) we three of us trekked togather and i see loads of couples and solo trekkers while i reach hiltop..i enccountered an old lady on the way " she asked me "Beta! kya aate ho hamare desh?" and i was like daadimaa ye india mein hi pdta hai Malana bhi :P :D ..but i told her that no worries i like mountains thats it ;) I reached malana and the first thing i saw was chicken was brutly slammed into the ground 5-6 times till it stopped breathing i guess then it was hanged by a person by his leg to see blood dropping in a flow and i noticed it was a group of 5-6 priests and a temple is also there ,ppl were chanting some mantras and drums were being played And i was like WTF am i doing at this place. well, I gather some hope and started walking with my trek friends in group to show we are all togather .. by walking some distance " i see boards stating THIS VILLAGE IS PURE AND NO ONE SHOULD TOUCH CHILDREN /WALLS/ SAND or anything otherwise you have to pay 2500 Bucks or face punishment) and after reading this i put my hand in my upper ;) as i cant afford giving any penny to those ppl .on the way an uncle sold my fellow trekker a tola for some 2800 bucks and by having that we reached the hilltop. those two fellow guys were pro at rolling joint and we started the rounds . We took shelter at "Dragon cafe there" for some food and rest . There again we had some good time and we see two children barely 8-10yrs coming and offering stuff to us.. they were carring aound 11 tola and asked us to buy all of that thing for 8k .. i took 1tola for 1k and they left.. (Later i gave to those two guys on our way back) We had some amazing time there and stayed at a room for some 300 bucks a night I was playing some music on my phone and we were still rolling joints and smoking stuff..the place is bad in terms of amenities but who cares when you are high.. we had some quick food in morning and decided to trek downhill .. it was quick as expected and started coming back and board a jeep and bid goodbye to malana..reached jeri and boarded a bus to bhunter .. After that i was really really bad journey as all buses were told to be booked online and full like ppl falling even above the roof of buses. god knows how we reach chandigarh and later I came back to delhi with my little knowledge that I just carried 2 months of cough and sour throat but this was my wildest first and last trip.. ;)