It struck me, when our Himalayan off-roader suddenly stopped. The sound of rhythmic drums filled the silence in the taxi. The colourful souls and silk robes painted the barren landscape. When we got down the cab, we were tightly gripped by a whole village; dancing-singing-overjoyed!
We happened to visit a small village during a local festival, in Himachal. Every inch of the land, every member of the village came together, and the celebration unfolded into nothing like I'd ever experienced before!
It struck me how the soul of a place are its people!
Here are a few Himalayan carnivals, to sweep you off your feet:
1) Gulmarg Snow Festival
Organised by the state Government of Jammu and Kashmir, Gulmarg snow festival is an amazing way to experience Heaven on Earth. Thousands of travel enthusiasts from all around the globe flock to Gulmarg, to enjoy winter sports like snow boarding, snow cycling, skiing, ice skating, rugby, and snow basketball. Gulmarg is among the world's best skiing destinations. Long, steep, vertical climbs to small ridges and cliffs, these slopes are cherished by beginners and pros alike!
However, this festival is far more than just an adventure, it is also about: lively performances by famous bands, outstanding musicians and dancers, all woven together in the heart of Gulmarg.
Where: Gulmarg, Kashmir
When: January
Duration: 3 days
Note: Gear is available on rent
What's more to explore:
- The joy of shikara ride
- Gondola lift is a must try. A cable car at 14,000 ft (approx) above the sea level, is epic stuff
- Try Harissa – the winter delicacy of Kashmir, followed by the classic Kahwah
How to get there: The closest airport to reach Gulmarg is Sheikh-Ul-Alam International Airport, at a distance of about 56 km. The airport is connected with the major cities of India. From there, take a bus or a cab to reach Gulmarg.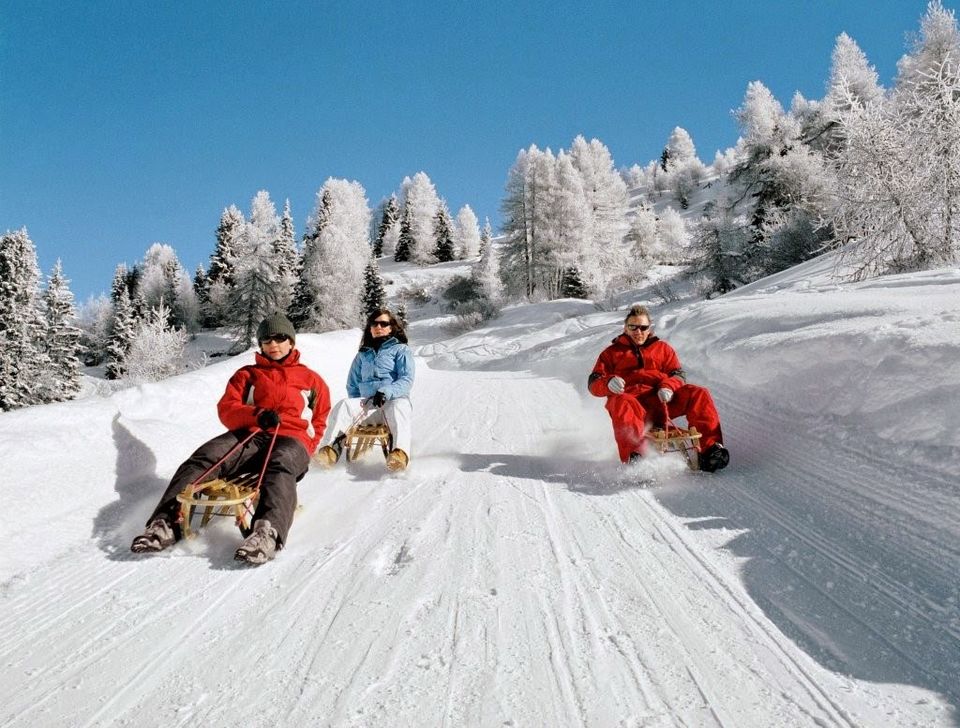 2) Ice Skating Festival in Shimla
Our good old Shimla, is home to the biggest natural ice skating rink in Asia. The Shimla Ice Skating Club, has been organising this carnival annually, since the past 60 years. There are two sessions everyday: morning and evening.
Ice-skating, skiing, figure skating, chain tags, speed hockey and ice hockey; in the backdrop of the Pir Panjal, Dhauladar, Shivalik ranges; sure makes thousands of winter enthusiasts celebrate this!
Where: Shimla, Himachal Pradesh

When: From Snowfall start (usually December) to February
Duration: 3 Months
What's more to explore:
- Head to Mashobra, located in the Reserve Forest Sanctuary of Shimla, for a calm stay. One can also trek and ski here
-Visit mountain cafes, around the Shimla mall road
How to get there:
By Air: Fly to Chandigarh Airport and hire a taxi to Shimla. It is a 3-4 hour drive.
By Road: Himachal Road Transport Corporation operates frequent buses from Delhi and Chandigarh to Shimla.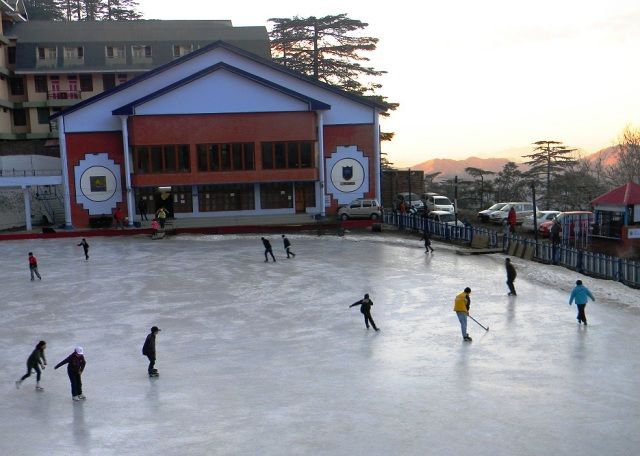 3) Red Panda Festival
This festival is gaining popularity, rather quickly. It was earlier celebrated in the name of Sikkim Winter Carnival. Sikkim calls travellers from all walks of life, however, it is best to organise a trip during this festival. The government organises activities like: mountain biking, trekking, paragliding, live performances by local artists,musical extravaganza, DJ nights, with food and culture.
When: January
Where: Gangtok
Duration: 9 days
What's more to explore:
- Sip Tongba (rice beer), keeps you warm and happy
- Take a dip in the hot water spring, in Yumthang Hot Springs
How to get there:

By Air: Nearest airport to Sikkim is Bagdogra, at a distance of 124 km. Take a taxi from the airport to reach Sikkim.
By Train: Reach New Jalpaiguri (188 Km away) or Siliguri (145 Km away). From there, take a taxi to Sikkim.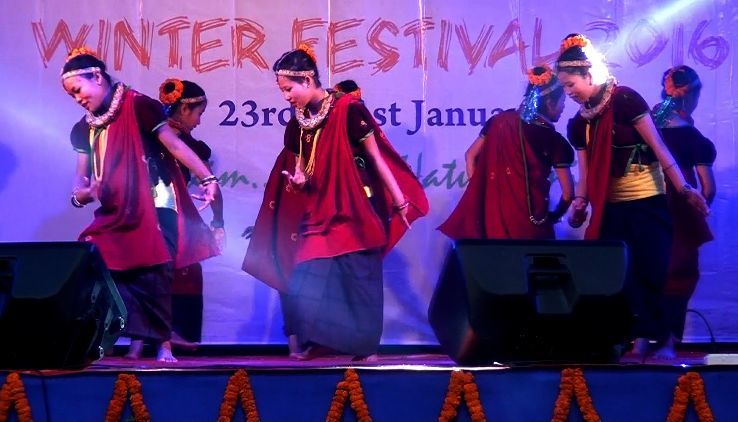 4) Hemis Festival:
One really doesn't need a reason to visit the land of the Lamas! Ladakh in it's own way is nature's expression of celebrating beauty!
However, this festival will sure give you some cultural goosebumps. It is a vibrant symphony of sacred dance, tantric facial masks, holy Thankas, colourful silk robes, oracles and local legends. It is celebrated in the Hemis monastry. This is a major Buddhist festival and marks the birth anniversary of Guru Padmasambhava, the founder of Tibetan Buddhism.
When: June 23
Where: Hemis, Ladakh
Duration: 1 day
What's more to explore:
The whole of Ladakh: From Kargil to Turturk, Nubra to Pangong and Khardung La to Magnetic Hill; the more you see, the more you'd want to see.
How to get there:

By Air: Kushok Bakula Rimpochhe Airport, Leh airport is the closest international airport. From there, take a taxi to Hemis.
By Road: Hemis can be reached by road via Leh by two popular routes - Srinagar-Leh highway and Manali-Leh highway. There are regular bus and taxi services to Leh.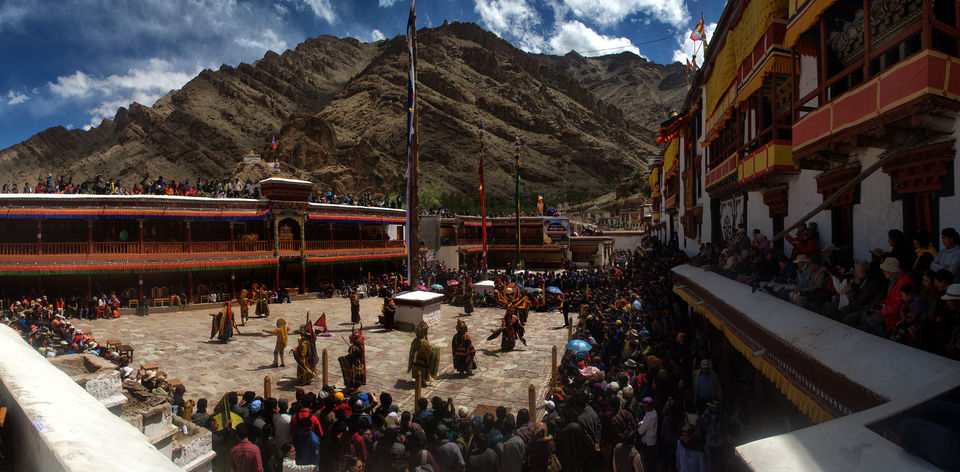 5) Ladarcha Fair:
What started as a tribute to the cultural and commercial bond between Himachal and Tibet, is now celebrated as the Ladarcha Fair in Kaza. This fair is an amalgamation of intense trading and culture. It attracts thousands of regional traders and travellers. The traders sell traditional crafts, metal work, jewellery, apparel and accessories, utensils, furniture, dry fruits, grains, and livestock- like yaks, pure bred horses. All this, in the middle of traditional dance and folk songs, archery competition, horse race, Buddhist sermons and community gathering.
When: August
Where: Kaza, Himachal Pradesh
Duration: 3 days
What's more to explore:
The whole of Spiti: From Key Monastery to Komic, Hikkim, Langza, Chandratal and more.
How to reach:
By Air: The nearest Airport is Bhuntar Airport (Kullu Manali Airport), about 250 Kms from Kaza. It is connected to many major cities. Take a taxi from there.
By Road: Himachal Road Transport Corporation runs buses from Kullu to Kaza. You could also hire a cab.
6) Losar Festival
For those with winter Spiti on their travel bucket list, this is the place to be! Losar, set at an altitude of 4085 mt, is situated near the Indo Chinese border. The Losar festival is celebrated in first month of the Tibetan calendar. The festival is an ode to agricultural prosperity, keeping folk dance, music and Spitian culture alive. This dance in the form of opera tells the story of the defeat of Langdarma, a cruel Tibetan king who was killed in the 9th century AD. His death led to the ultimate victory of good over evil.
When: Mid November to first week of December
Where: Losar, Himachal Pradesh
Duration: 10 to 15 days
What's more to explore:
The whole of Spiti: From Key Monastery to Komic, Hikkim, Langza, Chandratal and more.
How to get there:
By Road: The only way to reach Spiti in winters is by road. The journey is overwhelming but totally worth it!
Reach Shimla - Narkanda -Reckong Peo- Kaza- Losar (4 by 4 vehicle is advisable in Spiti during winters)
There is a local bus from Reckong Peo to Kaza. It starts early morning around 7.30. From there, book a taxi to reach Losar.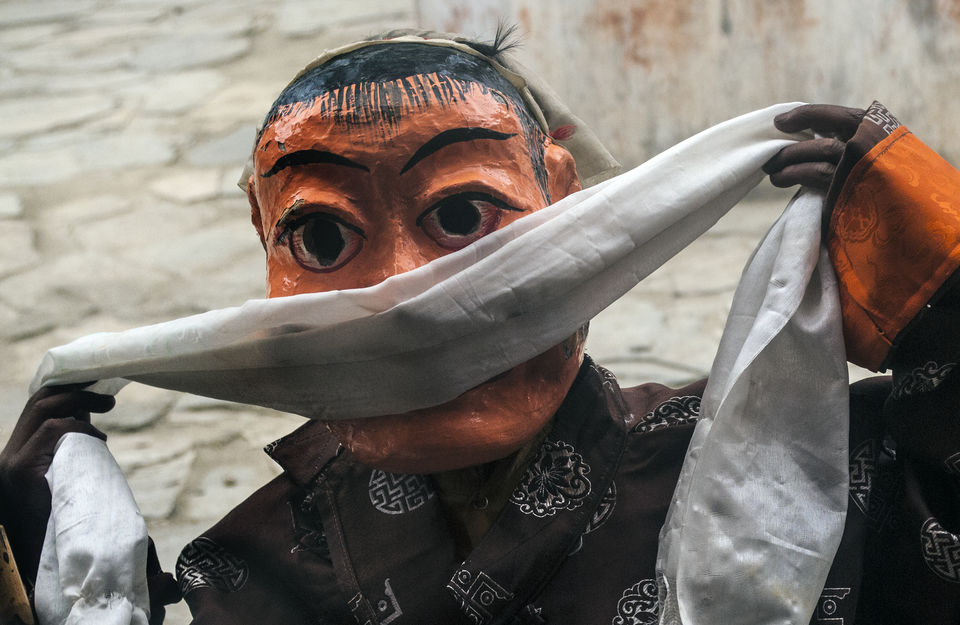 7) Ziro Festival:
Honestly, Ziro festival is just my excuse to lead you to the Ziro valley, in Arunachal Pradesh! It is home to the Apatanis tribe. Old folks of the tribe tie their hair in top-knots and tattoo their faces. And elderly Apatani women wear wooden nose plugs. Hence, making it a photographer's paradise.
The Ziro festival, started in 2012, is one the best outdoor music festivals in India. The festival celebrates a musical mélange of indie, alternative, funk, fusion, electronic and folk: with great rice beer to finally sway you away! In yesteryear, the festival has also featured international artists like Italian alt-rock Gramlines, Antoine, Dawda Jobarteh.
Some other important bands and artists that played here: Dj Bomb, Yesterdrive, No Strings Attached, Riddim Funktion Collective, Vivian Fernandes aka DIVINE and many more!
Where: Ziro Valley, Arunachal Pradesh
When: Last year held from 28 September 2017 to 1 October 2017 (Dates may change next year)
Duration: 4 days
What's more to explore:
-Spend a day in the Talley Valley Wildlife Sanctuary

-Step into the ancient cave temple, Meghna Cave Temple
-For the love of long trails and blue pine trees, explore Midey
How to get there:
This is a bit arduous, but fun! Fly into Guwahati airport, which is connected to major Indian cities. From Guwahati, take the overnight Intercity Express to Naharlagun station. From the station, book a bus or taxi to Ziro. This is a 4–5 hours journey.
Note: Inner Line permit required for everyone, even Indians. Visit the Arunachal State Bhavan or their tourist office and submit the form with a recent passport size picture.
For passes, please contact: Ziro Festival