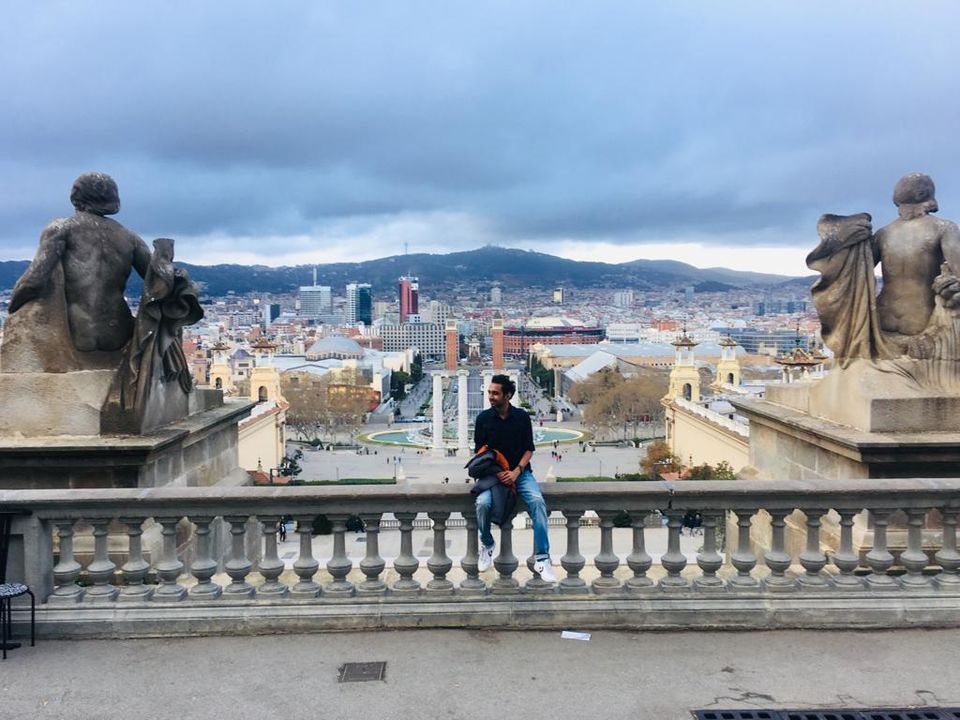 Ever seen a movie Zindagi Na Milegi Dobaara and not engulfed by it? It's impossible. You will fall in love not only with just its script, dialogues, story, and all the actors and their beautiful depiction of characters Kabir, Imran and Arjun but also with those beautiful cities they visit, in the medina like alleyways they roam around and the breath taking adventurous sports they experience just to rejuvenate themselves in a stronger person.
It's not only me who wants to travel like those three e-school friends, I think, it is a dream of every millennial from India. And just as that, having an advantage of being in Europe and that too so close to Spain (FYI, I live in Bordeaux, France which comes kind of in the southern part of France), my plan and itinerary was already known to me. And so altering the original ZNMD plan because of some constraints (off course money guys, BC I am a student) by skipping Costa Brava, I decided to visit only Barcelona and Seville.
And as this trip was planned for 7 days and as there are millions of things to share about, I intentionally have divided this travel story in two parts. This part is only dedicated to Barcelona. To read about Seville, please check my next story.
For booking your travel plan, I advise you to check flight tickets on Skyscanner.com before booking it through Flixbus and GoEuro, as you can get cheaper flight tickets if you book them a month ago. Hostels in Barcelona are cheaper than that of Seville but the entry fees to different touristy places and even public transport in Barcelona are sky rocketed. My first impression with Barcelona after just looking at its map was that it was so big that you just can't cover its never ending list of famous places just by walking. So I bought a 10 trips public transport card for around 10 Euros which I only wanted to use in some particular cases.
Warning: Barcelona is one of the three cities in Europe which is famous for pickpocketing. I think you can guess the other two.
So I arrived in a Barcelona early in the morning at around 5:00 am and the first thing I did after putting my luggage in the locker room of my hostel was to get the Sunrise view on Barceloneta Beach which is the most famous among all others. My plan was to stay there till 9:00 am and head towards the most talked La Rambla Street and the Mercat de la Bouqueria. So before walking to the La Rambla street, I visited Arc de Triomf which leads to the Parc de la Ciutadella. The lower end of La Rambla which ends at the huge statue of Christopher Columbus pointing his right hand index finger to the New World through the Mediterranean sea and the scroll (probably the order) given by Spanish Queen Isabella and King Ferdinand is the starting point of the street. Mercat de la Bouqueria is probably the best place to get the Catalonian vibe and experience the variety of local food from chocolates to meat. As this is the beside the old town of the city called as Gothic Quarters, most of the famous places to visit are near by it.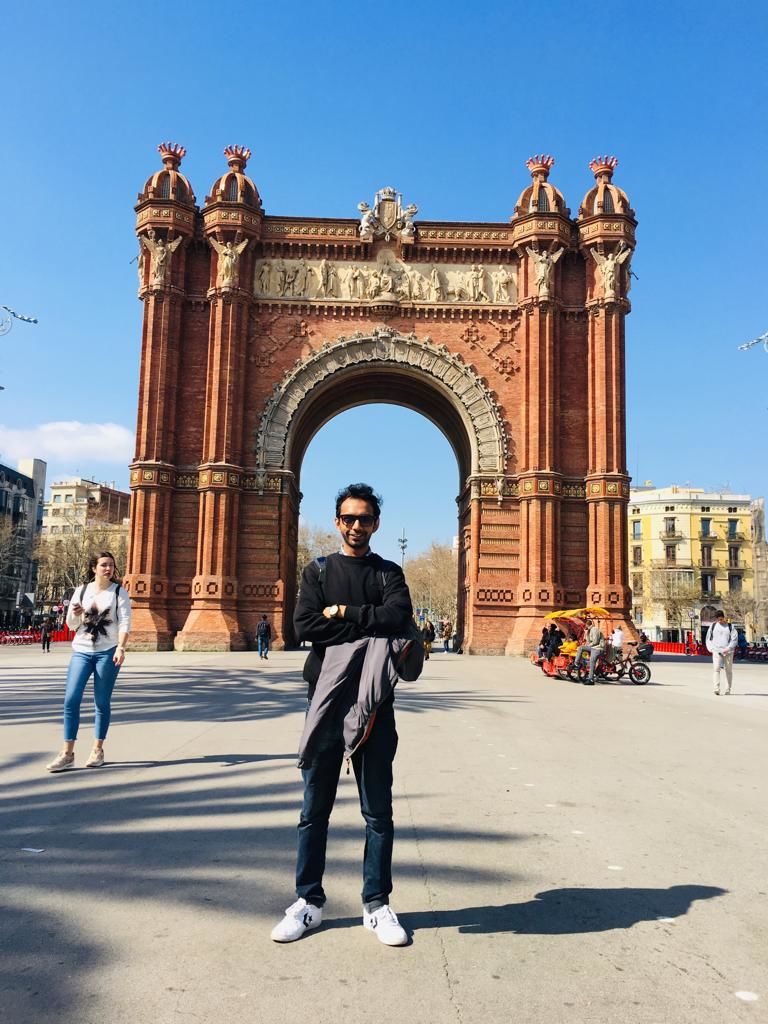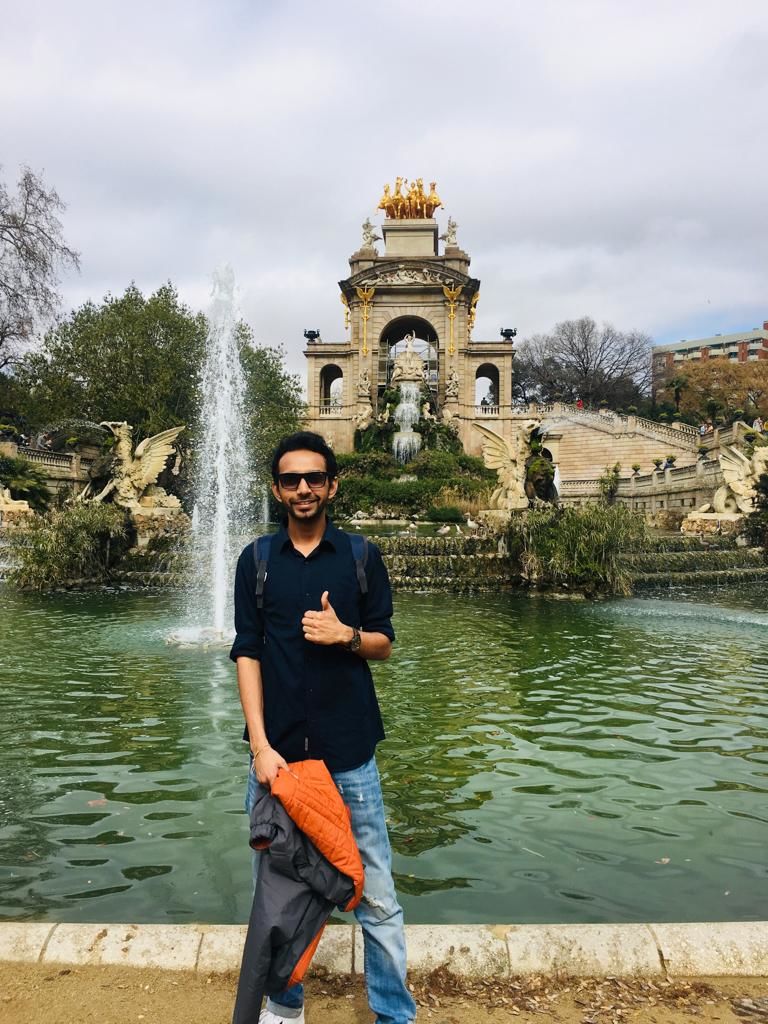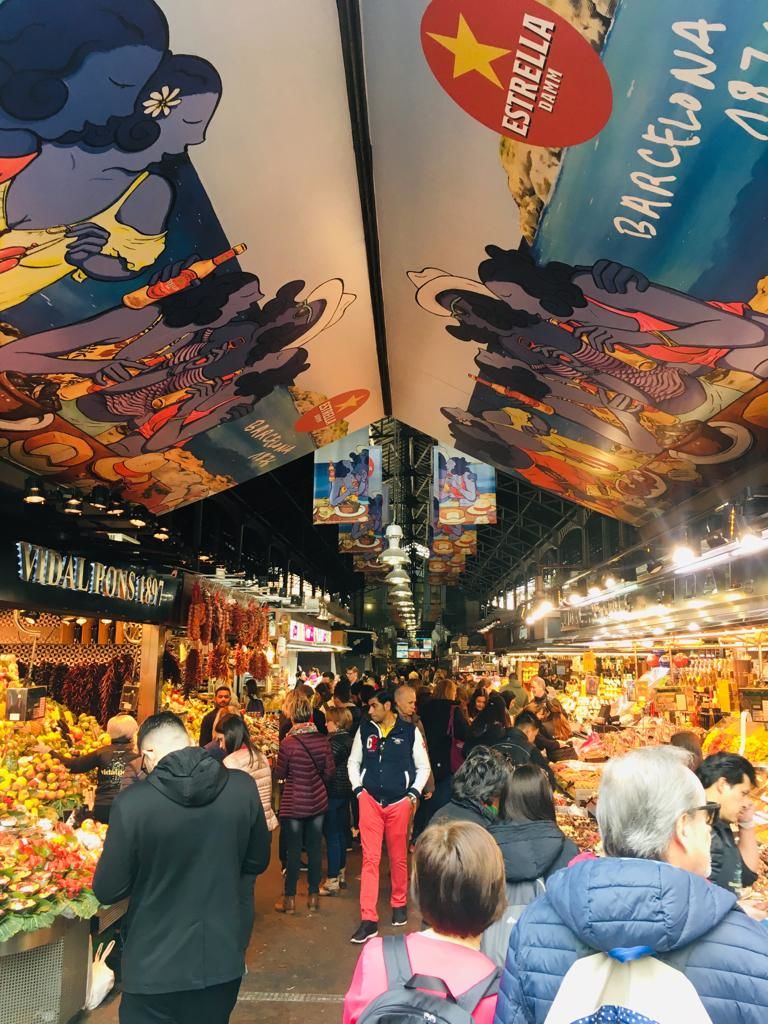 As you roam around the old town, you will find Barcelona Cathedral. You will literally be lost in its magnificent Gothic art, splendid Gothic and Baroque altarpieces and its marvellous choir. One architectural building which I felt worth visiting in old town apart from cathedral was the Palau de la Musica. In the midst of old architectural buildings representing Catalonian culture, Palau De La Musica is one of the most emblematic modernist buildings present in the area. But Gothic Quarter is more about strolling in the lanes aimlessly, appreciating the beauty and shopping things representing Catalonian culture. Casa Battlo and Casa Mila near to Placa de Catalunya (at the upper end of La Rambla) adds to the list of most famous buildings in Barcelona. But with the famous tags comes the hefty price for entrance where you have to pay 14 Euros and 40 Euros for both the buildings respectively. At night the La Rambla street gets divided into two parts as lower part towards the Christopher Columbus statue turning quiet and upper part getting lit up with tapas restaurants, bar and more of a red light area (heads up guys). Also there is a place Placa Reial which is supposed to be famous for historic buildings but I loved its atmosphere at night for having dinner.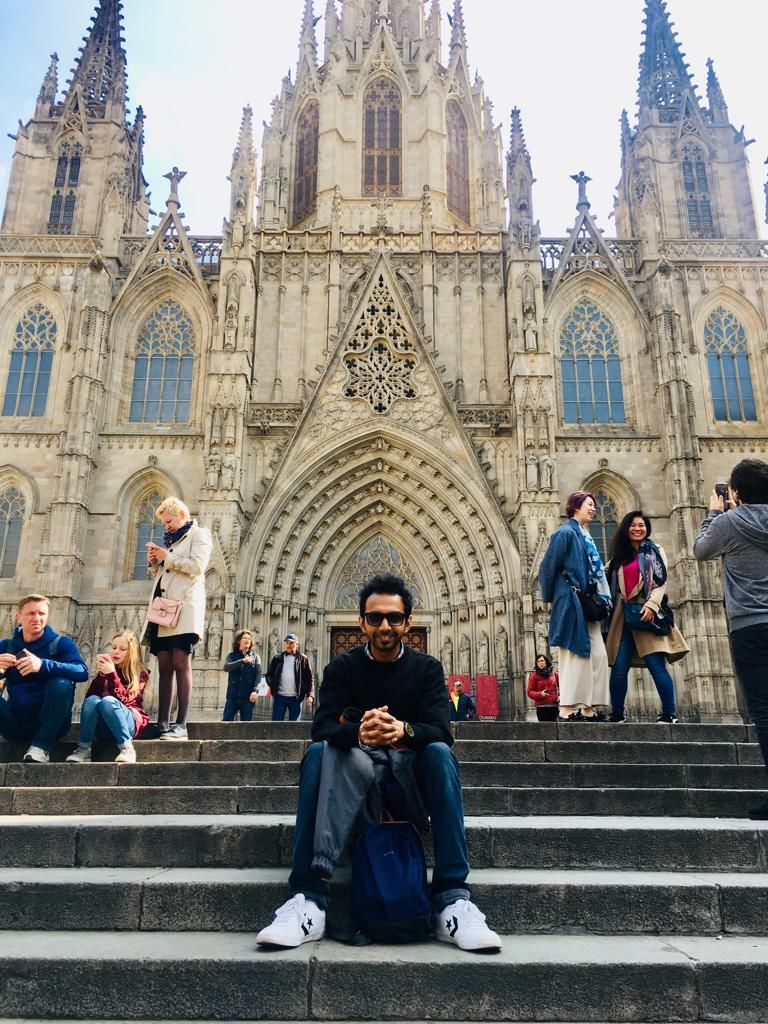 On the next day I started early for the best attraction for which Barcelona is famous for (apart from nude and topless beaches) which is Sangrada Familia. It is a breath-taking unfinished Roman Catholic Church whose construction started 137 years back in 1882. It has total 18 awestricking towers with the jaw dropping use of colours, space and stone work. And for the entry price of 20 Euros, it is completely worth visiting. 500 metres away from Sangrada Familia, there is an old hospital Sant Pau Recinte Modernista which will give the vibes of Arkham from DC comics. Next nearby touristy place is Park Guell. But the moment you enter the park, you will be disappointed by the fact that it is designed by the same architecture Antoni Gaudi who designed Sangrada Familia. The google photos about this place are hyped deceivable. But I was not surprise by this feeling because you will get the same feeling of disappointment when you visit CocaCola London Eye in London, Monalisa in Louvre Museum Paris, and list goes on (yes it's true).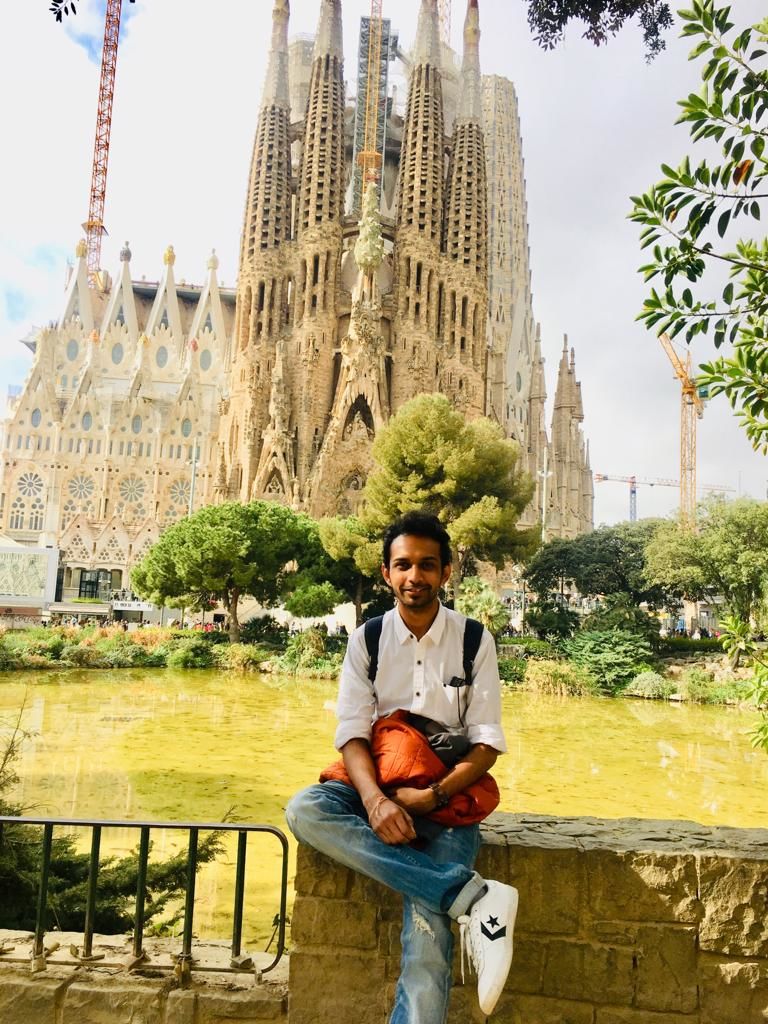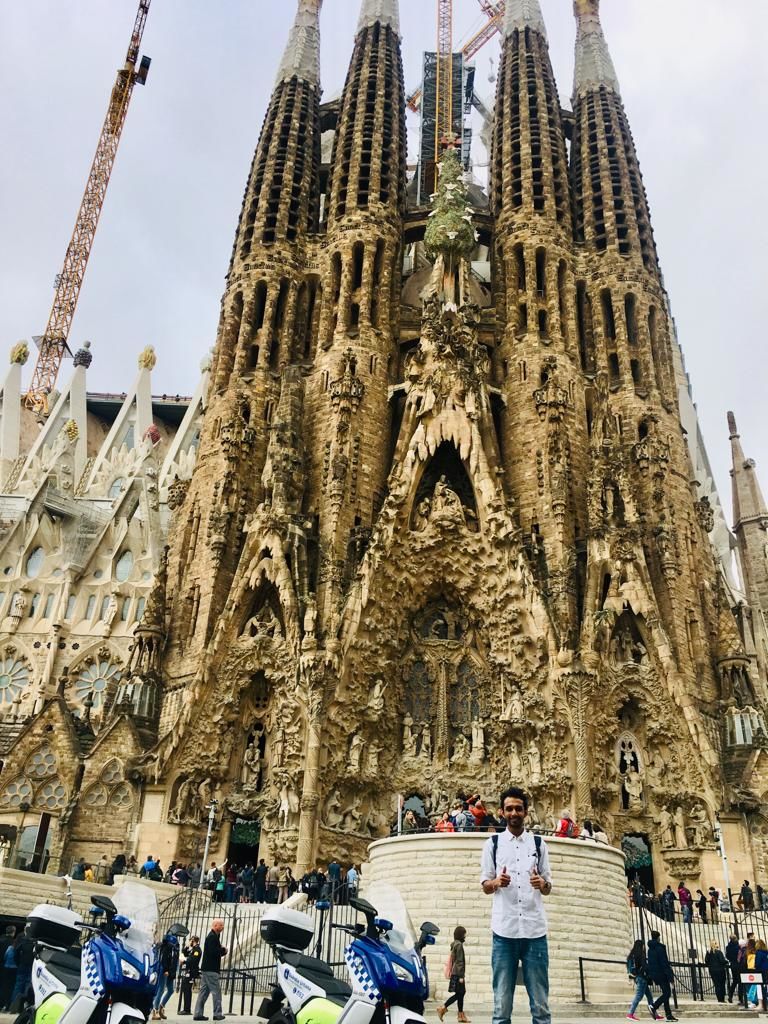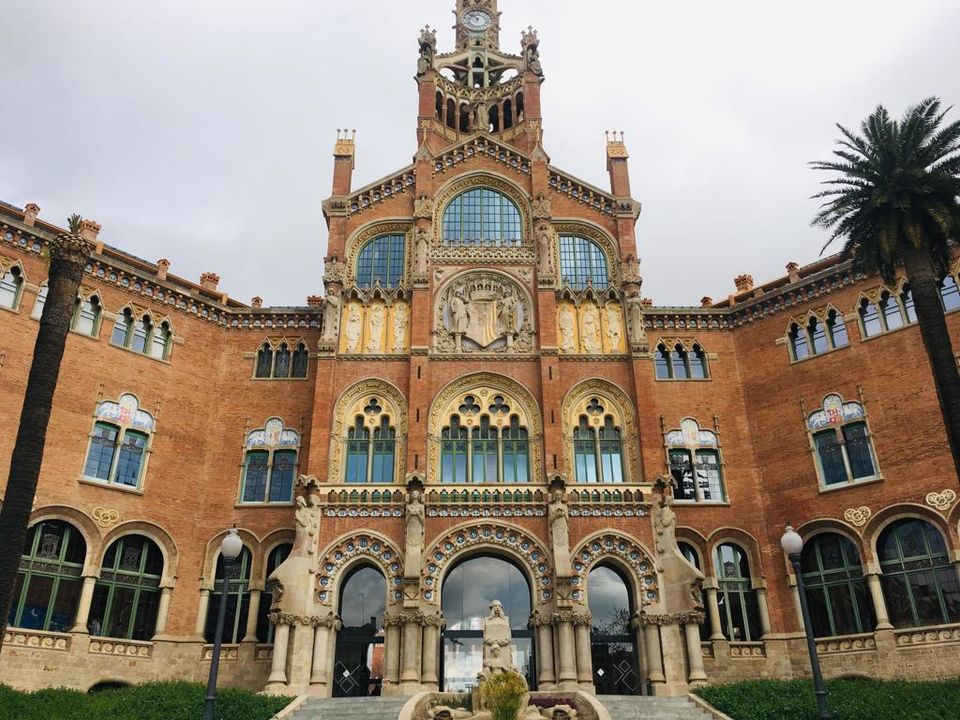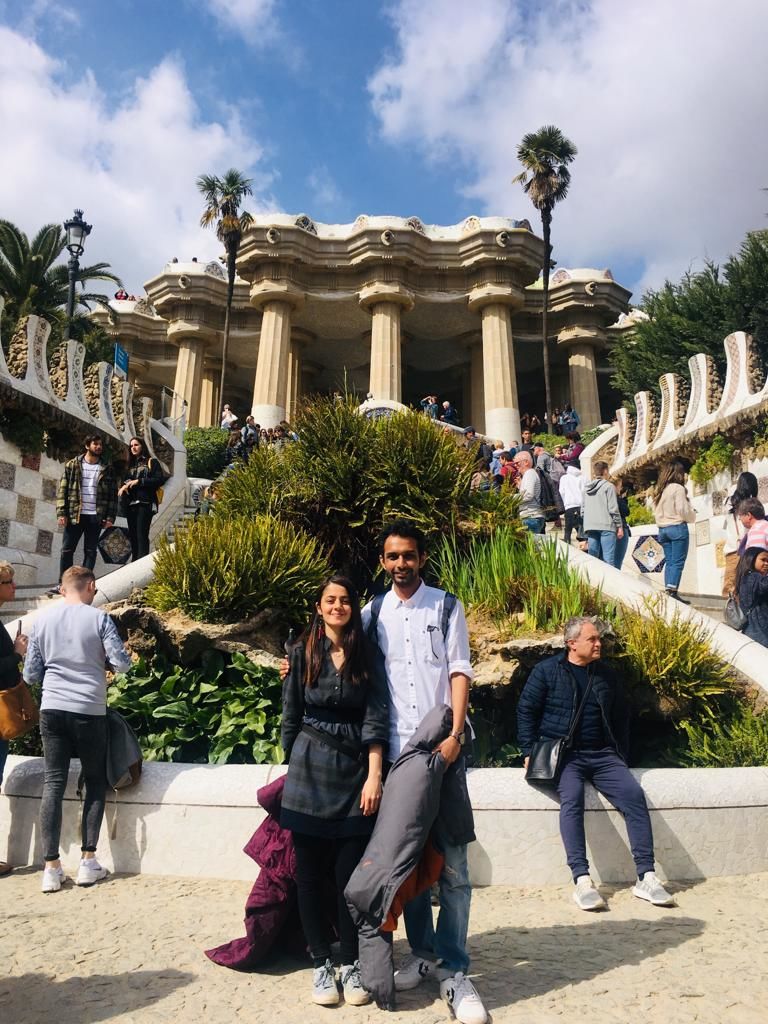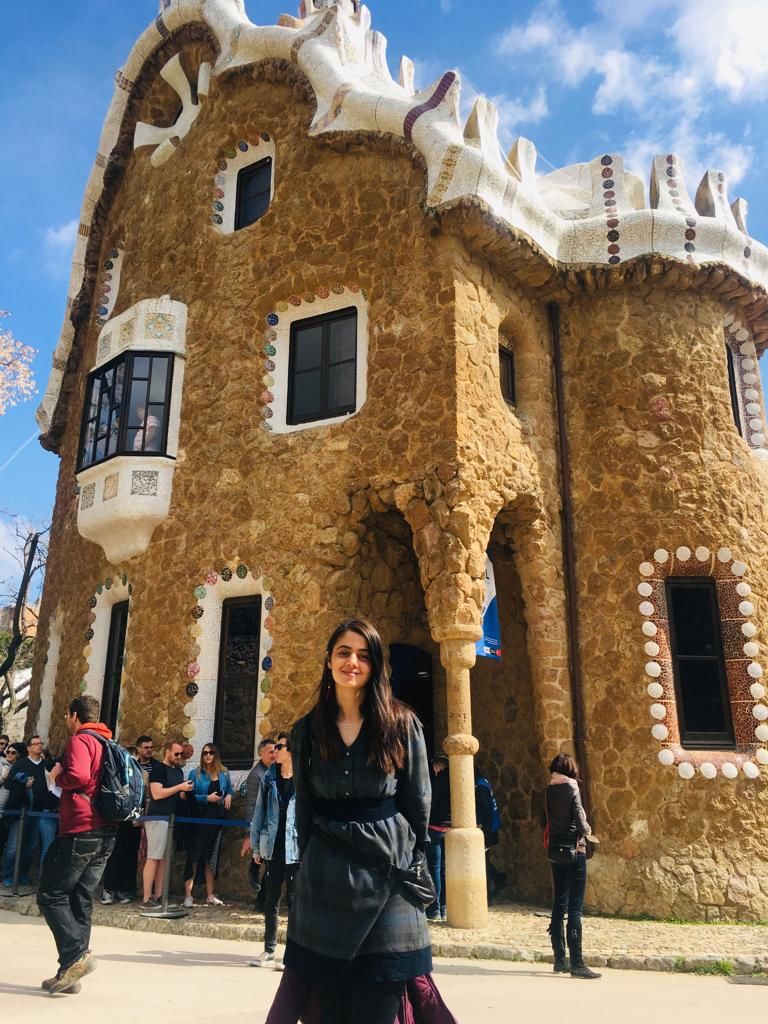 Whether you follow football or not, whether you are a fan of Messi or Ronaldo, it is a sin not to visit the humongous Camp Nou which is the stadium of F.C. Barcelona. So I being a Madridista (Hala Madrid), visited Camp Nou and was awestruck by the beauty and the fact about the stadium that can occupy around 99.5k people at one time. Near to the Camp Nou, you will find gothic monastery building and now the museum Monestir De Pedralbes. It is a must go place for photographers to expand their portfolio. But the museum is only open till 13:30 in weekdays and 17:00 till weekends. Till I finish visiting these many places it was the time for a sunset. And of-course because of my obsession of seeing the top view of the city along with the sunset, I had planned to visit Bunkers Del Carmel. It is the only place in Barcelona which you can visit for free of cost (uhh..sigh finally). The best way is to take a bus from Camp Nou which drops you off at the bottom of the hill. This hill is in the middle of the city and hence you can have a 360 degree view of the city from the top. It is better to take a beer, snacks or few other drinks with you as you enjoy the sun rapidly going down from Mount Tibidabo (yes if this reminds you of the Joey Tribbiani then you are awesome). Mount Tibidabo is also an option to get the sunset view if you are near to Camp Nou. After this much of walking and sight-seeing, all you will need is a Paella to eat with the most famous and my most favorite Spanish drink Sangria.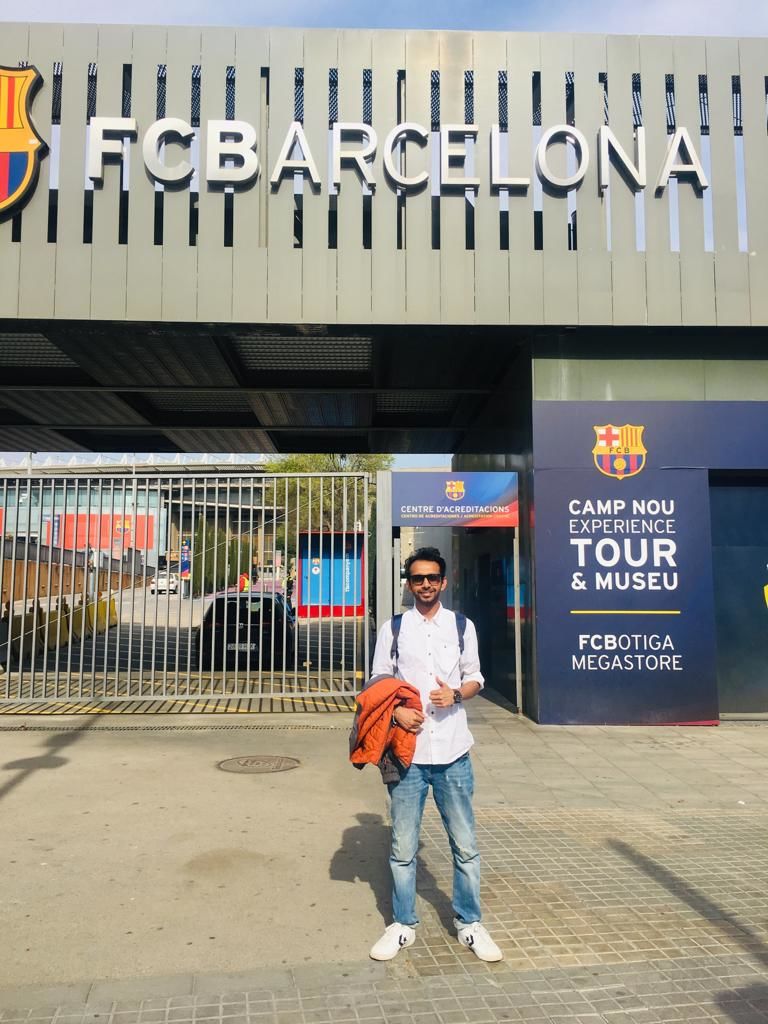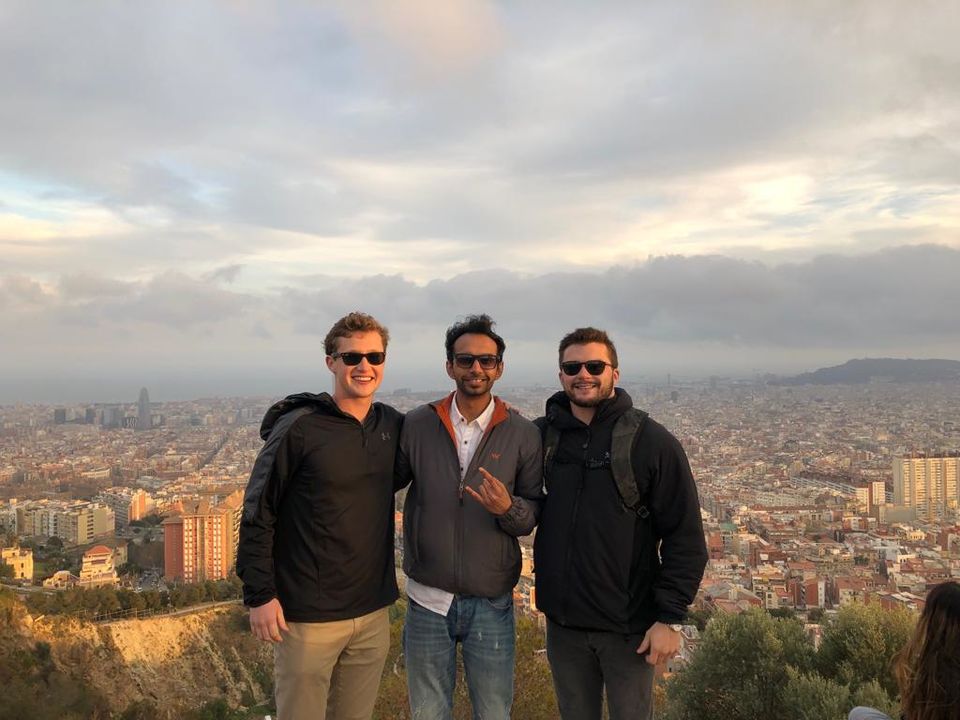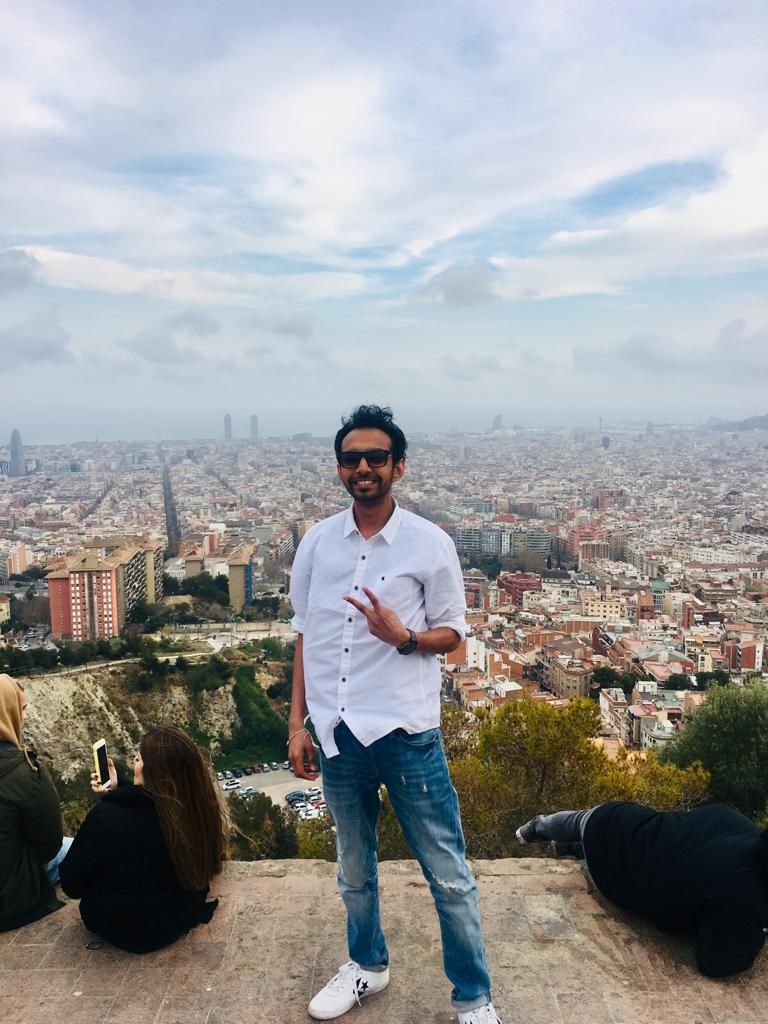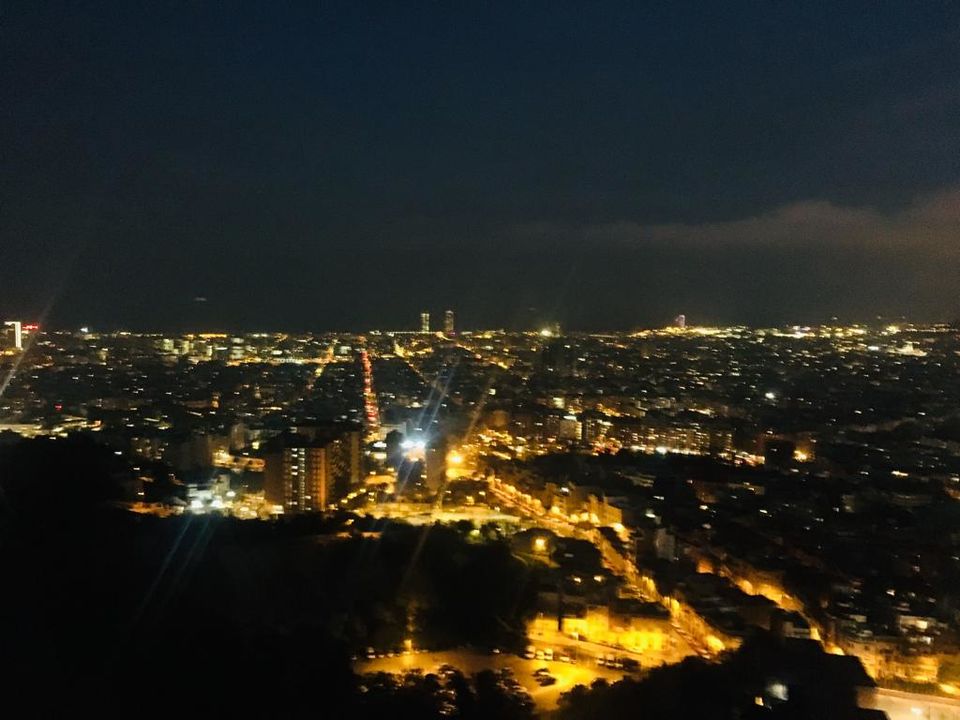 The third day in Barcelona was dedicated to the places near to Mountjuic. Similar to the 2nd day I wanted to cover all the places near by Mountjuic before ending at Mountjuic for sunset view. It was recommended by my friend that out of 3-4 sunset points in Barcelona, Mountjuic will give you the best view. And hence I went for it. The first stop was Placa D'Espanya which is one of the important squares and transport hub in Barcelona which also features many touristic attractions. You can easily travel to the square either by bus or metro. The first attraction which I visited was Spanish village Poble Espanyol. It is a rare place (and I think the only place) in Catalonia region where you can experience the Spanish Architecture. I recommend you all to buy souvenirs from this place. It is a bit expensive place but quite a worth visiting. The next attraction I visited, which was by the way a very first attraction at Placa D'Espanya - Torres Venecianes whose name itself suggest that the design of pair of towers was inspired by Venice. On the same street, you will find Font Magica de Mountjuic, Placa de les Cascades, and Museu Nacional d'Art de Catalunya. So I found this place very photogenic. The fountain will get light up in the evening and the four pillars of Placa de les Cascade will add tremendous beauty to your photo. The Museu Nacional d'Art de Catalunya is a hilltop museum to experience the Catalan art from 11th to 20th century and a place to relax in the evening. And as my friend had suggested to see the sunset from this point, this place lived onto his words.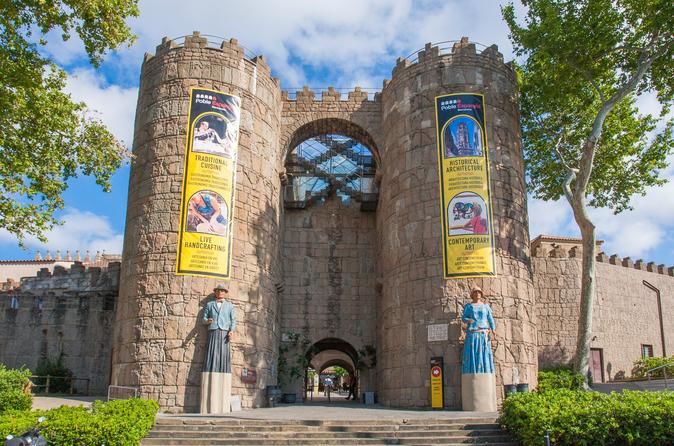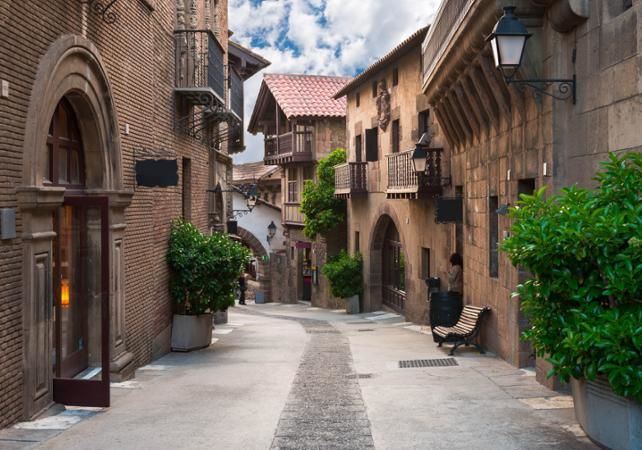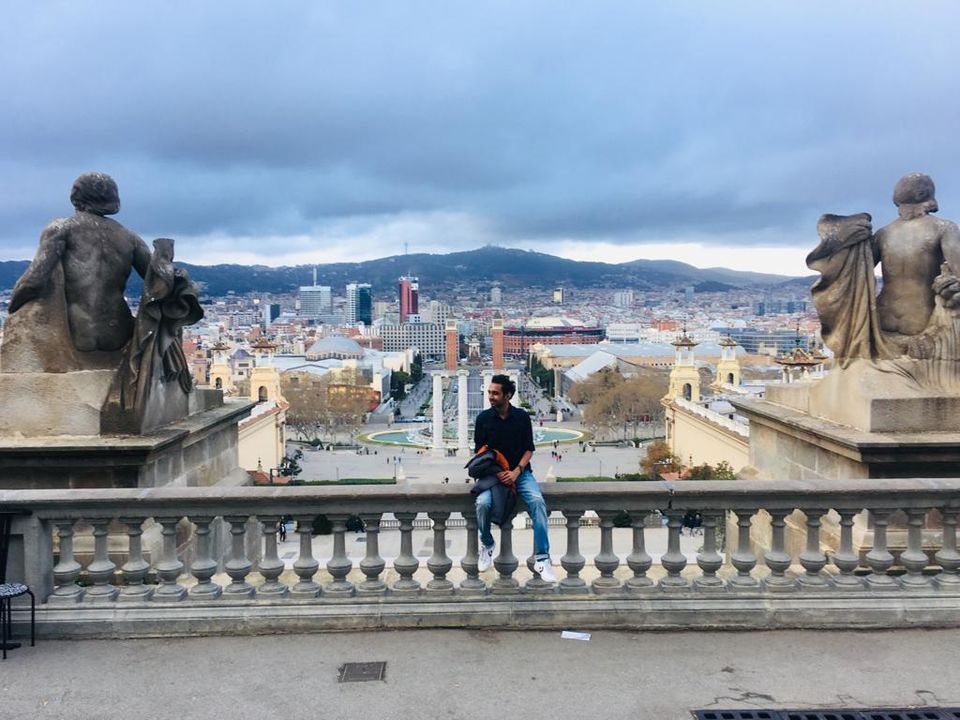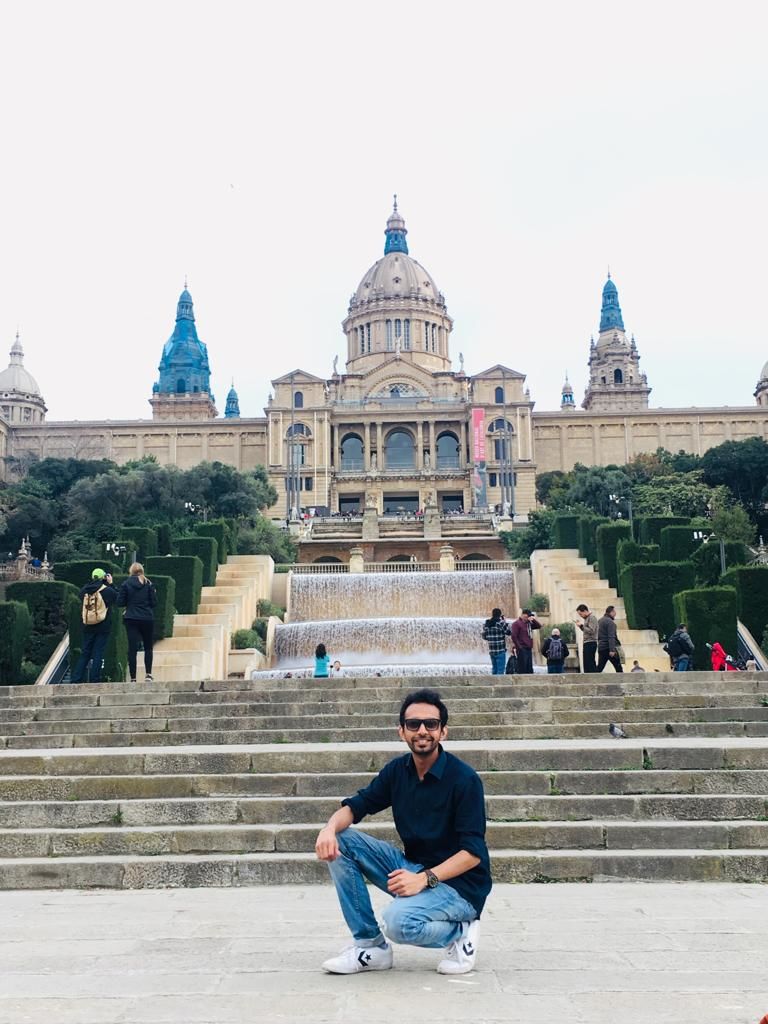 With this I had completed my trip to Barcelona. On the very next day, I had a flight to Seville in afternoon. So I decided to spend the whole time on Barceloneta beach, reading novel, tanning myself, watching a sea moving through her depth, becoming aware of her currents, and dreaming about living a beach life throughout my life.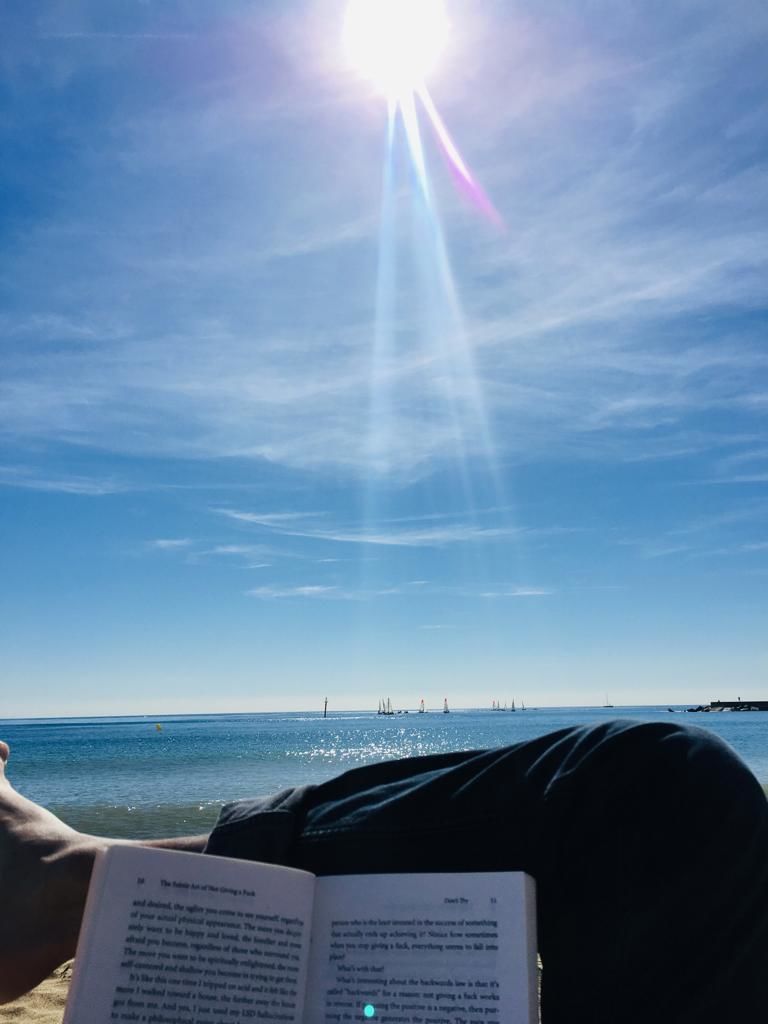 To know about Seville, its Spanish culture, medina like alleyways, and to experience the cowboy vibes, please check my next story.