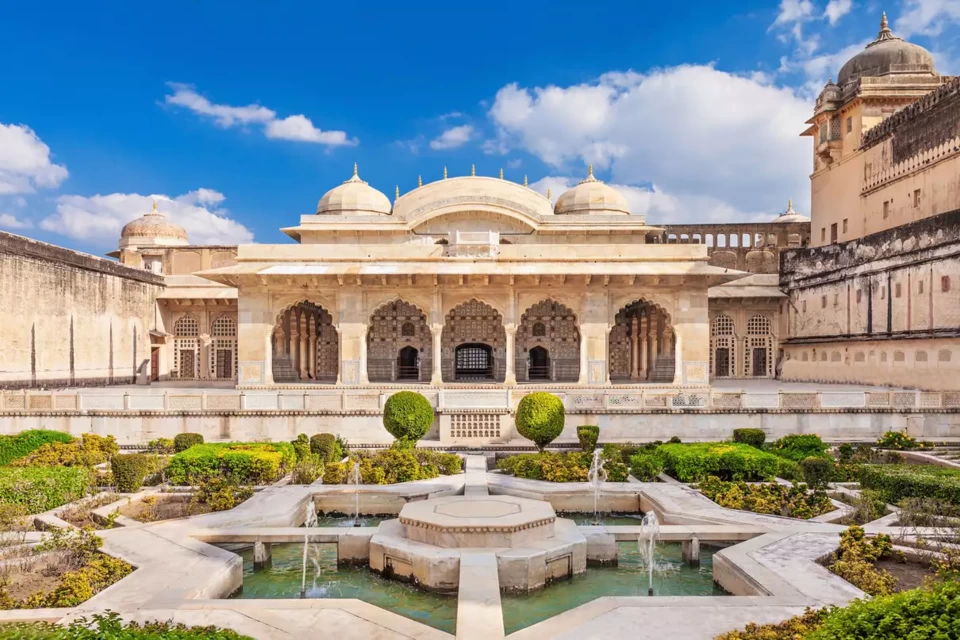 Nostalgic Amer Fort (Amber Fort), near Jaipur in Rajasthan, is one of the most well-known and most-visited forts in India. Not surprisingly, it features prominently on the list of Jaipur's top attractions. Here's what you need to know to plan your trip.
History
Amer was once the capital of princely Jaipur state, and the fort the residence of its Rajput rulers. Maharaja Man Singh I, who led Mughal Emperor Akbar's army, commenced its construction in 1592 on the remains of an 11th-century fort. Successive rulers added to Amber Fort before moving the capital to Jaipur in 1727. The fort was declared a UNESCO World Heritage site in 2013, as part of a group of six hill forts in Rajasthan. Its architecture is a noteworthy fusion of Rajput (Hindu) and Mughal (Islamic) styles.
Location
Amber Fort is about 13 km or 20 minutes northeast of Jaipur's city center.
Getting There
If you're on a strict budget, take one of the frequent buses that depart from near the Hawa Mahal in the Old City. They're crowded but will only cost you 15 rupees (or 25 rupees if you want air-conditioning). Alternatively, it's possible to take an auto rickshaw for about 500 rupees for the return trip. Expect to pay 850 rupees or more for a taxi.
Amber Fort is also included on the itinerary of the Rajasthan Tourism Development Corporation's inexpensive full and half day city tours.
How to Visit
Amber Fort is open daily from 8 a.m. until 5.30 p.m. To reach the entrance at the top, you can either walk uphill, ride on elephant back, go by jeep, golf cart, or take your vehicle. However, do note that it gets very busy during the tourist season and traffic jams are common.
Many people choose to remain at the fort for the evening sound and light show, night viewing, and dinner. The fort reopens, evocatively illuminated, from 6:30 until 9:15 p.m, depending on the season (more below).
While inside the fort, it's worth eating at 1135 AD for the opulent regal ambiance. This fine dining restaurant is situated on level two of Jaleb Chowk. It's open until 10:30 p.m. and serves tasty authentic Indian cuisine. You'll really feel like a maharaja there!
Toward the bottom of the fort, near Maota Lake, a popular sound and light show showcases the history of Amber Fort using many special effects. There are two shows per night, in English and Hindi. The starting times vary according to the time of year as follows:
October to February (tourist season): English 6:30 p.m. and Hindi 7:30 p.m.
March to April (summer): English 7:30 p.m. and Hindi 8 p.m.
May to September (monsoon): English 7:30 p.m. and Hindi 8:30 p.m.
If you're interested in the art of traditional block printing, don't miss the Anokhi Museum near Amber Fort. You can even take part in a workshop.
Tickets and Cost
The cost is 250 rupees for foreigners and 50 rupees for Indians during the day. Composite tickets, costing 150 rupees for Indians and 500 rupees for foreigners, are available. These tickets are valid for two days and include Amber Fort, Nahargarh Fort, Hawa Mahal, Jantar Mantar observatory, Albert Hall Museum, Sisodia Rani garden, Isarlat and Vidhyadhar garden.
Admission to Amber Fort at night costs 200 rupees for foreigners and 100 rupees for Indians. Discounts on ticket prices are available for students, and children under the age of seven are free.
The ticket counter is located in Jaleb Chowk courtyard, across from Suraj Pol. You can hire an audio guide or official tourist guide there as well. Alternatively, tickets can be purchased online. If buying tickets at the fort, try to get there an hour before the show starts to ensure availability.
Information About Elephant Rides
A popular way of reaching the top of Amber Fort is to ride on an elephant from the car park to Jaleb Chowk. However, due to concerns over the welfare of the elephants, some tourists are now choosing not to do this.
If you do go ahead with it, expect to pay 1,200 rupees per elephant (which can carry two people at a time). The rides take place in the mornings from 7 a.m. until 11.30 a.m. There used to also be afternoon rides. However, these were stopped in November 2017, so the elephants could rest. Be sure to arrive as early as possible to get one, as demand is high and it's not possible to book in advance.