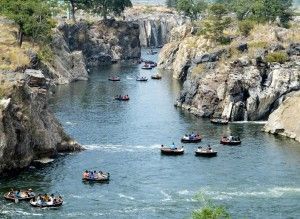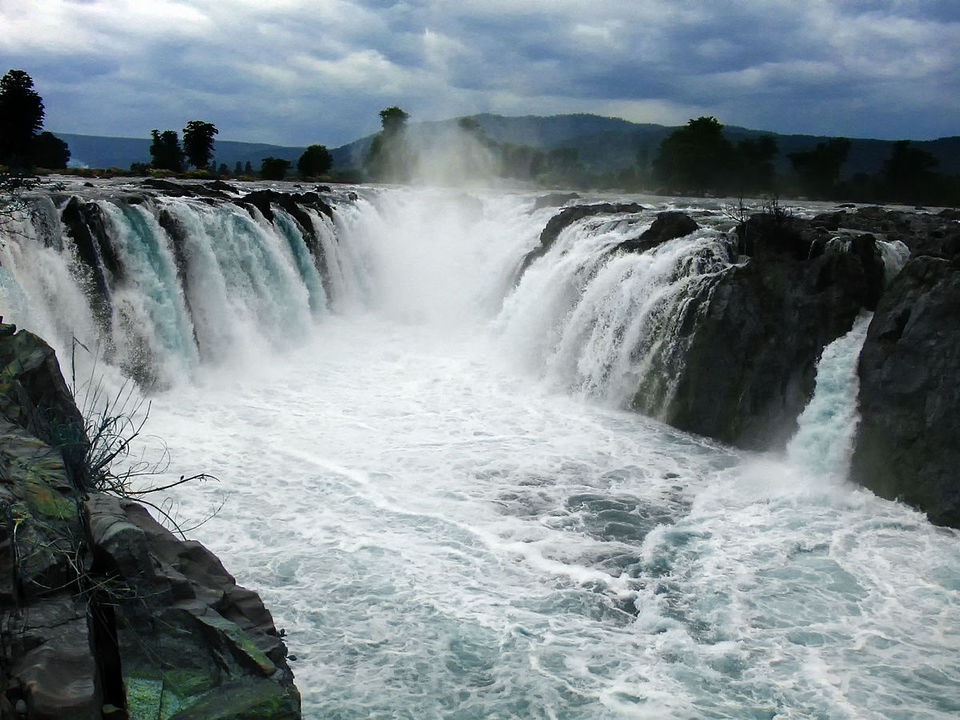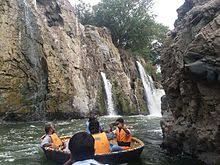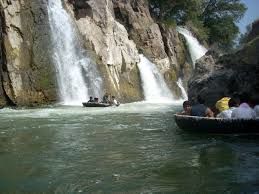 HOGENAKAL FALLS
Need a respite from the boring routine? Want to relax in a cool, eye catching, serene environ? Move on to Hogenakal falls, a sure fire getaway to refresh your body & soul. The life-giving Cauvery river of South India, in its course, crosses the border of two states Karnataka and Tamilnadu - Kollegal on the Karnataka side and Dharmapuri on Tamilnadu side. Its water cascades from a considerable height exuding a visual treat. One is stunned looking at the thunderous fall. Water roars down, creating a smoky scene which is why it is so called. Hoge in Kannada is smoke and kal refers to rock, meaning water hitting the rocks and creating smoke around. It literally is. Monsoon is the best season for the visit. Few kilometers before Hogenakal, the same river takes a split forming the spectacular Gaganachukki and Bharachukki falls near Kollegal, creating an island Madhyaranga, and proceeds towards Hogenakal that is much more gigantic than these. There are two approaches to reach the place, one from the Tamilnadu side (near Dharmapuri) and the other from Karnataka side (few kilometers from Kollegal). Can't imagine that any river gets so magnanimous in its course. Better to reach the place at around 10 in the morning and be there till evening, in the nature's lap; that makes the visit more enjoyable.
There are coracles accommodating 4 to 5 each – of course for a hefty fee and after l-o-n-g waiting - that take you from the river bund till a few yards near the falls, for a closer view. Funny thing is that they are rowed manually and the rower moves the oars in the opposite direction to arrest flow-wise move and stay standstill, so that the coracle takes hither – thither movement and slides slowly towards the bottom of the falls. Terrible experience indeed, what with coracles swirling around, that make us forget where we started from and where we are heading. Do not panic, instead, wait and watch the myriad ways of nature and enjoy, but with a bold heart.
One minus thing is its dirtiness. Entire area stinks heavily; unbearable for vegetarians indeed. Over and above, glass bottles, plastic covers and eateries out-throws are strewn here and there. What to do. plus and minus are there for everything. We need to adjust (?)
The water flows thereon to Mettur Dam in Tamilnadu.
Ha, an advise from me, carry your food along; no good eateries there. Hardly one or two are there but they charge exorbitantly, sans quality.
How to reach there?
Hogenakal is around 140 kms from Bengaluru and 46 kms from Dharmapuri. Viewing it from the Tamilnadu side is worth it. Unfortunately public transport is thin; better engage your own mode. A tempo traveler for a team of around 15 to 20, would be ideal. Enjoy the richness of nature.
N.DEVARAJAN, MYSORE