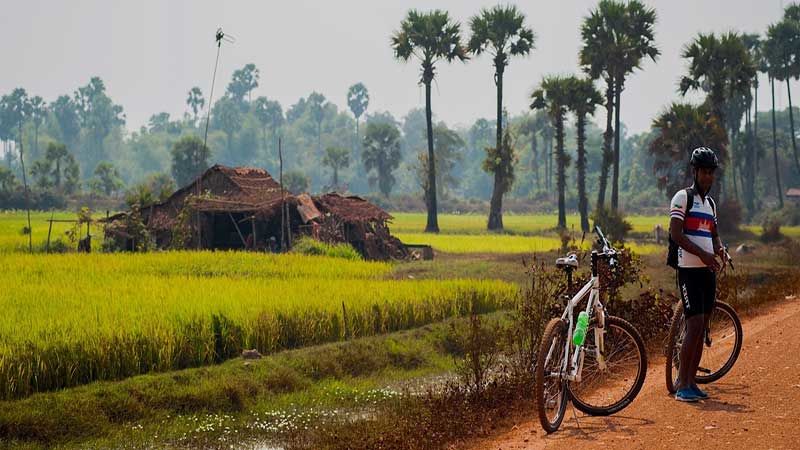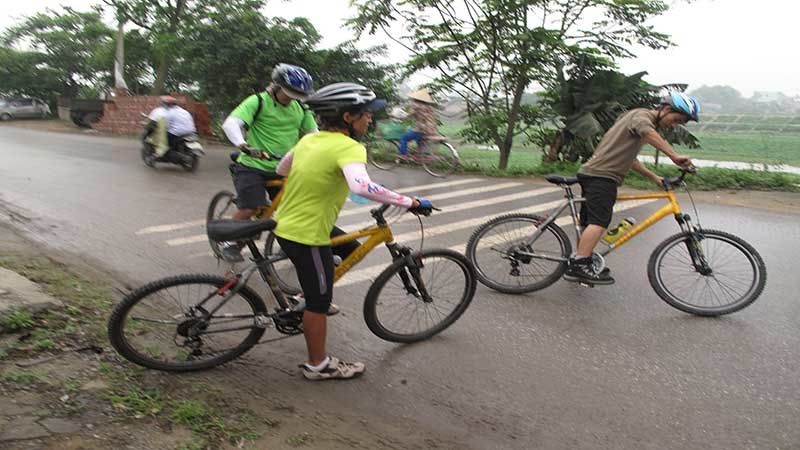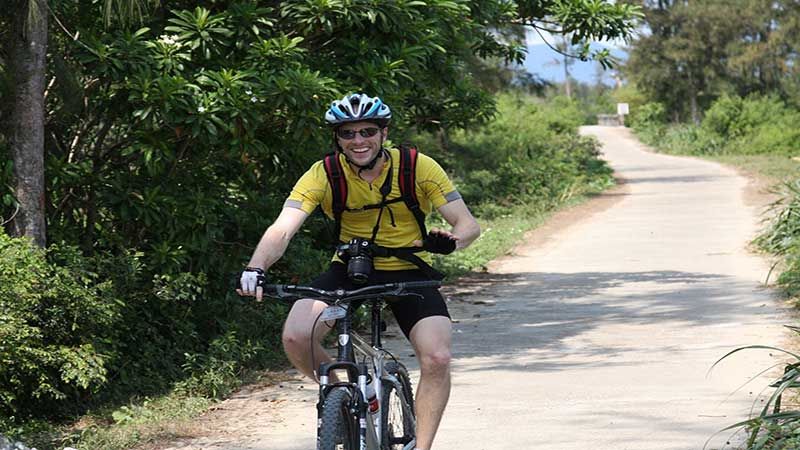 Day 1: Arrive in Hoi An
Our team will meet you in the ancient town of Hoi An. This merchant town was an important port of call for Chinese, Japanese and Portuguese traders during the 17th and 18th centuries. More than anywhere in Vietnam, Hoi An retains the feel of the past and is now protected as a UNESCO World Heritage site with more than 844 structures of historical significance. It is a fantastic place to spend the day wandering the narrow streets. At night there will be a welcome dinner and trip briefing.
Meals included: D
Distance cycled: n.a.
Level of difficulty: n.a.
Day 2: Cycle from Hoi An to My Son
Have an easy start to your bike riding with a visit to another World Heritage Site. After a short transfer you ride to see the My Son Temple Complex, the ancient centre of the Cham Civilization. Bicycle along scenic backcountry roads, past rice paddy fields, through a eucalyptus forest, and many scenic villages. The road eventually climbs away from the coast, offering stunning views as you move into an increasingly more remote region. This 14 kilometers (9 miles) road cuts through the lush jungle alongside the Song Tranh River and eventually leads us to My Son, which was once Champa's greatest city. Although many of the temples were destroyed during the war, there is still enough of the archaeological site to impress most visitors. Enjoy your picnic lunch and spend the afternoon visiting the site. In the afternoon return to Hoi An by bus. This evening dinner is on your own account. A great chance to choose from Hoi An's many fantastic restaurants.
Meals included: B, L
Distance cycled: 54km (34 miles)
Level of difficulty: Beginner
Day 3: Cycle from Hoi An to Quang Nghai & My Lai
This morning you transfer from Hoi An and begin your bike ride from a small village. The road is shaded by arching palm trees and surrounded by tended rice paddies. Around lunchtime you arrive at My Lai, the site of one of the worst massacres of the American/Vietnam War. Take a sobering guided tour of the site and museum. The cycling continues out into the Vietnamese countryside where you stop to visit a traditional pagoda before heading to your hotel in town.
Meals included: B, L, D
Distance cycled: 46km (29 miles)
Level of difficulty: Beginner
Day 4: Cycle from Quang Ngai to Kontum
Today is a more challenging day as you leave the coast and head into the central highlands towards Quang Nam and on to Kontum. You bicycle only part of the route, along undulating roads through thick pine forests and with stunning photo opportunities. Drive about 2 hours to the town of Bato in the highlands and cycle 15 kilometers (9 miles) uphill to the top of Viloluk Pass which is located 1000m above sea level. This is followed by a fantastic 20 kilometers (12 miles) descent to the bottom of the pass. From here the route undulates past many remote villages, tropical forests, over bridges and along quiet and scenic roads.
Meals included: B, L, D
Distance cycled: 90km (56 miles)
Level of difficulty: Intermediate
Day 5: Cycle from Kontum to Pleiku
After breakfast, you bike ride out into the countryside to visit some local villages of the Jarai and Bhanar ethnic minorities. These tribes still practice animist beliefs, that demons inhabit all of creation. The area is well known for their communal houses with very steep and tall roofs. Each village takes great pride in these unique designs as they define the regional landscape. After a local lunch you cycle to the town of Pleiku, which has some of the best coffee in Vietnam. This is an easier day and you will notice the change in scenery as you bicycle through a wide valley surrounded by mountains punctuated by tea and coffee plantations along the route.
Meals included: B, L, D
Distance cycled: 60km (37 miles)
Level of difficulty: Beginner
Day 6: Cycle from Pleiku to Banlung via Cambodian Border
After breakfast you will be transferred to the Cambodian border by car which takes approximately 2 hours. At this point it is time to say goodbye to the Vietnamese team. After the immigration formalities at the Le Thanh border check point, you meet your Cambodian cycling crew. Start your ride from the border to the Banlung town of Ratanakiri. Banlung is one of the most far-flung of the Khmer provincial capitals. You continue your biking adventure along a recently paved, winding road with some ups and a few less downs as you climb into the highlands that are home to the former Ho Chi Minh Trail. You spend the night in the surroundings of Terres Rouge, a traditional style Khmer house oozing with old world charm in this remote part of Cambodia.
Meals included: B, L, D
Distance cycled: 70km (44 miles)
Level of difficulty: Intermediate
Day 7: Banlung to Stung Treng
After breakfast you will be transferred for 3 hours to the border of Laos PDR and then meet the Mekong River at a point just below a series of falls and rapids. These falls re-oxidize the water and make an amazing area of Bio-diversity possible. You take your kayak and gently drift down the Mekong River, through a flooded forest that is home to a wide range of bird-life. After a few hours of kayaking, you can enjoy a picnic lunch, and then meet your van again for the drive down to Stung Treng Province. Tonight you experience a special dinner at Le Tonle Tourism Training Centre where young poor locals are being trained in hospitality and tourism skills to ensure a better future. Having dinner here, means you will get real Khmer food with personalize service from the students.
Meals included: B, L, D
Distance kayaking: 18km (11 miles)
Level of difficulty: Beginner
Day 8: Cycle from Stung Treng to Kratie
Today you will get up early to have breakfast in the town as your hotel does not have a restaurant. You have a long day bike riding ahead of you as you take off to Kratie Province, a small provincial capital located on the bank of Mekog River. You stop at Kampi to take a 1 hour boat trip to see Irrawaddy dolphins. You then cycle to Kratie Town and board a ferry to Koh Trong, where you will spend a night at a local home-stay. You should only bring your backpack and keep the rest of your luggage in the bus. Enjoy tasty Cambodian food with your host family.
Meals included: B, L, D
Distance cycled: 85km (53 miles)
Level of difficulty: Intermediate
Day 9: Cycle from Kratie to Kampong Cham
You transfer south through the town of Chhlong and take a ferry to the western bank of the Mekong to start riding from Phnom Han Chhey on quiet roads along the river, through small rural villages and scenic countryside. Stop for a drink and snack at the tiny town of Chhlong. The many French colonial houses in this town are amongst the most beautiful in Cambodia. It is a scenic ride as you pass many Cham communities which are predominantly Muslim. Marvel at the diversity of Buddhist pagodas and Muslim mosques, all with friendly locals who will welcome you warmly in each village you pass. You bike up to Wat Han Chhey, a small hilltop pagoda that houses an 8th century pre-Angkorian temple and offers spectacular views over the Mekong. Here you can enjoy a well deserved picnic lunch complimented by sweeping views of the Mekong. From here you cycle the last 22 kilometers (14 miles) to Kampong Cham, where you can relax at the hotel's swimming pool.
Meals included: B, L, D
Distance cycled: 85km (53 miles)
Level of difficulty: Intermediate
Day 10: Cycle from Kampong Cham to Kampong Thom
You leave Kampong Cham on dirt and tarmac roads along the Mekong and eventually head for a quiet secondary highway towards Kampong Thom. You will be flanked by rubber plantations, paddy fields and typical Khmer villages on today's ride. Kampong Thom is a picturesque town on the banks of the Stung Sen River, which hosts the magnificent Khmer temple site Sambo Prei Kuk.
Meals included: B, L, D
Distance cycled: 80km (50 miles)
Level of difficulty: Intermediate
Day 11: Cycle from Kampong Thom to Siem Reap
After breakfast you drive about 1 hour to the town of Kompong Kdei where you will start cycling. You bike past quiet villages, rice paddies, palm trees and some new irrigation system in the area. You stop at Makak Dam for a rest. This man made dam was built during the Khmer Rouge regime and it is useful until today. After another 20 kilometers you will arrive at Kvao Village then you turn left via 700 year old ancient road to Beng Mealea. After a short visit of this temple ruin you do a final shoot to Dam Dek and then transfer to Siem Reap for the night.
Meals included: B, L
Distance cycled: 90km (56 miles)
Level of difficulty: Intermediate
Day 12: Explore the Angkor Temples by bike
This morning you will meet your specialist temple guide once you are ready you will begin your bicycle exploration of these incredible temples. Today you will focus on the Small Circuit, which features temple greats such as: the pyramid of Takeo, the jungle-clad Ta Prohm made famous by the Hollywood blockbuster 'Tomb Raider'; Sras Srang known as the King's bathing pond; and the impressive Royal City of Angkor Thom, where you will find the Bayon, a temple famed for its many gigantic carved faces smiling beguilingly down at you. You will also visit other important sites in this immense walled city. After lunch it is time to take on the majestic Angkor Wat, the world's largest religious building. After returning to the hotel you will be taken to a local restaurant to enjoy a delicious farewell dinner.
Meals included: B, L, D
Distance cycled: 40km (25 miles)
Level of difficulty: Beginner
Day 13: Bid farewell to Siem Reap
After breakfast you will be free till transfer to airport for your onward flight leaving hidden charm of Vietnam and the mighty Khmer Empire with many wonderful cycling memories.Hoi An to Siem Reap Cycle Tour 13 Days