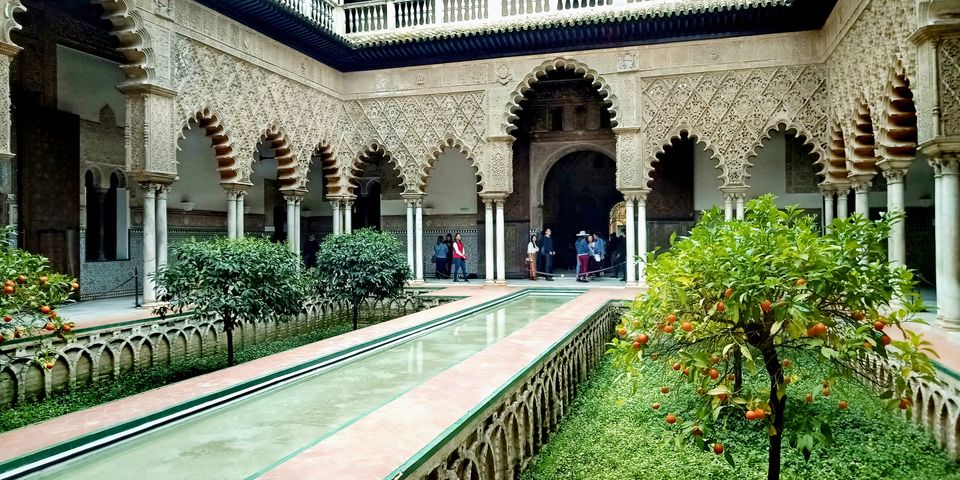 Hi guys, just back from my trip to Spain. Spain was on my radar list for long and it did not disappoint me a bit. I landed in Madrid and took an Soci Bus to Seville, the heartcentre of Andalusia region. I booked a cosy apartment in the Old City of Seville so that all the major locations are within a walking distance. The only hiccup which I faced is the language problem as majority people does not speak English and there was no signage also available to guide my way.
Spain is basically known for its vibrant night life and one of the most famous landmarks Metropol Parasol was just around the corner. This mordern architecture in the Old Quarters of Seville is in the form of Giant Mushrooms and claims to be the largest wooden structure in the world. There is a restaurant in the top and also a view point. The entire area is dotted with restaurants and food joints (which I will write in a separate post) and you can enjoy delicious Tapas and Sangria. I spent my evening lounging around enjoying the vibrancy as the restaurants remain open for pretty late hours.
The Andalusia region has rich moorish architecture which makes it stand out from other European cities. I had never imagined Maple trees and Date trees to stand together. With the help of Google Maps the first stop in my next morning was the famed Giralda and the Seville Cathedral. The Seville cathedral is famous for housing the tomb of renowned explorer Christopher Columbus. Originally a mosque it was converted to a Church after the conquest of Seville. The Giralda is a bell tower which stands near the Cathedral and you have to purchase a bundle ticket for entrance to both Cathedral and Giralda. The Giralda has 35 ramps and no stairs to climb. There are windows and decorated facades and I did not feel any tired while climbing up. But people who are not used to steneous activity may feel a bit challenging. But the view which you get from the top is worth the effort. After reaching the top the entire city of Seville can be seen with a bird's eye view. I moved to different directions at the top to get 360 degree view of the city. It is always better to start early as people may crowd up and yes always be cautious while coming down.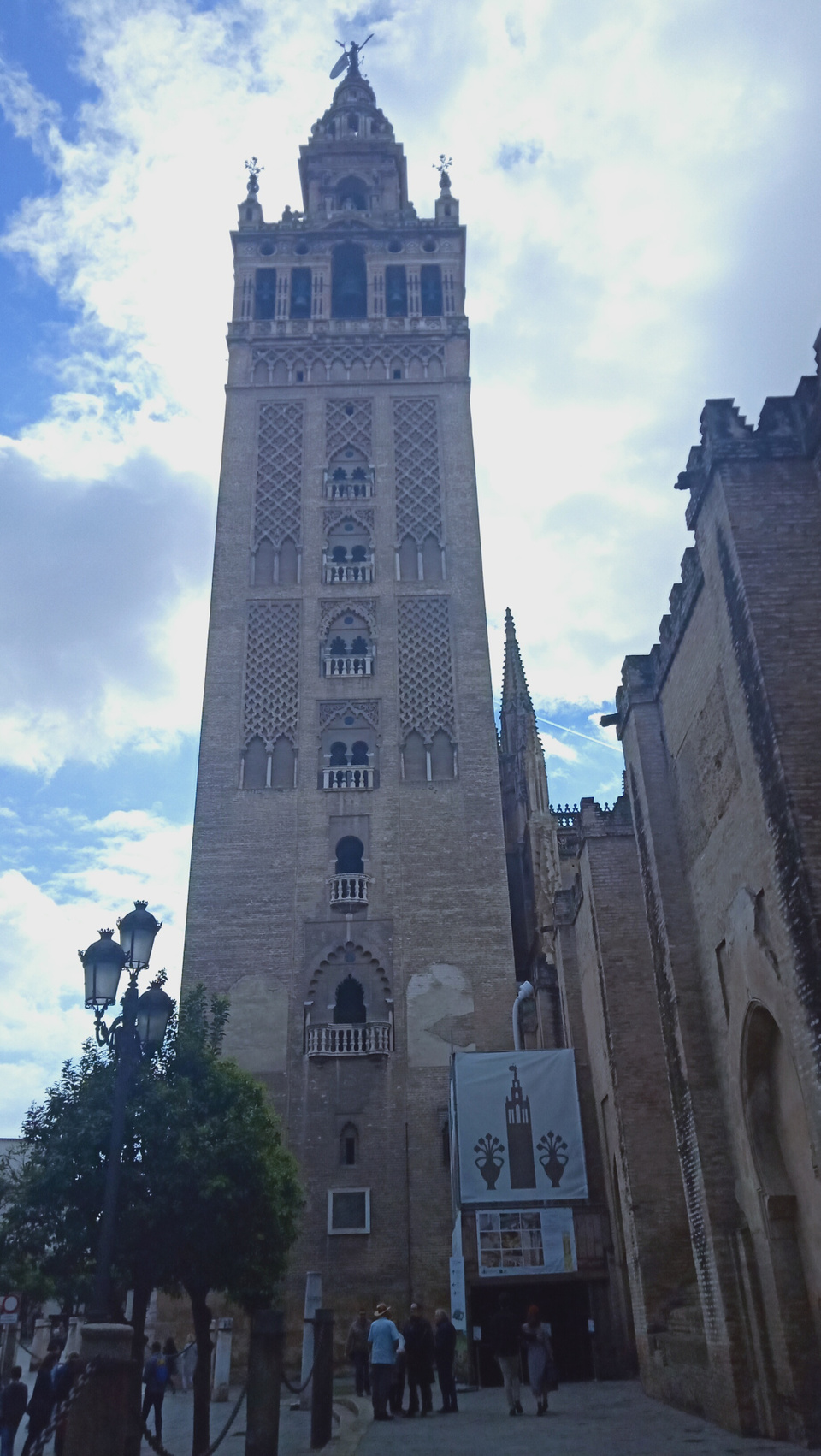 After visiting the Cathedral and Giralda I had a sumptuous lunch of Spanish cuisine. There are also traditional horse driven carriages and hopping on one of them can also provide you a vintage feel. In the evening I planned to go for a Flamenco show and being a dance addict this was a must to do list. Although flamenco dance shows are available throughout Spain it is Seville that is considered the birthplace of Flamenco and there are lot of taverns throughout the city hosting shows. I was provided a subsidized ticket by my host at Tablao Alvarez Quintereo. The setting was that of an old house and the dance was accompanied by a person on guitar and a lady singer. I watched in rapt attention as the dancer gyrated to varied hand movements and the famed foot taps to the music. It is one of the most fiesty and energetic dance that I have ever seen and I basically got goosebumps watching the show.
The next day I hopped along to visit the famed Alcazar of Spain or the Royal Palace. Certain sections of the Palace is still being used by the Royal Family. The Palace has rich facades and various rooms which is still in good condition even today. But the most striking feature are its gardens. The gardens houses orchards and designed in typical Moorish style have many water fountains. But what I loved most is the famed Hydraulic organ. Instead of air music was created by water flowing through various pipes. It plays every hour and luckily when I reached near it it was playing and so I could enjoy this ancient engineering marvel. There are also mazes designed in the gardens which if you have time you can explore. But I was exhausted by visiting the grand palace and its innumerable rooms and out of fear of getting lost I did not venture further. But I must say in conclusion that going to the Alcazar makes you go beyond time and makes you relive of a time that was in the past.
I was faced with heavy rains which played a spoilsport but nevertheless I made my way to the Plaza de Espana, which is a Plaza with Baroque architecture and ceramic tiles built on the occasion of the World Fair. It is laid with huge fountains. Today the buildings houses primarily government offices. But spending an evening here and watching the sun go down is worth watching.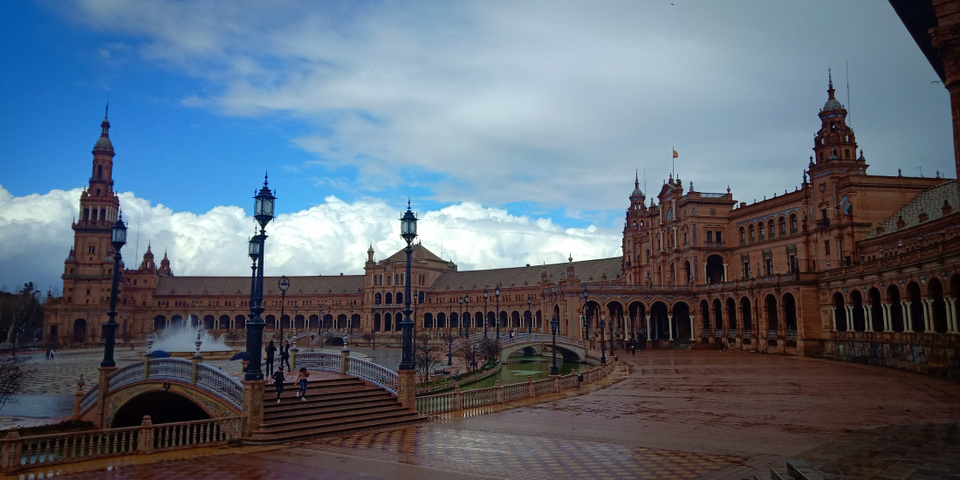 Being a girl I had to spend one day in shopping during my travels and luckily it was the Sale season going on. Spain is the home of the famous brands Zara and Mango and also Bershka. So this was my four day trip to Andalusia. As they say as one journey ends another begins...
Important Points:
1.It is always better to learn some basic Spanish as English is rarely spoken in Andalusia and you may find it a bit challenging
2.Stay in the old quarters as everything will be within walking distance
3.If you need to travel bus is the best option throughout the city
4.Spain comes alive in night and during mid day everything basically is shut down fot the famed siesta. So you might want to keep that in mind while hunting for food. I
5.If possible try enrolling yourself in a day's class in Flamenco and yes dont forget to try their Tapas and Sangria
For more such travel stories please follow my blog https://girlsliketotravel.com/