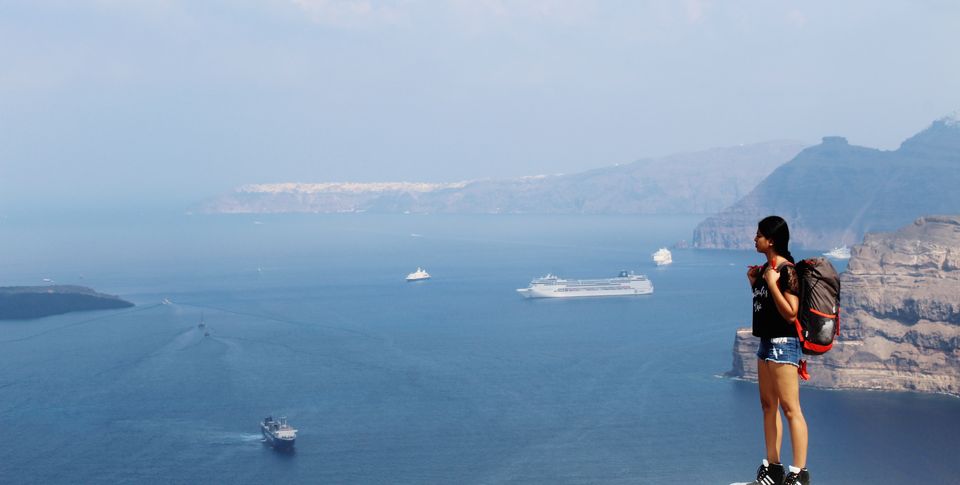 If you are a travel enthusiast and want to visit a lot of places with well-managed economy, this post is for you. If you are on a splurge spree for your honeymoon, please visit the post: here.
Getting down to business right away, Santorini is a 2-3 day detour from Athens if you are planning a Greek holiday. Once you are settled in the beautiful natural beauty your mind again will become restless for something more, especially if you are a city person like me. Santorini has one main town Fira and two small adjoining villages : Oia and Imerovigli all in a length of 18Km and breadth of 12 Km. It has a single airport located in Thira about 5Km from Fira, the main town.
Budget-hack 1: Fly from Athens by Aegean airlines or Ryan Air roundtrip will come as cheap as €70.
Budget-hack 2: Stay in Fira. It is 7 minutes from airport. There is regular bus service at 1.8 Euro from the airport to Fira bus stop. There are many good BnBs available in AirBnB or equivalent sites. Santorini Rooms for example has Double rooms (Max 2 guests) with Safety Deposit Box • TV • Air Conditioning • Refrigerator • Toilet • Patio • Bathroom • Heating •Bath or Shower • Garden view at €40 per night.
Budget-hack 3: Rent a bike. Tourists with international car/two-wheeler driving license can rent a bike, maximum €40 for 2 days. The bike rides can get extremely enjoyable, with absolute freedom to go anywhere within the island. Take a bus in absence of driving license. Bus service is pretty regular and cheap.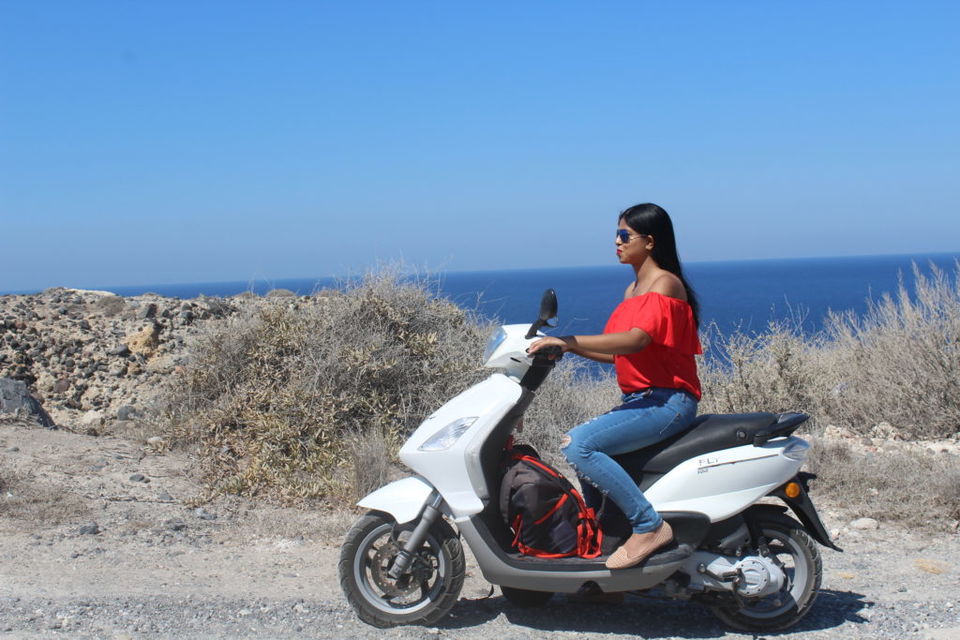 Budget-hack 4: Indulge in local food and groceries. There are Carrefour and other departmental chains from where one can get fresh fruits, juices, milk (Never miss the "Milko" chocolate milk cans, life savers), cereals for breakfast. MacD and other standard price stores are value for money everywhere. In Fira town centre there are some local deli (try, Lucky Souvlaki eatery) which sell great pizzas, souvlaki (Meat sticks),gyros (meat-wraps), Greek salad, falafel on average price of € 6-7, one square meal. Buy water in 6-packs for €2 at the grocery stores. Explore the local bakeries for sumptuous and cheap dessert options.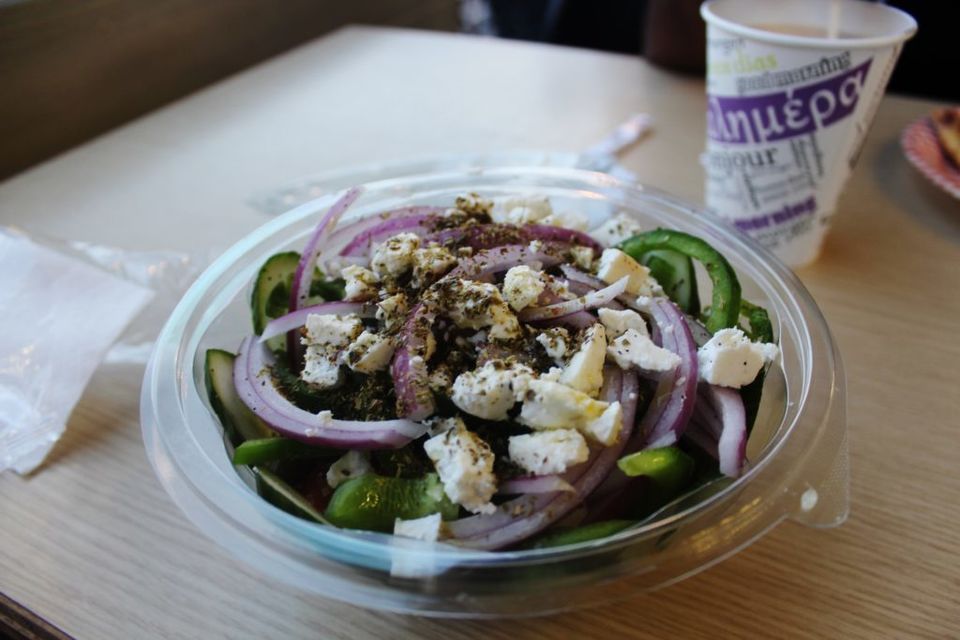 Customary Greek Salad with Fetta Cheese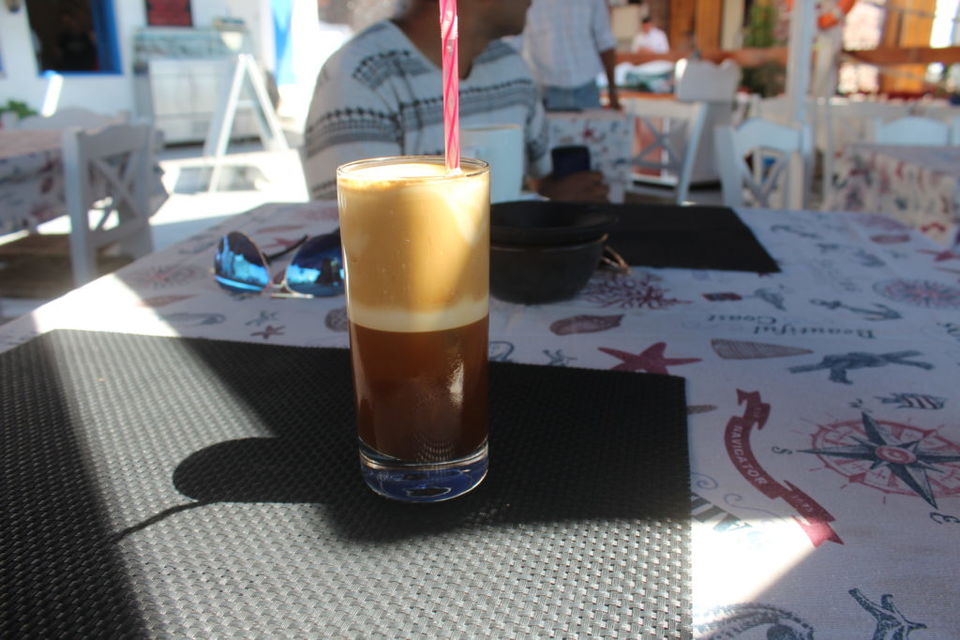 Budget-hack 5: Travel light. Take one back-pack per person, or one cabin-size trolley to avoid extra lugguage charges o the inter-city cheap flights all across Europe.
The relatively cheap taverns of Ammouldi Bay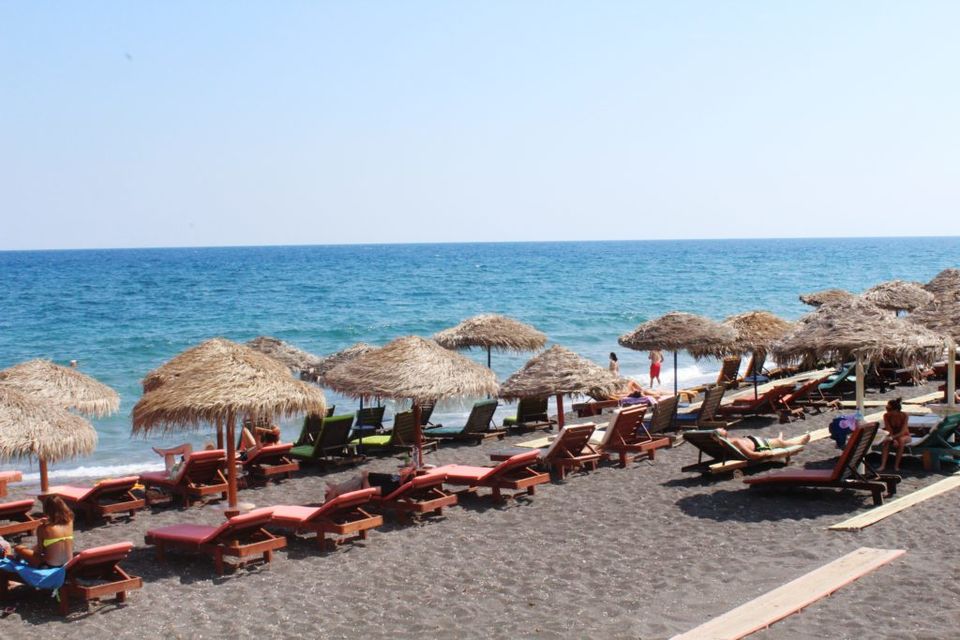 The Black sand beach with relaxing spreads one can rent for 10 euros for unlimited period.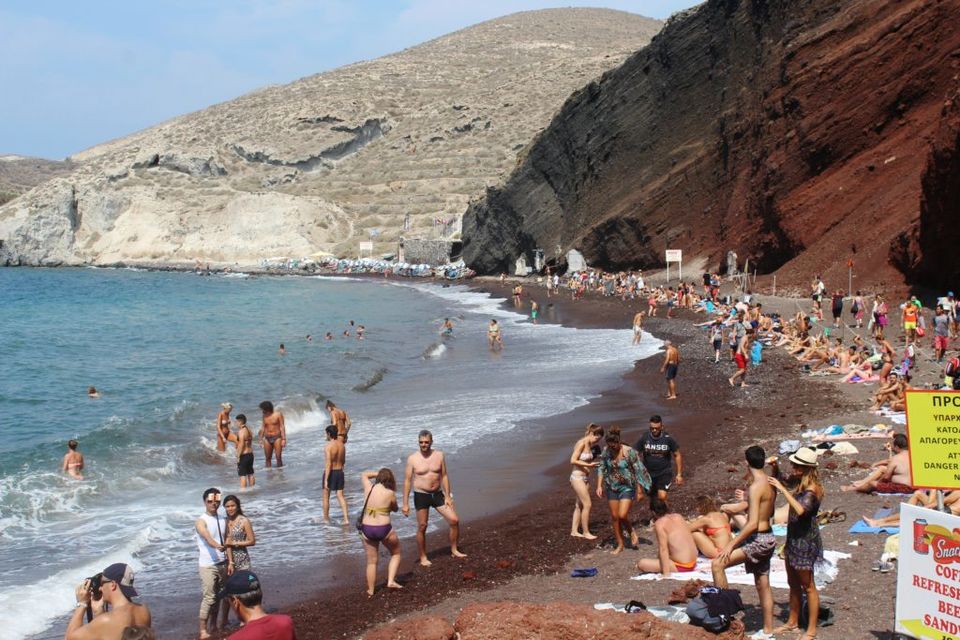 The red sand beach
Apart from this, there should be no major expense. The natural beauty of the island, the caldera, colorful beaches, the light-house at the southern-most point of the island, the beautiful sunset at Skaros, whitewashed houses, men on donkeys are all a free-show and above all, these are the things you will remember as fondest memories of your Greek Holidays.
Love,
~Safarzaade
This blog was originally published on 'Safarzaade'