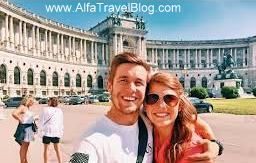 Traveling the world is a dream of many. But nothing could beat the excitement, love, and passion when you travel for your honeymoon.
Have your heart's most wanted cravings got fulfilled and plan your honeymoon trip to Vienna, the heaven for music, love, and art.
If you and your would-be are big art fans and everything that is a bit mystique and artistic calls you in, then Vienna is the place for you.
Lose yourself in the classical music and Europian history while having a glass of world-class wine.
Adore the gorgeous paintings accumulated in a number of museums in Vienna because go-around the whole Europe but you will not find any other place having so much of art together as it is in Vienna.
Enjoy waking up every morning in the arms of your love while listening to the Vienna Boys Choir performing at the Hofburg Chapel.
If you feel lazy and don't wish to do anything, then just hold the hands of the love of your life and visit any nearby coffee house and enjoy a fresh dash of caffeine while inhaling the scents of Europe.
When all your laziness is slept off, rent a bike and roam around the city. The beautifully carved paths are specially made for bike riding and every other known place is just 30 minutes away from everything else in the city.
Explore the deepest of European culture and art with your partner in crime and enjoy your Honeymoon in the most romantic and special way, because every couple is different and so do you.
A few things to do in Vienna-
- Tour all the art museums
- Experience Old Danube on cozy Sofa Boat
- Hike at Villa Aurora
- Attend the Vienna Mozart Concert at the Musikverein
- Tour Schönbrunn Palace in Evening
- Visit all the famous Churches
- Give a tour of the Tiergarten Schoenbrunn Zoo
- Have a Rendez Vous at Salettl Pavilion
- Listen to the State Opera