Hong Kong is a destination for the ones who love adventure and theme parks. It's touristy flaunts Asia's only Disneyland and is once in a lifetime experience. The flight time to Hong Kong from New Delhi is a meagre 6 hours and a handful of airlines offer direct flights for this route. A flight that starts from New Delhi in the night and reaches Hong Kong between 9-10 in the morning suits best, as every hotel allows check-in post 2 PM.
I chose to travel by Jet Airways which was priced at 33K but coupled with the the cashback offer of 6000 from Makemytrip, it costed me only 27K. Wohoo!!
This is how I spent five days at Hong Kong and Macau.
Day 1: Landed at the HongKong International Airport.
Hong Kong is a combination of islands and the most famous ones are Kowloon and Hong Kong Island. Both the islands are contrasting in nature and anyone who wants to taste the true essence of this country shall spend time at both the destinations. Wan Chai is urbane and polish. Eateries are on the expensive side and has some really expensive and glittery shopping malls like Sogo Causeway bay ,Hongkong. The Times Square Mall is one of the famous landmarks at Wan Chai and one can find the Tiffanys and Armanis in one small space.
After resting for an hour or two, we left the hotel around 5 PM. We walked towards the Time Square which was very close to our hotel. Everywhere our eyes ran, there was a splendid view of chic trams and stylish restaurants. We took a tram to Hongkong Central and covered the, Two International Finance Centre which is the 8th tallest building in the world and the closely seated Hong Kong Observation Wheel. We continued to stroll around 3-4 hours when our energies started to recede. Around 10 PM we went back to the hotel and slept to re-energize for the next day.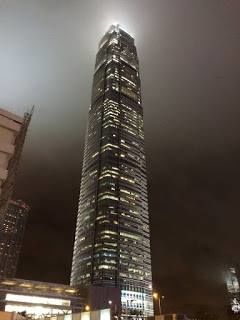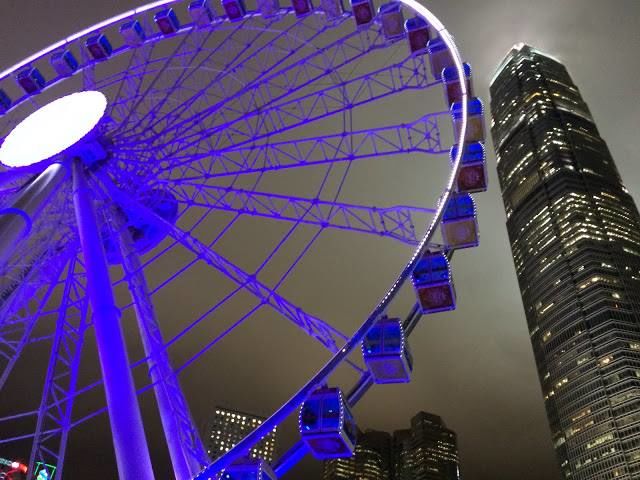 Day 2: Ngong Ping and Disneyland
Our plan for the second day was tightly packed and we started it a bit early. On the GPS our hungry souls spotted a gurdwara which was just a kilometer from the hotel. It clearly became our first destination for the day, not because anyone of us was religiously inclined, but because of the delicious langar, halwa prasada and tea. After having our gastroenergies full, we headed towards Lantau Islands.
Lantau Islands seats two important destinations Ngong Ping 360 Village, Lantau Island, Hong Kong.and Disney Land Hongkong. It's a good idea to cover both on the same day. We reached Hong Kong Central Station between 9:00- 10:00 AM and took and MTR train from to Tung Chung Station. It took around 30 mins and then we walked towards Ngong Ping. The queues were long because we did not pre-book, so it's recommended to buy the tickets online in advance. The cable car ride costs 185 dollars and includes the cable car ride back and forth, Big Buddha 天壇大彿, Ten Thousand Buddha Temple, Sha Tin, Hong Kong and Po Lin Monastery. We started around 1:00 PM, and were able to cover everything in close to 2 hours. The entire cable car ride was covered in deep mist, as it was raining continuously for the past several days which reminds me that no single day could we step without an umbrella. The first glimpse of the seated Buddha from the cabin was astonishing. It's the largest seated Buddha in the world and takes 268 steps to climb up and view it closely.
The Po Lin Monastery and the Temple of ten thousand Buddhas were equally beautiful. The temple is named so because it is walled by 10,000 tiles that are engraved with an image of sitting Buddha.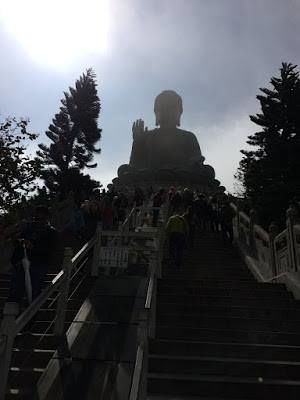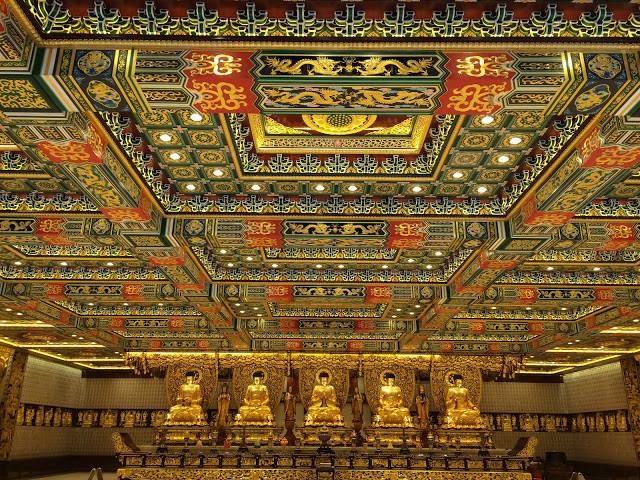 Considering that we also wanted to visit Disneyland, we left the place around 3:00 PM. We took a train back to Sunny Bay and then detoured to board the Disney Land train. In the next 5 hours we dwelled into the world of Disney. Right from the time we entered the train we were welcomed by the Disney characters. Mickey, Mini and Goofy, swept our childhood right in front of us. Disney land is huge and it's filled with theme based rides. We took some jaw dropping rides i.e. the Big Grizzly Mountain, Space Mountain just to name a few of them. There was an evening carnival where all the Disney characters came together and performed with immense fervor. The night culminated with brilliant fireworks and a storytelling that would last a lifetime.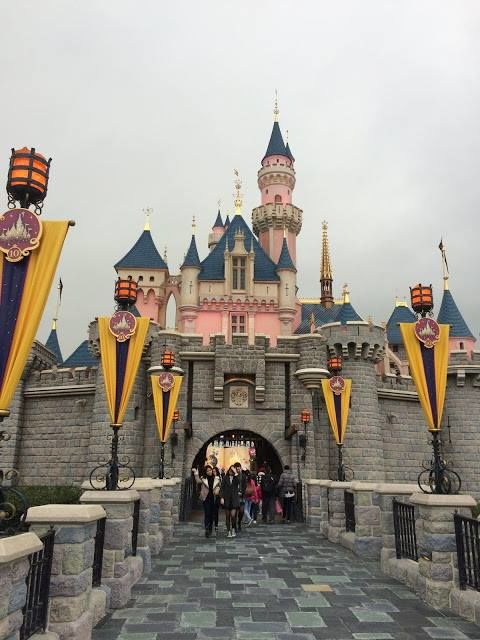 We left Disneyland by 9:00- 9:30 PM to go back to our hotel.
Day 3: Ocean Park Adventure, Hong Kong and leaving for Macau
The best part about staying in Wan Chai is that it is very close to Ocean Park. Ocean Park is a theme park for the dangerously hair raising ride lovers. We checked-out from the hotel and left our luggage back in the hotel's storeroom.
It took almost half a day to see the huge adventure park. There were some shit scary rides spread throughout the vast expanse of the park. Queues for each ride were long therefore it was a good decision to avoid going there over a weekend. We visited the underwater world and the Panda world. There was a magical train ride that was an alternative to the cable ride car and within 5-7 minutes traversed the entire journey to the top of the Ocean Park. Rides like Hair Raiser, The dragon, bumper blaster were nerve wrenching.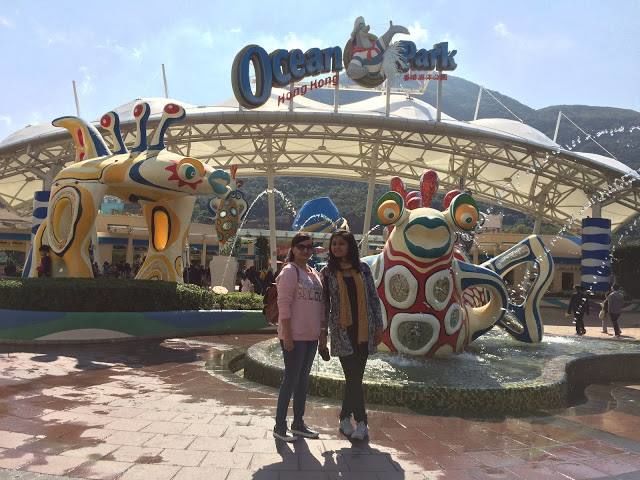 We spent around 4-5 hours at Ocean Park Adventure, Hong Kong and headed back to the hotel to pick our luggage.
Now was the time to leave for the ever-vibrant Macau. The ferry rides start from the Macau Ferry Terminal. If we'd left before 6 PM it could have fetched us tickets for 153$, which otherwise costed us $200. It was an hours journey through Turbojet - Hong Kong Macau Ferry and was as smooth as silk. Macau immigration happens once you purchase a ticket for the ferry and go inside to board. The queues could be long on weekends and in the evenings, so while buying the tickets special attention should be paid to the booking time.
Day 4: Macau
Macau! What a sensational destination. Full of glamorous and gigantic casinos, this place is for everyone who wants to roll the dice. We reached around 9 PM and even for the fact that we were left with no energy, our spirits were still alive.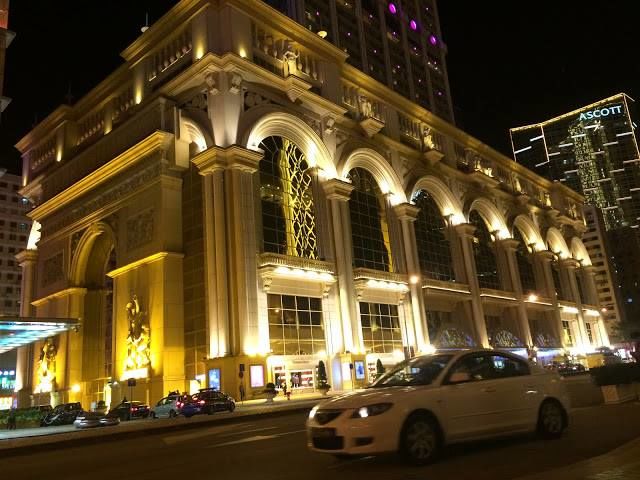 The next morning we started with Macau Grand Prix Museum and then the Ruins of St. Paul's. Buses were easily available at every nook and corner of Macau and the best way to commute. We took Bus D-30 to St Pauls, and bus A-26 towards A-Ma Temple which was 2 blocks away from the cathedral. We then boarded MTR-4 to Macau Tower which offers the world's highest Bungee Jump and costs about a whopping $399.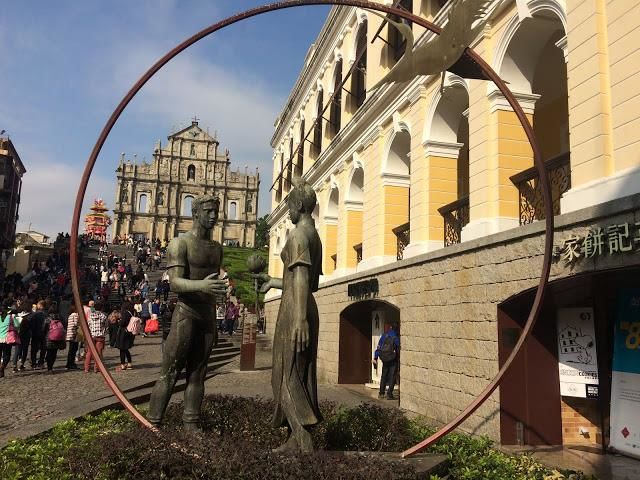 Once again from Macau Tower we boarded MTR 4 to visit the Venetian Macao 澳門威尼斯人 Hotel and Casino.The casino such a thrilling experience. We placed a utter miserly bet of $10 in every turn and lost $80. My heart sank and egoistically driven I placed bigger bets until I reclaimed my lost money back.
The noteworthy point was that all the casinos at Macau gave pick/drop services from the city for tourists through buses. We took a free ride to reach back our hotel.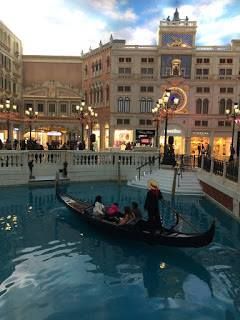 Day 5: Early morning Ferry back to Hongkong (Kowloon)
Next morning we took a ferry back from Macau Ferry Terminal 澳門外港碼頭 to Kowloon. We stayed on the other side of Hong Kong this time, to explore a very different side of Hong Kong. Kowloon is popular for shopping, art and entertainment. Apparently it is the less costlier side of HK. It was extremely crowded and Mongkok is the most densely populated areas in the world.
We spent the entire day 5 in shopping.
Day 6: Head to the airport for the flight back home.
Kowloon, Hong Kong is relatively closer to the airport in comparison to Hong Kong island. We took a cab to Kowloon station and bought Airport Express Line tickets costing $90. It takes only 30 minutes to reach the airport and is the best option available. Upon arrival, we visited the Disneyland outlet at the airport and handpicked few souvenirs. The flight once announced, we headed to the boarding gates. Instead of being happy about listening to our language after many days, we were rather uncomfortable for the fact that our non-nonsensical statements could now be understood...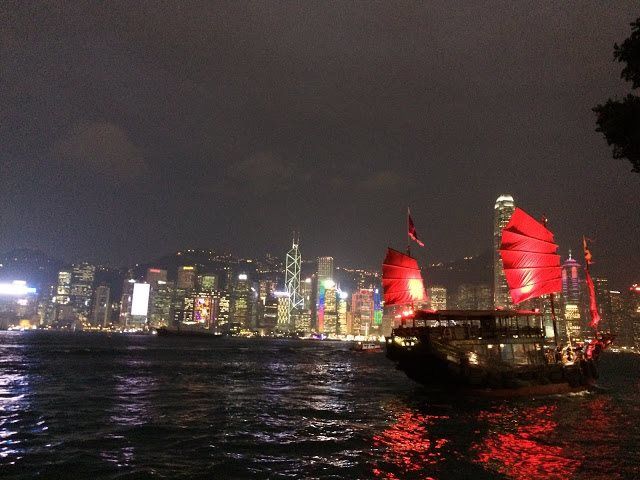 Some of the top places to shop.
Shop Brands Harbour City Mall Hong Kong, Telford Shopping Centre
Hong Kong Specific Nathan Street, Kowloon, Granville Road
Street Shopping Ladies Night Market Hongkong, Temple Street, Hong Kong