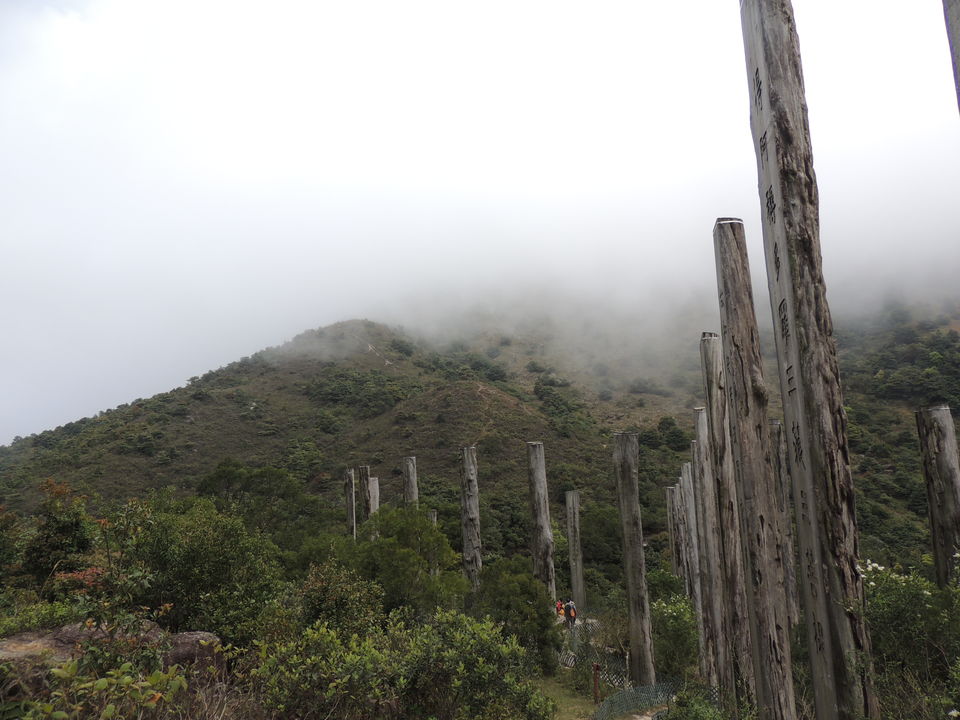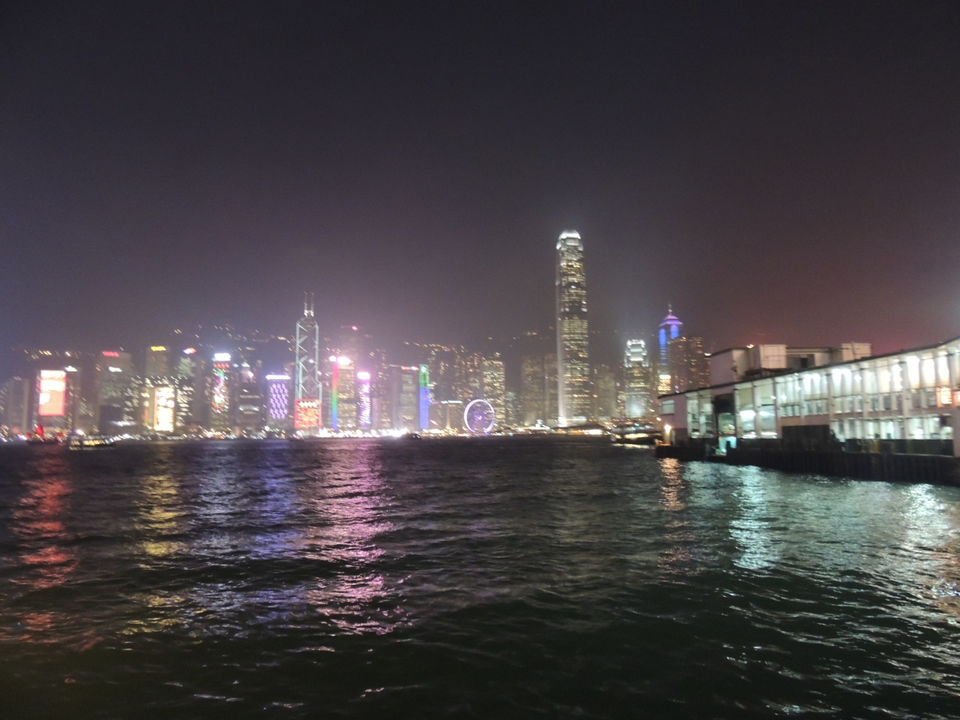 My favourite park in all of HK
On my first day itself I got to spend some time by myself in the quiet environs of the Lai Chi Kok park. It was an oasis of tranquility in the midst of the bustling area of Mei Foo and contained a Tai Chi Garden, an acupressure stone path, a calm green pond and some beautiful ornate examples of Chinese architecture...gazebos, bridges, all made of dark wood and intricately carved. The park is popular for photo-shoots, as I saw some heavily made-up models posing for pictures in various corners.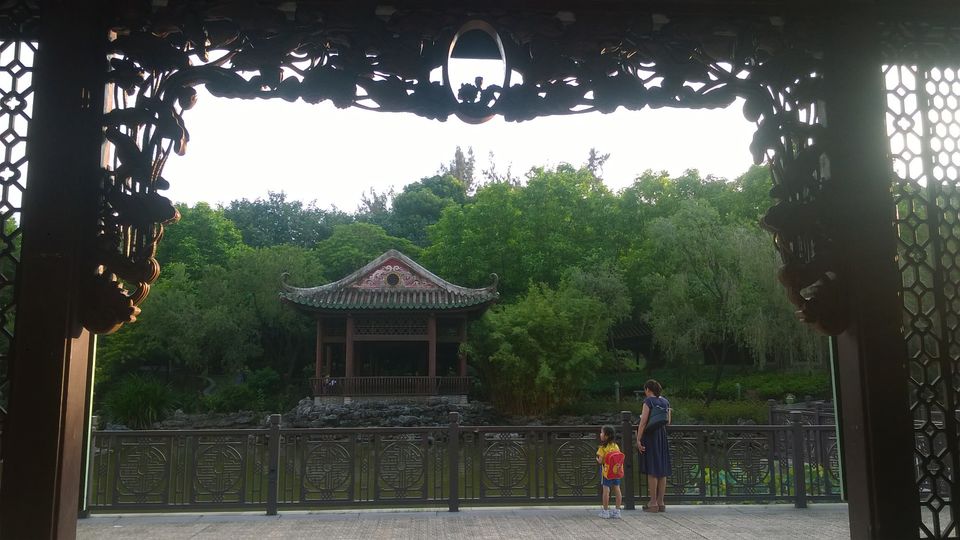 Thankfully, I got the opportunity to visit Lai Chi Kok park again the next week. I got to see elderly ladies practising Tai-Chi with swords in fluid dance-like movements. This time around, I tried walking the acupressure stone-path and marvelled at how much pain tiny bits of stone can cause. The result of that painful dance that I did, was a tremendous feeling of comfort, like a massage even, for my travel-weary feet. I have saved this park in a corner of my mind as a peaceful haven that I can return to at will....to sit at the gazebo, to walk on the pathways, to stare at the waters or just breathe in the peace!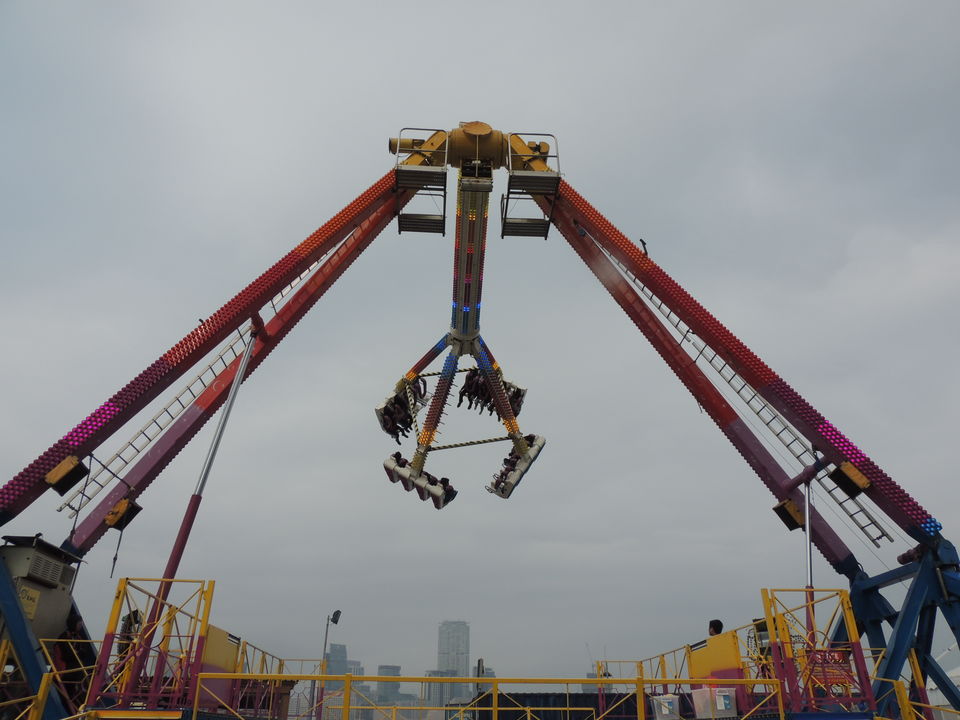 The crazy rides at the AIA Fair
Chinese New Year (CNY) is the best time to be in HK simply because everyone is in holiday mode and the whole focus is on fun, frolic and enjoyment. The people I went with were mad about rides and would try anything....I did not know this at the time. This was an internationally acclaimed travelling carnival that had come back to Hong Kong after a good 7 years. The excitement surrounding it was tremendous and as it was Chinese New Year time the crowds were literally, thronging. My friends and I bought tickets, entered and after some warm-up rides we saw this one (picture above). They all immediately wanted to go on it but I was skeptical. The ride literally flung people over the sea, I wasn't sure I could stomach that much excitement. I asked them to go ahead but they wouldn't go without me and eventually coaxed me into it. I went on this ride and it was crazy. It spun us around and flung us sideways and all I could see were ant-like people below, the looming sea and other riders' screaming faces. After a while I shut my eyes, I felt really scared and sick but that lasted for just a bit and by the time it was over I was even enjoying myself!
The real monster was the Mach 5, a ride like no other....where the riders were strapped in and spun around 360 degrees. I guess I am one of the privileged few who can say that I have seen the Hong Kong skyline upside down. I loved the fair, replete with funny cardboard scenes with faces cut out where we posed for photos and the lion dance where they showered lettuce leaves at us for luck. Novel experiences!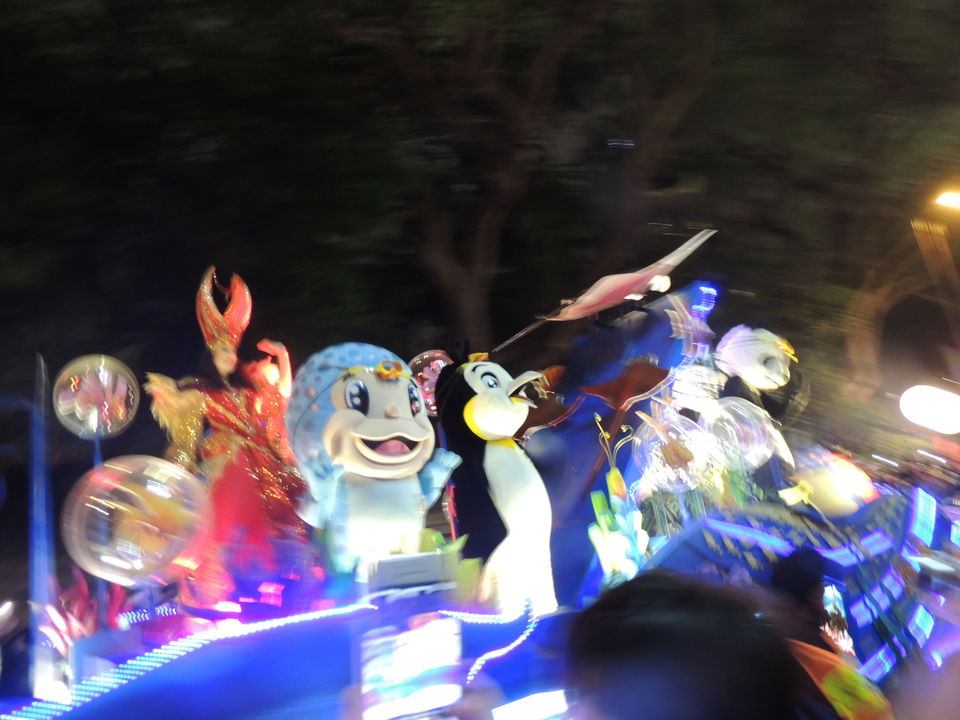 CNY Parade
For the parade we had to walk miles till we actually found a spot where we could see anything....so thick were the crowds lining the streets at Tsim Sha Tsui. It was a fun experience watching lion dancers, dragon dancers, unicyclists, various floats and pretty girls in costumes walking down the street to music. The crowds were cheering and munching on snacks not minding the long wait at all. We gave up and walked to the MTR (metro) when our legs were just about to give way.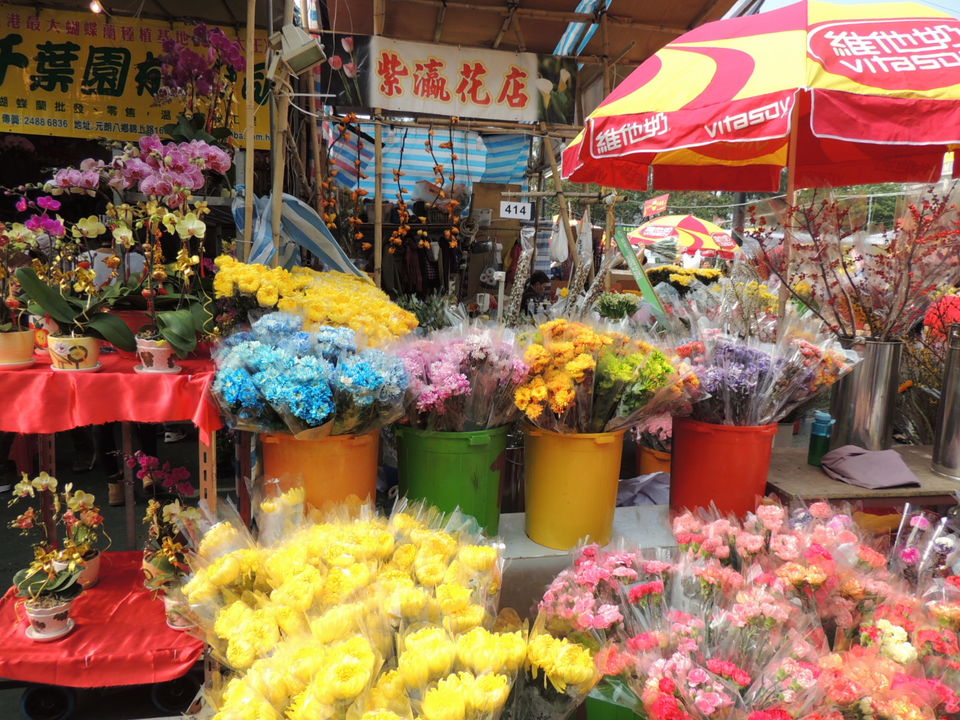 Victoria Park Flower Market
It's considered auspicious for the Chinese to deck up their homes with new plants and flowers for New Year and cashing in on this ritual there springs up a mammoth annual flower market at Victoria Park for all sorts of plants and flowers: lucky, holy or just plain beautiful. I can honestly say two things about my experiences here: I have never seen so many exotic varieties of flowers and plants together in one place and secondly, I did not really mind the surging crowds which I abhor in my own country.
There were lanes and lanes of flower stalls and then there were a few lanes of toy stalls and food stalls. I saw that visual which up until now was familiar only via TV...a large stall with various kinds of dead sea creatures and other insects on trays, manned by very clean looking cooks in aprons who would just fry up and sprinkle some taste enhancing powder on whatever you chose. I had arrived in China...to be sure!
The Lok Cha tea-house had wooden furniture and waitresses wearing brick-red long skirts. My friend ordered turnip cake, sticky rice steamed in lotus leaves, water chestnut wraps and a few other kinds of vegetarian dim-sums. We each had to choose a tea to go with the meal and I chose a mild fragrant tea. I ate the entire meal with chopsticks and managed to get quite full. The tastes were mild and the food vanished quite quickly.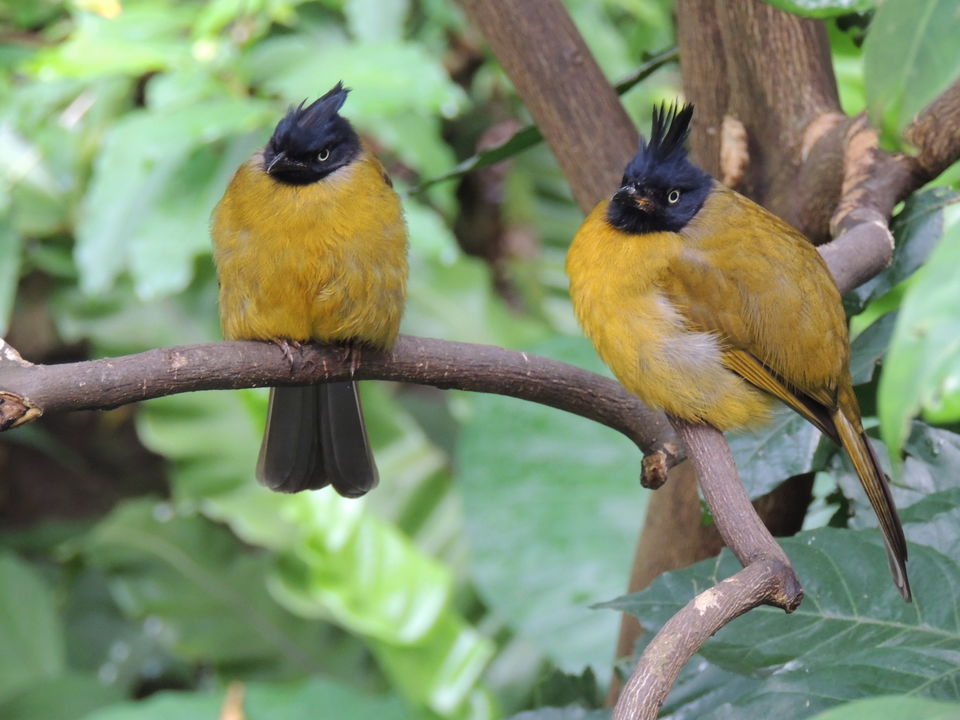 Edward Youde Aviary
Within HK park is a free for all aviary which to put in clearer terms is a mesh and net dome enclosure with wooden walkways and plentiful trees with numerous kinds of exotic birds. I went nuts with the camera spotting and clicking. The birds were quite friendly because I assume they are used to people walking amidst them and some of the feathered darlings happily held their poses for the camera. If I hadn't known better I would have sworn they wanted good photos of themselves.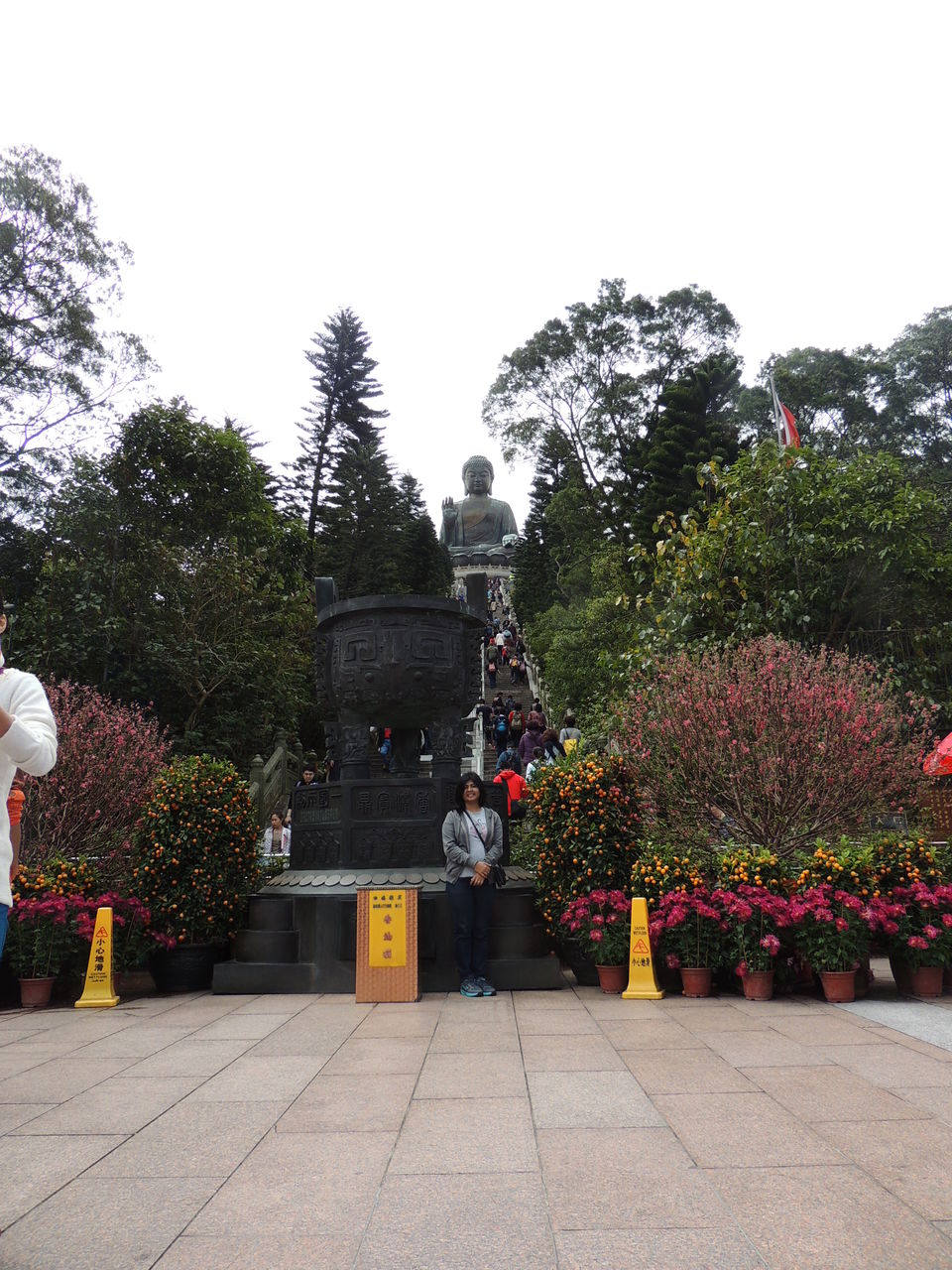 Ngong Ping village was decked up for CNY and we made our way past the statues of the twelve Rakshis who guard the way up to the Buddha. And then I saw Him, seated atop a tall mountain, his expression one of infinite peace. I was struck by the strength of my feelings towards the benignly smiling 80 foot statue. I felt a surge of nostalgia and a rush of feelings from meeting someone from home in a foreign country.
Up the two hundred and sixty steps we went, puffing and panting. But the views itself were well worth the climb. We could see gorgeous views of the valley with clouds floating down below. We did a 360 degree perambulation and climbed down. Walked to the Po Lin monastery in the same complex where my friend bought a lot of incense and we bowed thrice facing the temple structure and planted the lit sticks in the Incense Garden. Inside, the statues of Buddha and Bodhisatvas were covered in gold. Even the ceiling was painted gold with intricate carvings. We came out and sat down for a meal of various kinds of tofu in sauce and Fan Fo: a mildly flavoured and sweetened soy curd.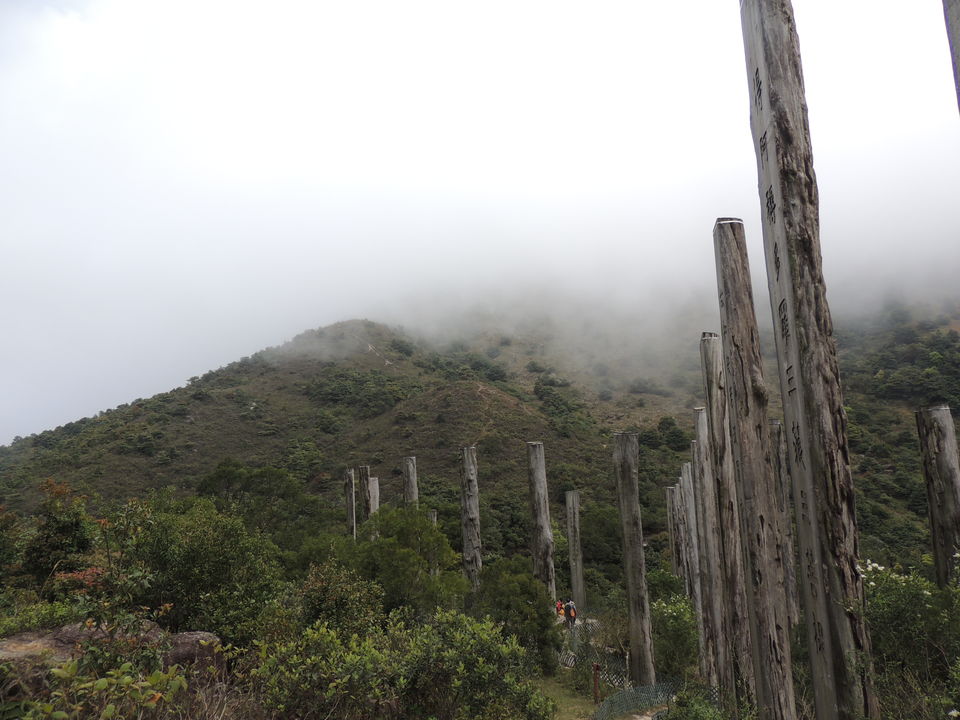 Post-lunch we thought of hiking around the Ngong Ping island and chanced upon the Wisdom Path which was a trail leading up into the mountains in a gradual incline with huge pillars inscribed with Sutras planted at intervals. The idea is to allow the teachings of the Buddha to be disseminated by the wind and the clouds themselves so that the entire valley resonates with the peace.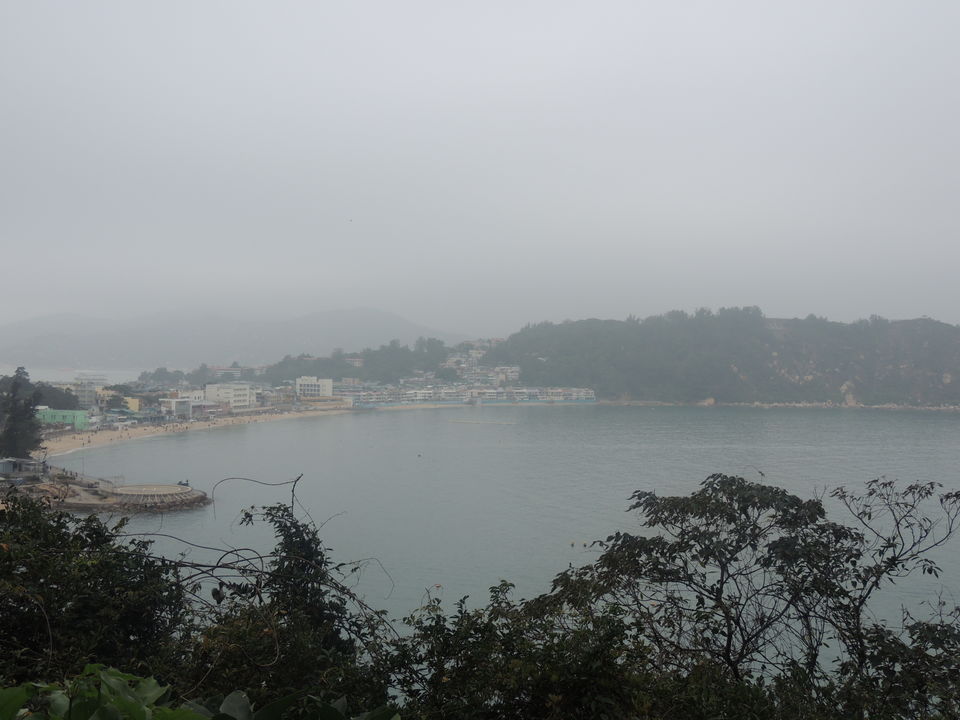 Cheung Chau
We decided to give expensive and touristy Macau a miss and head to the serene fishing village of Cheung Chau off the main coast of Hong Kong. We took a fast ferry and reached the island and walked through a throng of people to the beach. Happened to chance upon a wonderful hiking trail called the 'Mini Great Wall' and decided to just go for it! It was quite a long hike up to the top of the hill but the views were splendid and we stopped often to admire the vistas of the sea and the wind eroded boulders.
Back from the hike we walked through the quaint town looking for Popo san's famous egg waffles and egg drop cakes. It was tucked into a lane near a temple and we stood in queue as the wizened old lady in an apron whipped up batches and batches of waffles. I am told that she has been doing this ever since she was a young girl and is quite the Hong Kong institution. My waffles were slathered with butter, condensed milk and peanut butter - a heavenly combo in a waffle still warm from the stove. We sat on a bench, enjoyed our snacks and walked back to the pier to take the ferry back.