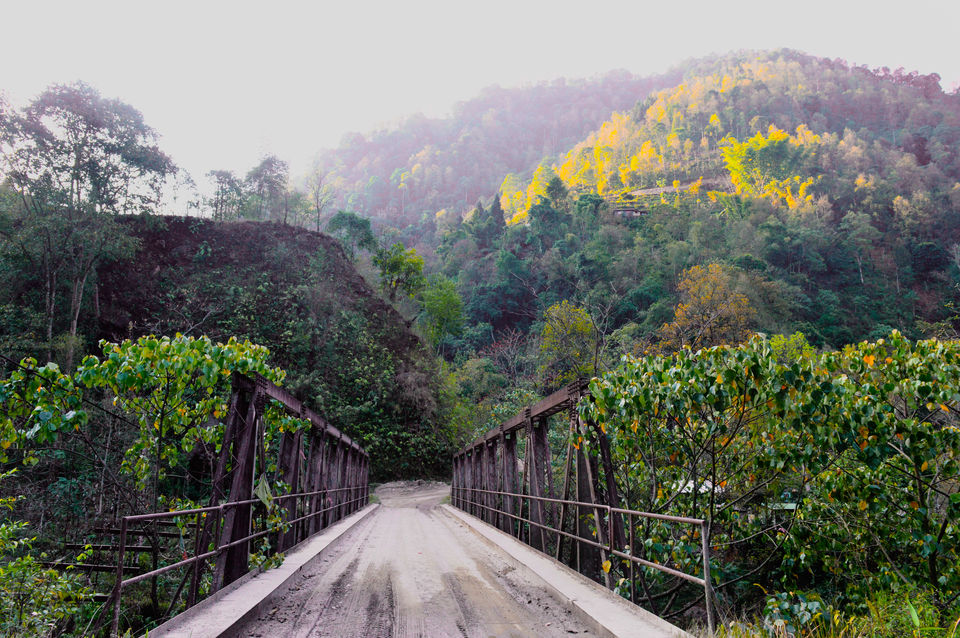 Sometimes unusual things takes place unexpectedly in our surroundings by bluffing with our conscience and if those things turns out to be creepy enough to make you traumatized then surely there's a huge reason to chew your nails, hold your breaths and swab your sweats at that very moment.
Me, Snehasis and Debol went out for rongli for arranging route permit for our next day journey to Zuluk. The clock was ticking at 7:15 pm when we were done submitting all the relevant documents, we went to the nearby only available reserved taxi stand but no cab was there for us. After waiting for almost 20 minutes when most of the local shops and even the street lights were getting turned off we saw a car moving slowly through that bumpy unpaved way towards us . The driver stopped as we were already in the middle of his way and raised our hands to stop him. He agreed to drop us near our home stay but in a condition that we've to acquaint him about our dropping location as he was not a regular driver of that route and was not aware of the local home stays. As the mobile communications were completely lost in a region like that and we were pretty doubtful about getting any further cabs towards our place, we agreed with his condition and started anyway with a triad of widened eyes outside in the dark but was unable to figure out where we were going in that hilly holt.
After rambling for about 1 hour we convinced ourselves that we've strayed from our destination and probably we left it behind as when we arrived in the evening at Rongli it took hardly 20-25mins though that was a downhill way. The driver denied to move behind again with a shivering heart ramming evasion and left us on the road in a moment like that. He narrated a terrible haunted experience of just a month back of that path resulted as crushing of a car from a mountainous route turn and the only deceased one who was there in that car was the driver although brethren drivers of the cab stand of Rongli reported that the car was going with two passengers up to Nimachen. However the site of crashing was mysteriously way before that and it was near a local unheard place named "Arubote". According to hearsay on several nights screams of "Help help!!" emanate every so often from that region.
After narrating those groundless rubbish our driver forced us to leave the car and as soon as we got down, he rushed with a fearsome hastiness.
The Triad was not the only audible living beings over there. Rackety crickets acquainted their presence in a frolic full disparage and some freaking stars were the only dumb witnesses of our entire adversity.
We drove our feet in a robust manner to substantiate one's bravery to others but all the bravery vanished with in fraction when a man like thing leaped in front of us from a tree and disappeared in a jiff. We realized it was a monkey 🐒. Again we started walking downhill following our mobile flashlights with a quest for that bypass lane leading towards our home stay.
Finally after wayfaring for about 30 minutes we managed to find a by lane heading towards a more recognizable path probably which we were trying to find desperately. We moved ahead and within some moments we found the only emitting yard light of our homestay. We were delighted to see that and became little bit relaxed. The homestay was within a few yards but suddenly Snehasis shouted, "Guyz, see what the hell is this?" in the enlightened illumination of his mobile flashlight it was written in a milestone, "Arubote". Shivering came down to our spines and we flinched in an awful manner. Yess!! That incident took place just beside our place as the manager of our homestay also agreed the same. He also nodded about hearing night screams often, though we didn't hear anything in that night. We left the place on the very next morning leaving only the better memories of that thriller which we had faced.