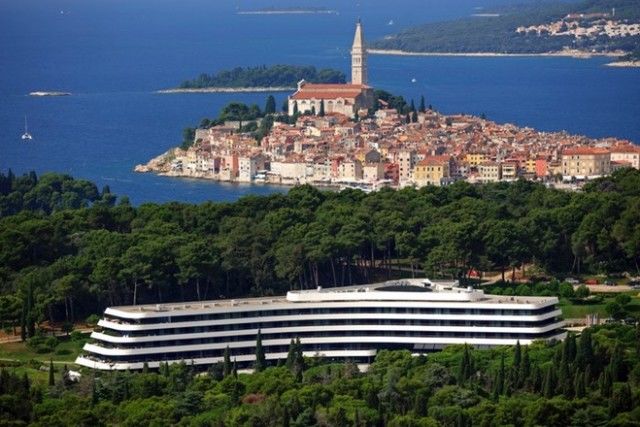 The in Rovinj, is a blend of modern design and architecture right next to the sea and beautiful beaches. Set within the Golden Cape Natural Park, this 5 star boutique hotel, one of featuring an impeccable blend of luxury, beauty, design, style and cultural heritage. Like a luxury cruise liner nestled on the hillside, the seductive, minimalist curves of Design Hotels, is a year-round leisure and business destination, Hotel Lone 's design are influenced by the area's unique natural landscape.
Situated in picturesque , Hotel Lone is located just a ten-minute walk from the central town square. With three meeting rooms, four large auditoriums, and a Mediterranean-inspired wellness spa, the hotel was created to offer guests the perfect symbiosis of work and relaxation. The 236 rooms and 12 suites gracefully bend away from the coastline, with many offering views of the island-speckled coast. Delicate strains of locally grown rosemary, lavender, and olive oil tempt guests into the wellness spa, while the open-plan lobby - bedecked in mirrors and cool white stones - allows the outstanding natural beauty of the surrounding area to flood the interiors.
Rooms & Suites
Built to look like a luxurious ocean cruiser floating on a hillside, the Hotel Lone and its 248-bedrooms offer spectacular views of the Adriatic Sea and gorgeous ancient woodlands. Although the building's Y-shaped, minimalist, black & white façade might not make it apparent at first glance, the area's unique natural landscape has influenced the hotel's entire design concept. In the rooms and suites, large mirrors cling to the walls at seemingly random intervals, letting reflections of the external environment, including forest greenery and ambient light, seep in through sweeping glass panes. Rooms such as Jazz and the Deluxe Lone Suite also feature Jacuzzis on the terrace for the ultimate views while relaxing.
Wellness & Spa
Hotel Lone's Wellness & Spa offers a unique feel. It is a stress-free oasis for joy, rest and relaxation in Rovinj, offering some of the latest cosmetology trends and high-tech treatments. Treat yourself to a high-end wellness experience in comfortable ambiance covering a floor area of 1,700 square meters. Try revitalizing saunas, tone your body at the gym and savour the tasty and healthy beverages at hotel's Vitality Bar.
Maistra top wellness professionals will make sure that you get among the best body and facial treatments in Istria and even Croatia, using only the best products that work in close synergy with nature.
Restaurants & Bars
Slow food or delicious canapés, local or Central-European cuisine, a fusion between traditional and modern Mediterranean specialities - Hotel Lone restaurants are an endless source of imagination and diverse aromas, offering appetisers to multi-course gourmet dinners.
Activities
Day trips, sporting facilities, beaches, entertainment areas and various events complement the usual tourist offers available at popular destinations. Maistra Hotel Lone provides all the services you need to enjoy your perfect holidays in Croatia.
Find more information about Hotel Lone: