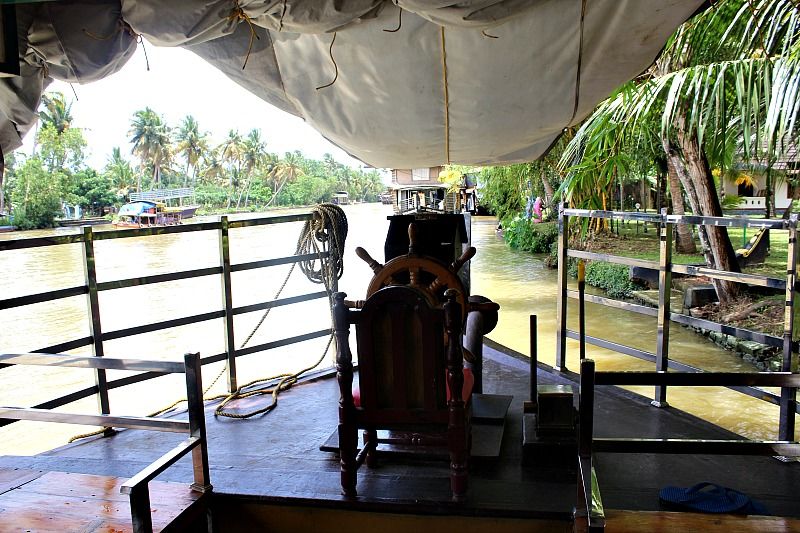 Kerala is a favoured  destination because of its peaceful beautiful surroundings. Weddings can be quite stressful so relaxing on the tranquil waters is a popular choice among Travellers.
We didn't get a chance to book online before we got to Alleppey but I had seen a photo of a one bedroom boat with an upper deck that looked perfect for us. We spoke to our hotel manager when we got there who called up a contact that he usually recommends to his guests that want a backwater cruise to Alleppey. It's highly recommended that you get a boat with a upper deck, we had more privacy and got great views from above.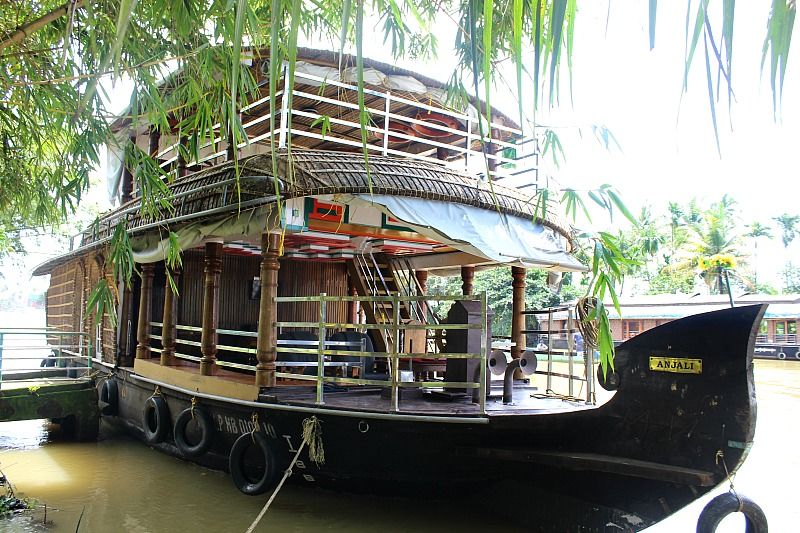 How much did we pay for our over night Kerala boat house?
We ended up paying 7000 rupees and included in the price was lunch, a snack, dinner and breakfast and the meals were delicious.
What did we do? Basic Houseboat itinerary
Our hotel was on the backwaters edge so the boat came to pick us up at 11am.
We admired the views from our upper deck and just relaxed. After about an hour the chef came and asked us if we wanted to dock and get some prawns that he would cook for us with our fish for lunch. We opted out as we were not really that hungry to start off with. The afternoon was spent watching other houseboats come past and the busy village life along the backwater banks.
The boat cruised along the backwaters for about another two hours and then stopped for lunch alongside a river bank. The fish fry was a first for us and it was actually pretty good.
After lunch we carried on for about another 2 hours through the lake and eventually we docked on the side of a quiet canal for the night. For dinner our chef cooked a huge curry which was enough to feed an army. We played some cards and eventually called it a night.
The next morning we headed out again by 8am. we ate breakfast and were back at our hotel an hour later.
What was our boat house like?
Our boat we had a private room with a double bed, shower and toilet. There was a air con and all bathroom amenities were provided. Next to the room was a open dinner table where we ate our lunch, dinner and breakfast with great views.
In front of the table were two sitting couches, we only sat on them once to watch our captain steer and navigate through the backwaters as we had the upper deck to enjoy the view too.
To get to the upper deck there are some stairs going up to the side of the boat. It was spacious and we had the whole place to ourselves. There was a sitting area going all around the front with cushions so it was really comfortable to just chill and relax.
The two staff members were very quite and gave space, not once did we feel uncomfortable or uneasy about anything.
We had a few down pours while we were out but it was overall an amazing experience. The only thing about our cruise was that we were there during the Kerala floods, which was quite an experience