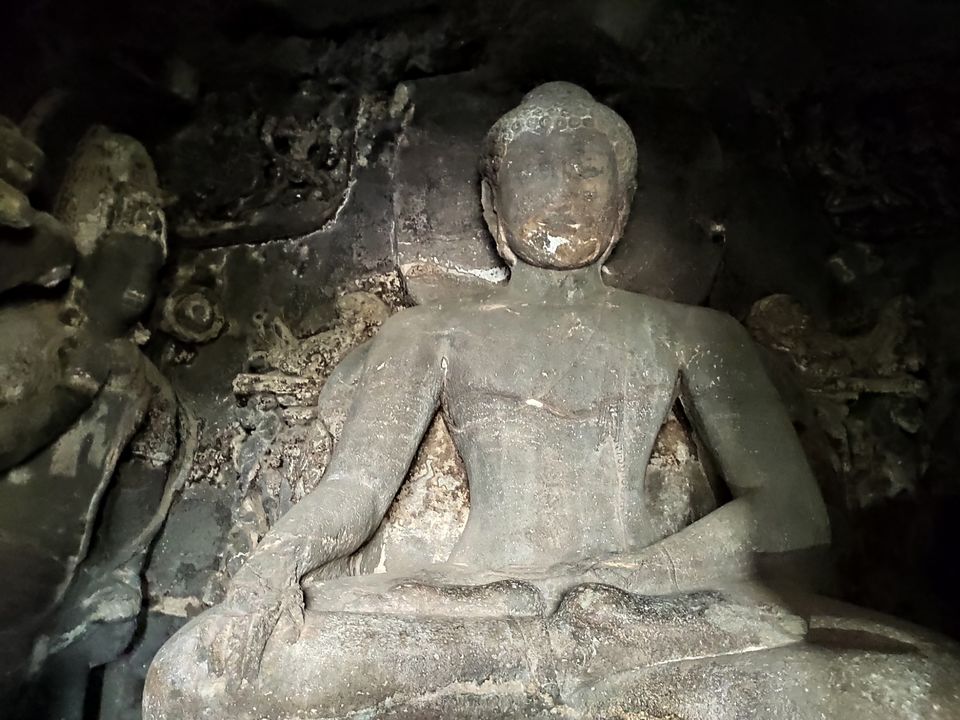 It is believed that the Rashtrakuta dynasty and Yadav dynasty were behind the deployment of unimaginable craftsmen to chisel Ellora out of the hills, many civilisations back.
We went looking for any mystery and caught the best of it through some of our explorations.
Movies and books portraying this amazing cave series such as the Satyajit Ray classic "Kailash e Kelenkari" acted as positive catalysts to my curiosity.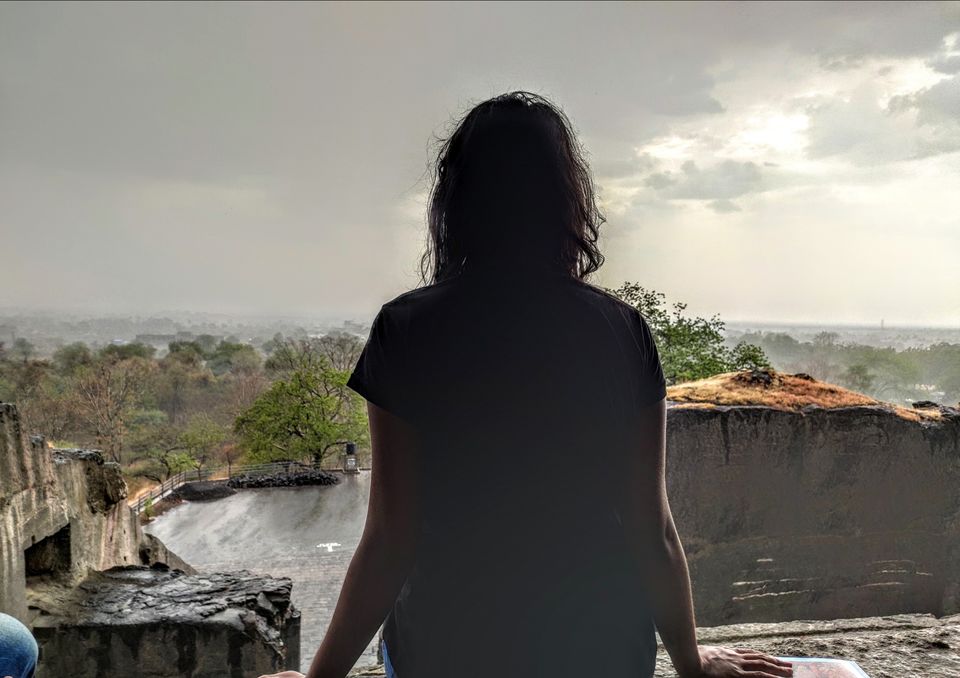 Myths about Ellora or are they real?
Myth 1:
Caves are boring!
Caves are interesting if you are fond of going beyond the big eye catchers that pull most of the visitors like a magnet. Many of the caves may look ordinary from outside but you don't know what's inside unless you are into them. The emptier caves were the surprisingly more mesmerizing ones.
You must control your urge to visit the Kailasa cave which is a straight walk from the entrance at the beginning. Taking this route had cost us enough time. It is a good idea to start with the southernmost part that is caves 32-34 as you head left from the entrance.
•Cave 32 | Mini Kailasa | Jain cave series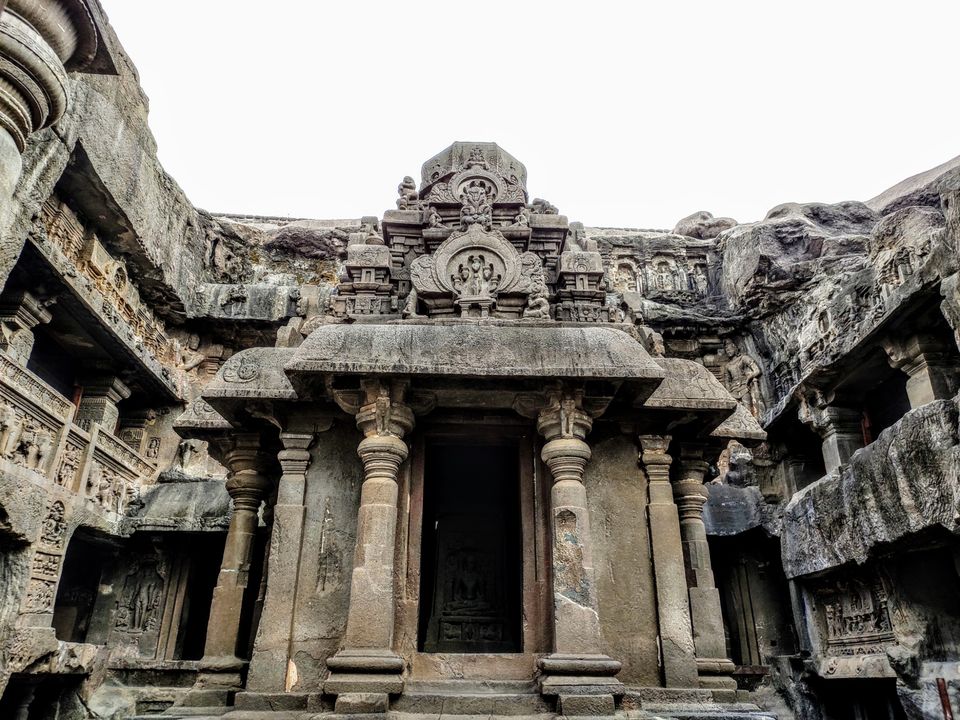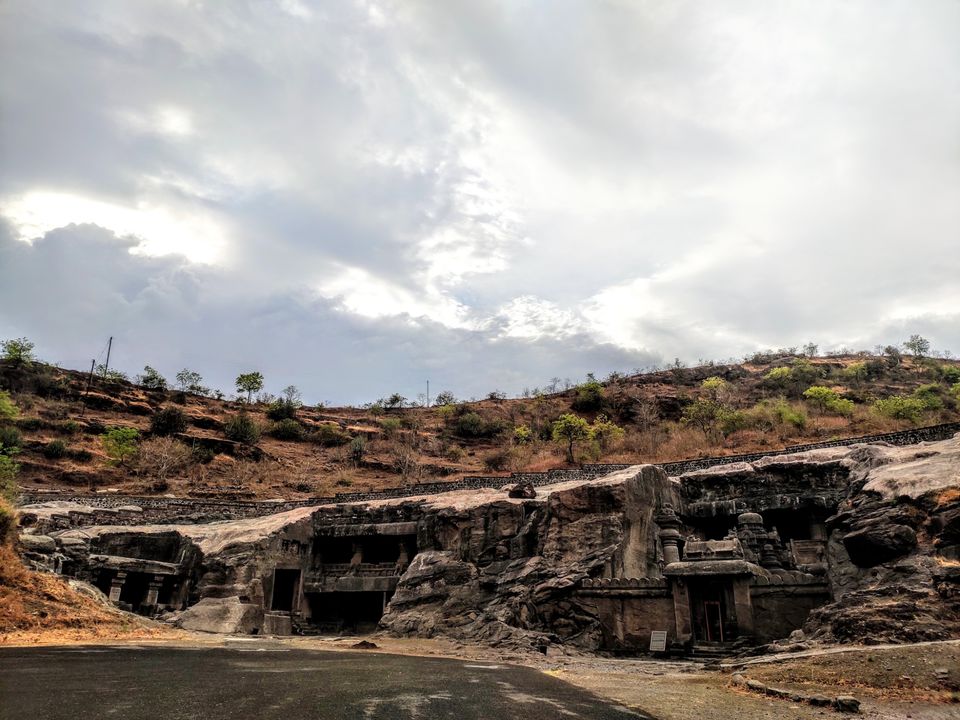 Things to notice-
i.You will love the combination of Dravidian and Buddhist architecture in this cave. 
ii.The cave is dedicated to Mahavir and the upper storey is known as the "Indra Sabha".
iii.The chamber at the back was smelling of bats signalling their presence and my tshirt was justified!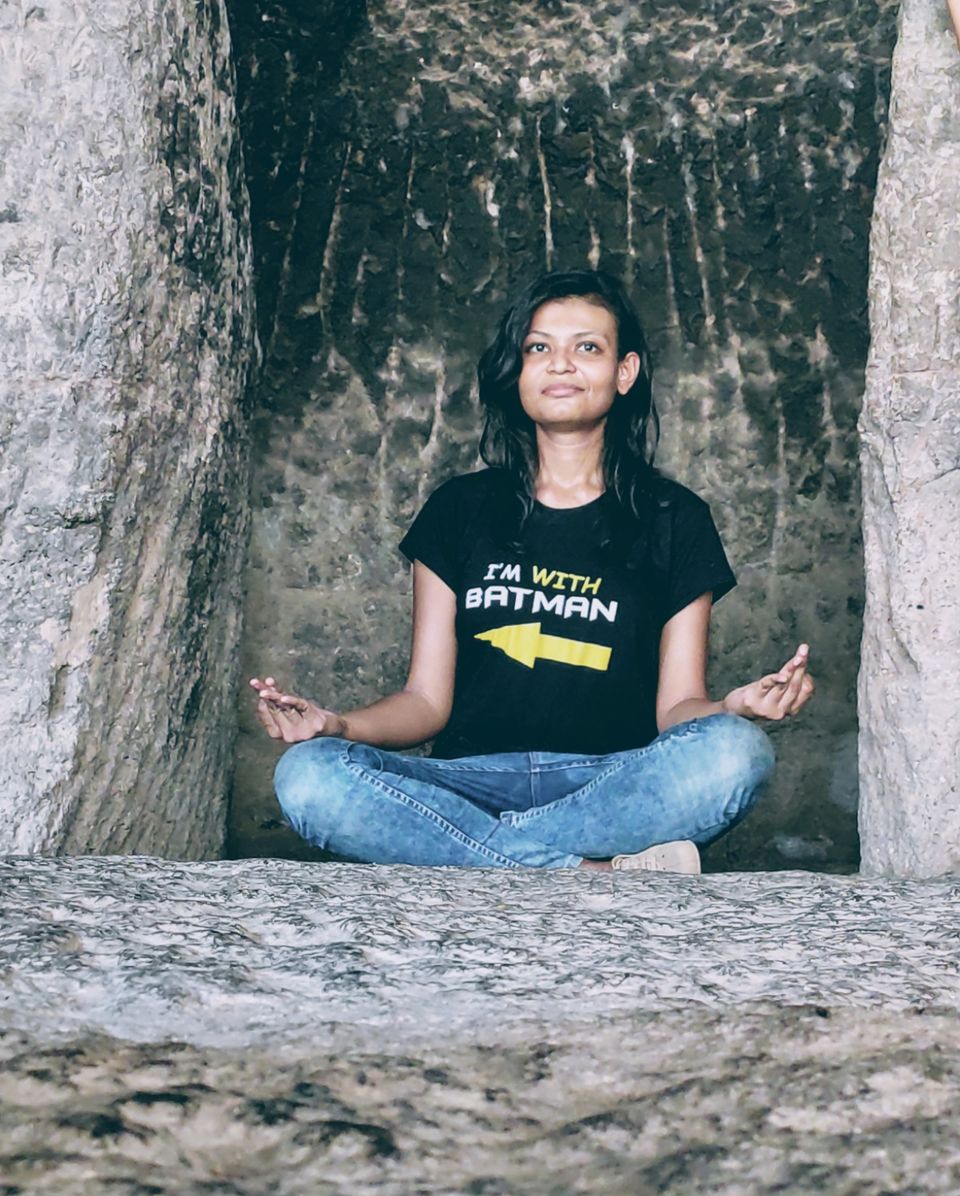 You can visit the Kailasa next returning to the starting mid-point.
•Cave 16 | Kailasa Temple | largest monolithic structure | Hindu cave series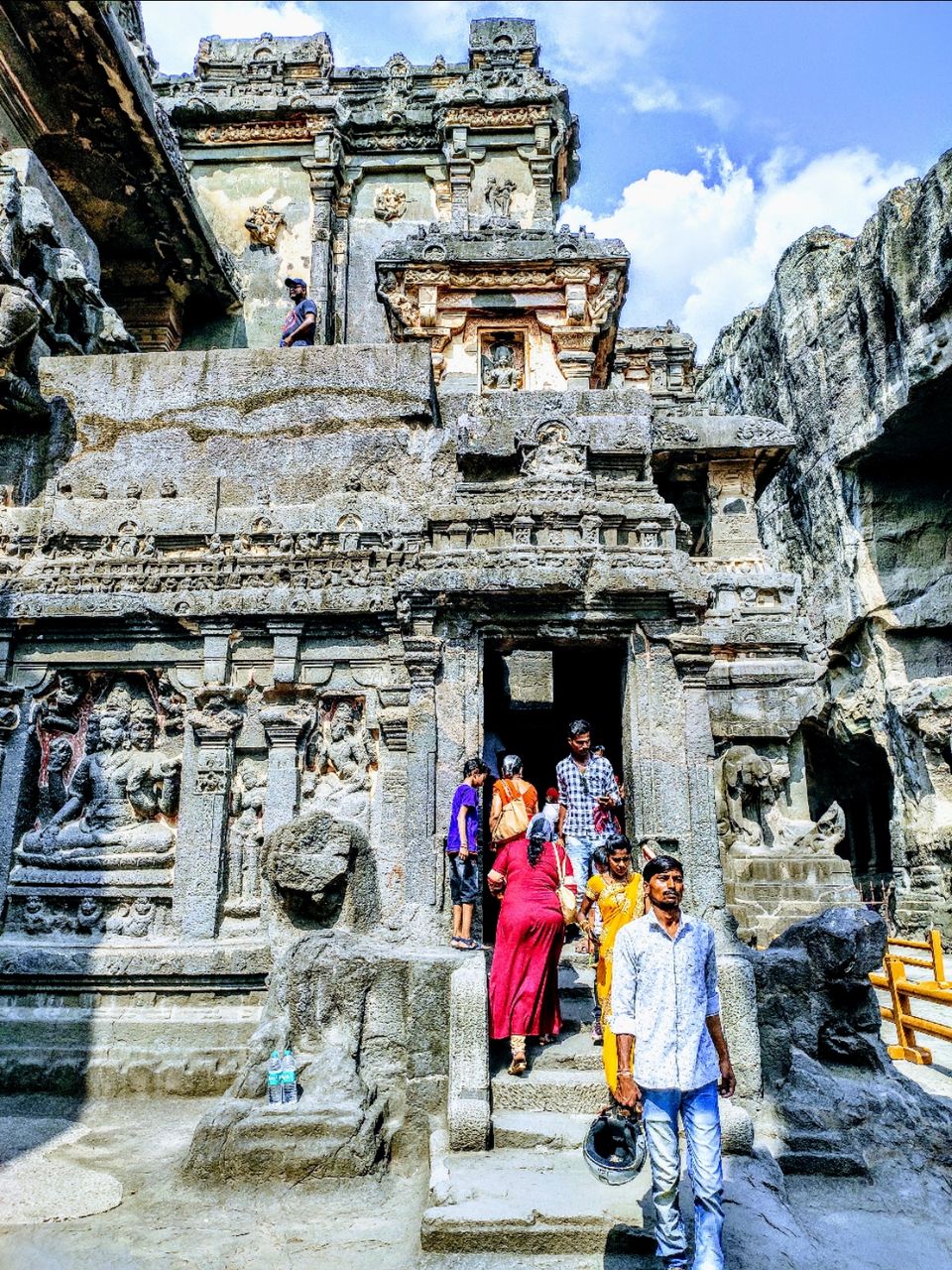 Things to notice-
i.I thought it is not just a single cave as I walked past pillars and chambers engraved with stories from Ramayana and more.
ii.A single source of light provides view of the temple inside.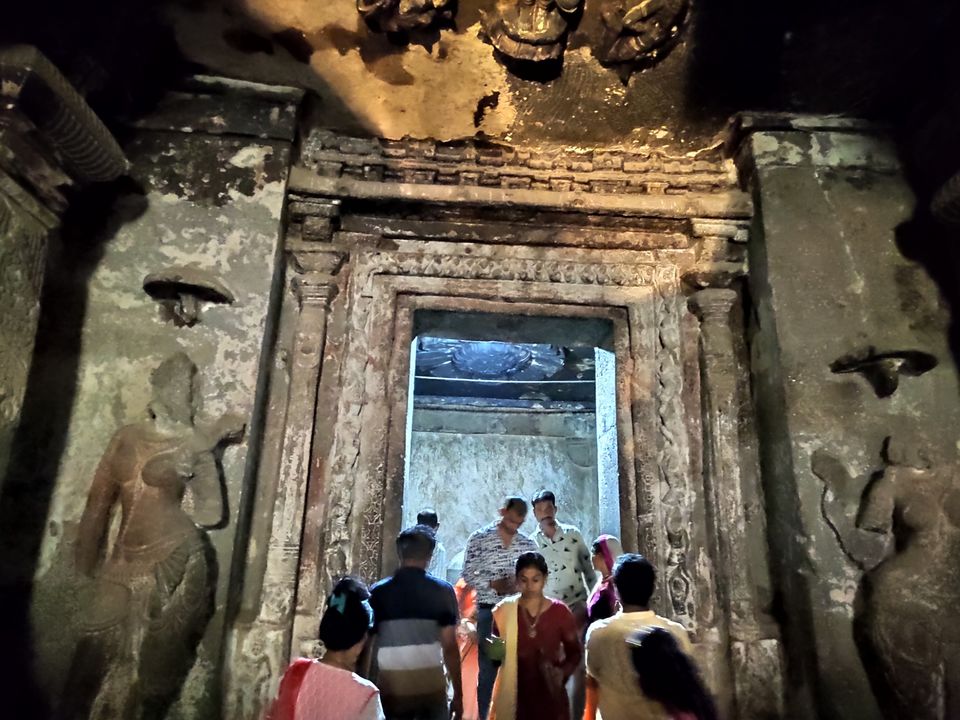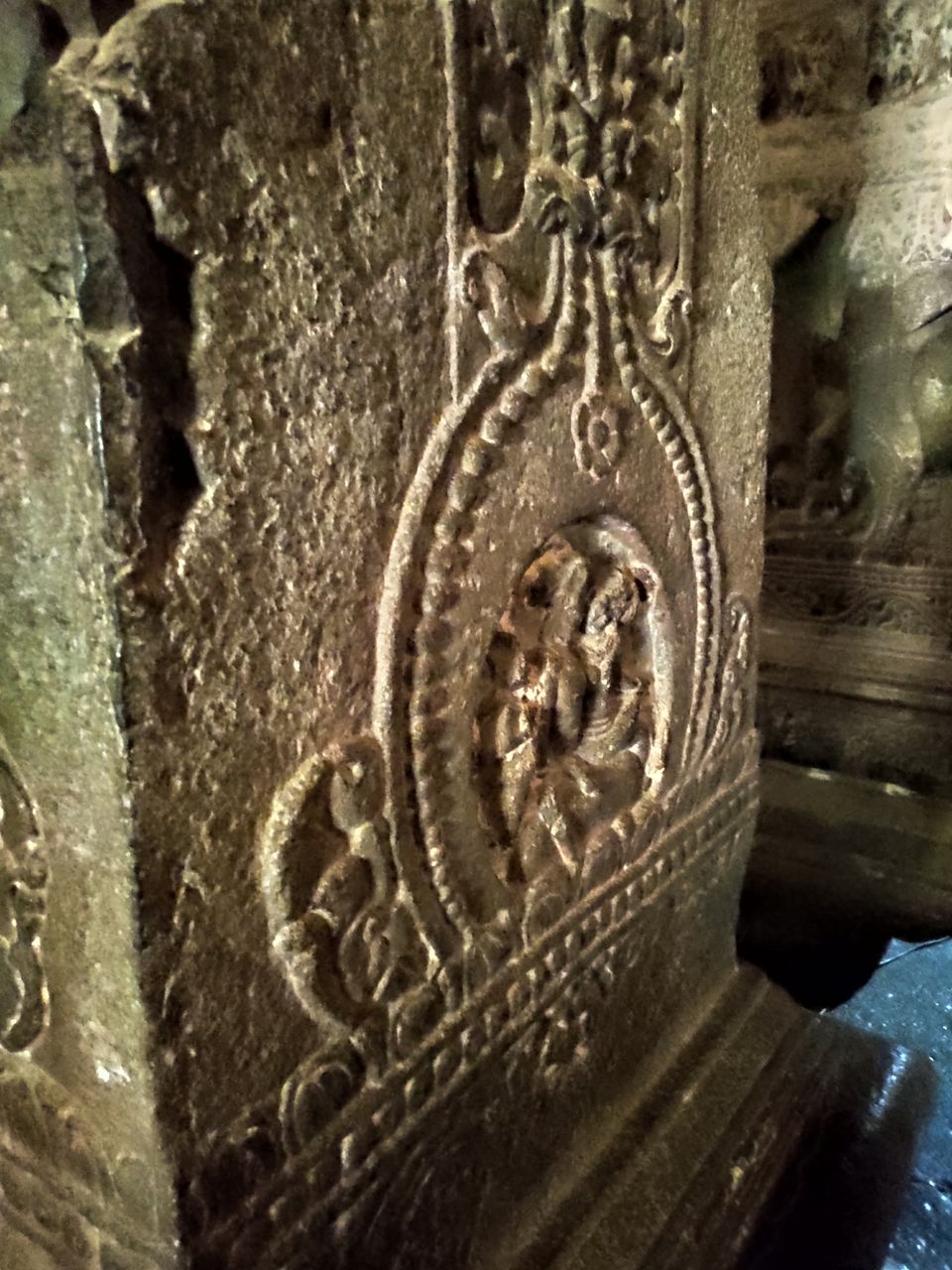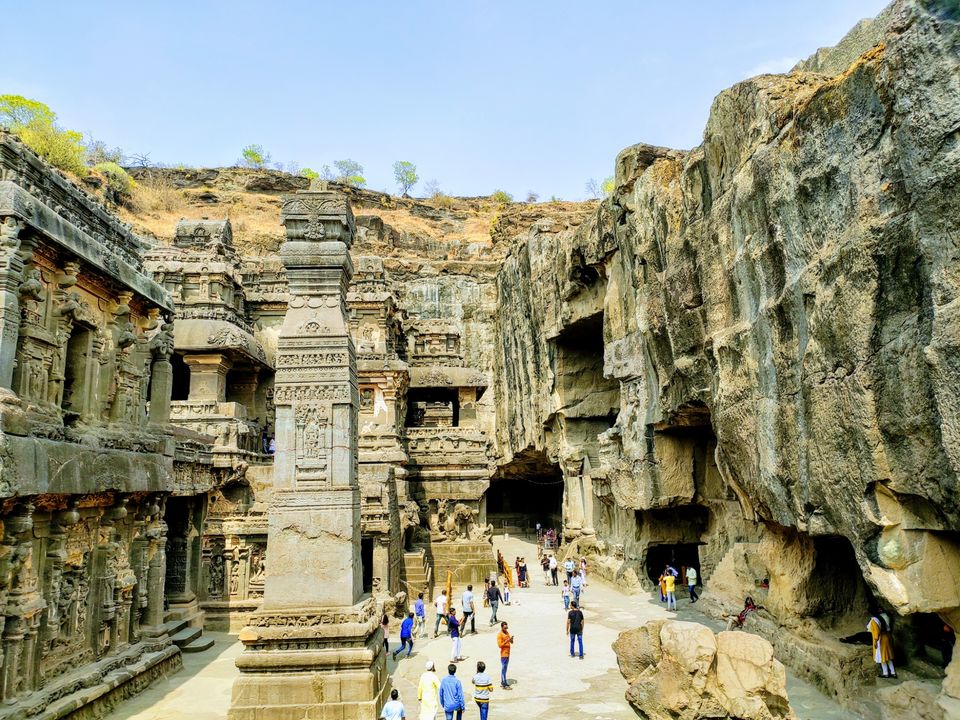 iii.You can recognize the ten-headed Ravana trying to hold the Kailasa with all his might in the figure below. 
Shiva sits quite effortlessly above pushing down the mountain with his foot (which is half-broken in this statue).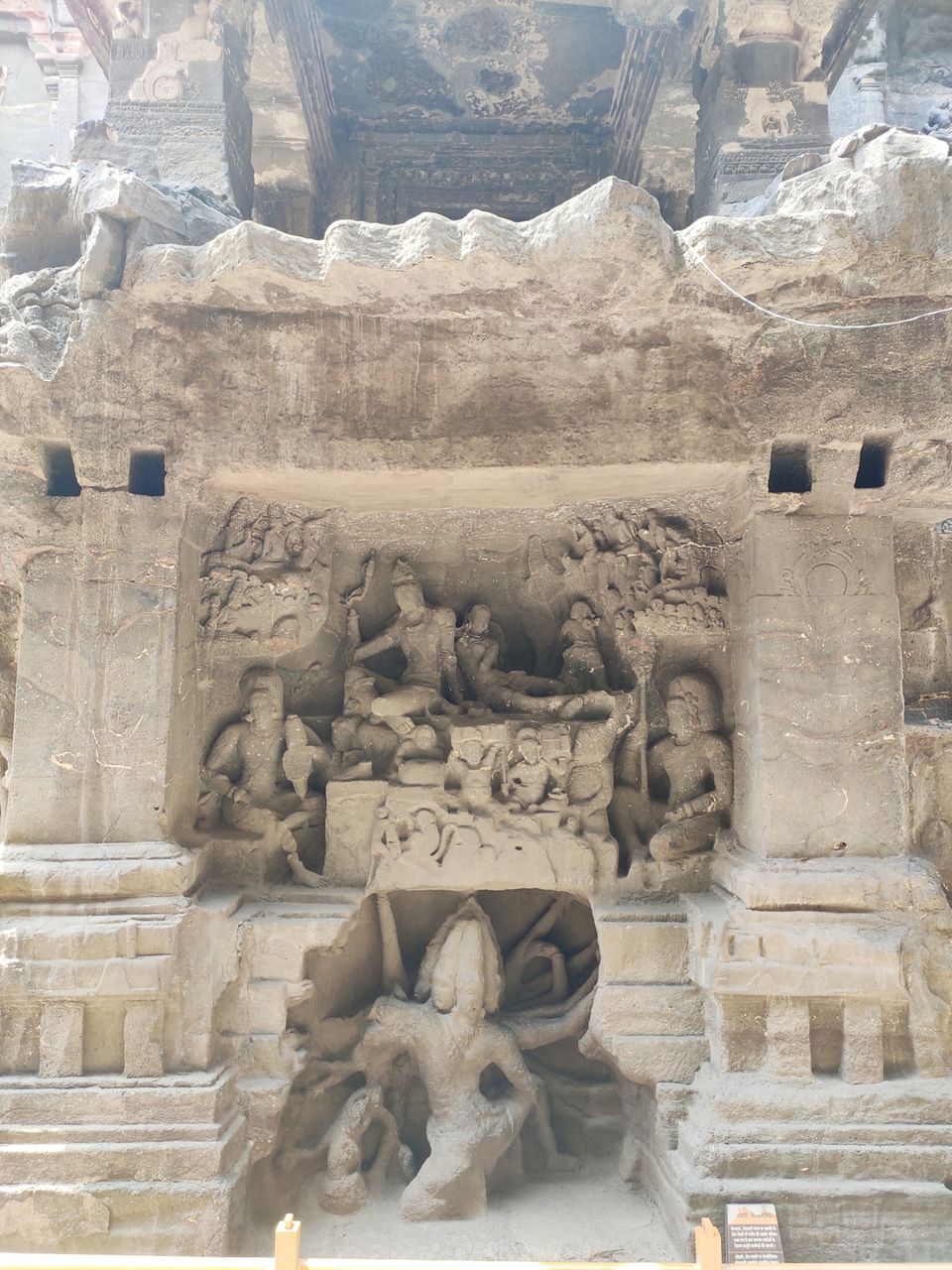 Myth 2:
Unknown or hidden statues!
• Cave 12 | Tin Taal Cave
Visiting a few caves post cave 16, this was our best and most intriguing find!
Things to notice-
i..The third storey of this 3 storey ( tin taal)  cave holds a chamber with fourteen Buddha statues.
ii. What is behind the locked doors of the second storey of this cave?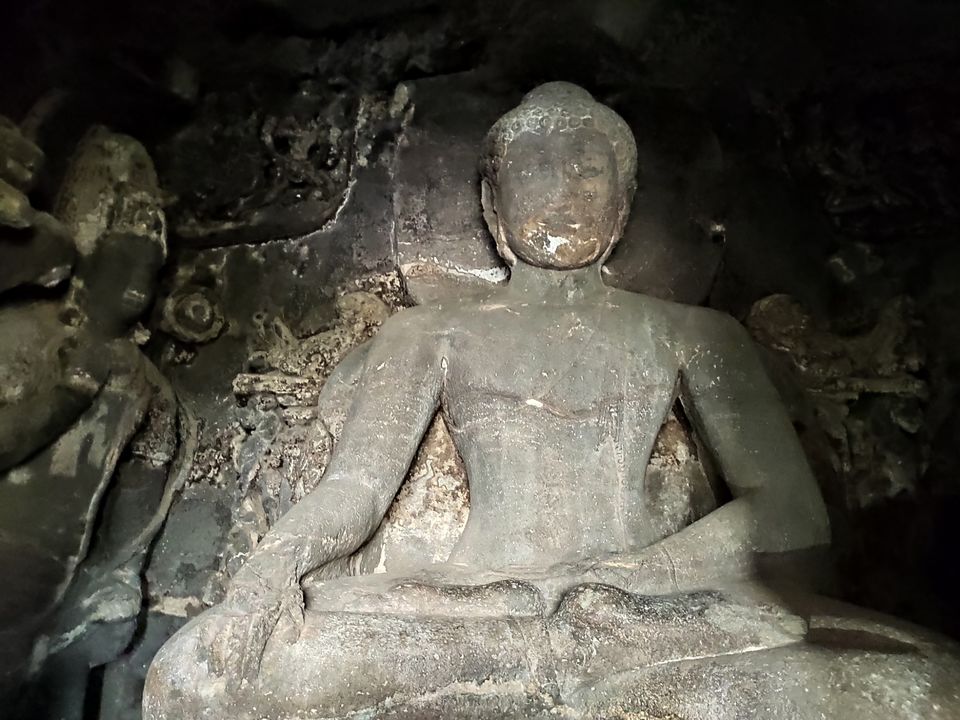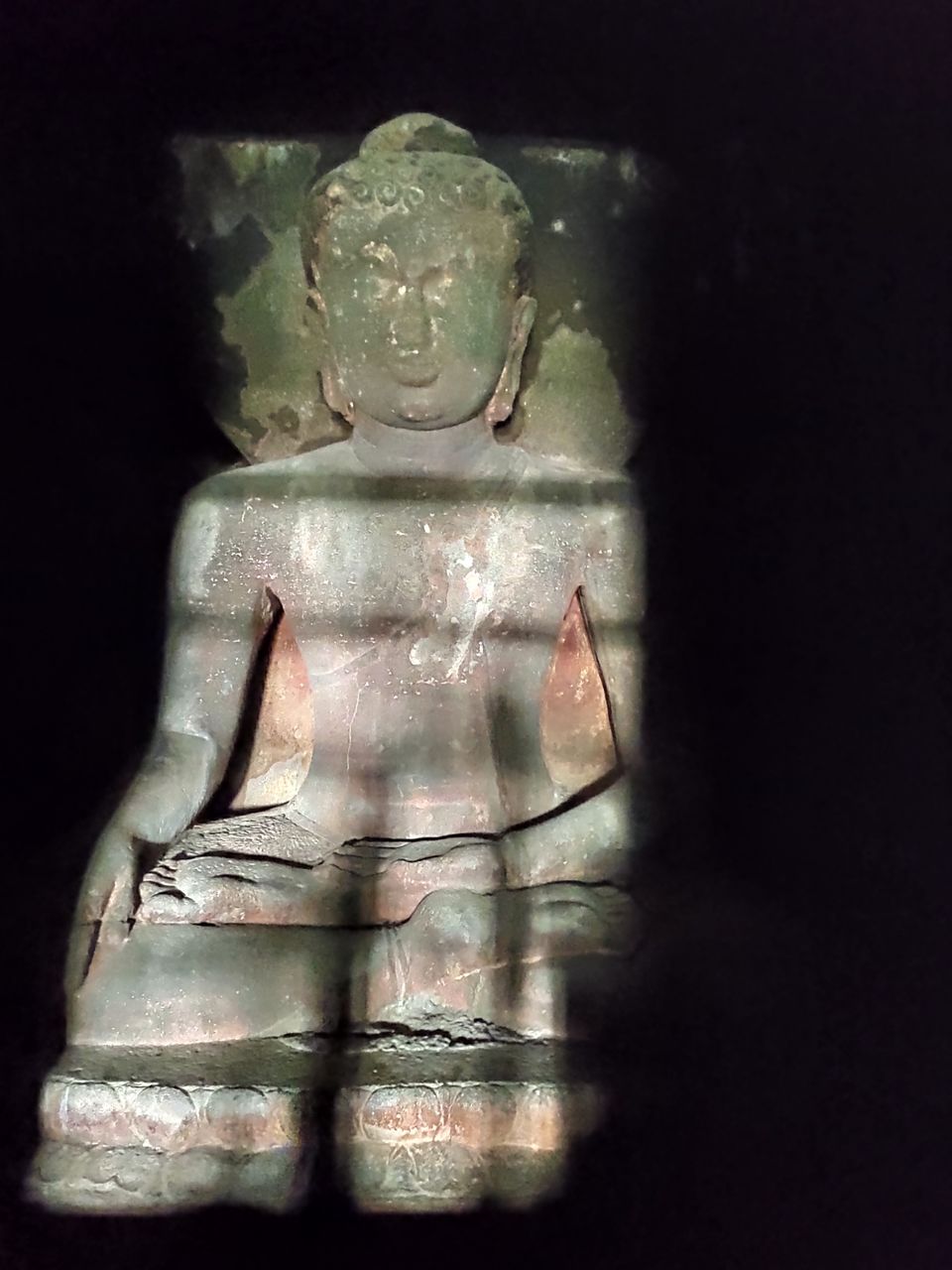 I am amazed of my friend who got this sudden idea out of his mind by just seeing colorful reflections in the Buddha, that there must be statues beside it. It was a delight that a jinx could get real!
The Buddha inside locked bars soon showed us several other companions flanking it's left and right.  Flashlight and good mobile camera came to our expedition rescue.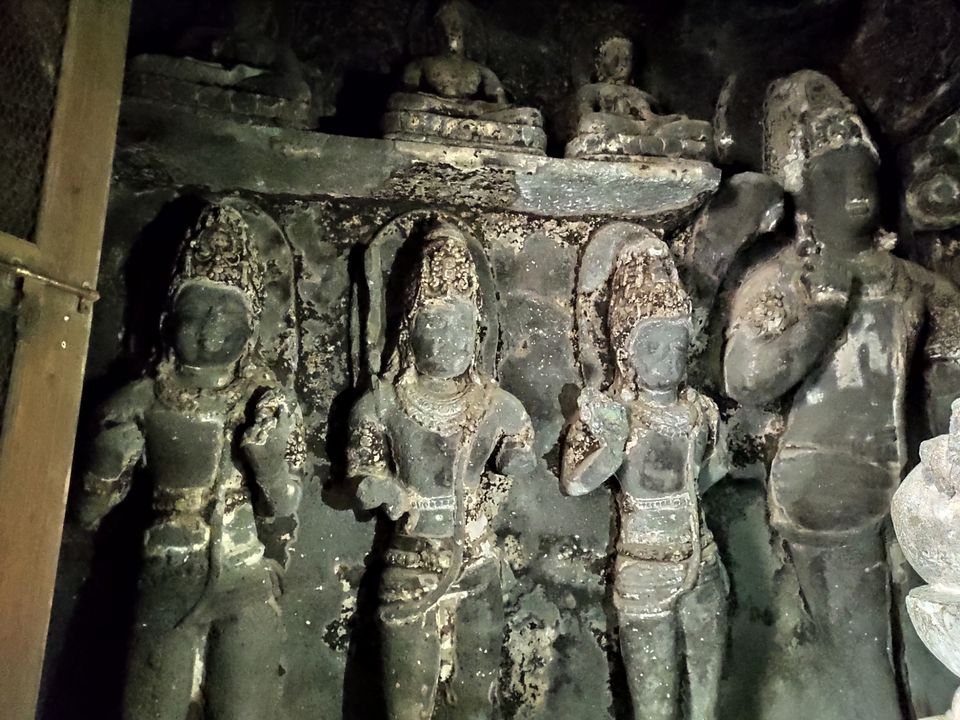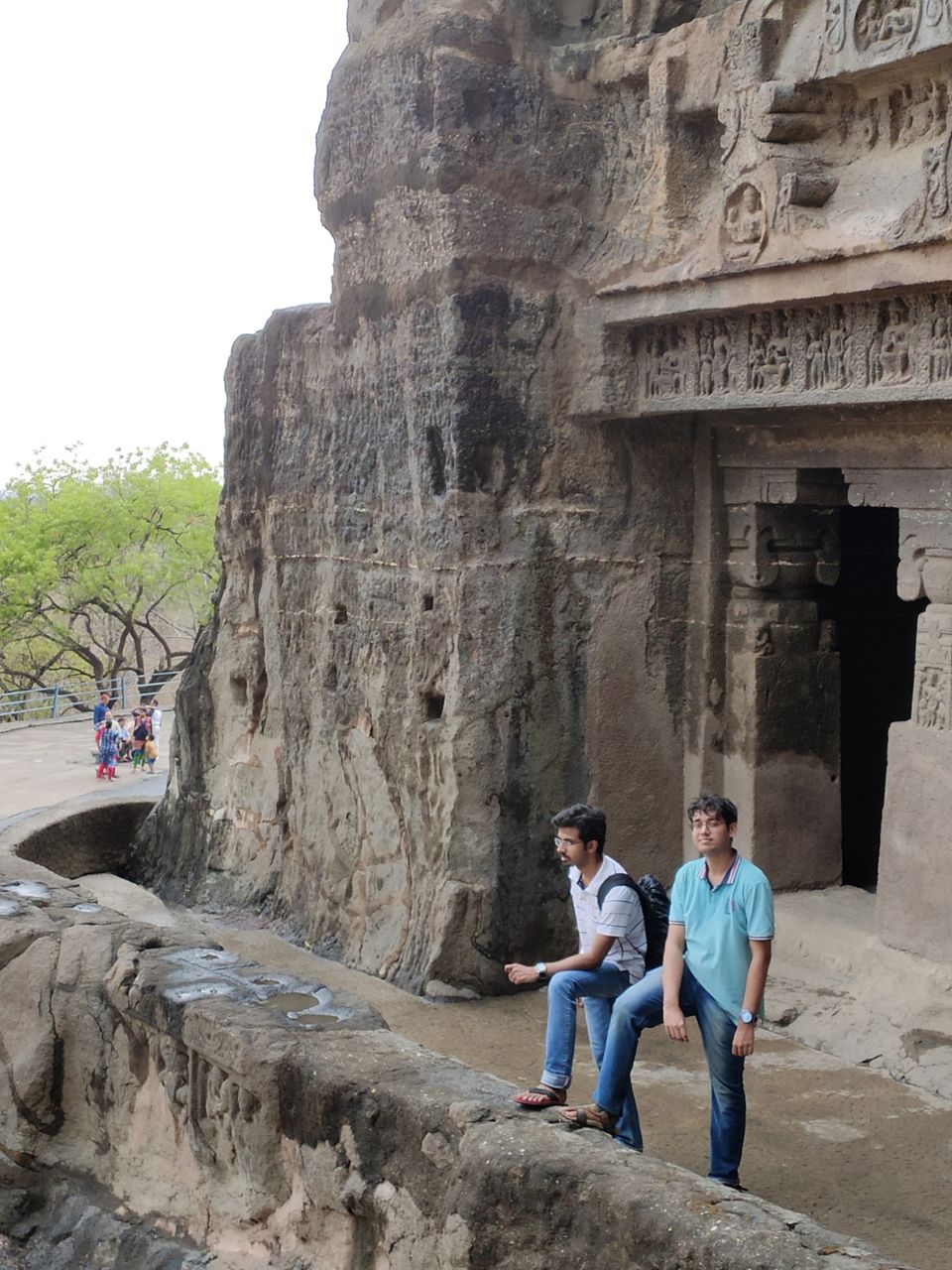 Myth 3:
Dents on cave floors.
The purpose of the dents on the cave floors has remained a mystery for a long time. I have found pretty large number of dents on the cave floors to rouse the curious-monger within me. The dents form peculiar shapes like bones at certain places. Probably a real bone-like object could have been present there which eroded over time.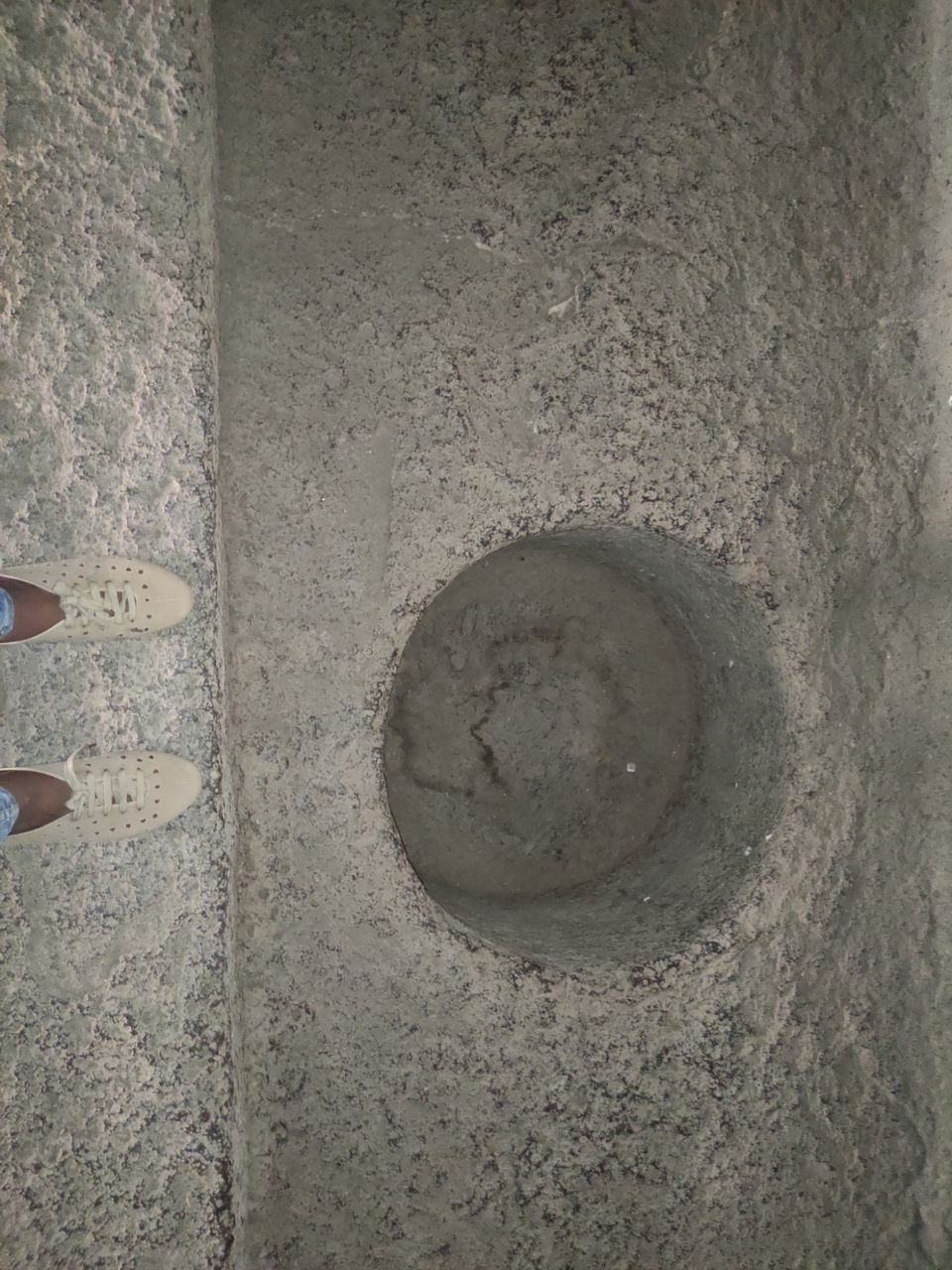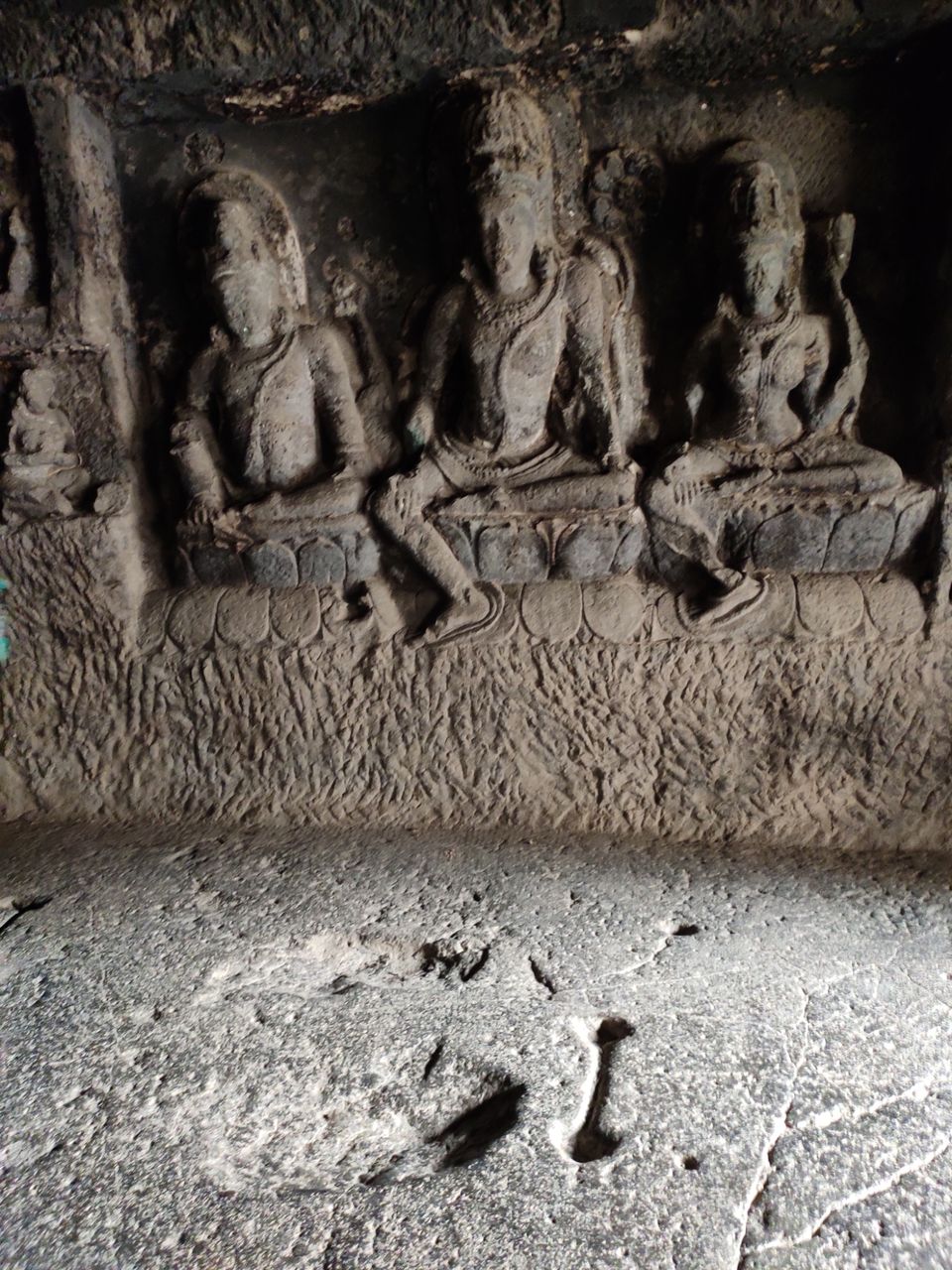 Myth 4:
Underground caves.
Due to the presence of a large number of dents which are believed by many to be vent holes for underground breathing, it is believed that a civilisation lay there many years back, hidden from the common eye. On asking the security personnel however,  he said all the caves are on the surface.
Myth 5:
Eeriness inside the caves.
This is the last myth that is questionable and up to your own justification. You can feel a bit uncomfortable inside the caves,  especially if they are empty.  (It is mostly a trick played by the mind).  It might be a truck of mind but I noticed a flick of shadow pass through this statue as I was staring at it alone for a while.