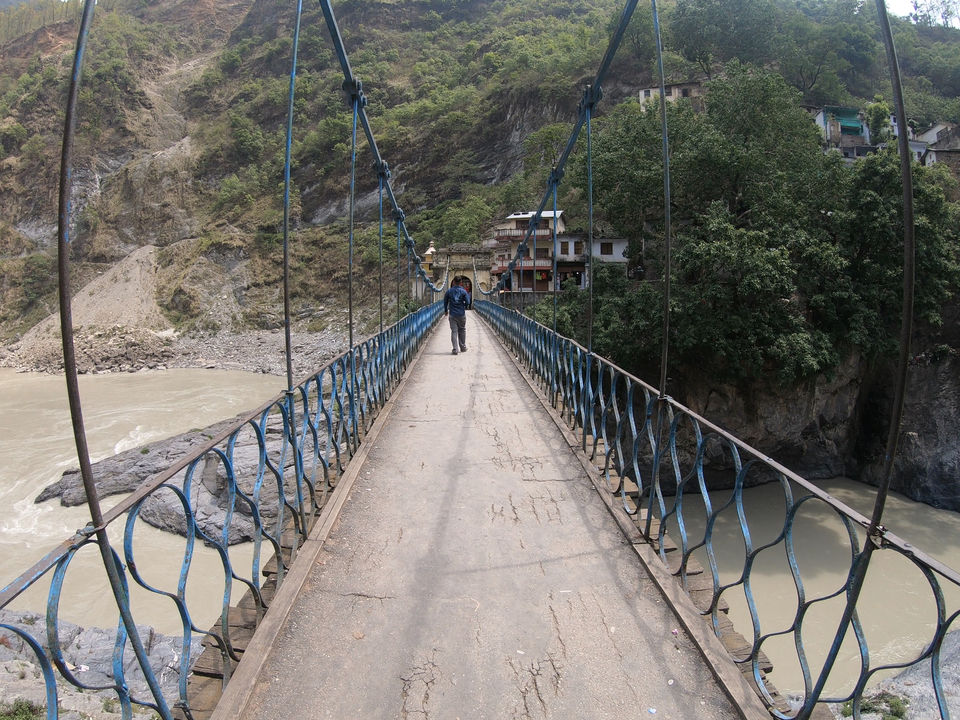 For the last few weeks am on the road solo. I have no prefixed plans or destinations. I have no booked bus tickets or accommodation. I travel in any available means, which includes hitchhiking and by foot. I find shelter sometimes in a hotel room, sometimes in overnight bus and even I stayed in locals houses in some remote villages of Himalayan mountain range. Am a budget traveler and I take care of not to spend more than 1000 per day which includes all my expenses - food, shelter, transportation and everything for the day. Strictly no alcohol while traveling and it saves a lot. I use credit card reward points, internet hacks, promotions, coupons, vouchers for hotel booking and get comfort with a cheaper price and few times even free.
En route so far, from the Nilgiris to Coimbathore to Delhi to Parvathy valley to Kheraganga to Manali to Shimla to Solam to Dehradun to Rishikesh to Srinagar to Karunapriyag to Almora to Pithroghar and here the story begins.
I reached Pithoraghar as I choose my next destination with the help of Google maps and Google always takes me through some unbelievable paths. Mountain roads in Uttarakhand are very narrow, steep and scary. A slip from the road will bring you 500 to 800 meters down in some places. In my journey I bypassed many amazing places, most of them untouched by the tourist and other travelers.
Pithroghar is a small town in Uttarakhand which is very close to Nepal boarder. It's a land of amazing roads for bikers and a paradise for trekkers. It's a nice place with very warm-hearted people. In this part of the world, the most available means of transportation is sharing taxis which are mostly jeeps designed to carry more people which runs short distance. I reached Indo-Nepal border in my third sharing taxi from Pithroghar which was 40 to 50 kms. The road ends in a small village with few food-stops and many petty shops selling textile, fancy, foot wares, households, toys and more.
I was so confused "where the hell is the border check post in this place?"
I was walking a very narrow path way where the space fits only one person to walk at a time. And both the sides where increasing number of petty shops and the path where splitting into different direction which was going like a puzzle.
I was searching for the border check post and I was expecting a large gate with many duty officers and security. I was worried if I can cross the border just with my Aadhar card as an ID proof. I was not carrying my passport. Adding fuel to my worries, I was carrying some quantity of Hashish with me. I was worried if I'll be caught by the security officers.
My search for the check post ended up in a small temple, near a river which marks the border between two countries. Beside the temple I found a small tunnel shaped building which leads to a path bridge across the river. To my surprise, this was the large border gate I was looking for and this particular Indo-Nepal border has no road route. It had only two BSF officers. I walked in and one of the officers asked for my ID proof. I was searching for the same and discovered that I lost my Aadhar card. It was a WTF situation. Adding spice to the scene was that I don't speak Hindi and the officers can speak only in Hindi. Above this I was in a terrific look with clean shaved head and long beards. My Hindi, I have a very few words in my dictionary and i speak to people with this very few words and some action and somehow, I make people understand what am trying to communicate. I was not able to manage these officers with my broken Hindi and I really wanted to go to Nepal. I had a Xerox copy of my driving license and I presented them. They were not convinced, and didn't consider the copy of DL as a valid ID. Then I showed some other ID which was from International Human Rights Commission. The scene got changed after and I got the green signal to cross the border and I earned a good respect form the officers. They dint even check my bags. While walking across the narrow bridge I was thinking 'what next with Nepal officers?'.
The bridge ends near a temple just like the same in the Indian border. I couldn't believe that am crossing the border. Once I entered Nepal territory, I saw a long Q and at the end was a Nepal police officer doing some entry. I just kept walking with few other locales, and nobody stopped me. In a while I reached a customs office building with no officers in the front desk. I kept on walking and I reached a place in 200 meters where few converted pickup trucks which could carry more than 20 people where parked near a bus stop. Looks like those are Nepal share taxi. I sat for a while, lit up a cigarette and I was thinking about the past 30 minutes which was running crazy. I was out of my mind when so many un-imaginary things happened to me. I didn't know that there were no roads between two countries at this particular border point. Best of all, I didn't even talk to a Nepali officer to enter their country. I was wondering if this is a common thing or they just missed me unnoticed. This must be the smoothest border crossing ever. Am very sure that only few or may be no tourist or travelers have chosen this path to enter the country. Even the people of Uttarakhand will not choose this way as UK have two other crossing points with roads.
Meanwhile a taxi driver asked me 'are you traveling to *****?' I don't remember the place name. I simply said yes without knowing, where it is? what it is? or anything about the place as this was the only available vehicle. The taxi started rolling. It feels good when you are crossing a new country, meeting new people and custom and being one among them. After a few kilometers I realized that I don't have any Nepal currency, which I thought to convert in Nepal. When I reached Nepal, I could find only few liquor shops, petty shops and some eat points. This was not the Nepal or the border crossing I had imagined. This was so much adventures and I enjoy it so much.
The taxi reached a small town and people started getting down. To my surprise I saw few people paying in Indian rupee. Adding to my new knowledge, Indian currency is accepted everywhere in Nepal expect very few places in the city. They accept 100 INR to 100 Nepalis currency. All other places they give an exchange rate of 1.6 per 1 INR. I was searching for my next destination in google map and it costed me 500 INR for the data usage. And now it's a fantastic scene. Am in some remote part of Nepal where the newspaper reached people at 5 o clock in the evening and I had no means of communication with outside world as my phone connection had zero balance. I cannot get a Wi-Fi connection for next 200 kms. Nothing bothered me. I have already fallen for the place. It's beautiful mountains all around with super friendly people and innocent kids with the cutes smile. Kids where having great time. They live very close to Mother Nature having very active days, sometimes running behind the cattle's or sometime at the top of a fruit tree having the tastiest fruit.
In google map, i could find only one road form my current destination which is running till the other end of Nepal. I decided to follow this route and I got into a share taxi. After few kilometers of drive in the snake roads of the mountains, taxi dropped me in a small village with less 10 shops. I was like an alien in that village. People where amazed with my looks and they never see any outsiders in this route. Those warm-hearted people where so friendly and one person welcomed me to his shop to have tea. People asked me about my whereabouts, my destination, my purpose and many things. Nepal people have a special like to South Indians. Especially Madrasi's (Tamil people). I asked em where I can find a hotel. They told me some place which takes 5 hours to reach and it's about to nightfall. Someone advised me to wait for a bus if am going long routes. I waited for more than two hours and I got into an untidy crowded bus with no seats. I got a ticket to some destination which I found in the map. The bus was traveling from small village to smaller villages in the steep mountain roads. Rarely I could find some houses with no neighbors nearby. After few kilometers of an uncomfortable ride, I got down at some place hoping to find some other means of transportation. Before that I had to have something as I was starving. I was in a village with few houses and very few shops. I found a place to eat. While having my food I was talking to someone and I was explaining my situation. He showed me a small room with a bed and a fan. He told me if I am ok with this place, I can stay here. Am so thankful to his kind heart helping me when am stuck somewhere with no accommodation, no transportation and no communication.
"Today, it was a great day and am excited for tomorrows"