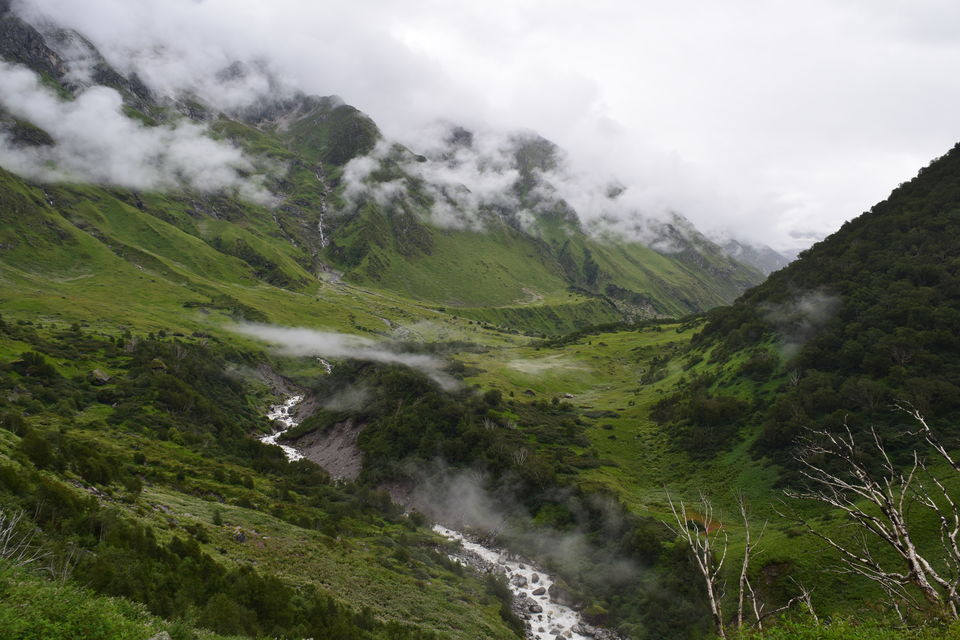 Don't know how to start my first ever story here, making up my mind to do so at 3:30 in the morning, about a trip which I did more than two years ago. Anyway, here goes my detailed account of the best (solo) trip I ever had (A big cup of black coffee and the most comfortable chair around recommended).
Stay with me!
The Valley of Flowers had been my dream destination, like that of many others for some time then. It was in 2014 that I even came to know about the land of enchantment from one of my friends and was looking forward to getting there ever since. Lots of holidays went by, and so did a lot of my pocket money which I saved for the trip, there just wasn't any time all my friends had the will or time to do it, which paved the way for one of my most memorable time I spent with myself- a solo trip to the Valley of Flowers (VoF)
It was August of 2016. I had finished reading a lot of travelogues and realized it was the best time to visit the paradise. So I started my 54 –hour train journey from home to Dehradun, my place of study, almost a week before the commencement of my classes. I actually started preparing for the trip right during this time itself with the softcopy of the book, The Valley of Flowers, by Frank Smythe (You know that guy, who 'stumbled' upon the valley after his mountaineering expedition). The book, however, failed to amuse me as such, and I chucked it halfway for the real thing.
I had some of my friends, who were "supposed" to be on the trip along with me, but my friend, 'mota bhai' as others called him, was taken aback when I quoted the number of kilometres which we had to trek and my not so fat friend who didn't like the budget which was stretched to 4K, neither of them came along, well, for both their good and mine.
You must be thinking why you would want to read this particular story among all the rest well-written travelogues to the Valley of Flowers? I really don't have the answer to that and as more than half of the crowd I managed to get right now to read this, is because of ₹2K tag in the title, I kindly like to put forth that I am a strong believer of "money saved is money earned" and almost all the trips that I do is set on a shoe-string budget, because that's how I earn money for my next trip! So, I am taking a bus to get to my destination. This is also one of those desperate attempts to make at least a few realize that you don't have to be rich to have a rich experience and why you should do a solo trip at least once before you leave the face of the earth.
The expense is calculated from and to Dehradun.
I was all set to leave the next day, and it was only in the night I had the faintest idea in that big head of mine, of enquiring about the buses which ply to Joshimath from Dehradun I.S.B.T. I rang 'em up several times, and finally, came to know that the only one daily bus leaves at 5 in the morning and surprisingly enough, I had no means of getting there at that time, since all the petrol tanks on our two-wheelers were empty when the realization struck at midnight. So there it was! I was late by one day, even before starting my journey! Nevertheless, I was all set the next day.
Woke my friend up to drop me off at the I.S.B.T, where I waited till almost 5:45 and there it was! Delightedly, I hopped in, took the ₹461 ticket and then started my 12 hours (landslides not accounted for) journey to Joshimath. Shortly after we passed Rishikesh, I had my eyes wide open as we flew through the narrow roads beside the Ganges gushing through the roots of the valley, which happened to be several feet below those milestones we were mere centimetres apart from. Above were the clouds, white & cuddly, in stark contrast with the violent river which rushed beneath and the next thing I know, it was sleep which filled my eyes! The bus was not crowded and the seats towards the back were empty. So I went on to stretch my back, but couldn't sleep anyway since the ride was too bumpy. We stopped in between for breakfast. The view from my window remained spectacular.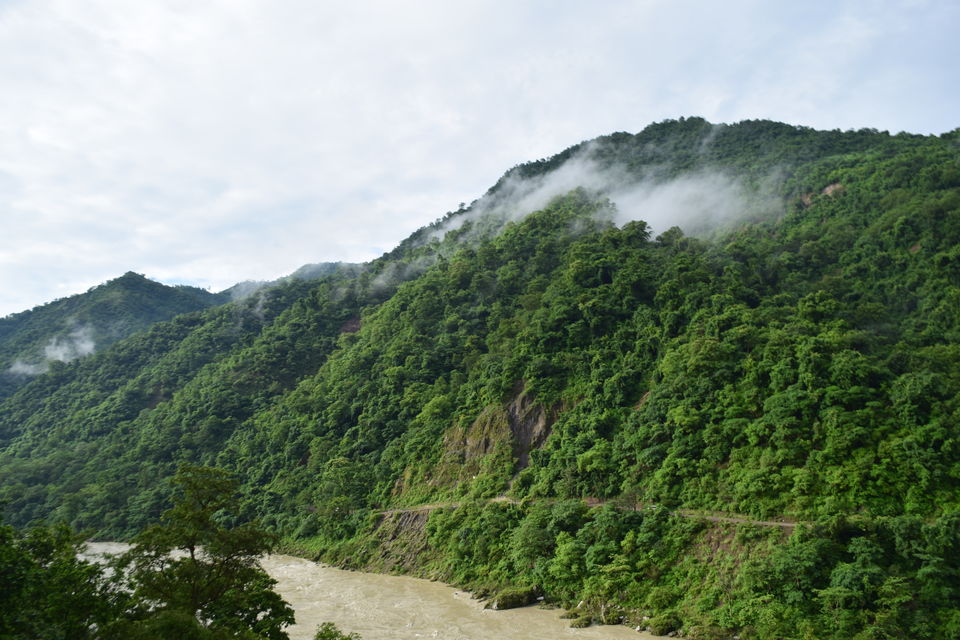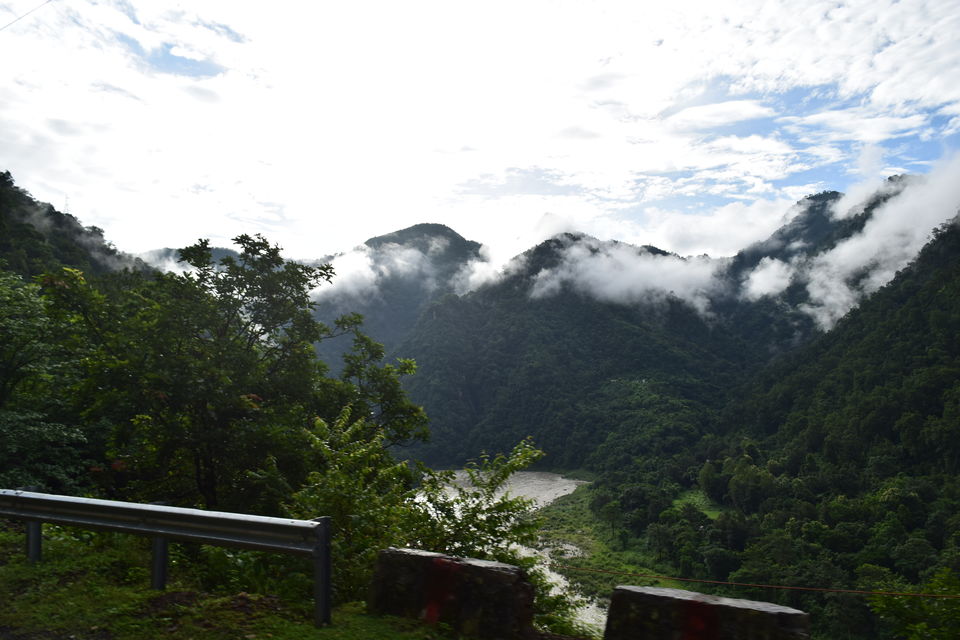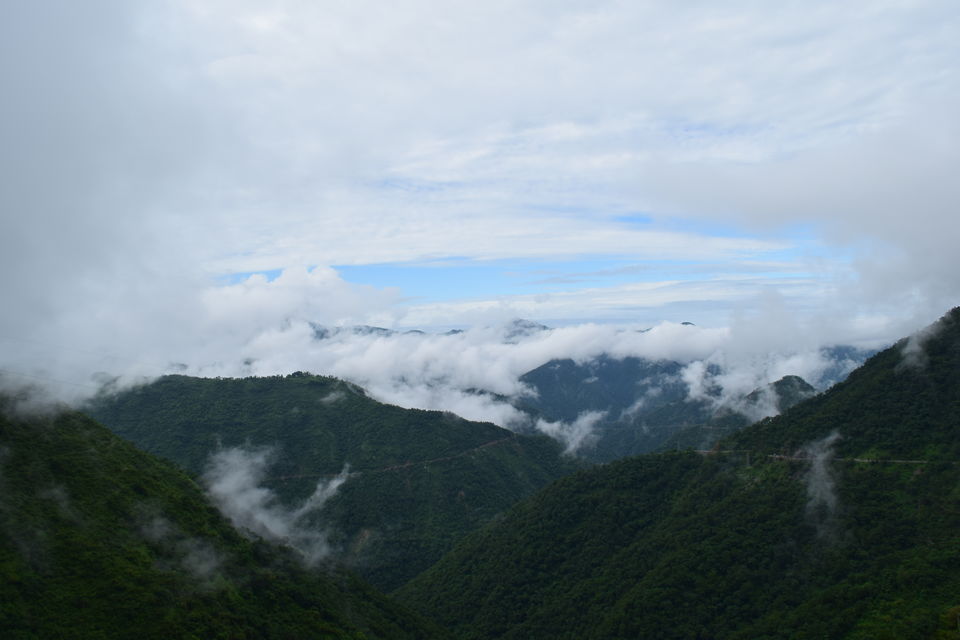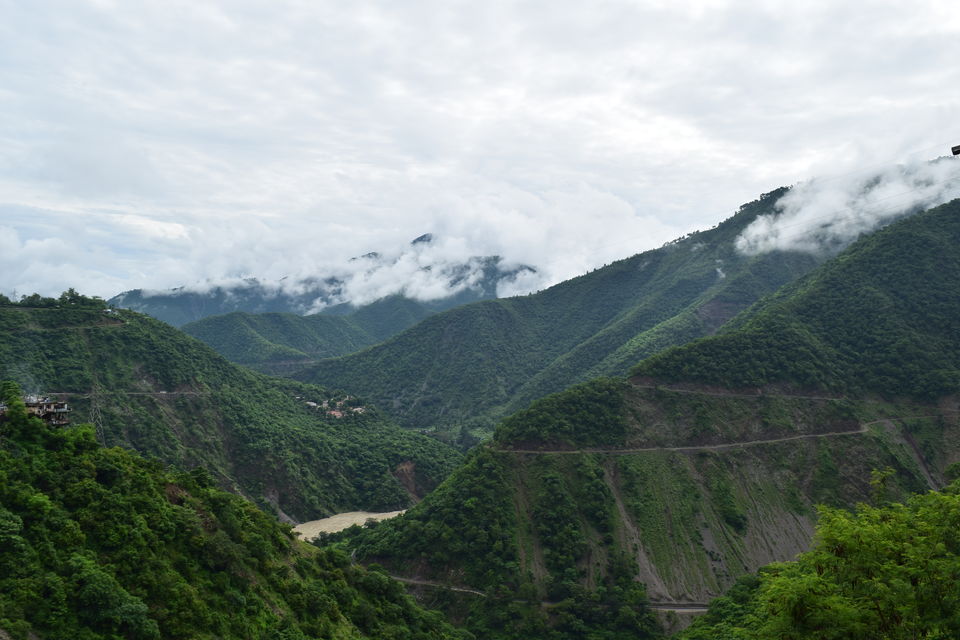 We were almost at Chamoli, before we were stopped by a landslide. Vehicles laid like train bogeys in front of us. Luckily, we were able to move within an hour. We were almost there before I went on to have a little chat with our conductor. Asked him about the place, how to get around and enquired about the timings of the bus for returning back to Dehradun and found that it was at 5 a.m. daily.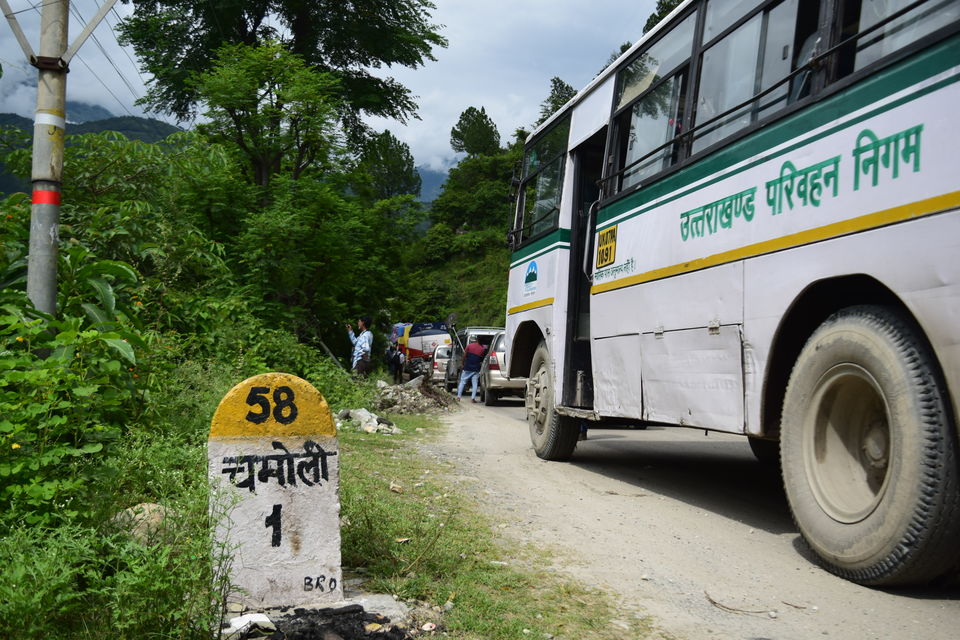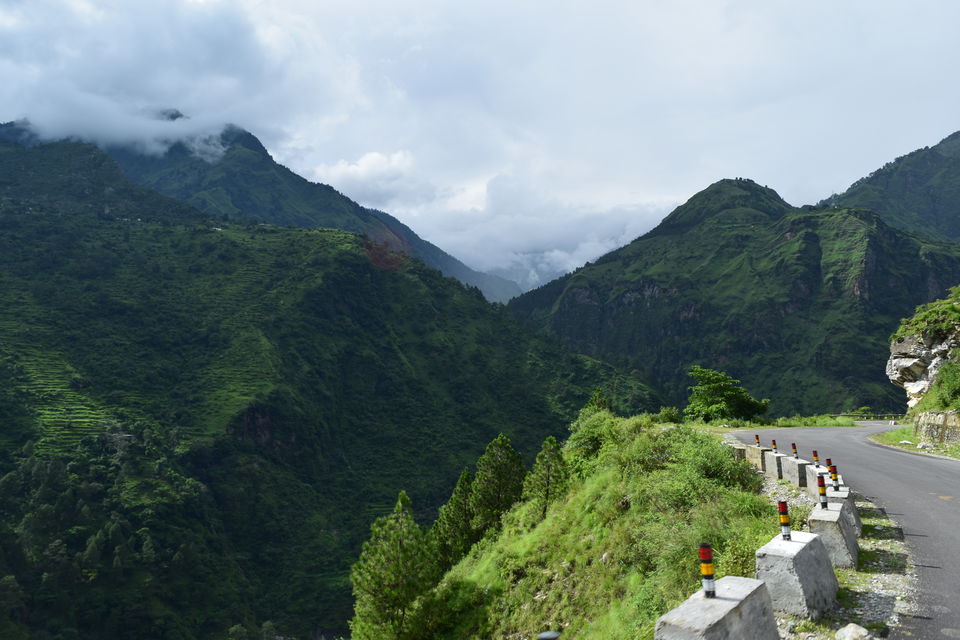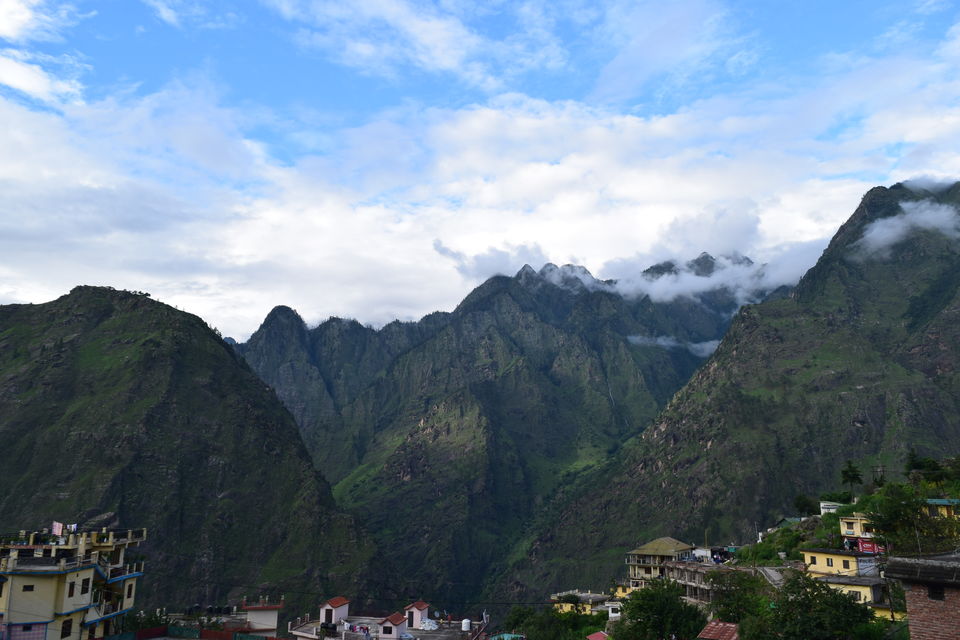 I got off at Joshimath at 5 p.m. from where the bus continued its journey in another route towards Tapovan. I had to reach Govindghat, almost 25 kms from Joshimath, the route which leads to Badrinath, which was also in my checklist. Share taxis were available, which strongly refused to move until it was completely packed. We were short of one more person, so we decided to pay extra to compensate for it. All of us in the cab were tired of waiting. It would cost you just around ₹50. I planned of reaching Ghangaria the same day but found that trekkers were not allowed further up from Govindghat after dusk. So, as I had in mind, I checked into the Gurudwara situated at Govindghat. It was my first time at a Gurudwara and I offered money while I was checking in. They politely declined and told me that the food and accommodation were free, and I just had to share a room with someone else, and also to cover my head with a piece of cloth whenever I came inside the Gurudwara. They also asked me where I was planning to go to which I replied with Sri Hemkund Sahib and Valley of Flowers.
I checked into the room and there was already a guy there. We got talking and found that he was there after a visit to Badrinath. He had to make his way by foot for almost 20kms from Badrinath till Govindghat due to landslides. He was apparently stranded here since he was only left with a few pennies and he couldn't find any ATMs nearby. So guys, do carry enough money while you are coming here. I shared my plan of going to Ghangaria the next day, and he wanted to come as well, till the Gurudwara at Ghangaria. We inquired with the locals about the timings for starting the trek in the morning and we came to know that share taxis were available till almost 3 kilometres uphill from 5 a.m.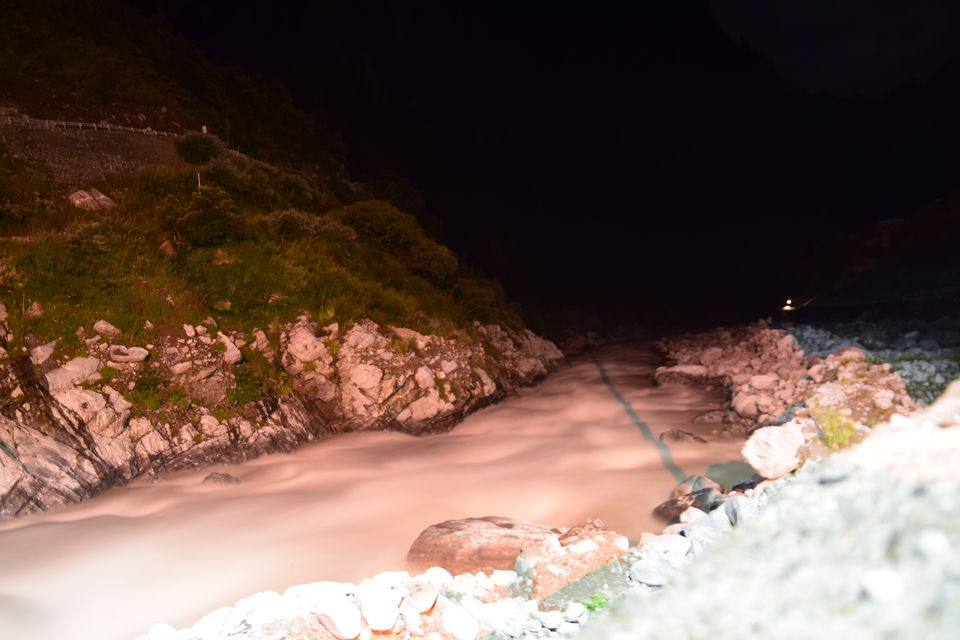 Woke up early, took the share taxi in order to save time, which took something like ₹50 and started the trek on foot by 5:30 a.m. The River Lakshman Ganga flowed by our right and the daylight started showing up. We took short breaks in between. You can decrease the weight of your backpack by carrying just an empty bottle as you'll find many taps with drinkable water during your trek. Each gram counts! Glucose powder and dry fruits could be the best source of energy, without imparting much weight to your payload. There are even small shops en route from where you could eat out, but are obviously expensive.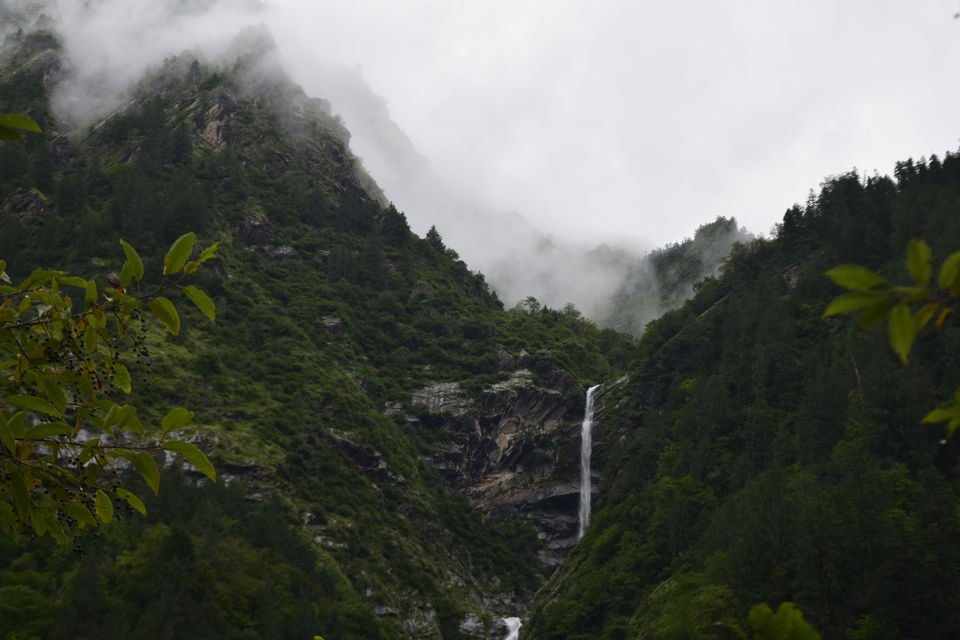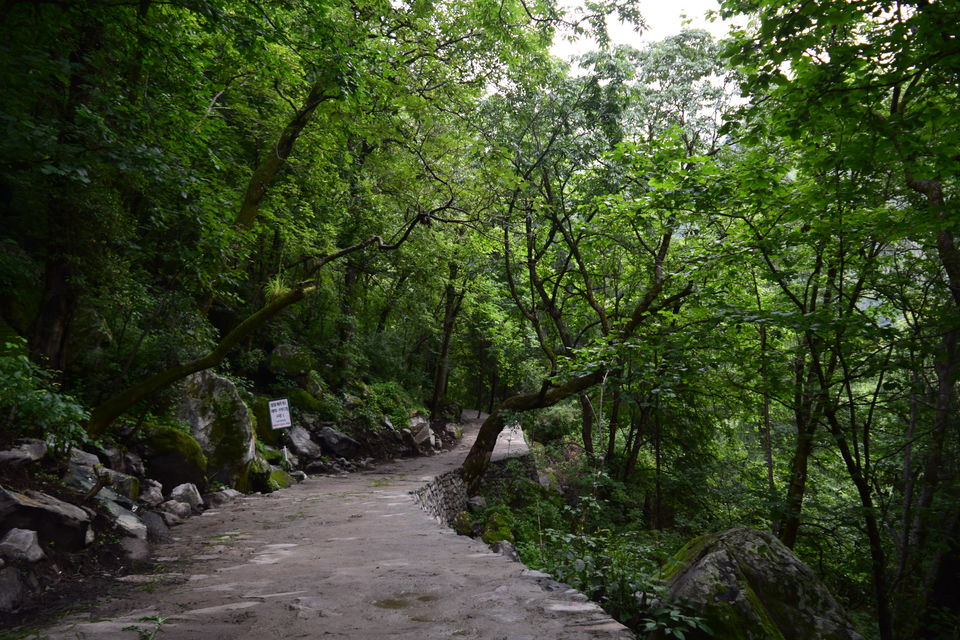 We crossed streams, caught sight of my first ever snow-capped mountains, and continued the beautiful trek through the green trees, milky white waters, mules and porters, carrying both humans and luggage.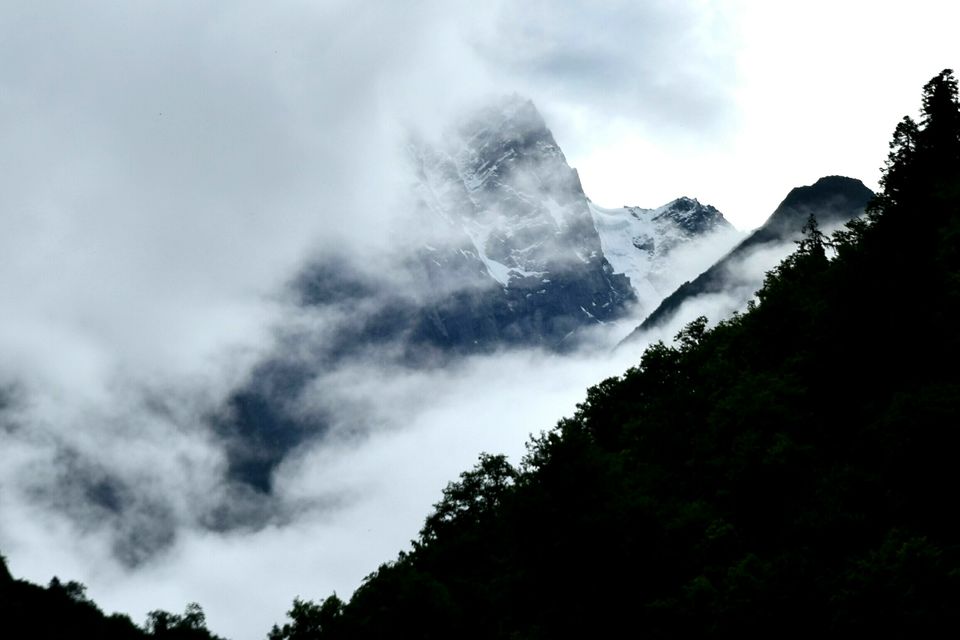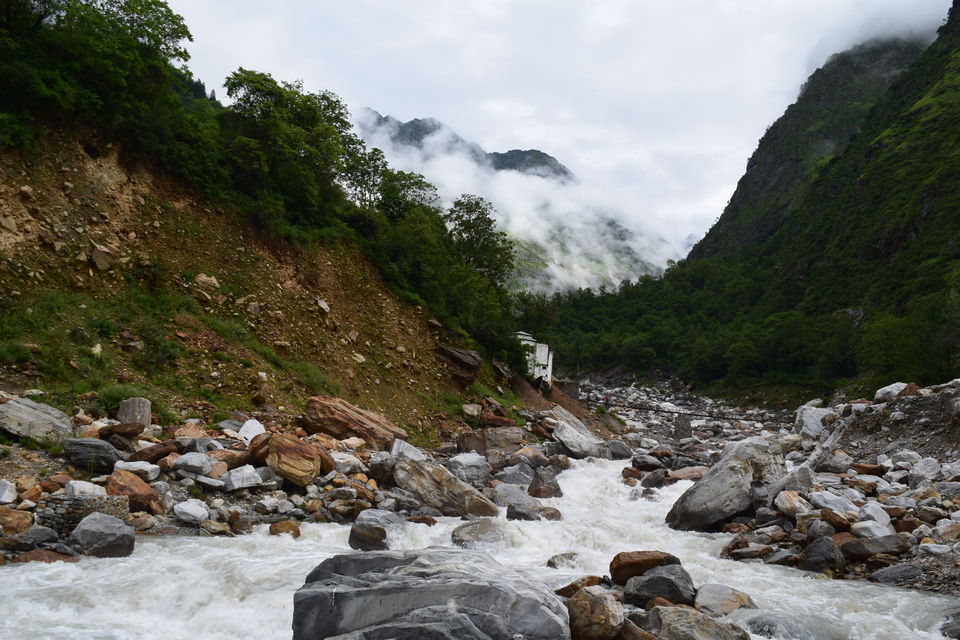 About 4 hours and 14 Kilometers later, we reached Ghangaria. The helicopter service from Govindghat would drop you off at the helipad, almost 1km before Ghangaria. We made our way straight to the Gurudwara. Rested there for some time, had some tea and was all refreshed. We were looking to get a room, but the counter wouldn't open till 11. I wanted to get to the VoF very badly, which is why I started early from Govindghat, and since my friend was going to stay back here, I left all those useless stuff, which I didn't require for my trek with him and I rushed to the forest check post hardly a kilometre up the village, since entry passes for the day are issued only around till 12 noon. I reached there on time and the pass was issued for ₹150, which is valid for 3 consecutive days. I was told to return at or before 5 p.m. at the check post. The green and red board with the map of The VoF, trails and guidelines were also seen here. I examined it and then, I officially started my dream trek to The Valley of Flowers, all by myself! I was so excited that I even forgot about the hunger and thirst the human in me felt, and I just went on.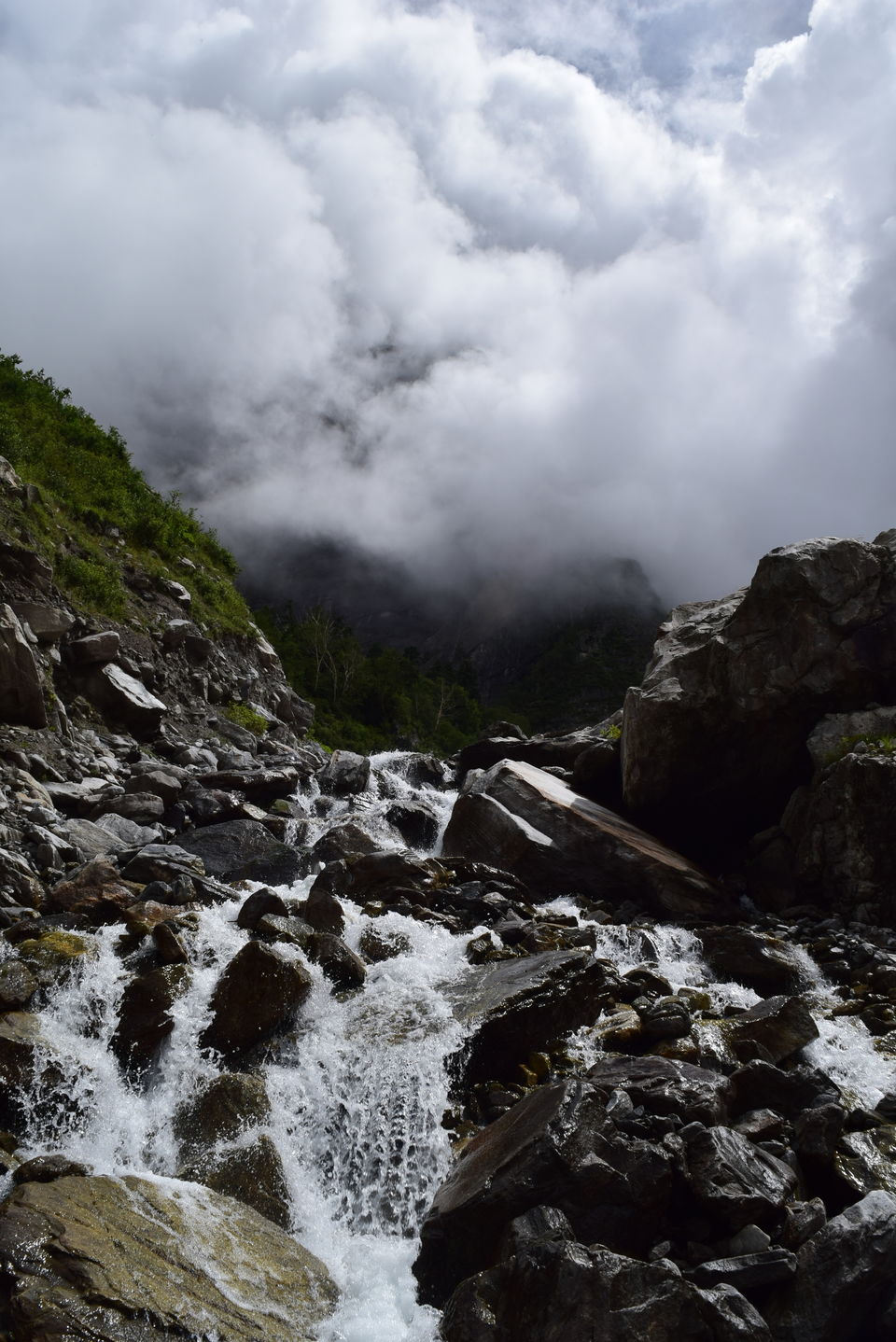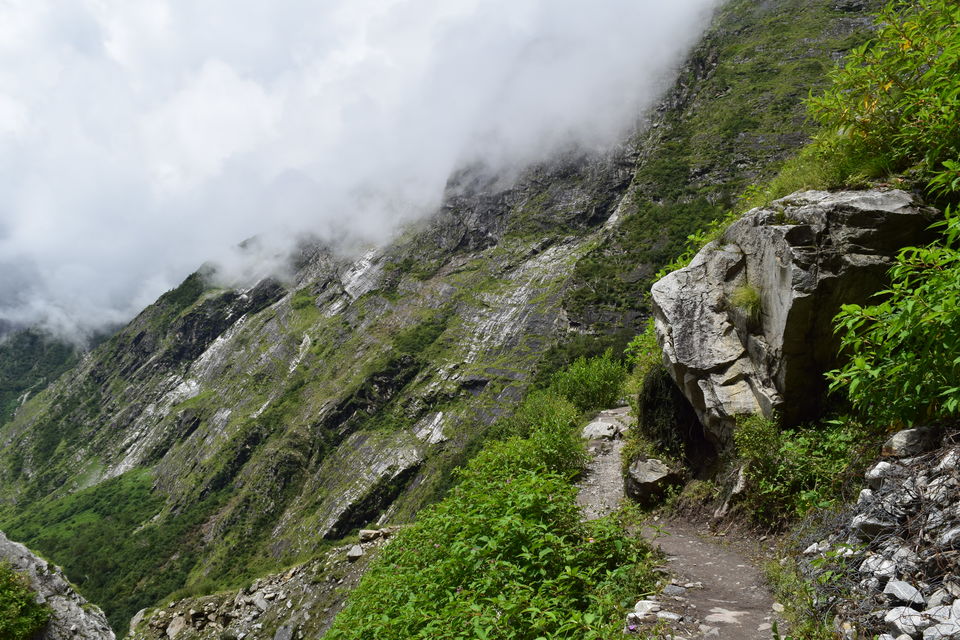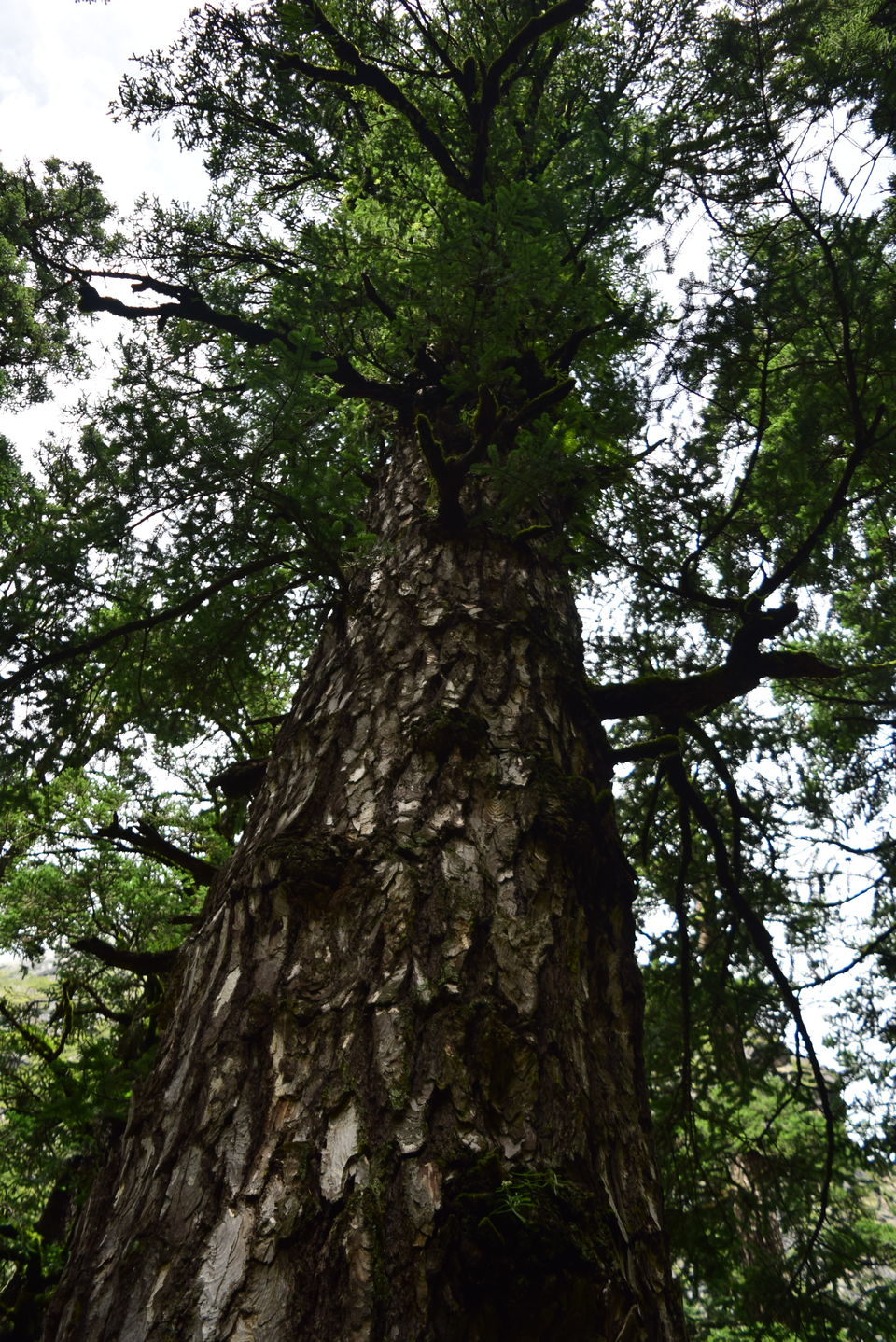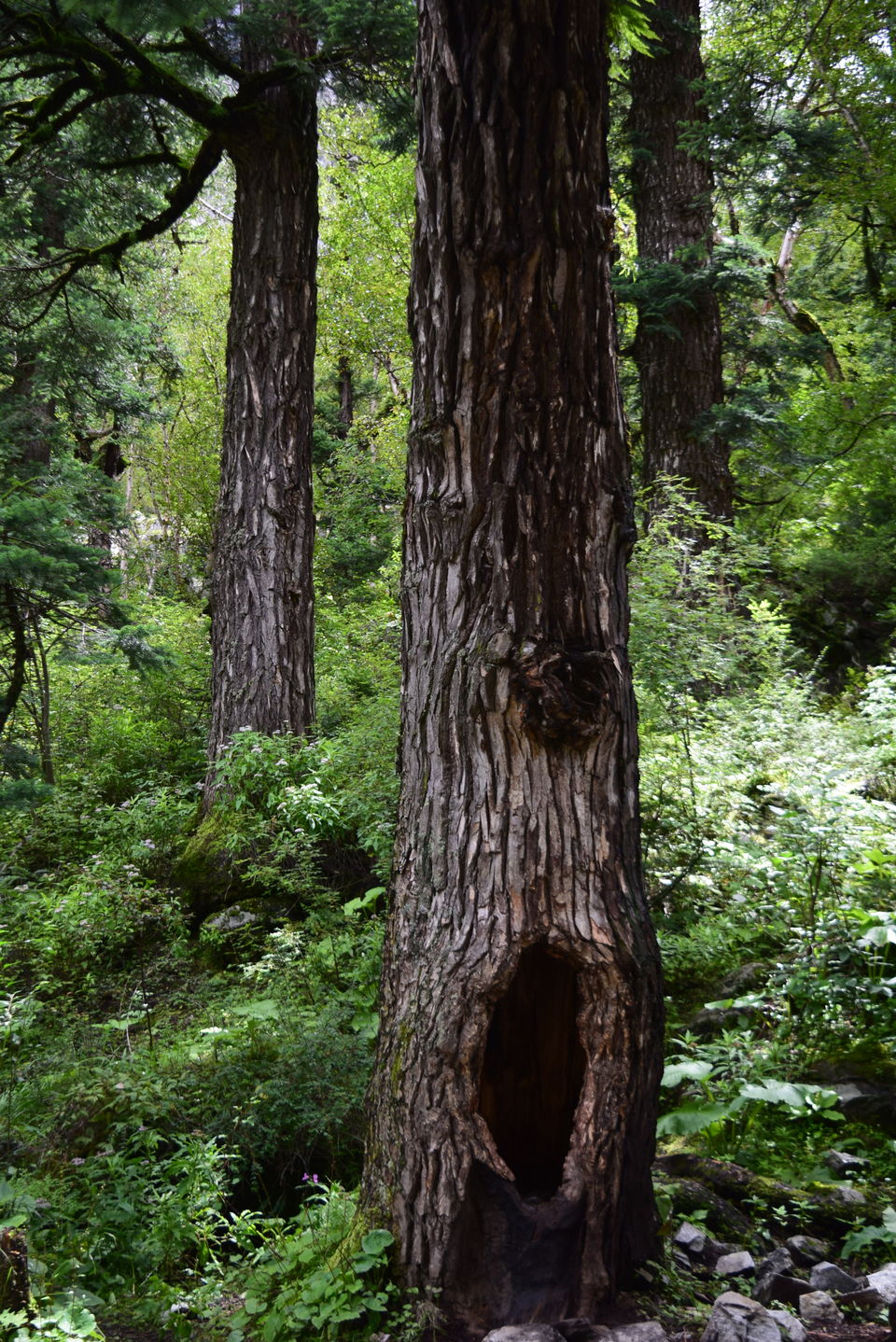 Crossing through creeks, sighting the mighty boulders and numerous Impatiens sulcatas later, I completed the last stretch of 3 kms till the valley.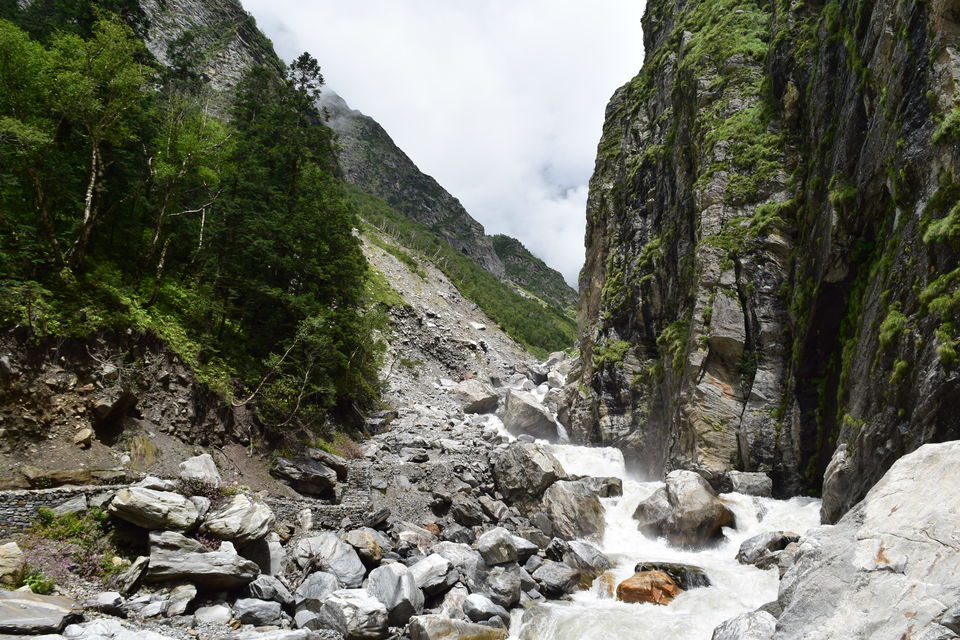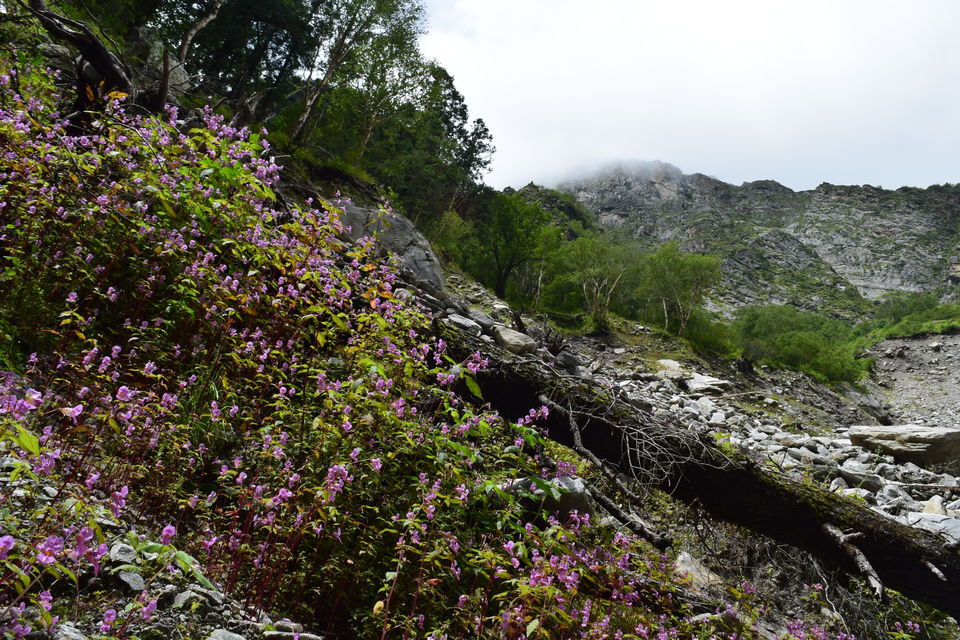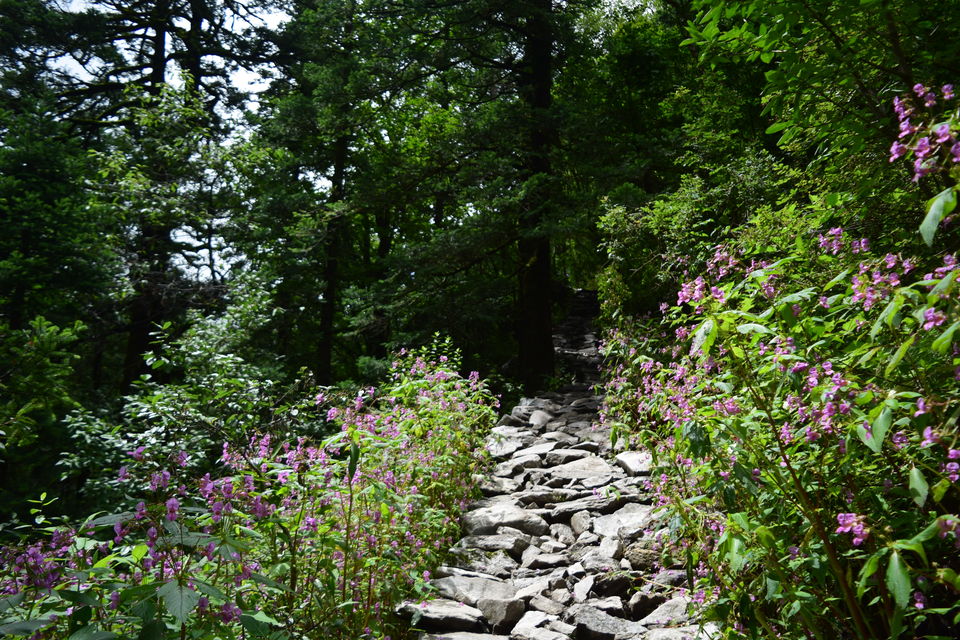 I was finally there! The heaven I'd been longing to visit. I was dancing inside my mind and was praying to the clouds to have made it.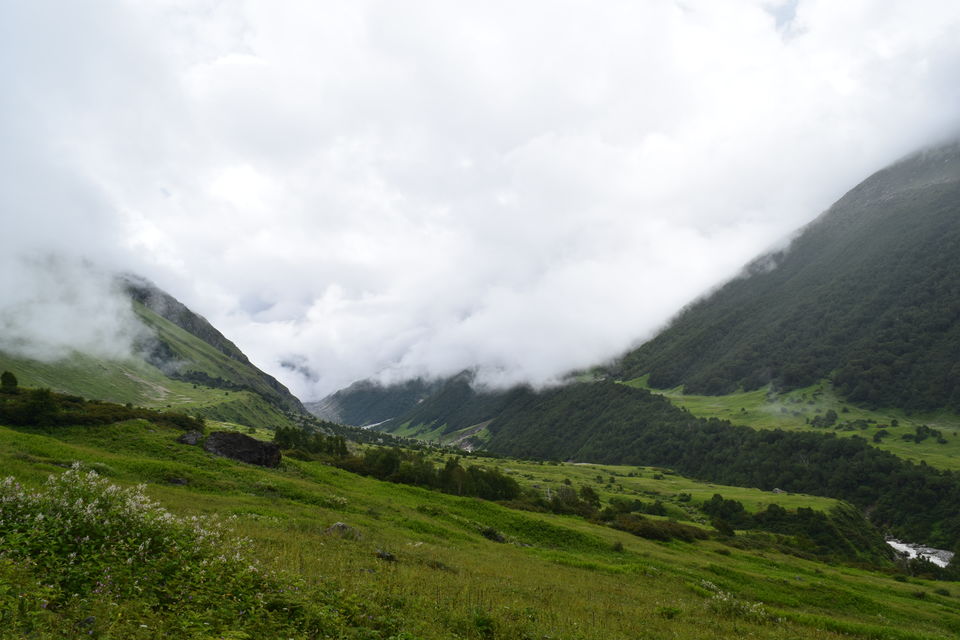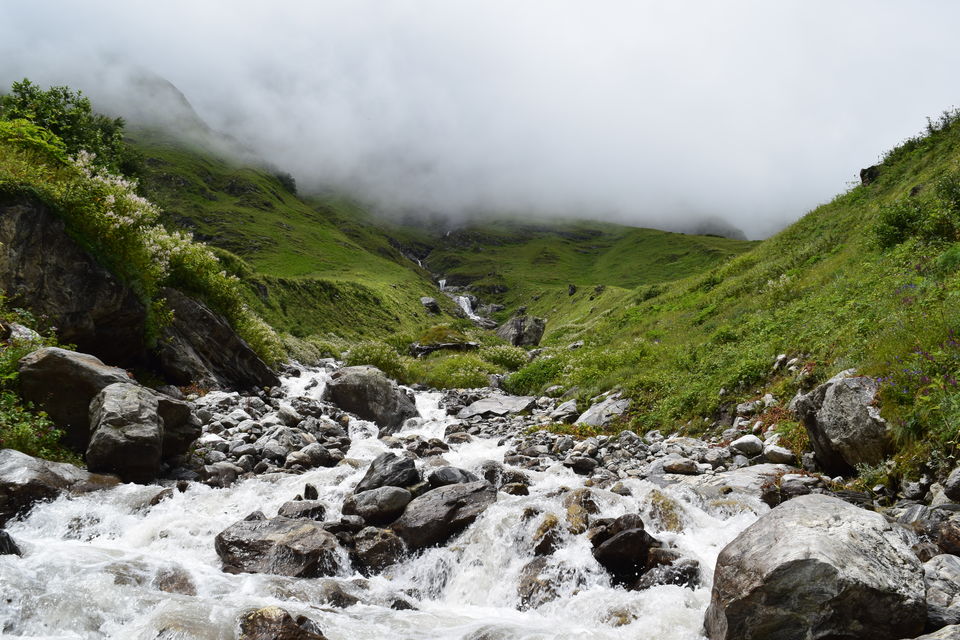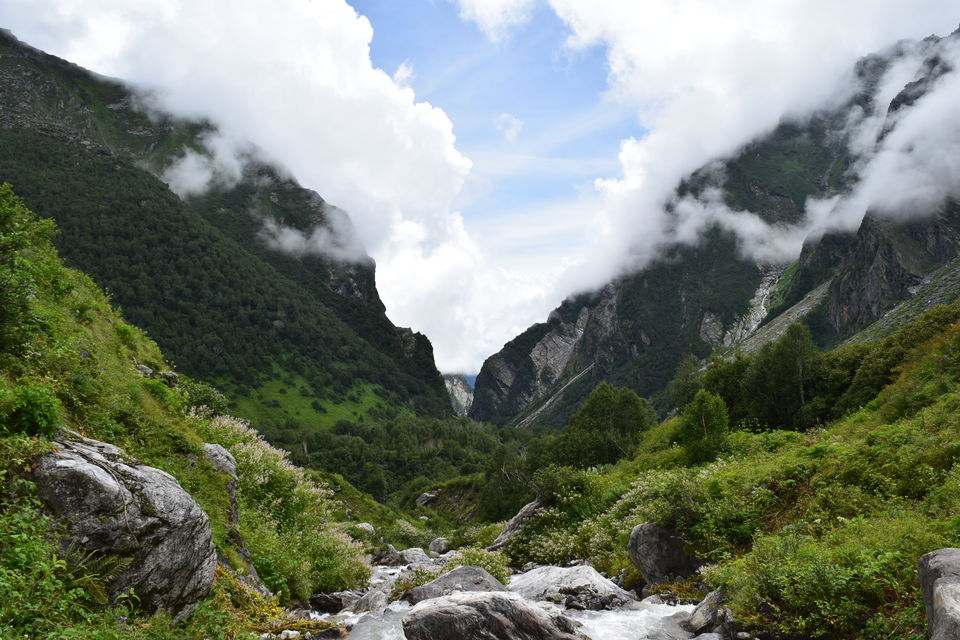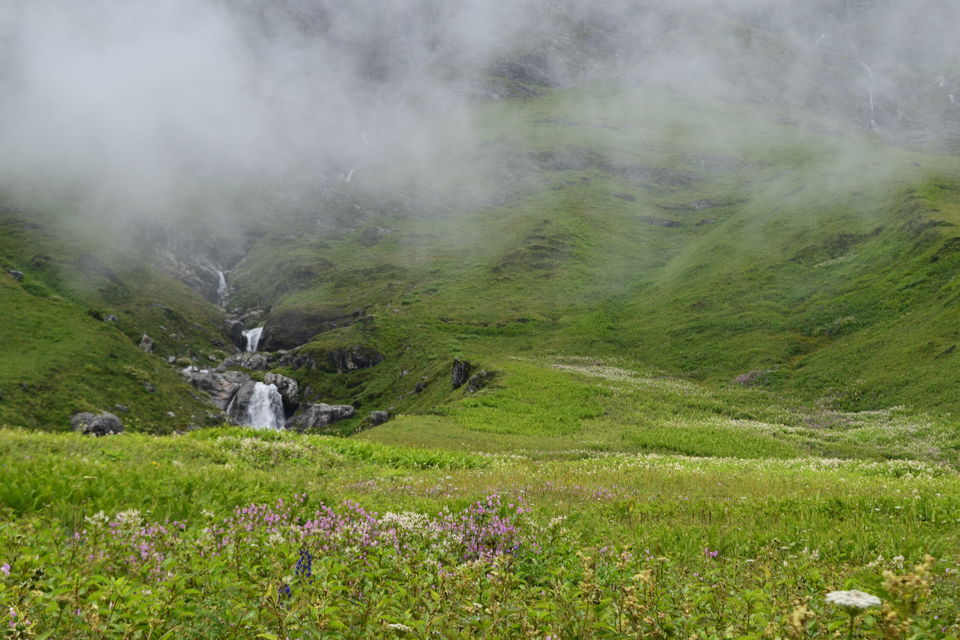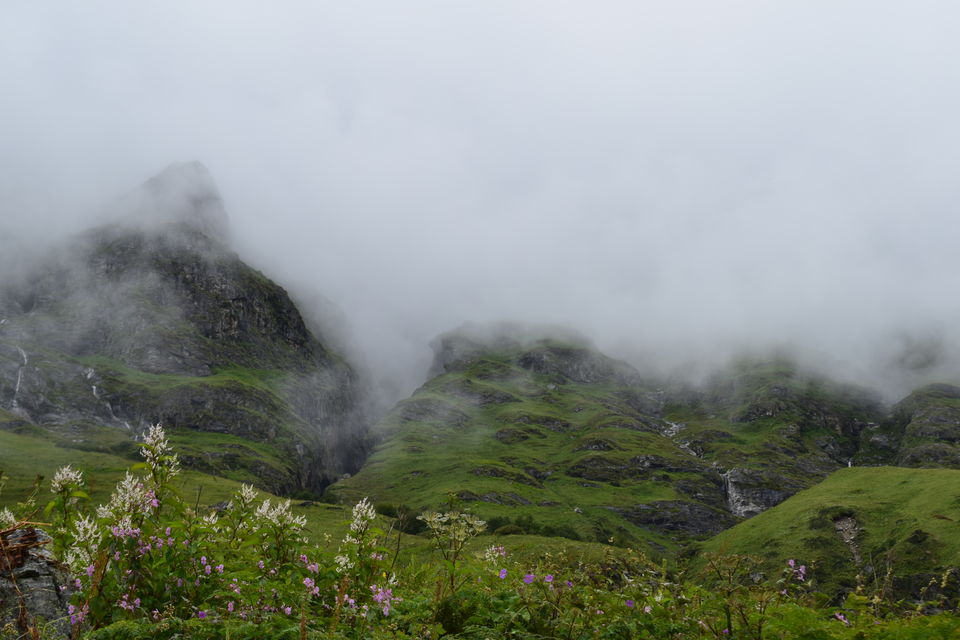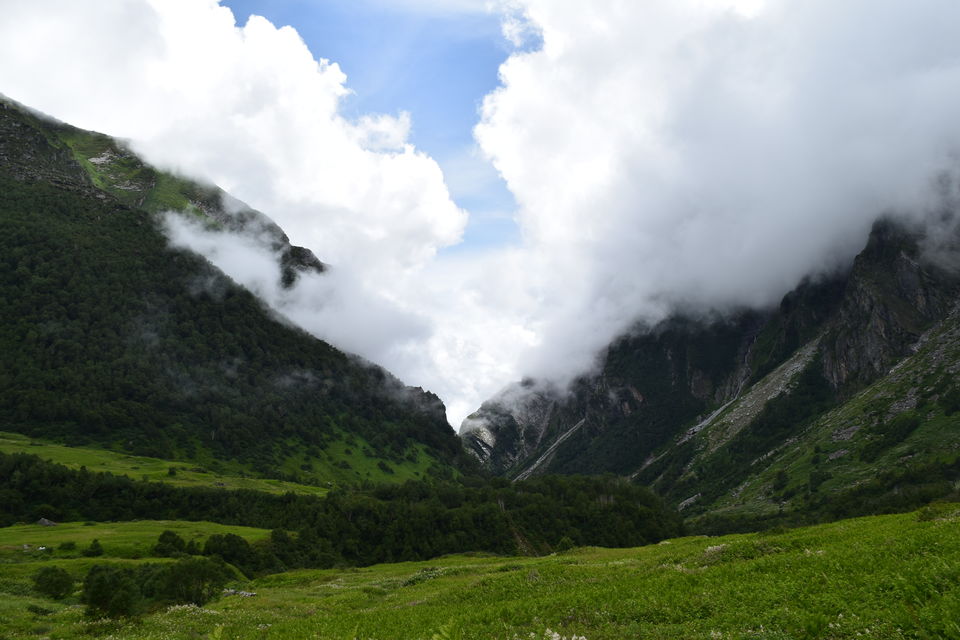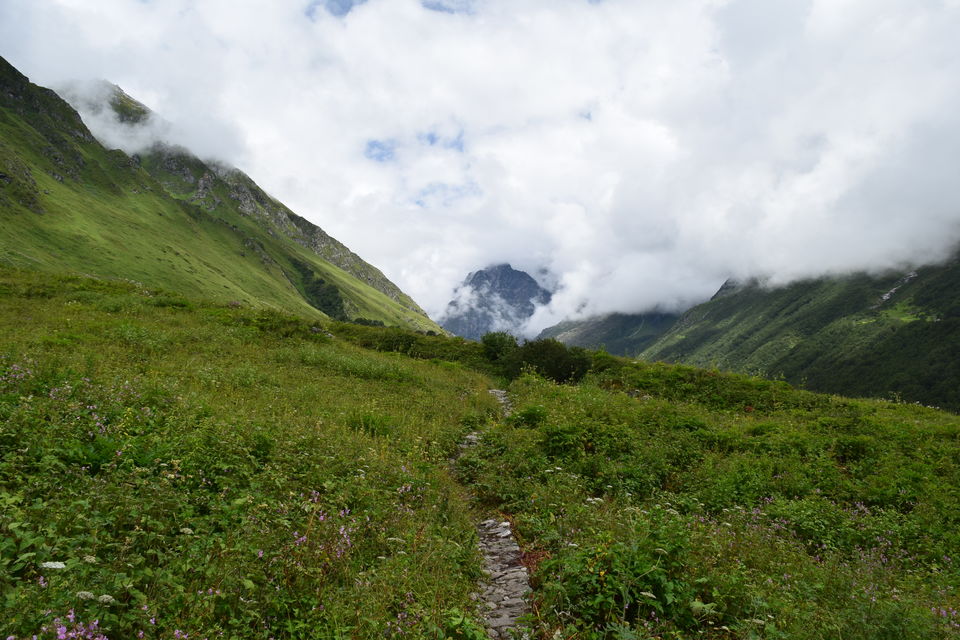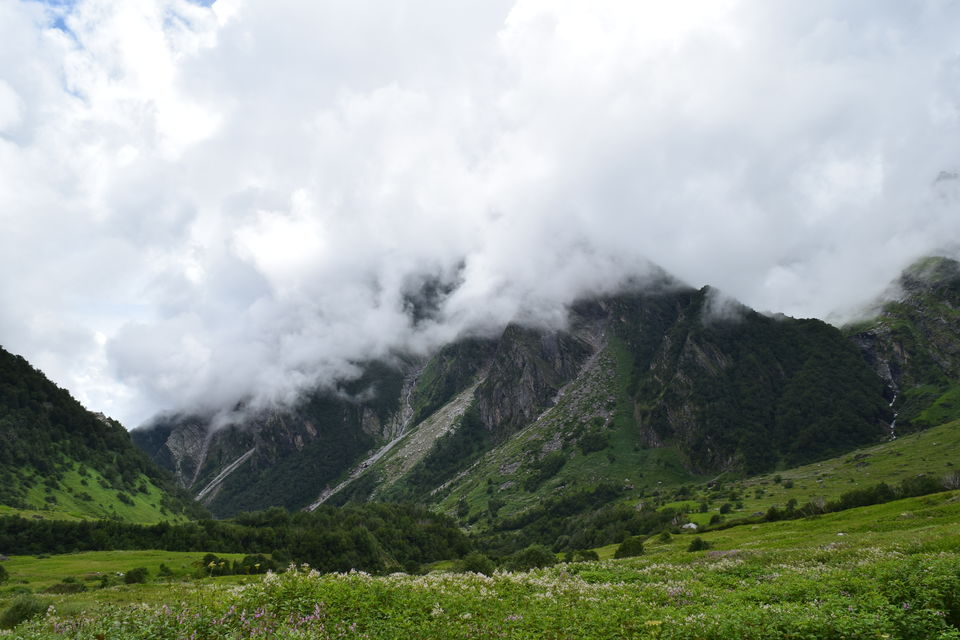 The valley stretched almost 8kms long and 2kms wide. I hardly had time to cover all of it as I had to get back till the check post before 5 p.m. So I tried to explore around, talked with fellow trekkers and I reached till Joan Margaret Legge's grave. Legge was a botanist who'd lost her life in the valley while collecting flower specimens and the grave was erected by her sister, years later. Now it was time for me to head back. My lunch was just a pack of biscuits and water, but that was all I needed for the sights and the experience was out of my comprehension and the part of my brain responsible for triggering the sensation was already packed! It had started to drizzle and I climbed upon a boulder a bit away from the paved paths with my umbrella. I just sat there with a good view of Pushpawati river and melted away my hide and seek biscuits in my mouth as a late lunch.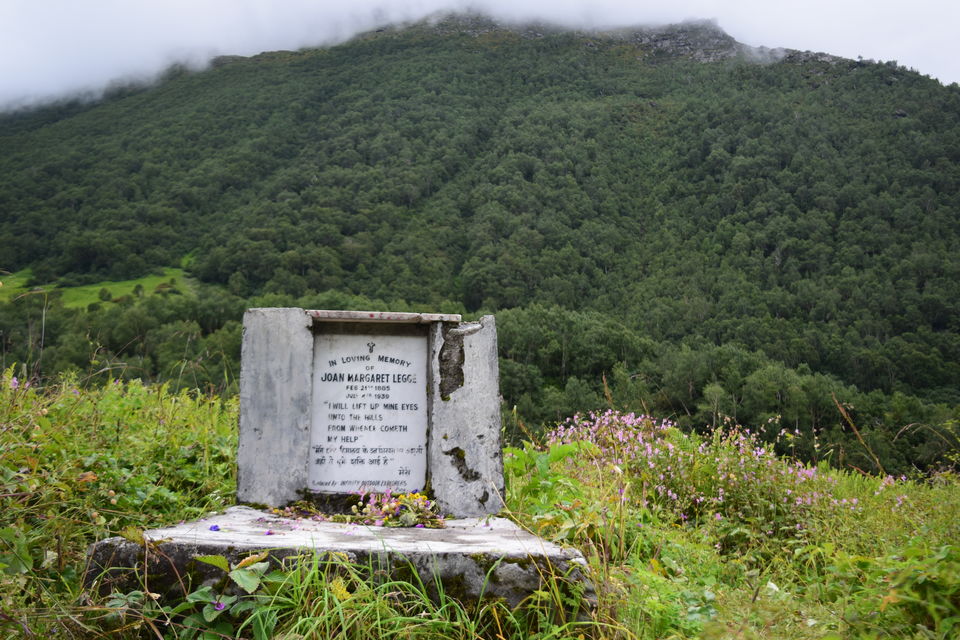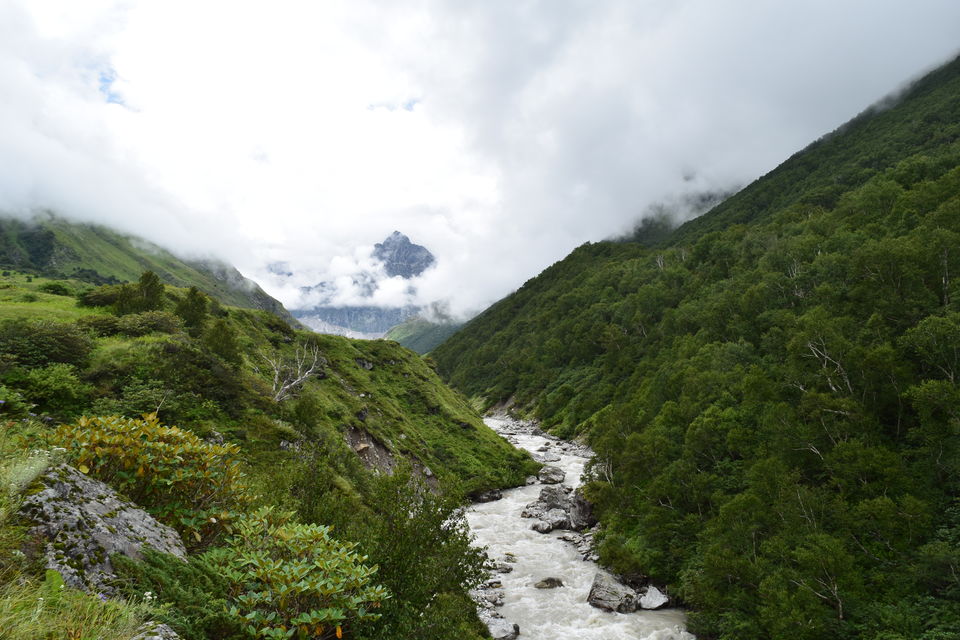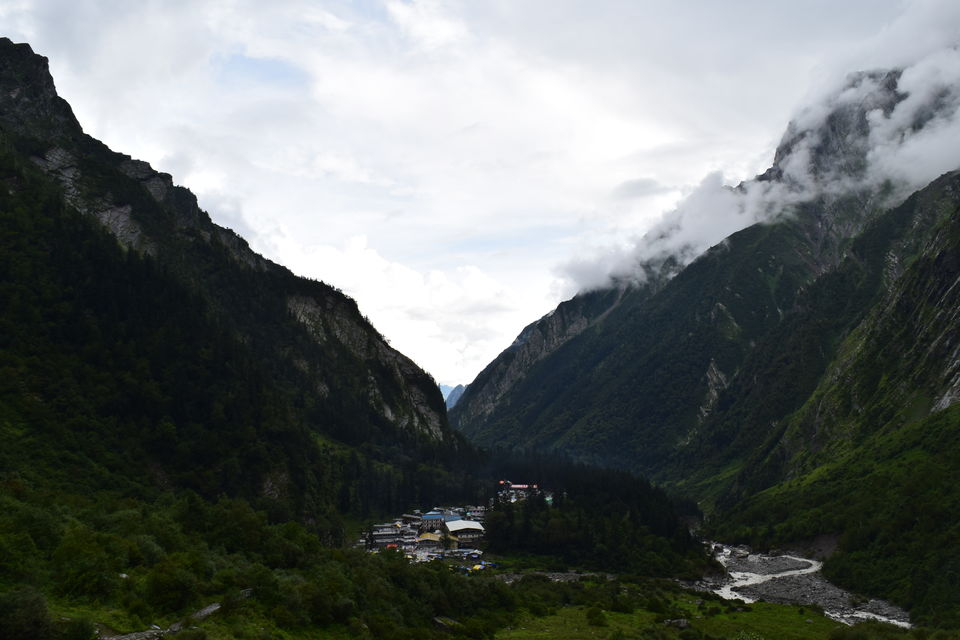 I reached back to Ghangaria. I was already planning to trek there again the next day as I couldn't explore it completely. I rested for the night at the Gurudwara in Ghangaria, sharing the room and stories with the friend I had picked up from Govindghat.
So the next day I started early at around 6 a.m. Overtook almost all those obedient trekkers who moved on in a monotonous manner with their hazy grey raincoats and reached the valley. Today the view was even more mind-bending! River Pushpawati flowing beside, with a thin crust of mist as an icing! It was perfect!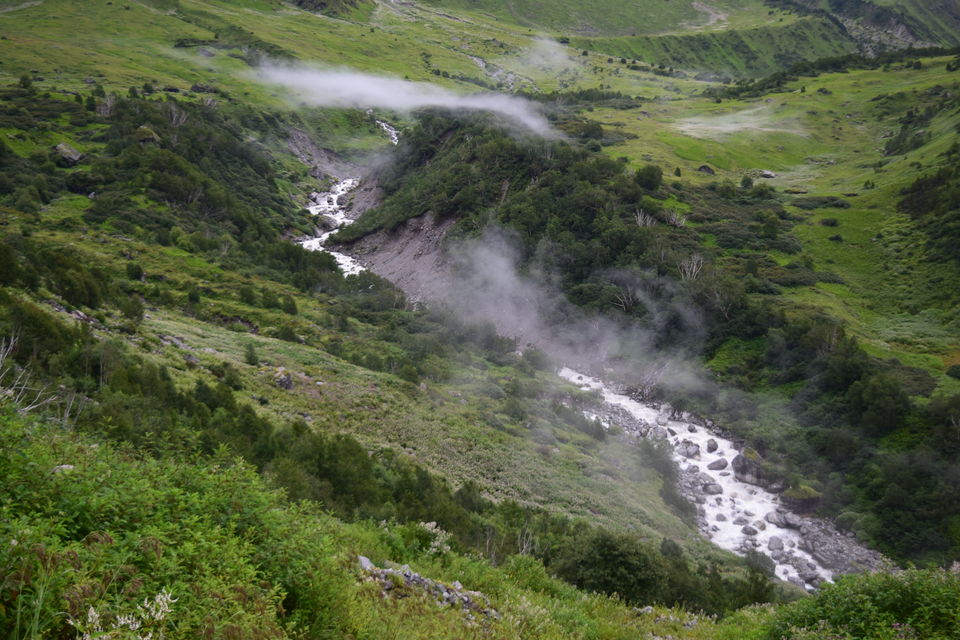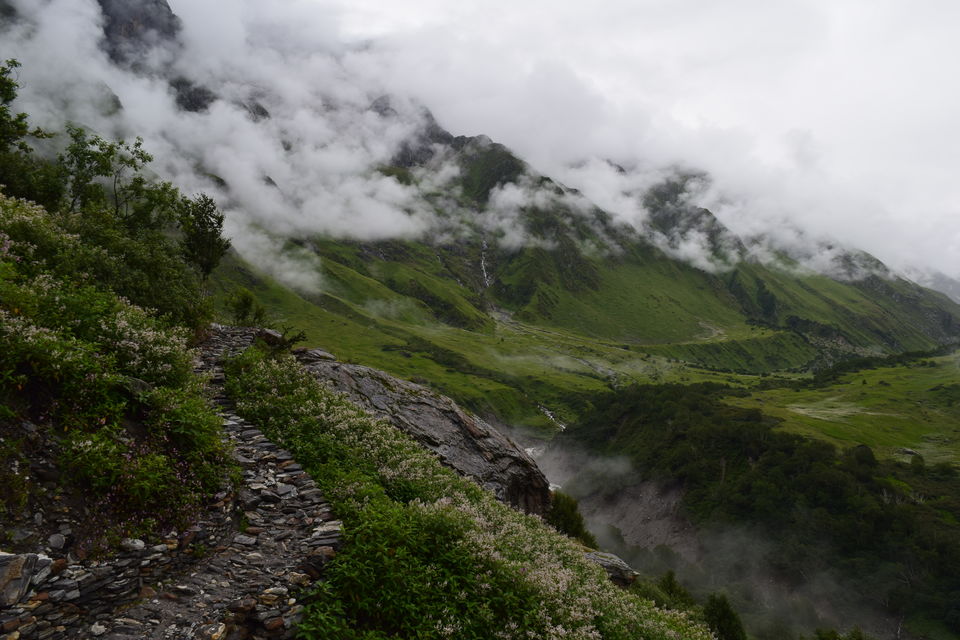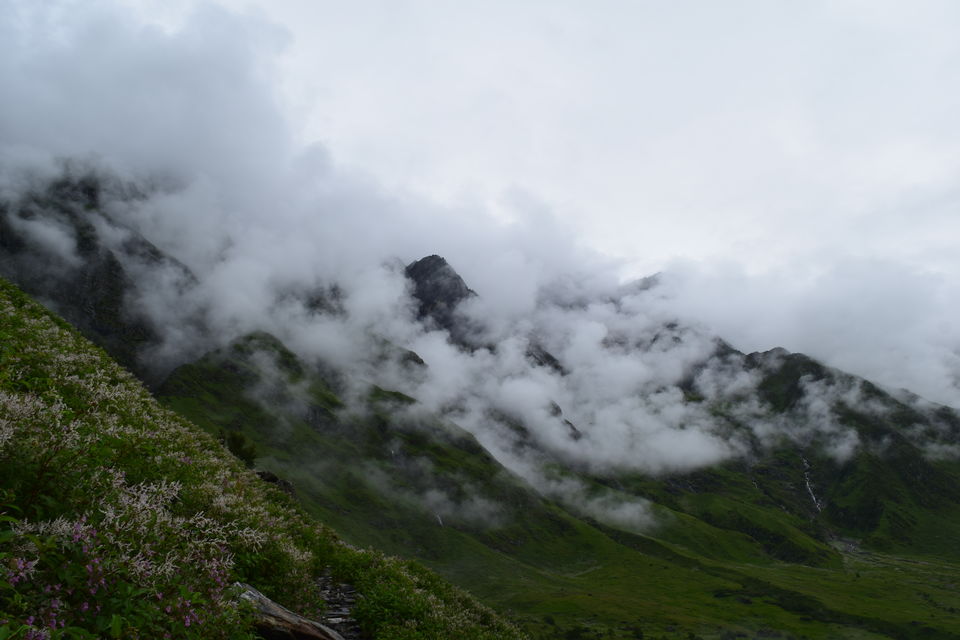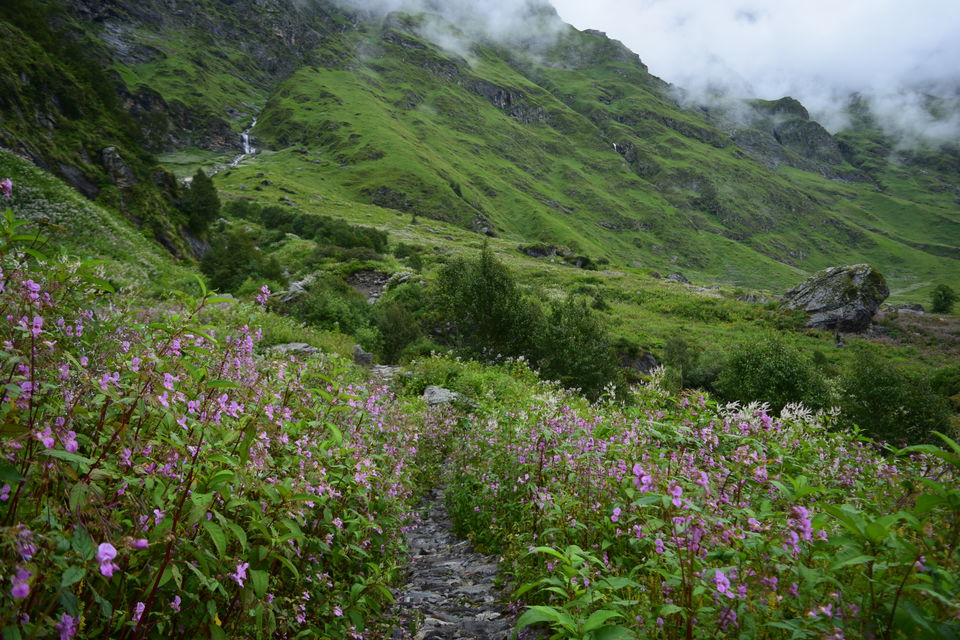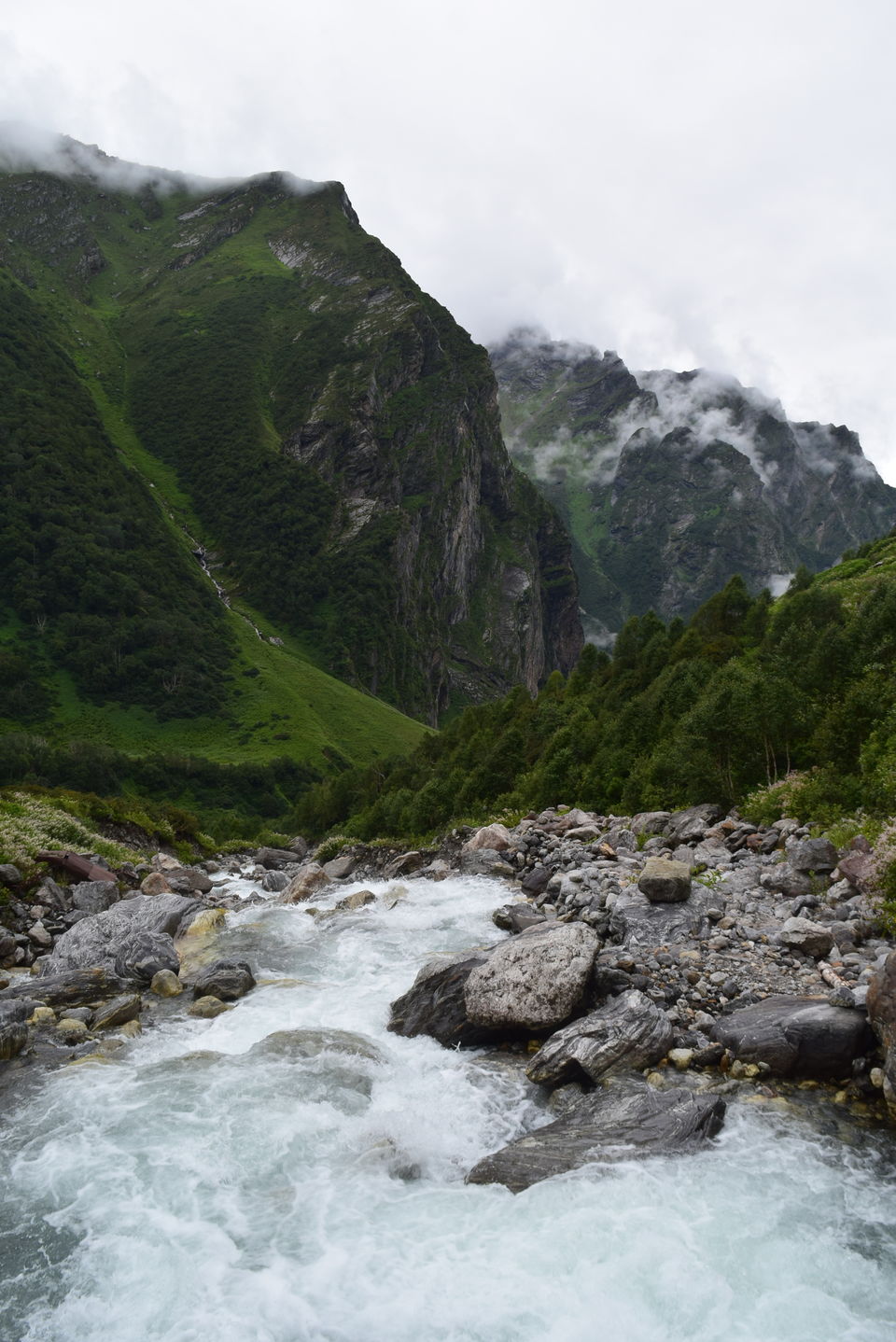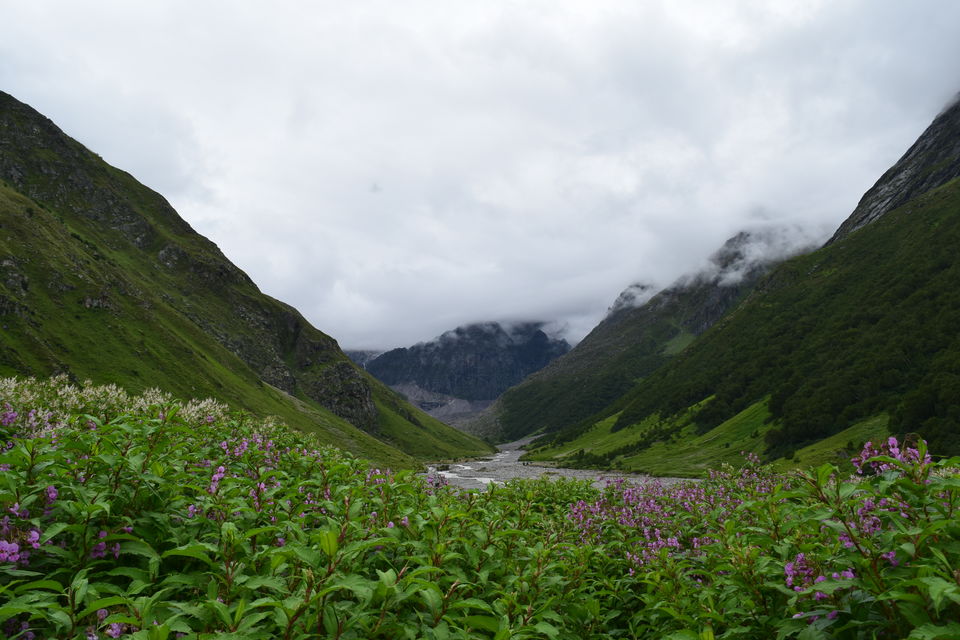 I continued towards the other extreme through millions of Rhododendrons, Himalayan balsams, Trailing bellflowers, Himalayan knotweeds, Cheerful senecios and a variety of other flowers and plant life, reached a point where it seemed I couldn't go further. The people whom I saw in front of me were turning back, which kind of assured me that it was the end. In front of me lay bushes, gravel and irregular paths through which Pushpawati was flowing. There wasn't any way further through, or so it seemed!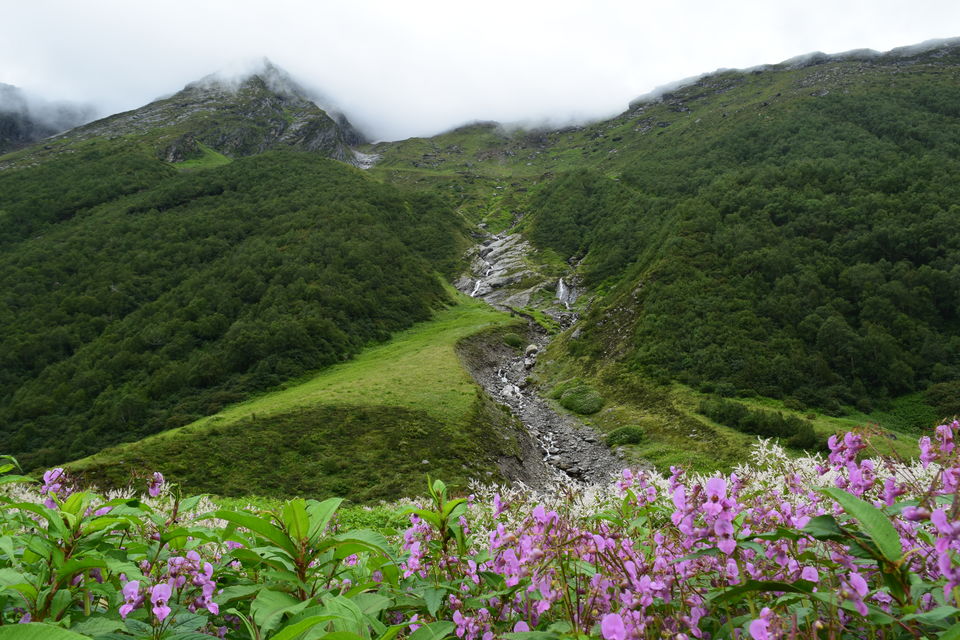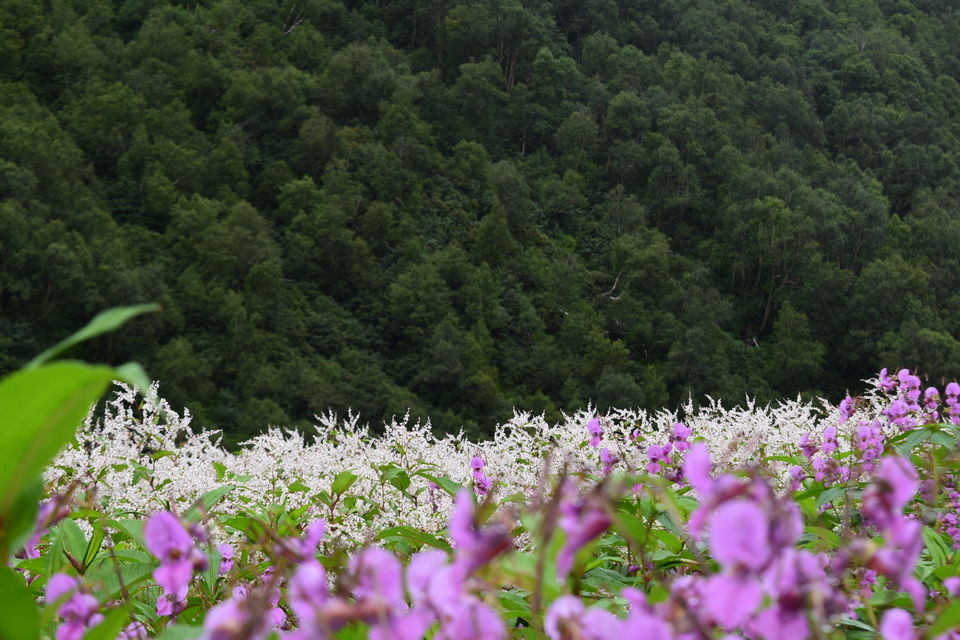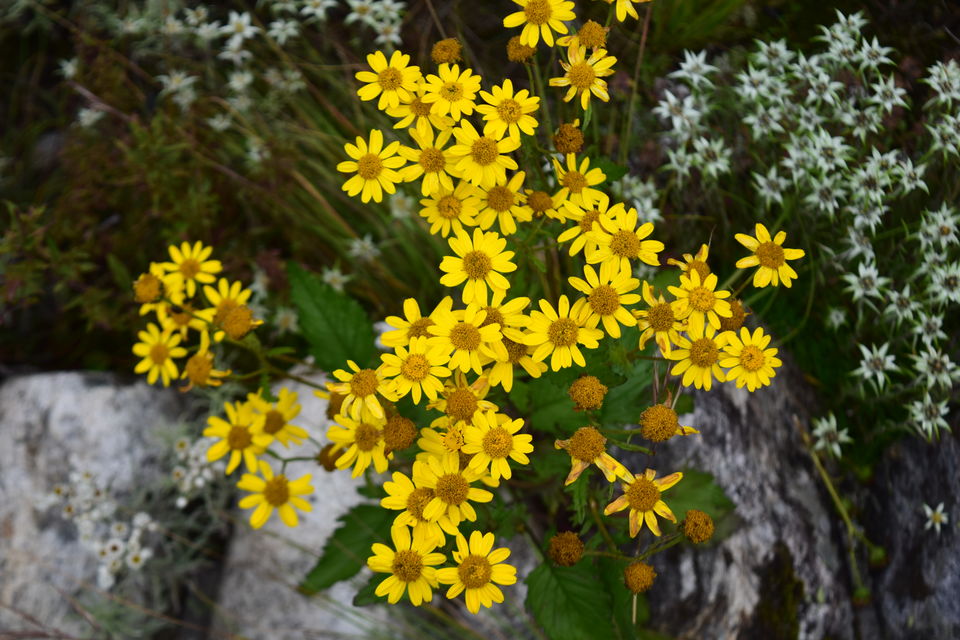 I delved further through the bushes, slipped, got hold of some bushes and roots, climbed and climbed again. I reached a point where I couldn't lay my vision on another human when I turned back and then I continued further. After a while, to my surprise my foot landed on those same stone-paved paths which were laid in visibility till a point, vanished and there it was again, covered in such tall herbs and shrubs where no one could've caught sight of! I made my way through it like a mole under the sand. Shortly the path did come to an end. I still had my eye on a part of the Tipra glacier from where River Pushpawati originated. There were two more hillsides I had to go over before I could enjoy the widest sight of the glacier. I did what I had to do and climbed around.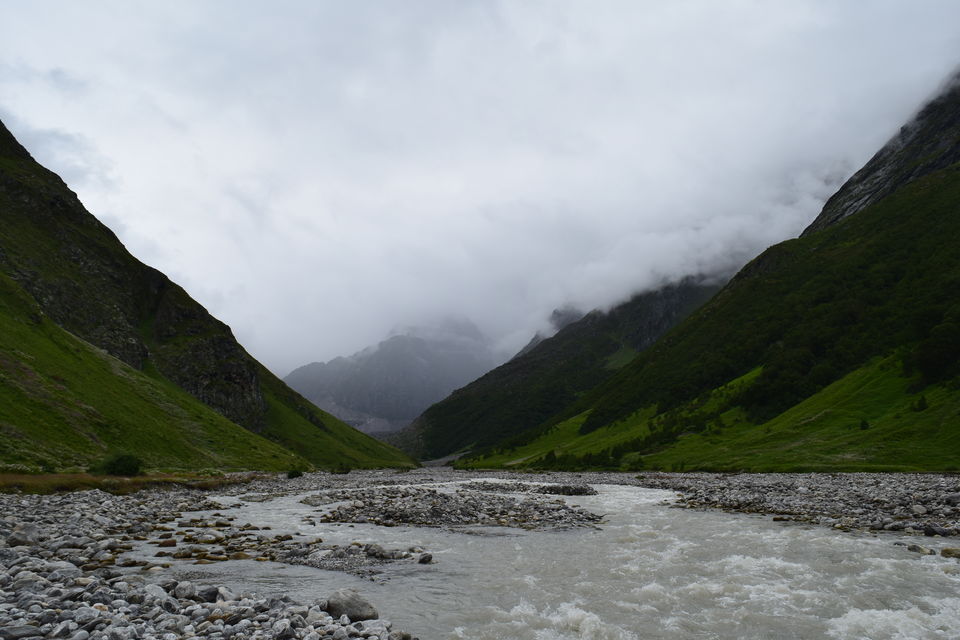 I'd now reached the orgasm of my trek! It was a profound feeling. It was just me and nobody else around (except for the godamn flies!). It was another one of those places where you didn't feel being made into flesh and bones. I didn't feel hunger, thirst, fatigue from the 6-hour continuous trek. To one side I could see one majestic face of the Tipra glacier. To the opposite side, I saw the fog rolling in. A green meadow to the left and a landslip on the right. I spent the best one good hour of my life on top of a boulder, photographing and just by laying there, which made me question my sense of reality! Once it was time to head back, I could not see the face of the glacier anymore. They were cuffed in clouds, which also got close to me from the other side as well. I set my way back with the cheap polythene raincoat which I bought from Ghangaria for ₹20 and earphones, dancing to the tunes. (I still remember it was Downtown by Macklemore & Ryan Lewis! These are some of those times when everything gets imprinted on your mind for the rest of your life for good!)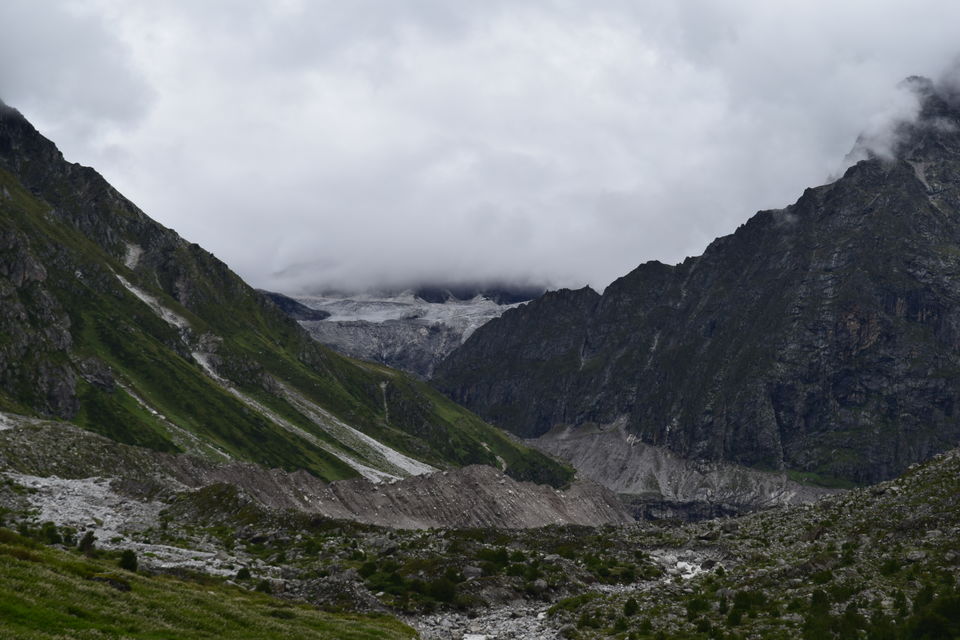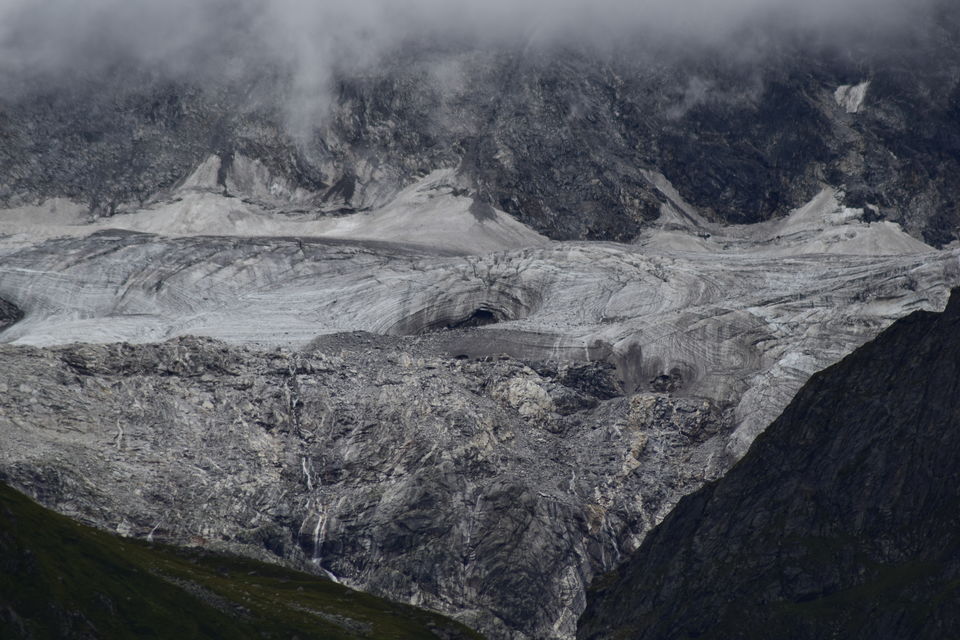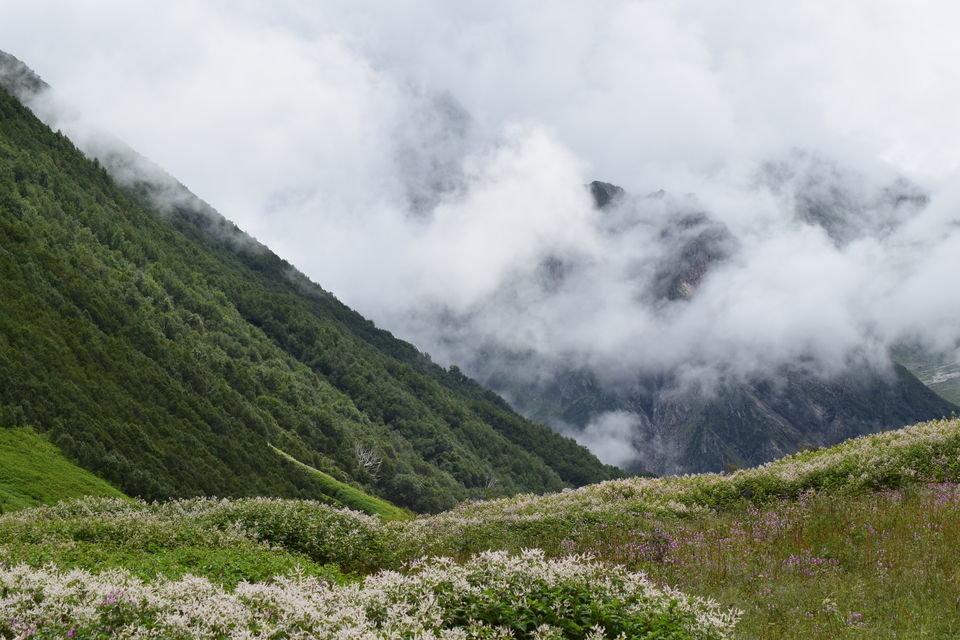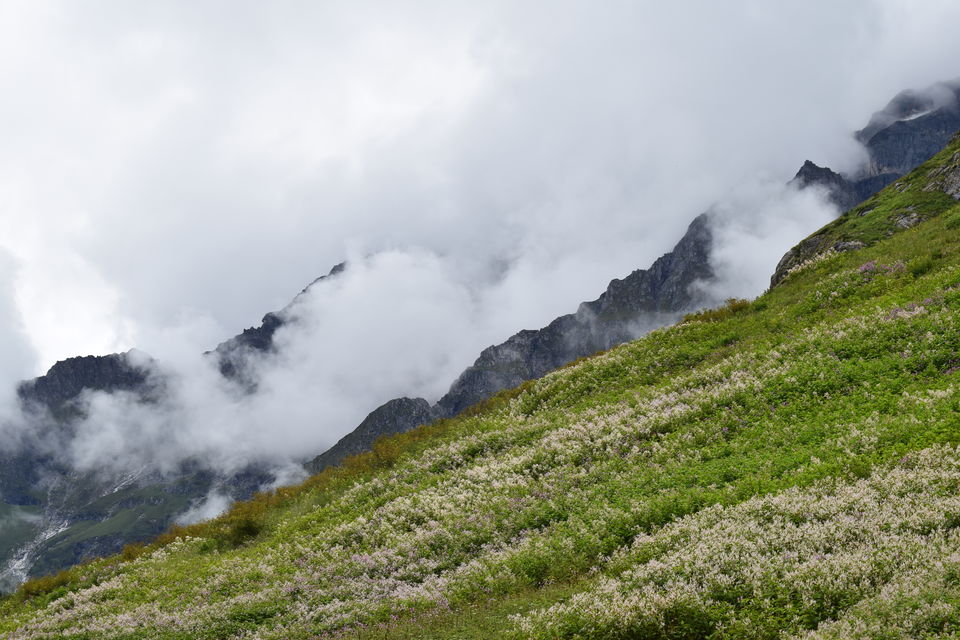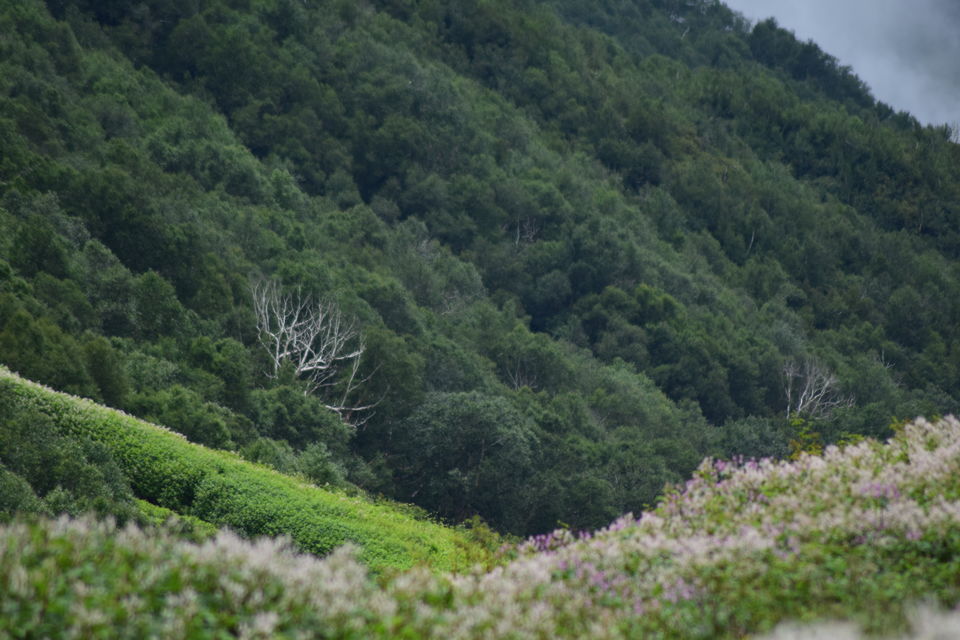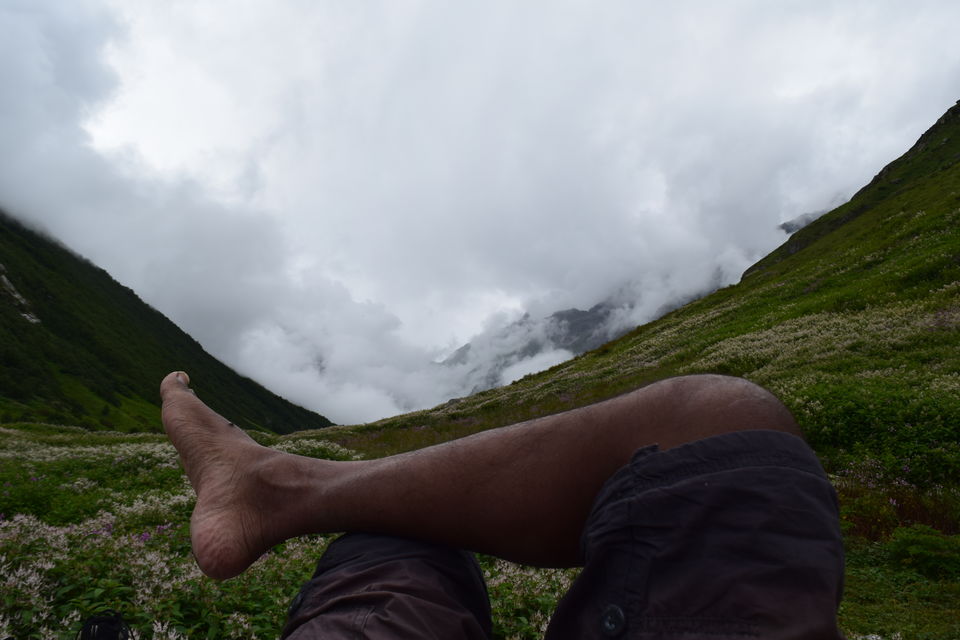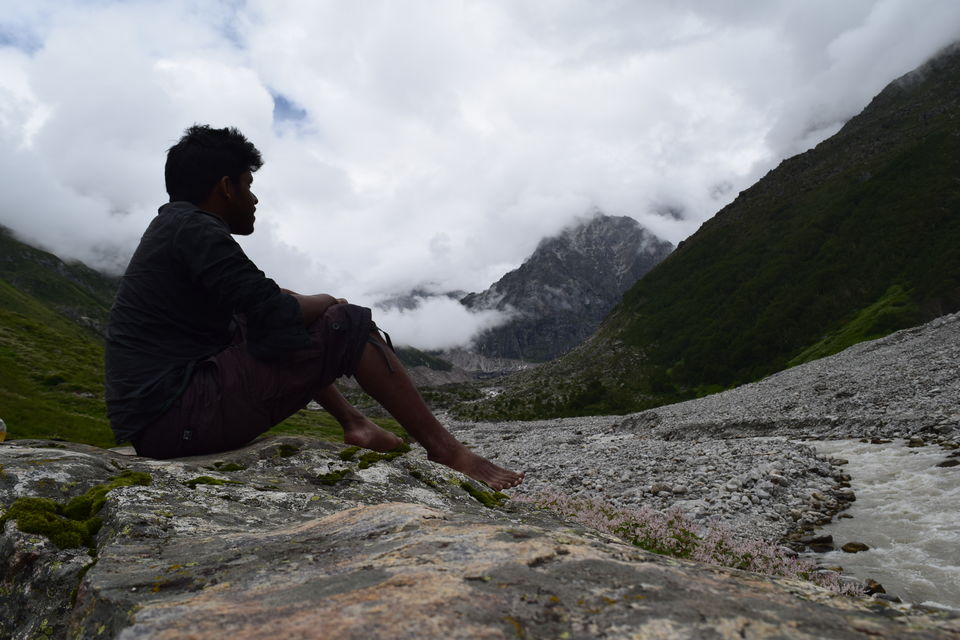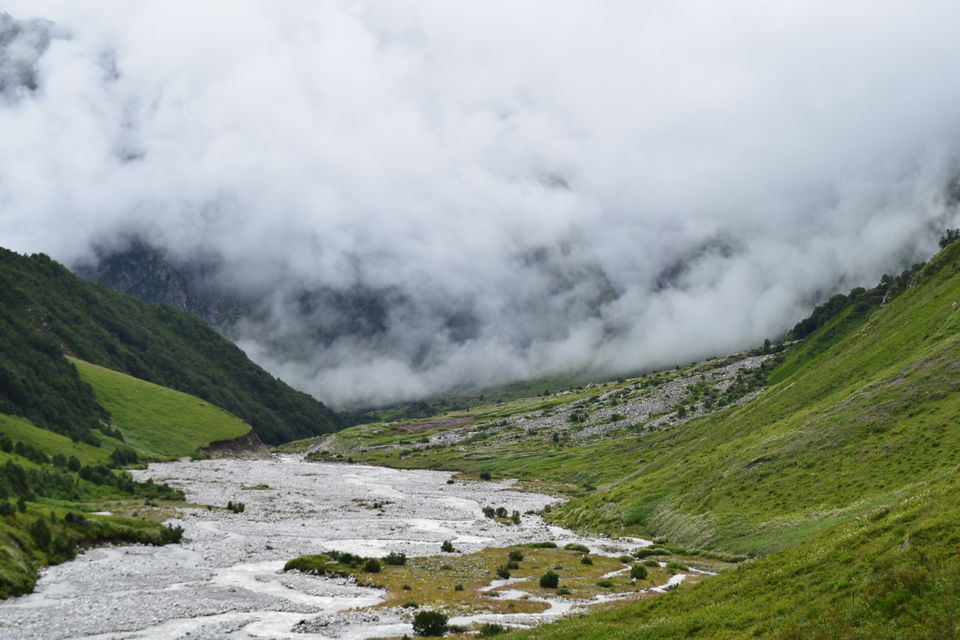 The valley was now a whole new world all-around with visibility only to your immediate surroundings. Just before I started climbing down, I turned for a quick look and I was excited to see the grey being cleared off the sharp tops of the boulders which lined the valley on one side. It was the first time I had a glance of it and I hurried my camera buried deep inside the bag. The sight disappeared mere seconds after. I continued my walk down through the drizzle carefully. My shoes had been drenched long before.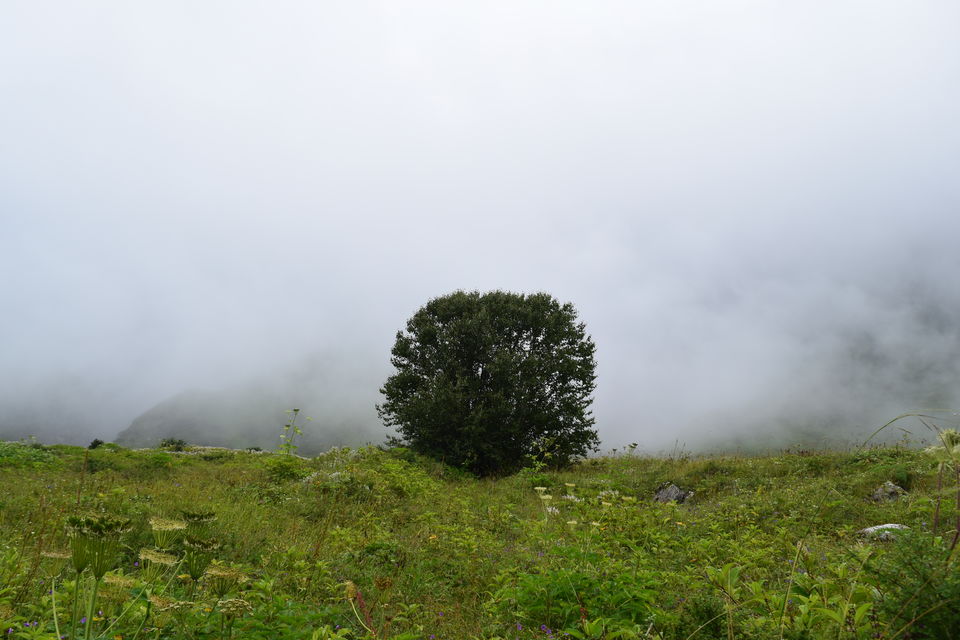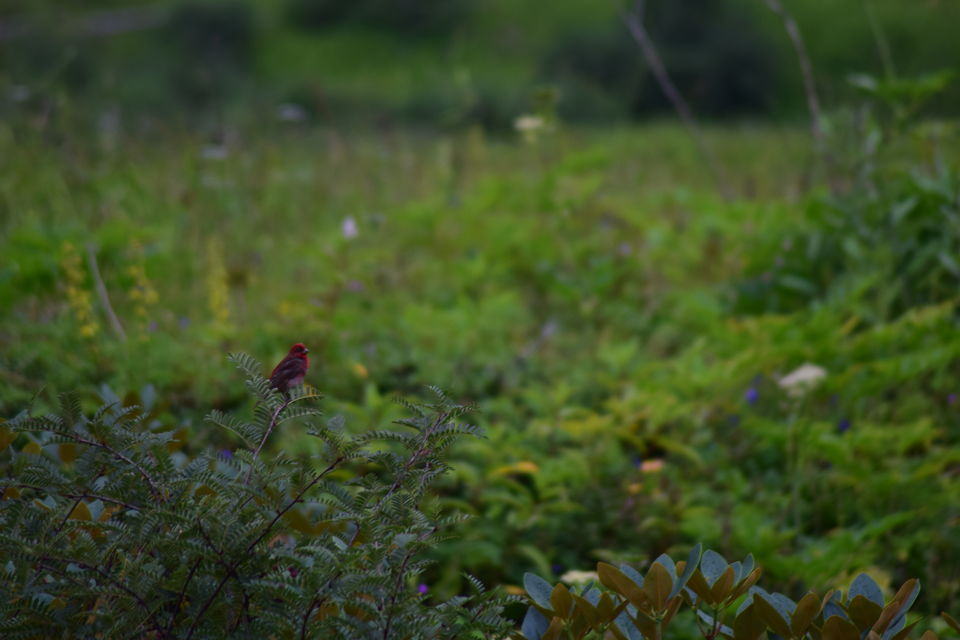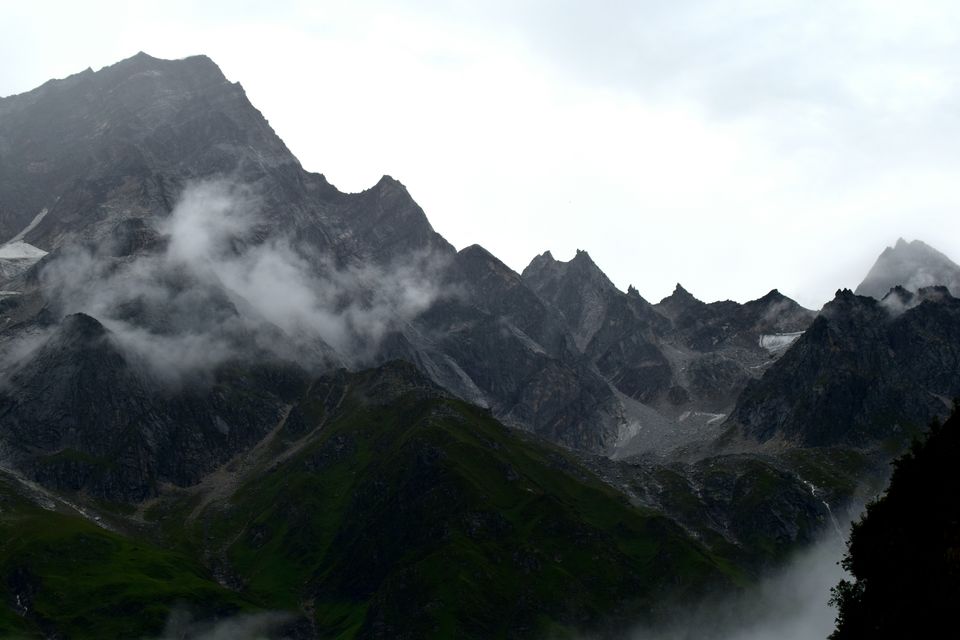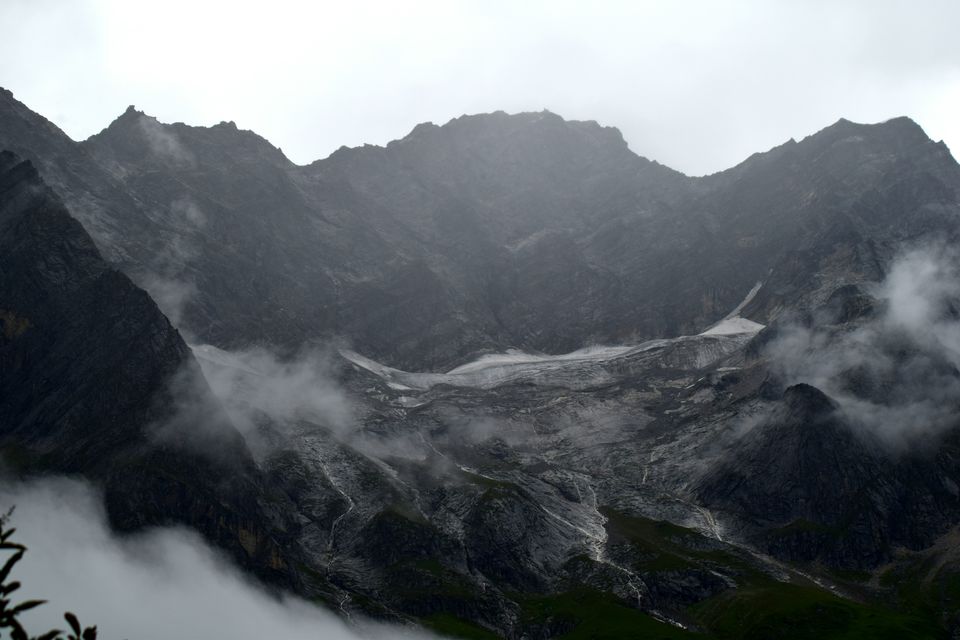 It was almost 6 p.m when I reached the check post and the guards, though were mildly upset, had all their cool on me. I bid farewell to them and reached Gangharia. I then made my way to the souvenir shop where I bought a field guide which could help me identify the flora seen in the VoF, which costed somewhere around ₹300, following which I made my way back to the Gurudwara to rest for the day.
For all my days here, I was staying at the Gurudwara. So it was only right on my part to pay my respects at Sri Hemkund Sahib, which was any way in my checklist. Though the paths were well maintained the climb was steep. With good sights on my way up, there came a time when it seemed I couldn't continue anymore. I felt dizzy and was aching. The fact that I didn't have breakfast added to my misery. I tried to take in the sight that was there for me, gobbled it up and continued my way up. I was oblivious to the fact that Hemkund Sahib was located a good 4,600m above sea level and there were chances of getting AMS (Acute Mountain Sickness). Since I didn't know, I was good to go! I finally reached the top, got sight of a valley full of Brahmakamals, and took a dip in the holy water of the glacier-melted Hemkund lake at sub-zero temperature. Yeah, so it did give me a new life! I could get a good view of the lake before the clouds covered the entire place, just like it'd been for the past couple of days. I paid my respect in the Gurudwara and they gave me one of the tastiest of teas! I was nearing the final phase of my trek.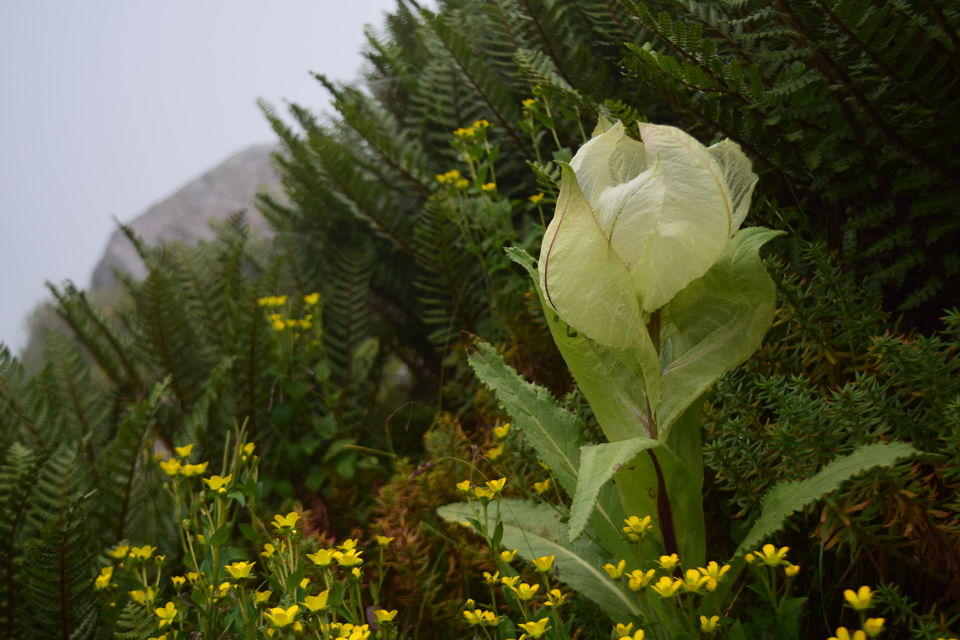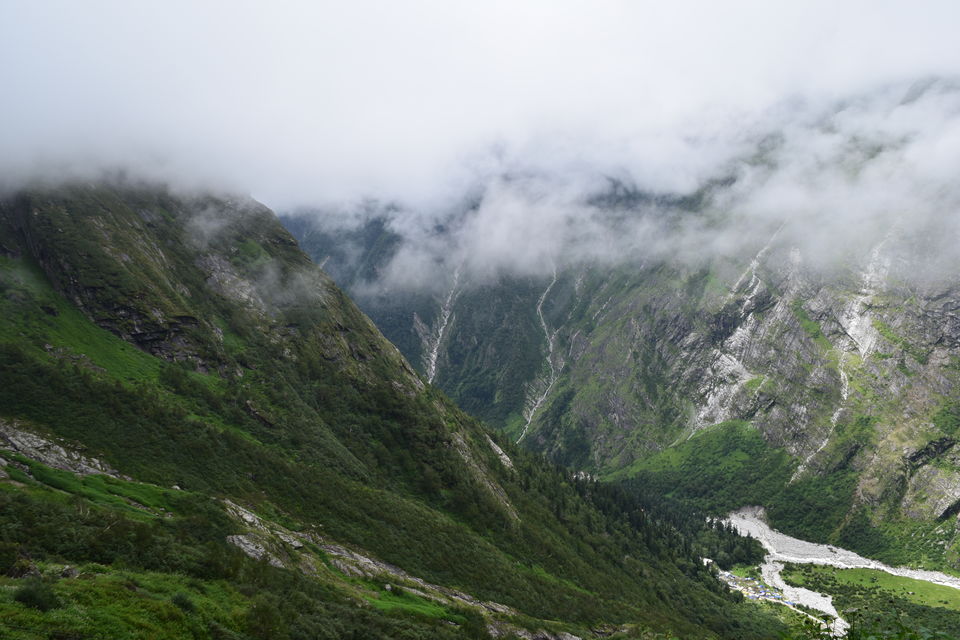 I started my climb down and reached Govindghat by evening. Messages and calls flooded as I got the reception back. I called and texted all my dear ones that I was okay. Apart from one single call from the satellite telephone toward home which had cost me ₹20/minute, this was the first time I had an interaction with the outside world once I had set on my trek. I had a hard time convincing my berserk mom that I was perfectly alive, and much more than that! To this day she doesn't know that I had embarked on this trek alone. To her I was always with my imaginary Manipuri friend and don't you dare change that!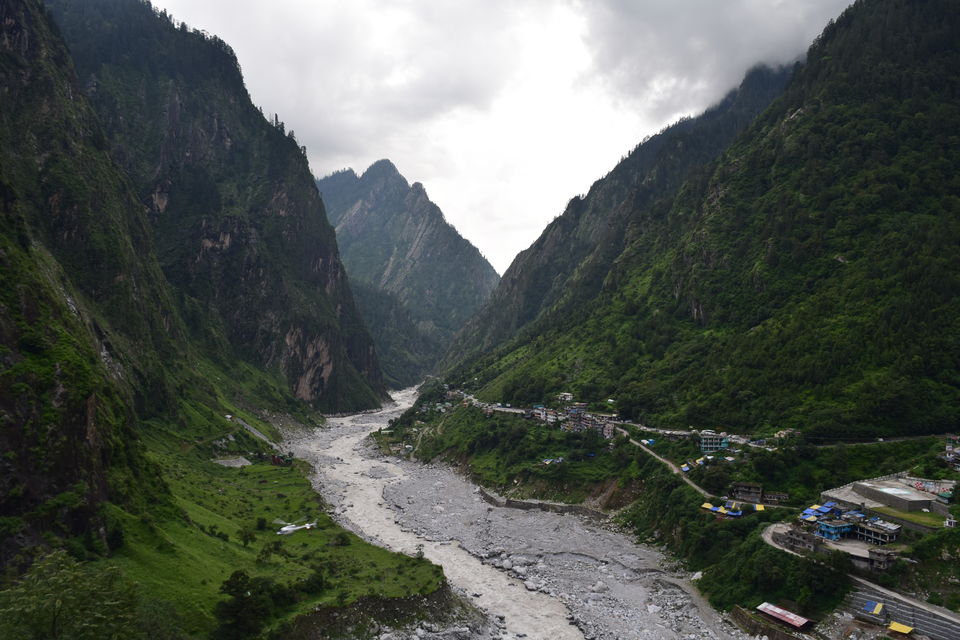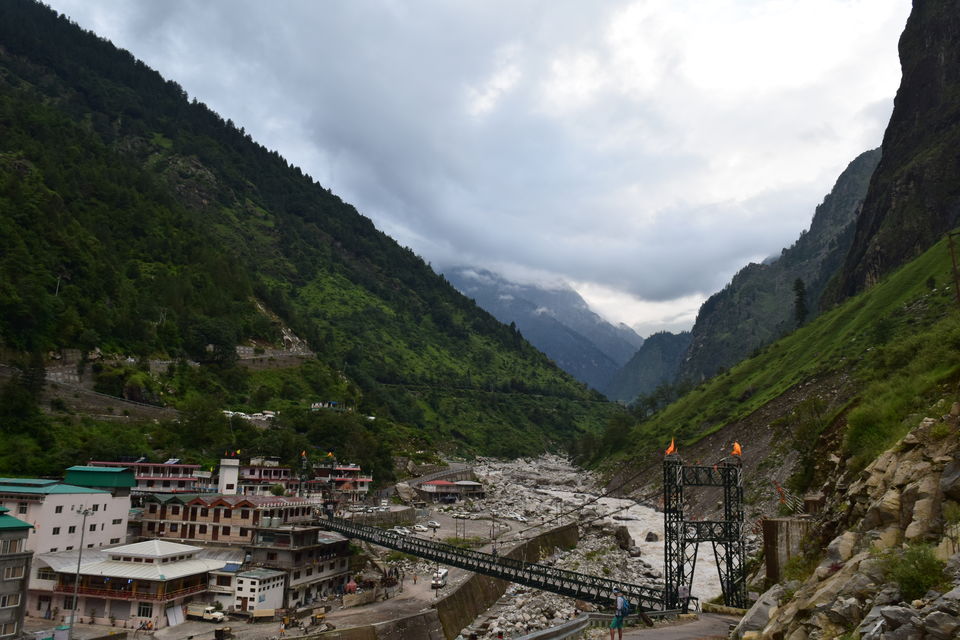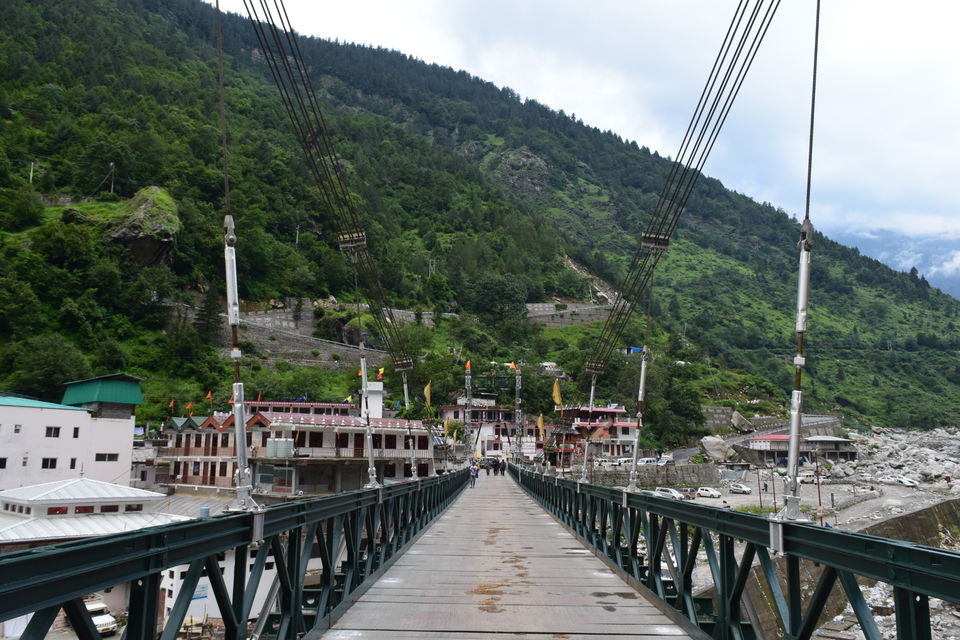 I confirmed with the taxi drivers if the route to Badrinath was open. I returned with a smile planning the next day's visit to the temple.
Next day I woke up to the drizzle outside my window. I already knew that my trip was over! The road toward Badrinath was blocked due to landslides. I was puzzled for quite some time as to what to do next. I went to a small hotel to have a cup of tea and to think over. I suddenly saw few people moving towards the window which overlooked the other side of the Govindghat valley across Alaknanda river. I went on to join the huddle and the next thing I know, I am frantically changing my 18-55mm lens to the 70-300mm. There was a mama bear and her cub cautiously moving through the bushes. We had the most comfortable sight of a Himalayan black bear with the strong gushing river as a safe barrier in between! The sighting improved my mental state.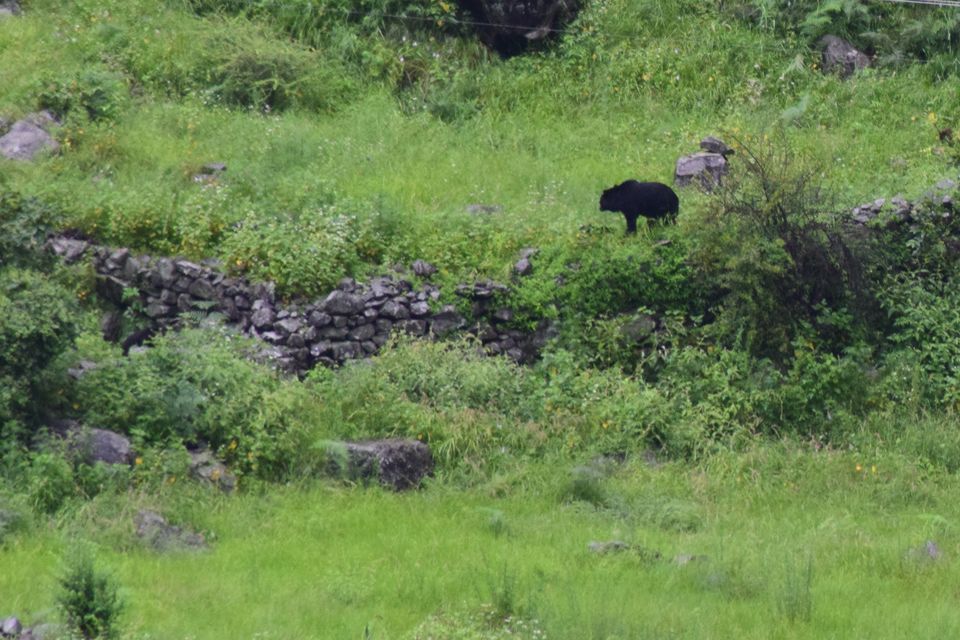 Slowly I made up my mind to head back to Joshimath. I roamed around the different temples there, taking pictures, enjoying the weather, going round the 2000 year old Kalpavriksha and gulping down water from the natural springs near the temples. One of the most heart-warming moments of the entire trip happened in one of those temples. From a small temple-cum-room came out a man of 80 years, with all the beautiful wrinkles and gleaming eyes. He was from my home-state, Kerala and I was standing there talking to him in my mother-tongue, Malayalam. I couldn't believe what was happening and I do not know how to bring that moment to words but my eyes were brimming up. He had left his home more than 30 years ago and has been in Joshimath as the caretaker of the temple, ever since. I talked a bit more out of both curiosity and just for the pleasure of having a conversation right in my mother-tongue after coming from a place where I was completely off the grid! This was defenitely one of the high notes of my entire journey.
I stayed at Joshimath (of course at the Gurudwara!) that day and decided to catch the bus back to Dehradun which was at 5 a.m the next morning.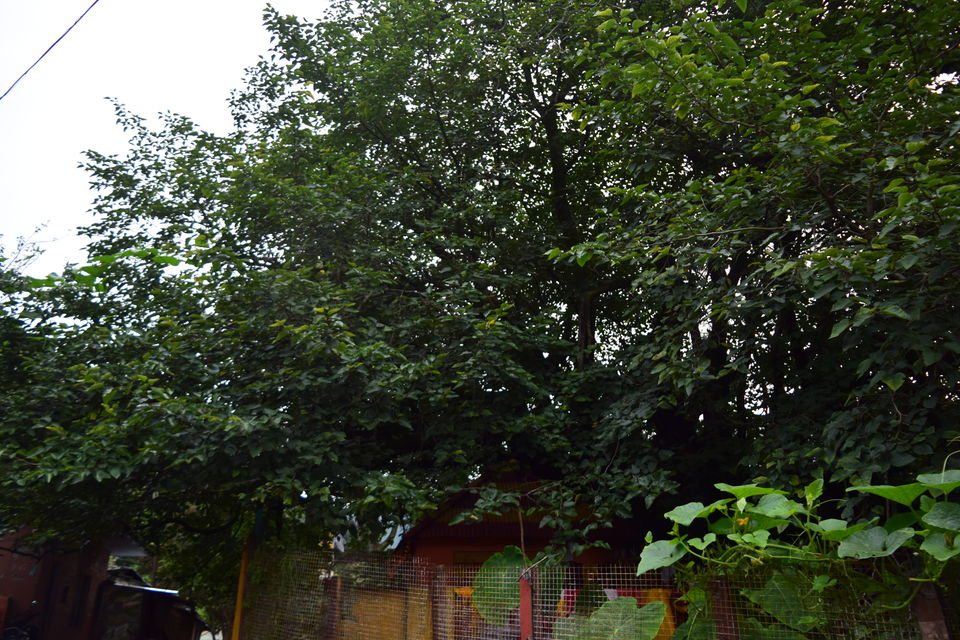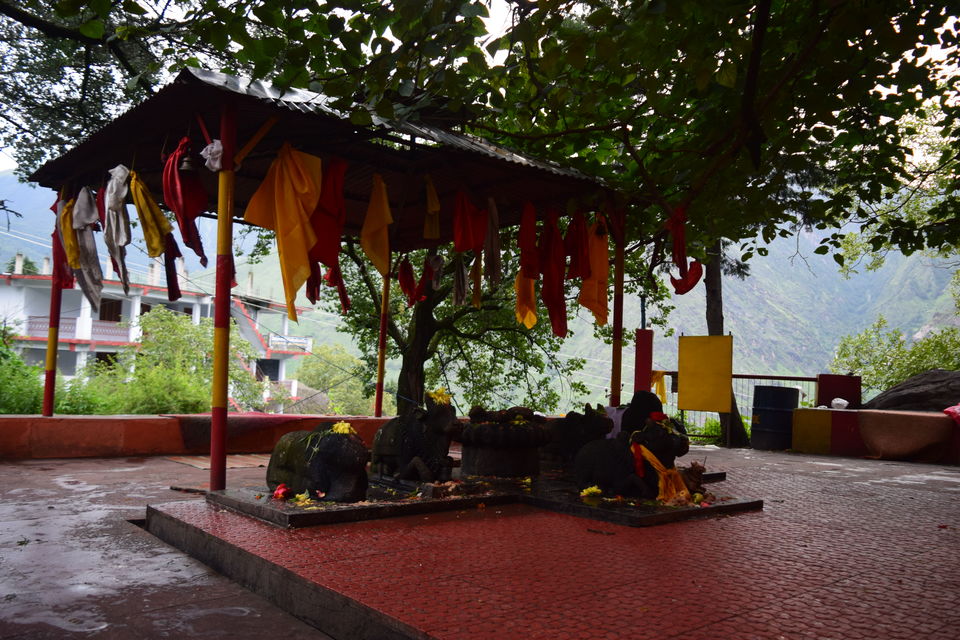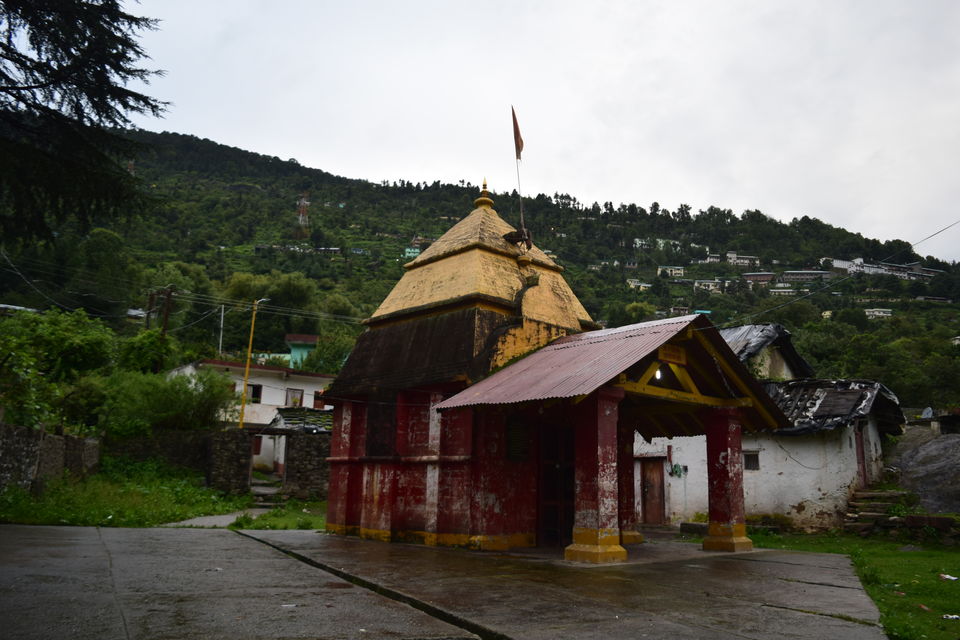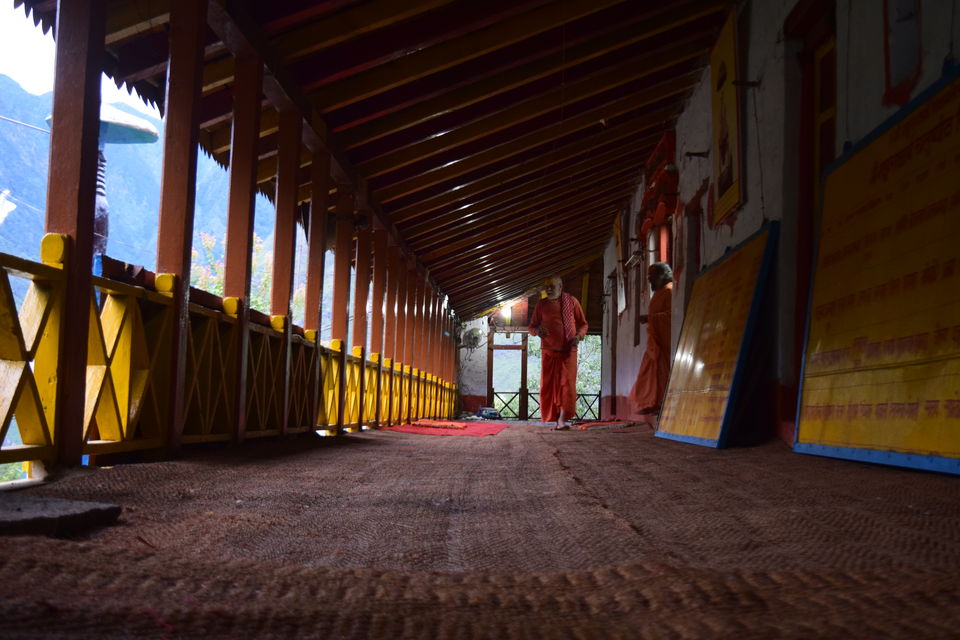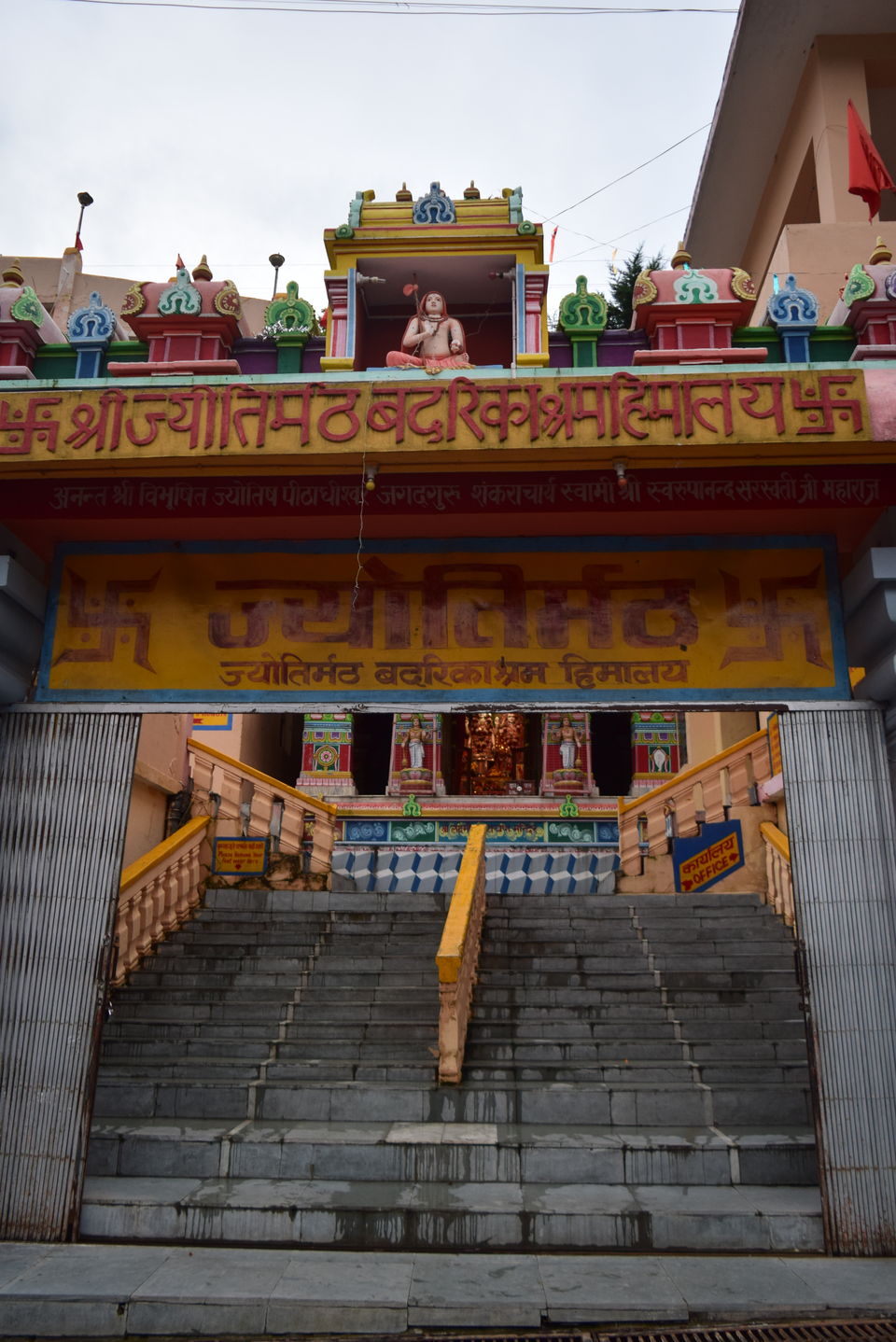 Woke up next day, ran after the bus and made myself comfortable for the half-a-day journey. On the way, we met with another landslide. It took almost 3-4 hours for the workers to clear it and I could see buses trailing behind ours which seemed like a never-ending train! Our driver bhaiya turned on the sports mode soon after it was cleared and we reached Dehradun back by 6 p.m, just a mere hour late from the schedule. Yes, we were flying, thanks to our skilled captain!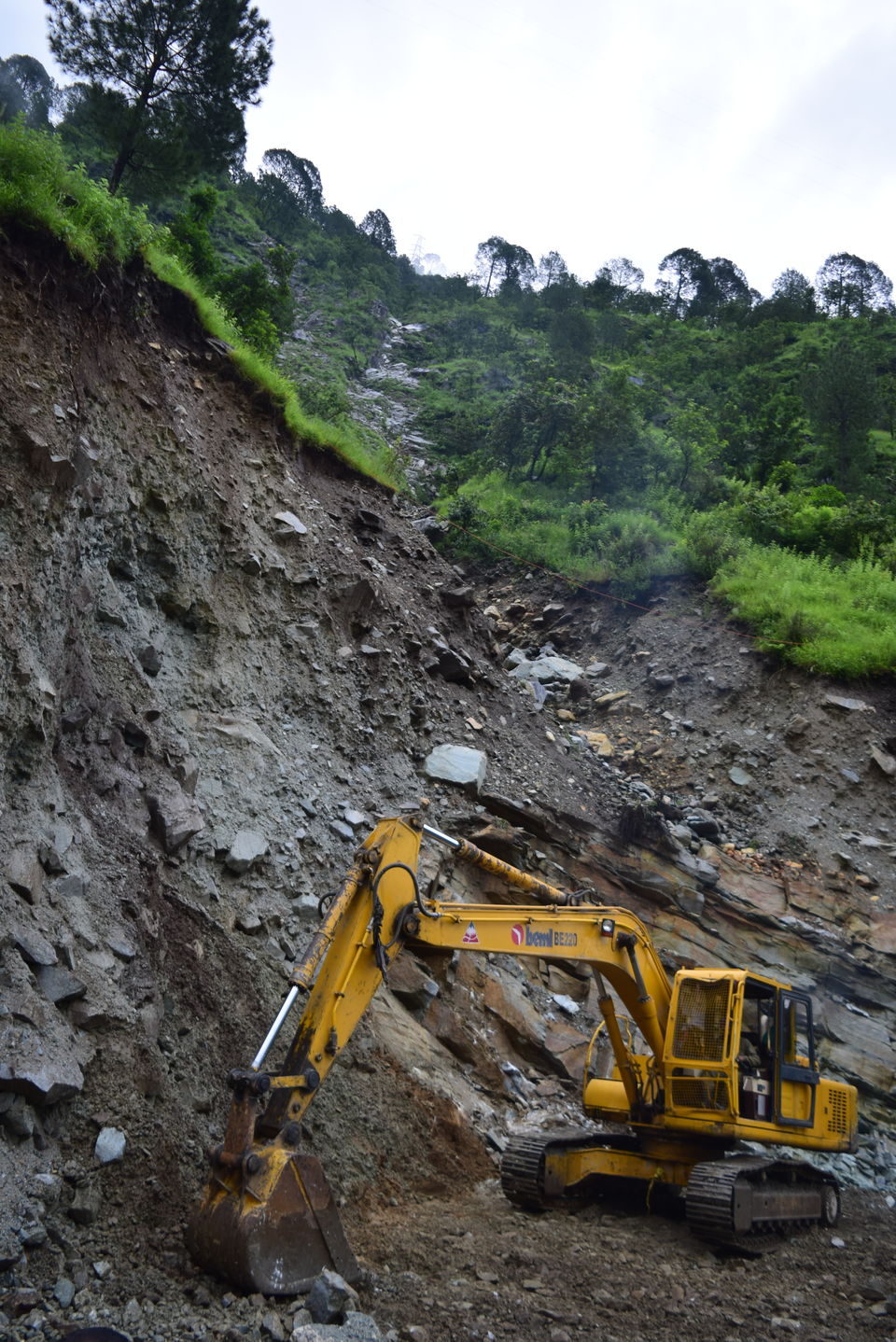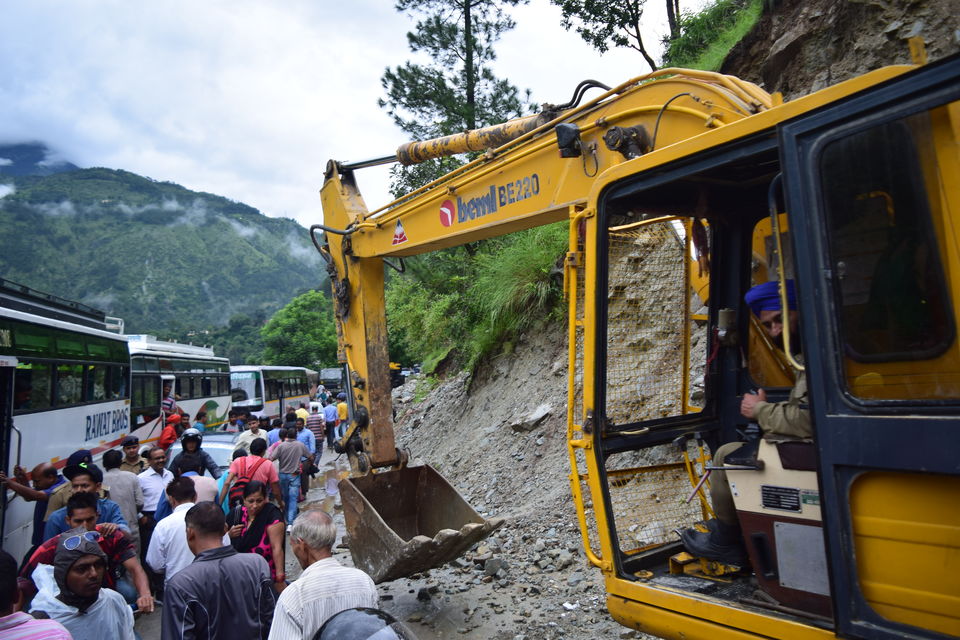 As I reached back to my room, it was as if my friends almost did not recognize me! In fact, it's been almost a week that I saw myself in the mirror because I didn't really have to! Now I was back from the most surreal week of my life. I finally foraged inside my wallet and there was still 2K remaining from my initial 4K budget. You know where that's going!
As they say, you never return back the same after a journey. It teaches you a lot of things. For me with this adventure, I was gifted with a brand new eye to a whole different reality! Everything around us, everything within us was part of something literally larger than life. Standing at the foot of that glacier, I was humbled by the greatness and the fact that how lucky I was to have been able to make it there, how every muscle of mine was able to work and how each of my mom's prayers built that aura of titanium around me. Pure marvel.
I confess the story isn't well structured/articulated or lacks information here and there, which is why you could always ping me if you want to know more about how I accomplished the trip in such a lean budget. I have tried to mention almost all the expense I incurred for getting from point A to B as most of the expenditure was for the transportation & the food and accomodation for almost all the days were taken care of by Gurudwaras, which welcomed people irrespective of their caste, colour or religion; whether rich or poor. The respect towards the religion of Sikhism knew no bounds in me.
This trip made me fall in love with the state of solitude and that feeling of liberation was unmatched, which is why this was always my inspiration to do more of such trips. Moreover, if my write-up has at least paved the way for you to even consider a similar trip that you always had in mind but couldn't accomplish it because of budget constraints, then I think it has served the purpose for good! Also, I find it really difficult to write, but I can always talk an ocean with my photographs over a big cup of coffee!
Till next time ;)