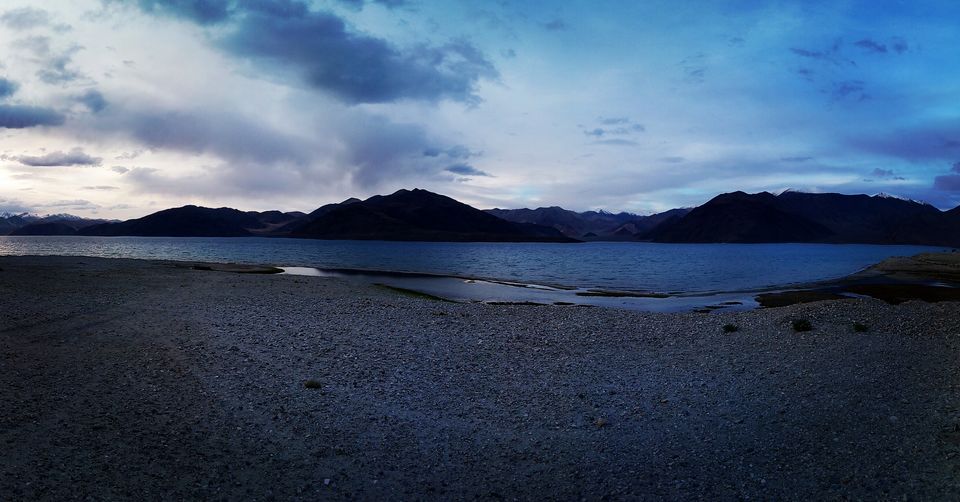 Ladakh is really close to my heart and if given a chance, I'll be going back to the Karakorams and Zanskar again and again. Ladakh and adventure are quite synonymous. I, being a traveller was no exception. Yes, I survived and experienced a dangerous landslide on my way to Pangong Tso. Our car had just crossed Chang La (the third highest motorable road in the world) and we were approaching the Tangste village. A drive through Tangste is somewhat similar to crossing a desolate Martian desert with minimal human activities, towering army camps and smart helicopters. I felt scared and lucky at the same time. With mountains, deserts, Pashmina goats and occasional shepherdesses, I had no clue about what sort of beauty this was. Beauty in Barren? Or Parched but Phenomenal Landscape? Certain points are devoid of roads and hence vehicles just travel over boulders and small rivulets of melting snow. After about an hour's journey we crossed Lukung, a pasture and a moviemaker's paradise.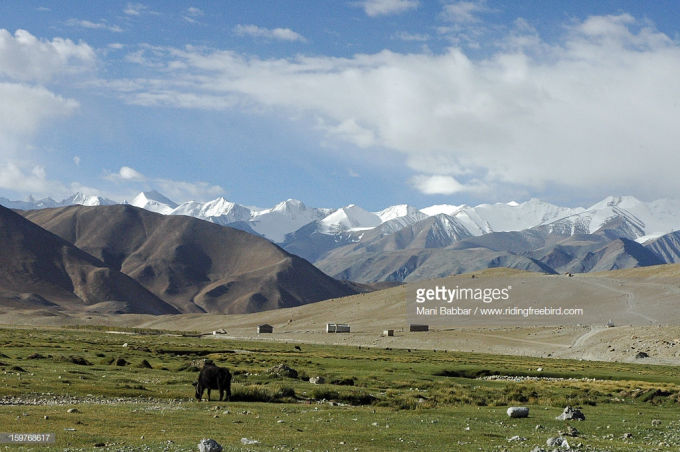 I was absorbing the scenery around me when our vehicle suddenly came to a halt. We were caught up behind a line of cars just five kilometres away from Pangong. I was transfixed. The road in front of us had literally been cut into half as if there was a major earthquake. It felt like melted cocoa eroding from a hot chocolate lava cake! Dull-coloured sludge mixed with melted snow and mud was creating a panic like a flash flood. It paved its way in the form of a huge river dividing the tourists from both sides(those going towards Pangong and those coming back from it) into fragments. A white Scorpio was stuck in this mess. My dream of the blue technicolour Pangong Tso got shattered. The barren landscape soon started bubbling with activities with army jeeps, cherry-cheeked locals and a handful of helicopters hovering above. I reconsidered the option of reaching the lake with my parents. The only solution oscillating in front of us was to climb down the gorge, cross the black river, the hire those cars waiting on the other side and reach Spangmik village of Pangong. When the rescue and disaster management team had already started their share of operation I saw my mother climbing down the gorge and disappearing into the abyss and then in the blink of an eye she was on the other side with our bag and baggage. Well, now I had to rethink who was the younger one. After this brave act, father and I was left with no other option but to cross. Father was struggling with a backpack and I with my DSLR. Together we were helped by the locals, the Indian Army ,Royal Enfield bikers and Sampar ji(our driver and guide). The locals had placed rocks over the colossal river of death for hungry travellers like us to cross.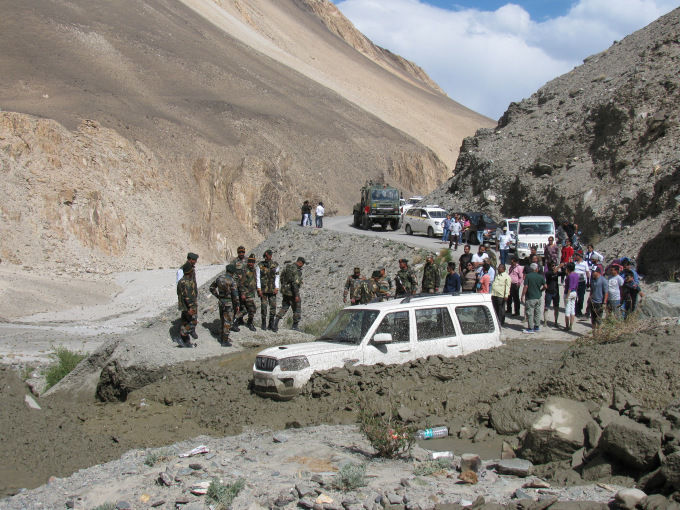 After this death plunge we started negotiating with a tempo driver to take us to Maan village of Pangong. With a little bit of haggling, he agreed. Climbing onto the tempo we seated ourselves atop tyres and cylinders. The driver overloaded his truck with a Gujrati and a Punjabi family and with an amazing number of twenty people we set sail towards our destination leaving our Tavera and Sampar ji behind with our suitcases. Pretty brave don't you think??? The miniature tempo whizzed past the Karakorams crossing signboards like "Life is a Journey. Complete it!" and "Think clean". After about twenty minutes of bumpy ride, I got a glimpse of the gates of Pangong from the open air tempo. I can't tell you exactly what I felt at that moment. The lake opened up her arms to us with every imaginable shade of blue that our optic nerve can process. With cold air groping our faces, the tempo driver stopped his car near a restaurant named P3. He refused to go further and dropped us at that desolate spot with the serene lake. It was around 4:00 pm and our stomach kept churning and chiming. We ordered a vegetarian platter at P3 and sat under the crimson tent contemplating on how to reach Pangong Sarai of Maan village. Our lunch arrived and we gulped down the sambhar dal, stir fried cauliflower and papad in no time. With very feeble connectivity, father tried to contact the manager of Pangong Sarai and requested him to send a car. He agreed and assured us that the car would reach P3 in half an hour. A Royal Enfield biker was narrating his experiences of Chang La to my mother. A gust of wind was hampering the game of archery that was being played nearby with great pomp and show. The wind paved way for a mighty sandstorm and heavy drops of rain. I thanked God for such variegated experiences but didn't thank Him enough as I had not reached my destination yet. After about an hour, an Innova pulled up near the restaurant. The driver had a brief talk with my father and then we were on our way to Pangong Sarai. There are practically no roads leading to the Sarai. Sometimes it felt as if the car was being driven over the waters of Pangong when it came too close to the shore. The path to Maan was seasoned with ferns, pebbles, azure shades and breathtaking topography. We arrived just in time for the sunset at Pangong. It was around 6pm and surrounding was emanating saucy orange and golden hues with no sign of darkness. The mountains turned from purple to black and I rushed to the shore of this colossal saltwater lake to draw a live sketch on my sketchpad.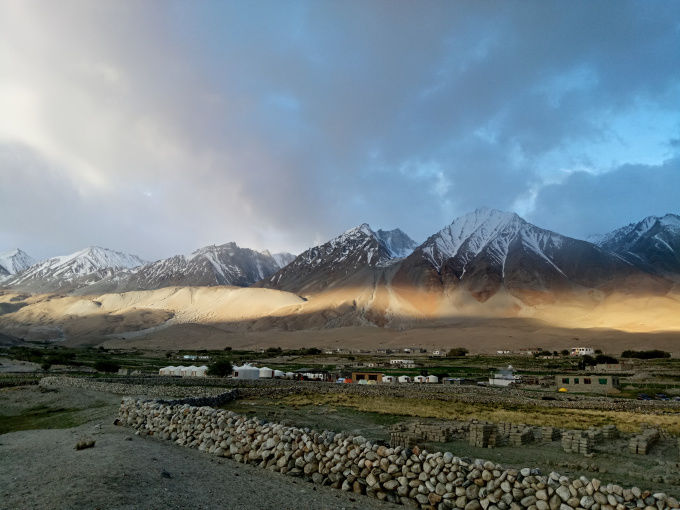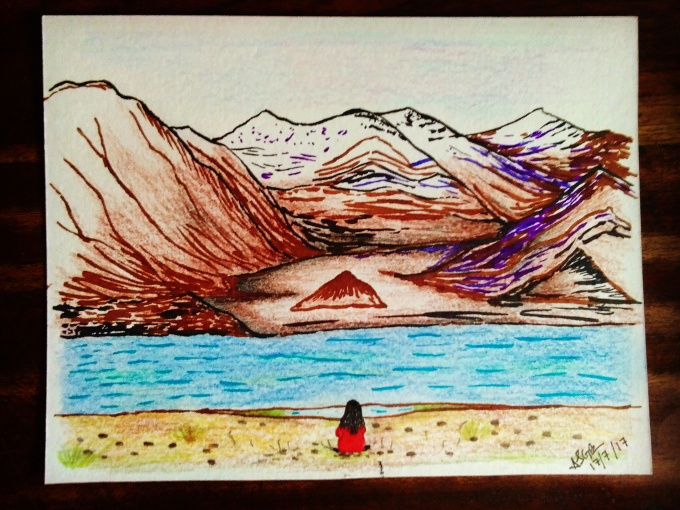 With the pristine waters lapping at my feet, my brush pen captured the wide panorama. My telescopic lens did a great job of revealing the Indian bunkers on the opposite shore. A bar-headed goose was enjoying to its heart's content in the ever-changing and kaleidoscopic Pangong. At about 8:30 pm we went for dinner. While on my way to the dinner table from our camp, I was smitten by the zillion stars shining above my head mixed with the hum of the waves of the distant lake. After a heavy dose of dinner, I sat under the starry-sky and this time whole-heartedly thanked God for giving me a scope to breathe in an unknown geaography rarely found in textbooks and giving me such super-cool and courageous parents who made my trip to this Neverland a reality.