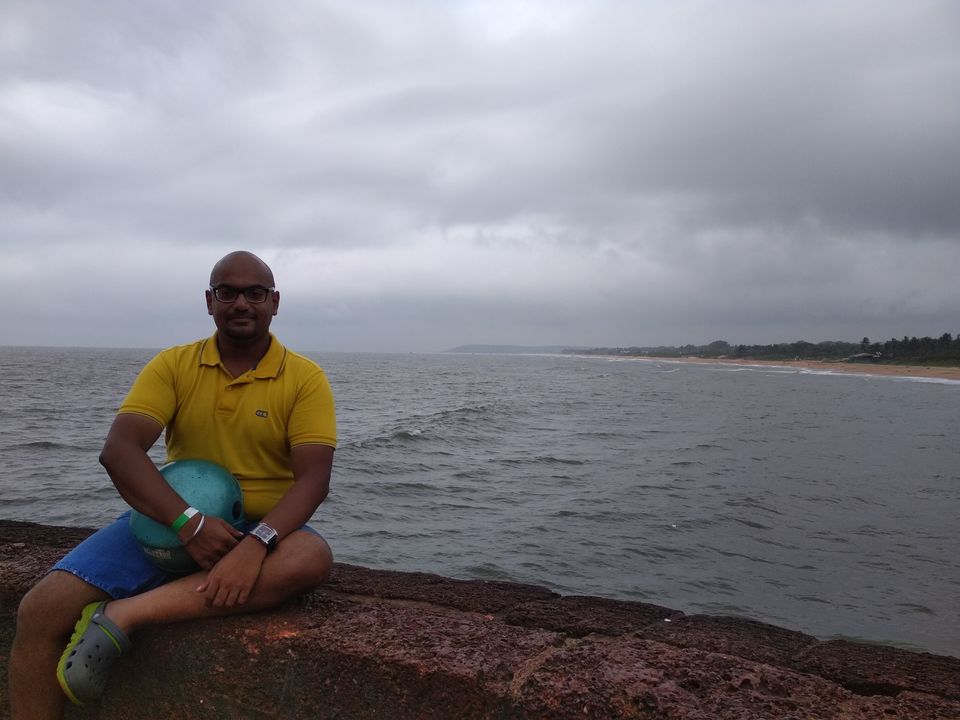 Who wouldn't like to travel and enjoy vacations at the best tourist destinations at pocket-friendly budget?
I had allocated 15k for a vacation anywhere in India. It was easier to choose a holiday spot in nearby states. But I was keener for a popular destination. The only challenge was to match a pricey tourist place with my limited budget.
I did some research and tried looking for cheap alternatives. I understood, frugality or simply being a Baniya is the only solution.
My friend and I decided to go for a vacation to Goa. The perfect combination of Sea, Sand and Sunset. We had heard a lot about this dream holiday spot. It was time we experience it first-hand.
We travelled Goa in September'2019. It was planned for 10 days. We wanted to stay 4 days in South Goa followed by 6 days in North Goa. It could have helped us to wander around all the interesting parts of the entire state. I'll later share the tourist attractions covered.
Let us first get to the point.
Below is the Break-up of my total expenses –
I) Train to and fro (AC 3 tier) – (2,000*2) = Rs.4,000
II) Accommodation – Hostel Stay (AC Dorm) – (500*10) = Rs.5,000
III) Food – 300*10 = Rs.3,000
IV) Travel –
a) For transfers – Rs.1000
b) For local transport – Rented a Two-wheeler for 8 days and shared it with my friend.
Cost = Rent + Petrol for 8 days = (250*8 + 125*8)
= Rs.3,000 or, = Rs.1,500 each
V) Rs.500 for shopping
My total expenses = 15k
No money wasters and health damaging activities like smoke/alcohol/drugs.
Details –
Kolkata to Goa and return –
Train fare was 2k one way. The Airfare was 5k one way. My friend took a flight to & fro Goa. I opted to travel both ways via Train. It was a 36 hours journey one way.
I was all happy, excited and full of energy while going. But the return was a bit painful. At times, I felt airways would have been a better option. May be, I was too harsh with my budget. Still, I tried my best to make the journey worth it. I carried a book to utilise my time. And the journey from Castle Rock to Madagon is a therapy in itself.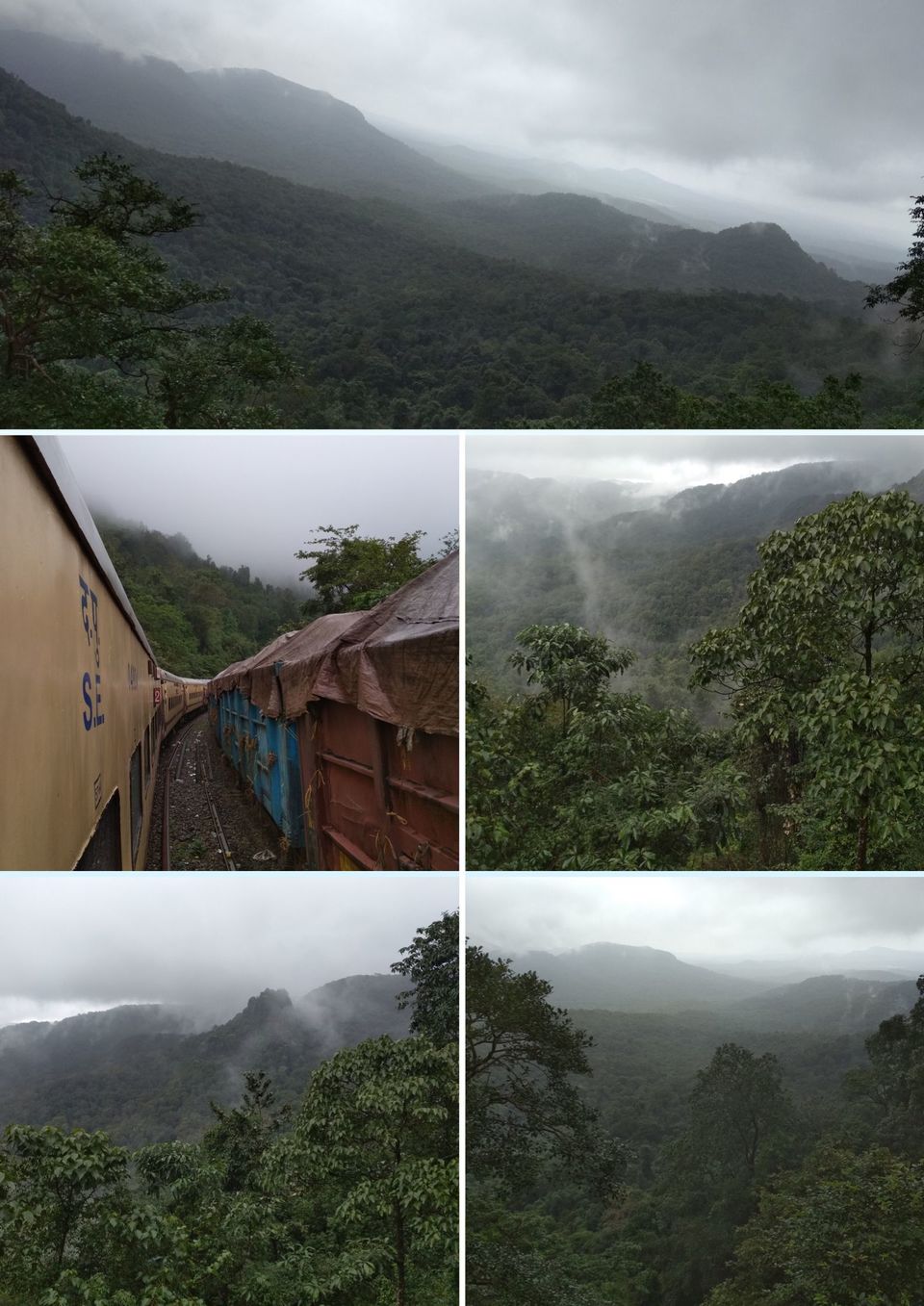 Having told you my story, it depends on you. Whether you choose railways, airways or roadways. Check the distance you have to cover. The people you are traveling with. No. of days can you take off from work, etc. If you have planned in advance or have 'credit card miles', airways can cost you less.
Accommodation –
As a backpacker, I look for clean & pocket-friendly places to sleep. I am anyway outdoors from morning to night exploring as much as I can. After decent research, I found a chain of Hostels in Goa. I booked couple of beds for me & my friend in one of their AC Dorms. The properties managed by them are beautifully designed, customer-focused and budget friendly. It was also a great opportunity to meet with fellow backpackers.
This was my hostel in North Goa.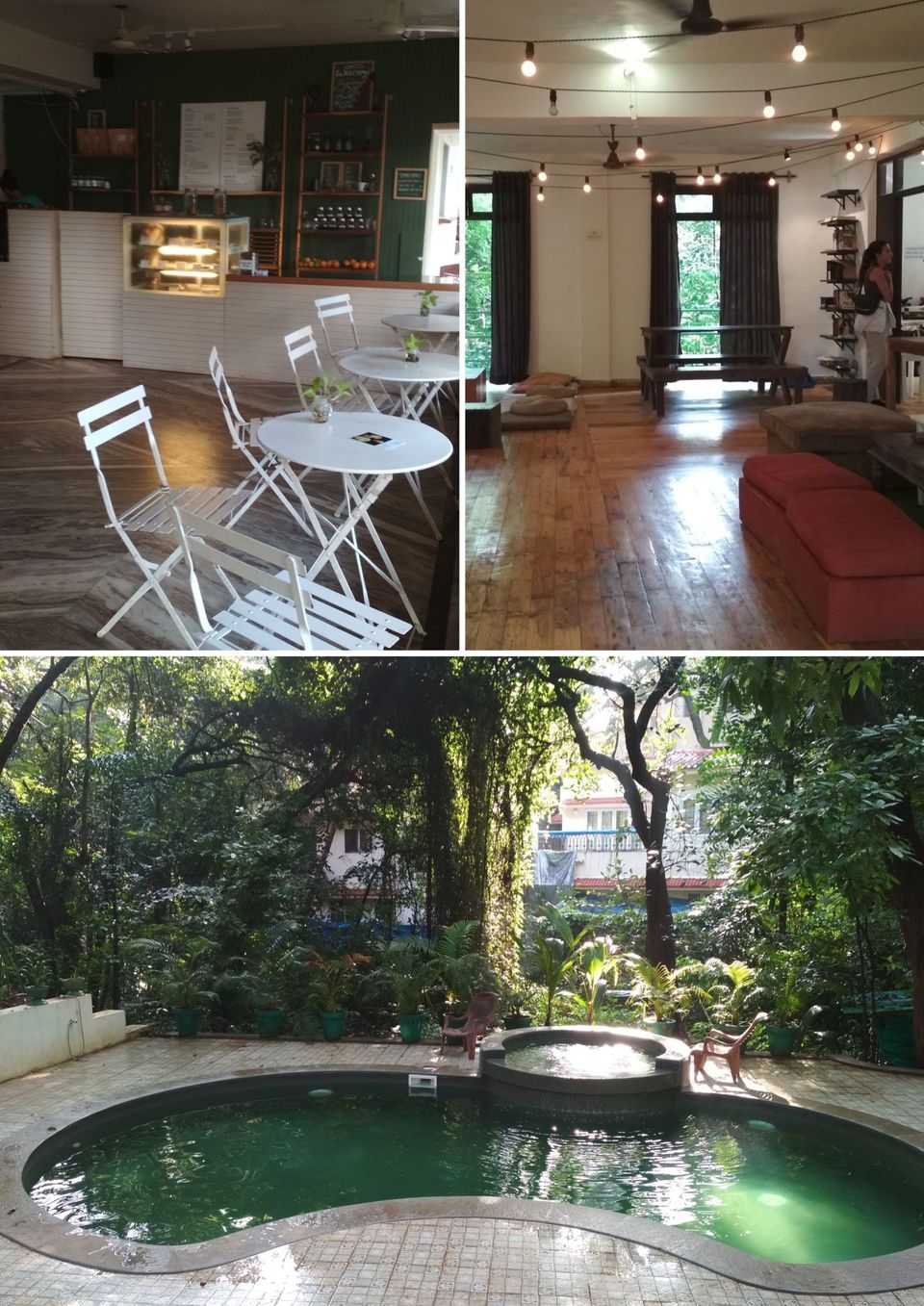 Food –
Did I mention the hostel-stay included complimentary breakfast? And had a 24*7 kitchen facility too.
Having a kitchen means guests could buy groceries and prepare meals. I usually stuffed food during complimentary breakfast, ate lunch out & made my dinner in-house using their available facilities. Likewise, it helped every guest to save money on eating-out all the time.
If I am on a vacation, it is necessary to treat myself at fancy places once in a while. Usually, the first & last dinner has to be at popular spots. In between, I eat whole-heartedly at economical food-joints. This strategy makes my stomach, heart & wallet feel good.
Transfers & Local transport –
Taxis in Goa are unnecessarily expensive. I opted for local buses & autos for transfers between railway station to hostel & vice-versa.
I rented a scooter to move around the city. It is extremely convenient and cheap to explore at our own pace. The freedom to go out anytime, anywhere & through any desired directions is priceless.
Following are the tourist spots we visited in chronological order –
Day 1)
South Goa –
• Palolem Beach (visited 6 times)
• Colomb Beach
• Patnem Beach
Day 2)
• Chapoli Dam
• Agonda Beach
• Butterfly Beach
Day 3)
• Kuske Waterfall – Cotigao Wildlife Sanctuary
• Bamanbudo Waterfall
• Netravali Bubbling Lake – Netravali Wildlife Sanctuary
• Rajbaga Beach
Day 4)
North Goa –
• Vagator Viewpoint
• Chapora Fort
• Dear Zindagi Road
• Anjuna Sunset Point
Day 5)
Old Goa –
• St. Augustine Tower
• Basilica of Bom Jesus
• Se Cathedral
• Archaeological Museum of Goa
• Shree Manguesh Saunsthan Temple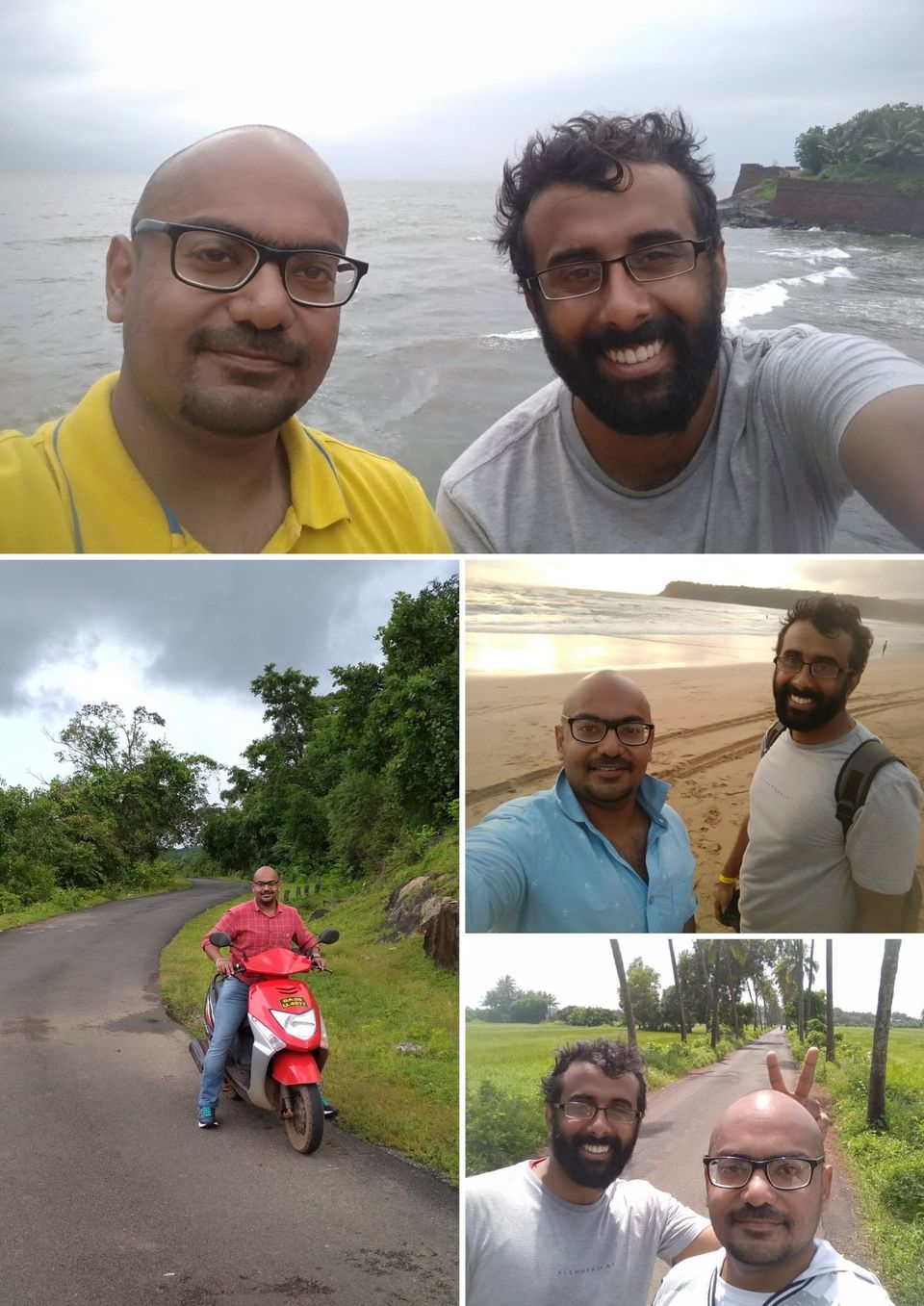 Day 6)
Panaji –
• Goa State Museum
• Indian Customs & Central Excise Museum (One of its kind)
• Immaculate Conception Church
• Dona Paula View Point
• Cabo View Point
• Miramar Beach
Day 7)
North Goa –
• Museum of Goa
• Sinquerim Fort
• Aguada Fort
• Chapora Fort (again because the sky and sea looks extremely beautiful from there at Sunset time)
• Baga Beach
Day 8)
North Goa –
• Vagator Beach
• Hill View Anjuna
• Anjuna Beach
• Calangute Beach
Day 9)
North Goa –
• Morjim Beach
• Ashwem Beach
• Arambol Beach
• Chapora Fort (3rd time because I fell in love with the view)
Day 10)
Vasco Da Gama –
• Baina Beach
You can understand, we covered almost entire Goa in a 2 wheeler at pocket-friendly cost of bike rent.
Shopping –
I don't enjoy shopping at tourist spots. The souvenirs look overpriced and feels redundant after a month. Clothes from local stores starts fading after first wash. Shopping at vacations feels like a formality. I try to keep a budget for it not more than Rs.500.
After all, digital pictures and videos gets stored permanently to refresh our memories. And the travel stories remains with us to cherish for a long-time.
Bottom Line –
The main purpose behind this article is to inspire everyone to travel. Especially for the people who don't travel much because they think vacations are expensive. Many people I meet don't take vacation even once a year. Most of them feel they cannot afford it. They assume it can cost them entire year's savings. They feel taking vacation is not possible. But in reality, this is not true. They just don't know or look hard enough for alternate pocket-friendly options.
It is possible to travel often with smart budget strategies. With some research and planning, anyone can take vacations according to their budget.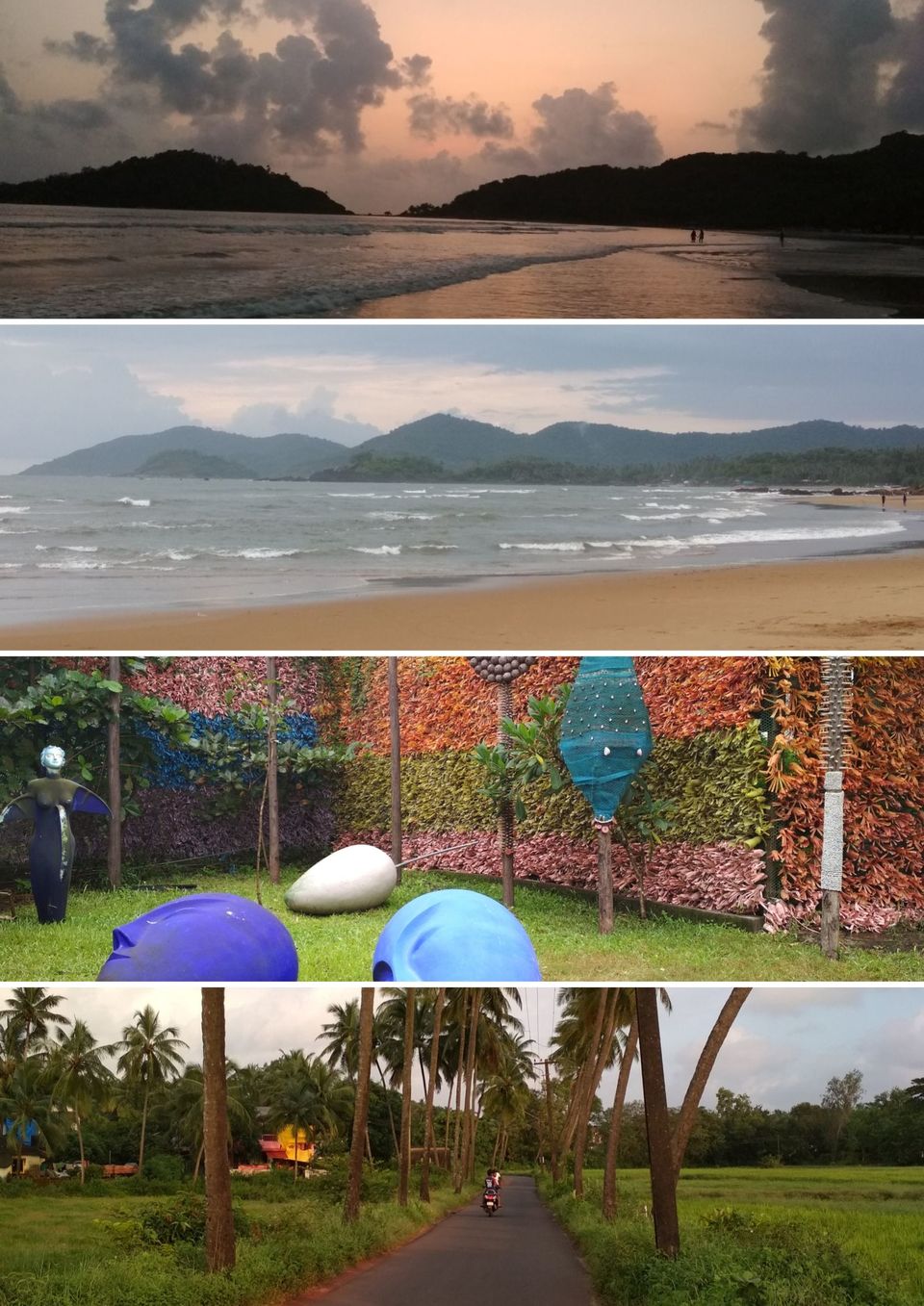 It doesn't matter much where we go. Whether we travel domestic or international. Take a 10days vacation or frequent weekend getaways or 3 months long sabbatical. It is important to switch off from daily routine and gain fresh perspectives.
Traveling to new destinations is one of the best experiences life has to offer us. Seeing beautiful places, meeting new people & eating different delicacies makes us happier, smarter and richer.
Wish you many relaxing, refreshing and rejuvenating vacations. Bon Voyage.