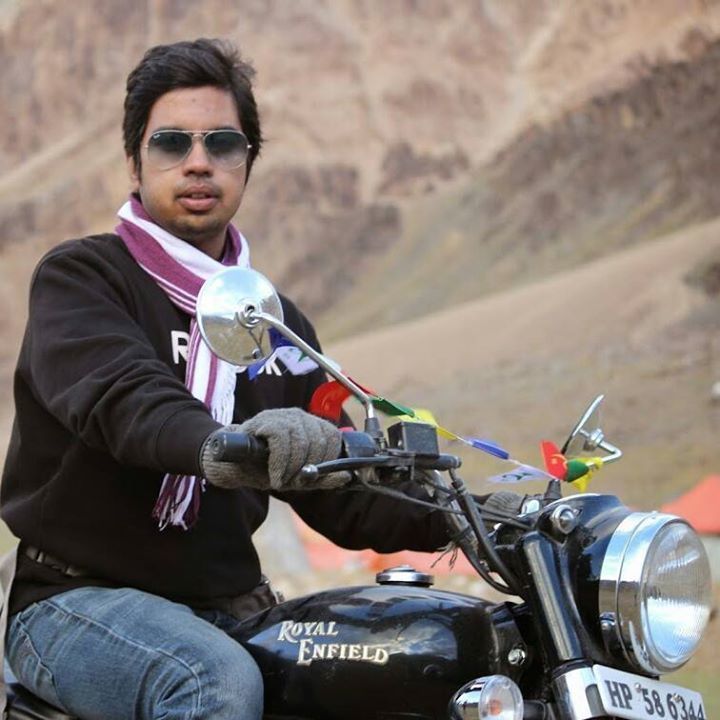 Choosing adventure over comfort we decided to have a road trip from Manali to Leh. We were a bunch of 6 friends. We hit for the Road Trip, for this is the place where the journey would mean more than reaching the destination. The colorful monasteries, steep curves, high passes, snow topped mountains, burning sun, freezing winds and a destination that comes straight out of the world of fantasies is Leh-Ladakh.
On 31st August, 2014 -10AM, in the morning after taking blessings at Hadimba Temple we flagged off from The Himalayan-Manali. We started cruising in 2 Royal Enfield-Bullets and our baggage, extra fuel, spare parts with a mechanic in the Scorpio. The sun was shining and our journey was comforting and we were wondering why did we carried so much heavy woolen clothes. As we moved on the road started to get narrower and steeper. Our first halt was at a place where we stopped to fulfill one of my bucket list dream.
I was excited to have my first experience of Paragliding in the Solang Valley which reminded me of the movie "Zindagi Na Milegi Dobara". With excitement, nervousness took the fly into the thin air and it was the best feeling. After having the adventure in the sky there was heavy downpour of rain, so we had to kick start our bullets for the road trip in the heavy rain and in absolute zero visibility towards Rohtang Pass. By the time we reached Rohtang La (La means Passes), it was chilly and windy. My hands were collapsing and we halted at a tea stall to warm up ourselves.
The ride from Rohtang then on was incredibly beautiful. However as we travelled further northwards all the vegetation started to disappear. By nightfall we were at Goldrop, Sissu Camps. Our first night halt after covering 100kms in Day 1. Our tents were ready for us and so was our dinner. The hot simple vegetarian dinner after an exhaustive ride fuelled my body and instilled energy into me. The next morning I was surprised to see that our camp was exactly in front of a waterfall and offering a sweeping view of snowcapped mountains in the distance.
After breakfast our Day-2 journey started. That day, Baralacha La (at 16,040 ft. ) was the first high pass we crossed in the afternoon where we were welcomed by snow for the first time. There we had hot noodles for lunch at a road side "Chai Shop". Then our next stop was at Sarchu where we had our night halt. After travelling a distance of 150km on the Day-2 we reached at a place which stunned us by its beauty. A place where there are mountains on both sides and Swiss tents pitched on the plains amidst the mountains. At Sarchu I could feel oxygen's scarcity because of high altitude and zero vegetation and air became thin. I was facing difficulty in breathing as the temperature dropped after sunset. We requested our camp manager to lit a bonfire and we were surprised to hear his reply that "there are no trees all around so how can we burn woods?"
After having my dinner I crawled into my heavy blankets but unfortunately I didn't get sleep and in the morning I was having AMS(Acute mountains sickness) . So the whole day I didn't stir out of the Scorpio and I missed my Day-3 adventures during which we had covered 250km to reach Leh. The landscape was having unusual structures on the sand. There were barren mountains all over with absolute no vegetation. Except for a few army trucks that would cross our way once in a while. Some place there were no roads at all with water flowing from the melting snow across the road. Throughout you will hardly find a single soul in sight.
We crossed NakeeLa and Tanglang La Passes (17,480 ft.) which is the 3rd highest motor able pass in the world. There we parked our Bullets and Scorpio and took snaps in snowfall. After crossing it, the road was picturesque beautiful. Specially to avoid driving before it gets dark, we rode at top speed in the straight plain roads. Before we reached Leh it started raining heavily and two of my friends had to ride for 4hours fully drenched. In the end at 7PM we reached Leh and checked in the Hotel Caravan.
Day 4 we all were tired, in order to acclimatize and relax the morning was spent in leisure. In the afternoon we went to a miraculous place called "Magnetic Hill", one of the few tourist spots of Leh attracts people for its unique ability to defy the Laws of Gravity. A car not in motion would move upward the elevated road on its own. In the eve went for shopping in the local market buying Pashmina shawls, leather jackets and souvenirs.
My next day tour was moving to my favorite spot, a filmy one-Pangong Lake. On the way to Pangong we visited "Druk White Lotus School" popularly known as "The Rancho's School" at Shey. We sipped a cup of coffee at the "Ranchos Coffee Shop". Then after crossing Chang La (17,590 ft.-2nd Highest Motor able Road) we reached Pangong as the sun was about to set. Pangong Lake got popularity post the shooting of Aamir Khan's 3 Idiots climax scene. The best part about the lake is that its surface brimming with pristine water reflecting three distinct shades of turquoise water. And the snowcapped mountains in the back adds to its beauty.
Our night stay was in the camps pitched next to the lake. After having dinner at our camps I went for a walk along the shores under the star studded sky. Indeed it was "A walk to remember" and finally enjoying the peaceful sleep in the lap of the nature where there is no light and electricity and phone network.
After returning from Pangong we got the news of flood in Kashmir and flights getting cancelled. Our trip to Siachen base camp and Nubra Valley crossing the Khardung La (World's highest motor able road) got cancelled due to bad weather. We visited Hemis Monastery (built in 11th Century) situated 45 km from Leh. As we didn't have the flight to return we had to stay at hotel sipping Kahwa( traditional Kashmiri Tea) , eating Thukpas and  trying local cuisines of Ladakh. Made few friends who had come from different parts of world. For our memory we got customized embroidered T-shirt depicting our whole Road trip.
My last view of Leh was well charming and chilly. The view from the flight was as beautiful as you can imagine. The experience was awesome as we flew over the mountains covered with a blanket of snow adding icing to Leh's magnificent beauty. With its expansive valleys and overarching peaks gives experience worth instagraming. If its to be a vacation in India that's to be lived in memories for a lifetime, it has to be Ladakh.