The UAE is one of the most famous nations in the Middle East where Indian professionals, specially married people go, for working and living. The UAE is possibly home to around 3 million Indians who hail from different parts of the nation, but mainly from southern parts of the country like Kerala, Tamil Nadu, Karnataka and Andhra Pradesh. Abu Dhabi is the capital city and the language of the people is mainly Arabic. For securing your dream UAE work and family visa, you are supposed to attest your Indian marriage certificate. If you wish to know the steps for acquiring Indian certificate attestation in dubai, or if you are trying for the UAE visa for the first time, then following lines will help you tremendously.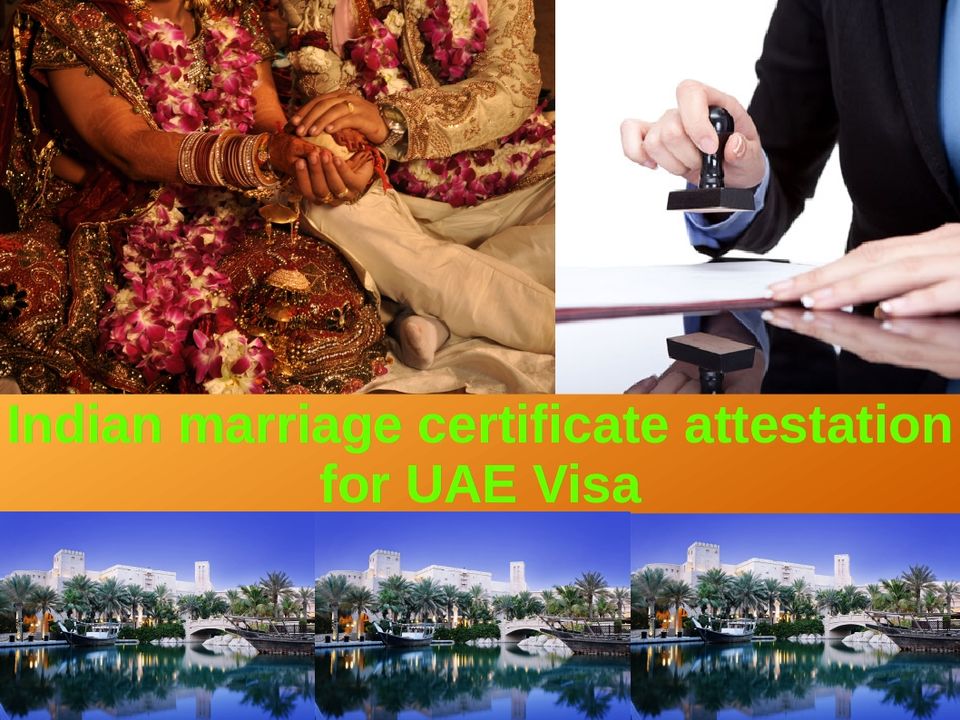 What is the meaning of Indian marriage certificate attestation?
Attestation of your Indian marriage certificate means the process by which your Indian marriage certificate is validated by the correct people. The authorized people will gather your marriage certificate, ratify the info, seal and sign the papers and then deposit them to the embassy authorities for accomplishing the attestation steps. The Indian Ministry of External Affairs is the top authority for attesting your Indian marriage certificates. They will gather your papers, check the content, seal and sign the papers and then submit them to the embassy authorities for completing the attestation process.
What is the exact process for Indian marriage certificate attestation?
For attesting Indian marriage certificate, these steps need to be followed. First, attestation will be carried out from the Home Department(HD) of the Indian state from where the marriage certificate emerged. Say for eg, if your certificate originated from the Indian state of West Bengal, then validation will be carried out by the Home Department of West Bengal . Next, attestation is done by the Indian MEA and followed by UAE Embassy attestation in India. The last step is MOFA attestation which comes as a part of ministry of foreign affairs dubai attestation.
Why is Indian marriage certificate attestation significant
Indian marriage certificate attestation is significant for plenty of reasons. The primary reason is that other countries only want genuine candidates to enter their country. The second reason is that due to volatile security situation prevailing in the region, countries want to prevent unscrupulous elements from entering their nation.
How reputed companies help in getting attestation of your Indian marriage certificate
All these processes like Indian State Home Department authentication, Indian MEA attestation and others require you to come to India and get it done. This demands heavy expenditure and commitment of time from ur side, since Govt appointments take plenty of time, due to the huge rush of applications. For solving all these difficulties and to acquire speedy resolution , contact reputed companies for getting attestation of your Indian marriage certificate. They have an exemplary staff which will gather your papers, check the content and then submit the docs for the successive stages in the process of attestation. Nearly all these firms provide you with tracking facilities of your marriage certificate on your website after submission, with the help of tracking nos. Secondly, all your info will remain protected and confidential. In order to know on how to start this process, connect to their customer care service, which is always available 24*7. These customer care executives will connect to you by various means like chat, phone, fax and mail. They will heed attentively to all your queries and then try to solve them as per your requirements.
What are the advantages of attesting your Indian marriage certificate?
There are plenty of advantages of attesting your Indian marriage certificate. The primary advantage is that attestation of your marriage certificate is valid during your whole life. This means that after 5 years, if you wish to apply again for UAE work visa, then you can use the old attested marriage certificate. There is no need to undertake the Home Department and MEA attestation again.
Secondly, the cost of all these processes are very less, which are easily bearable on your pocket. Additionally, some famous companies like Shell, Castrol, British Petroleum etc ask only for applicants who have attested marriage certificate to apply in their openings. The reason being that candidates with attested certificates are considered credible and are given special consideration. These companies feel that applicants with attested certificates are the people with right skills and expertise. Additionally, people with attested Indian marriage certificates are given special preference while going to other countries from the UAE like USA, UK, Canada etc. The reasons are the same as mentioned above.