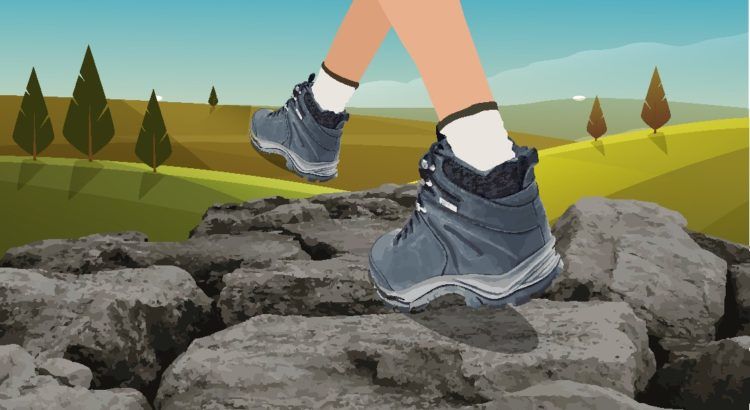 Check List
Bottle – checked
Tiffin – checked
Torch – checked
Appropriate shoes – Not Checked
Have you ever packed every little thing you need for your dream trek? The perfect camera, Cap to save you from the heat, but cannot stand on your feet? And eventually become Humpty Dumpty?
Imagine yourself in the middle of the wilderness with shoes failure, isn't it a nightmare and terrible state of disgust? Pick the right trekking shoes for experiencing fun and utmost thrill while trekking.
Here are the top 4 tips one must keep in mind before buying the perfect trek shoes.
1) Fit to Every Bit!
Before deciding the colour, material etc. it is very important to check if the shoes fit your feet in the first place. Don't forget the layers of socks you would be wearing and accordingly choose your perfect size. Trek shoes are different from the ordinary shoes and thus beginners can take time to get used to it. Trek shoes makes you feel comfortable in course of time and keep your feet lively through the trek. Make sure they keep your feet firm and tight. Don't not jump directly into any attractive shoes. Remember all that glitters is not gold!
2) Choose Light and Not A Plight!
You surely carry a huge weight on your back including yours then why add additional trouble to your feet? Light weight shoes help you to easily lift your feet and walk with a speed. Light weighted shoes usually have flexible soles. Make sure when you buy your first trekking shoes they are light enough and stiff. No worries, if you still cannot figure out which ones to buy, here are the highly recommended brands of trek shoes.
a. Action Trekking Shoes
b. Forclaz Fresh
c. Arpenaz Flex series
d. Power Canvas Trekking
3) Material Matters
Trek shoes have a special ability providing a support to your feet and help you balance. Sports shoes cannot go beyond certain extend. The construction of the shoes is stiffer and firm. The material is usually leather, suede or synthetic like Gore-tex or Nova Dry. These boats are used for a trek which has a long duration and even for trekking in the snow. Such shoes support your ankle even if you have a sprained it. Trek shoes can be used in snow, rain and even dry weather.
4) Budget
Keep the price range in mind before picking the shoes. A pair of good quality trekking shoes can cost you anywhere between 700 Rupees to 3000 and beyond. Action Trekking Shoes costs 700-900 Rupees, or pick one from the Quechua Series for an all rounder investment for long term. Both men and women can wear any trekking shoes, its a Unisex pick.
Remember these points while buying your trek shoes
i. Buy high quality shoes. So, that you can rely on them.
ii. Shoes which have accredited material used are the appropriate ones.
iii. Shoes which are all in one. A trekker treks in all possible climates, from dry, snowy and rainy. Before buying make sure that they are all in one and you won't have to regret waking with a torn shoe in extreme climates.
iv. Make sure you try those shoes on before the main day (Trek day) just to get used to it.