This world would be a much better place if we could just travel anywhere we wanted, by road!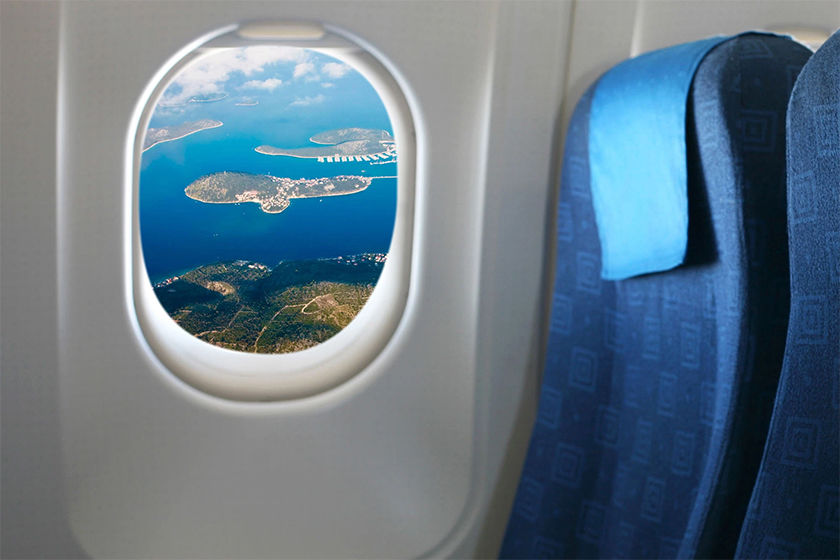 If there's one thing that makes travelling abroad difficult - especially for the budget travellers like me - it is the expensive flight tickets. I mean look at it this way: you fly from New Delhi to Bangkok, for a week, and end up spending more money on your flights than on everything else put together.
It's therefore more important to find the hidden cheap airfares than finding the right destination to travel, or the right place to stay. Because if a flight is too expensive for you to afford, you aren't going anywhere.
But thankfully the odds are not all against you. Every day, airlines around the world release thousands of killer deals - from mistakenly published cheap fares to intentionally provided slashed prices. Yes, cheap fares are out there, if only you know how to find them. And today I am going to help you master how to find a cheap flight. These are the exact steps I follow. If you follow them too, you will, at least, never be the person on a flight who paid the most for their ticket!
Okay, before we start, let's clear out the most common myths about finding cheap flights. After travelling for over 2 years now, and booking all the flights by myself, I've learned that it is NOT cheaper to buy airfare on a Tuesday, there is NO evidence that booking your flight 40 days in advance will assure a better price, neither going incognito will lead to sure-shot deals.
In short, there is NO exact date or specific time period in which to book your airfare. Sometimes you can find the cheapest deal for tomorrow, and sometimes, for after a month!
Start with Google Flights or Kayak: The First Step
I remember during my initial days, I always used websites like Ibibo or SkyScanner or FareCompare, as my preferred budget airfare tools to find the cheapest deal available. Though I always found them good and a reliable source, and I still use them today, they're perhaps not good as a platform, to start with. Why? Because none of them offer you a calendar like interface where you can compare fares for as long as the period of next 2 months, all in one sight - something what Google Flights or Kayak offers.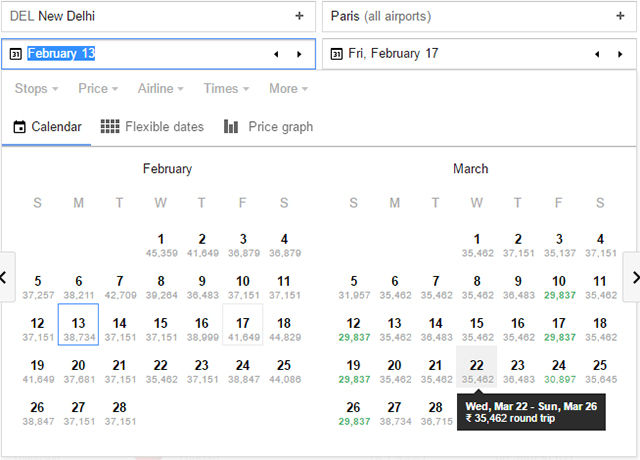 Speaking of my personal choice, I always start with Google Flights because I find it the easiest option to quickly skim through different permutations and combinations of dates, flight careers and destinations. In just a few minutes you get a rough idea about three main factors that are more likely to provide you a cheaper deal: which destination, on what date and by which flight-carrier.
Once you get that idea, enter into a more aggressive research using websites like Farecompare, and SkyScanner.
Never Book Too Much In Advance
I've personally felt that if you book a ticket more than 3 or 4 months in advance, you're likely to buy it expensive. Though it's not always true, but in most cases, booking a ticket hopelessly early hardly gets you a cheaper deal.
To understand what I mean, open Google Flights, enter any destination and pick a date falling at least 3 months from today. Now search for the same destination and with same carrier within 5 or 8 weeks, and you'll see the difference.
Don't wait until the last second but don't book far, far in advance either.
Book Tickets One Person At A Time
If you're flying in a group, do not buy multiple tickets in a single purchase. Why? Because airlines always show the highest ticket price a group of tickets. For example, if you're flying in a group of three people, the airline will find three seats together and show you the total fare based on the highest ticket price. Meaning, if seat A, B and C are worth INR 1000, INR1200 and INR 1300 then you're going to pay INR 1300*3 for all of them together. However, if you buy them separately, you'll pay what they actually cost (yes, in some carriers price change from seat to seat!).
So buy all the tickets one by one, and if you don't get them together, you can always request other passengers to swap their seats with you, and travel in group.
Be Flexible With Your Travel Dates
We all know that airline ticket prices vary depending upon the time of year. During upcoming holidays, such as New Year or Christmas, and peak holiday seasons the prices go up dramatically. December and January, for example, are big months for travelling to Southeast Asia due to better weather, just like July and August are big for Europe. And if you're going to fly to a place when everyone is flying there, you're going to pay higher fares, so try to be flexible with your dates.
It is moreover cheaper to fly during the middle of the week than on a weekend, because most people travel on the weekends, giving airlines a better excuse to hike their prices. Early morning and late night lights are also generally comparatively cheaper, so keep an eye on them.
Be Flexible With Your Destination
If you can't be flexible when you fly, at least be flexible with where you fly. It's best to be both, but if you really want to save the most money on a flight, you should at least do one.
To give you an example, I recently booked a ticket from New Delhi to Zurich, for my upcoming backpacking trip across Europe. Though I wanted to start my journey from Frankfurt, I didn't book a ticket directly to Frankfurt and saved myself a lot of money in the process. Zurich and Paris are two main destinations in that region, where most of the flight carriers have multiple flights going to and from, in one day. One side from Delhi to Zurich costed me 15 thousand Rupees, whereas Delhi to Frankfurt would have costed over 20 thousand. Now even if I pay a few dozen euros in commuting from Zurich to Frankfurt, by land, it'd still be a cheaper deal.
Direct flights are (almost) always expensive - remember this as a rule of thumb! If you want to fly to Marseille in France, and look for a direct flight from Delhi, you're surely going to spend a lot more than if you book a ticket to Paris, and then book another connecting flight (with a small/national carrier) to Marseille. Similarly, by working various airlines and special offers, you can save a lot.
Though this method is not for everyone, however, as it is more work checking out different routes and different airlines. But if you put in a little effort in breaking your journey and finding connecting flights between them, you can definitely shave some money off your flight, giving you more to spend at your destination.
Join A Mailing List Or Follow Flight Carriers On Social Networks
At this moment, I've opted for at least 10 mailing lists, and follow at least a couple of dozens flight carriers on Twitter and Facebook. The intention is simple - I want to grab any flash sale or special deals as soon as they happen.
AirAsia and Jet Airways, for example, are two great flight carriers for Indians to follow. They offer too many discounts to their subscribers every now and them It's because of AirAsia's mailing list that I've flown from New Delhi to Guwahati and New Delhi to Bangalore once in under 900 Rupees - a price almost equal to Sleeper class in Indian Railways.
This post was originally published on Footloose Dev.