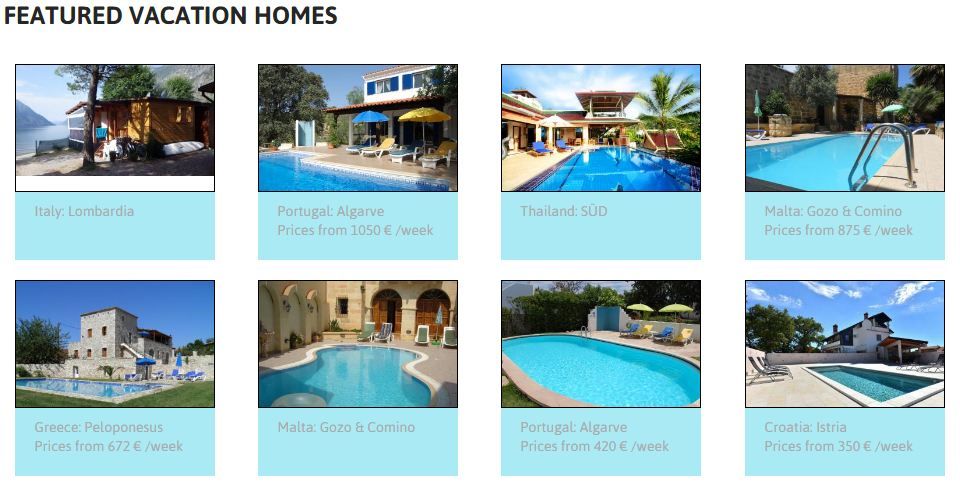 Many people consider the option of vacation rentals, rather than motel rooms or standard hotels, for their trips. Vacation rentals have many advantages, like low costs, good space and better amenities. However, you need to ensure that you are getting a fair deal and that the home where you will be staying is appropriately located and well maintained.  When you start searching for a vacation rental; you come across 2 options!
Firstly, you can rent it from the property's owner and secondly, you can rent it from a company that deals in property management.  However, if possible, contact the direct owner, as you might get better support and information before and during the deal. Be it Vacation homes in Spain or be it vacation rentals in Italy, make sure that the process is a smooth one. Let us have a look at the steps to rent a private home;
First find a good website that lists down vacation homes. You can also speak with the travel agent about various options. Ensure that you are comfortable while dealing. Usually, these website owners screen all the rentals that have been listed, so as to ensure that they exist.
You need to be sure of the kind of vacation rental you need. For instance, check the minimum and maximum price, check the size i.e. whether it is for 2 people or whether a multi-bedroom house is needed. The location must also be checked; do you want it close to the beach? Do you want it close to a theme park? Do you want it near major tourist attractions? Even the amenities must be taken into consideration. Obviously, people like vacation homes to be equipped with gym equipment, hot tub, game systems etc.
Moreover, some people like to bring their pet along. They must enquire well in advance whether they allow a pet or not. Some owners allow a pet along with some amount as deposit, while some don't allow at all.
You need to provide the exact dates for which the vacation rentals would be needed and also the number of people.
While searching for vacation homes, you will find a good list with all the options you need. You can email the owners for solving all your doubts. He will ensure that you get maximum possible information about the vacation rental and will also send you pictures of the same. While dealing with property Management Company, the professionals might show you pictures of vacation homes. In both the cases, the main aim must be comfort of the customer. For instance, no one would like a company or an owner sending emails every hour and asking about making a decision. On the other hand, you won't even like a company that takes hours for giving out a response, isn't it?