While there is an increasing number of travelers every year and more moving out of the country, apart from an increase in the number of fresh passport applications, there is also a fair rise in the number of passport renewal.
Although the process is quite similar to the one while applying for a fresh passport, you may require giving some additional documents depending on the reason you are getting your passport renewed.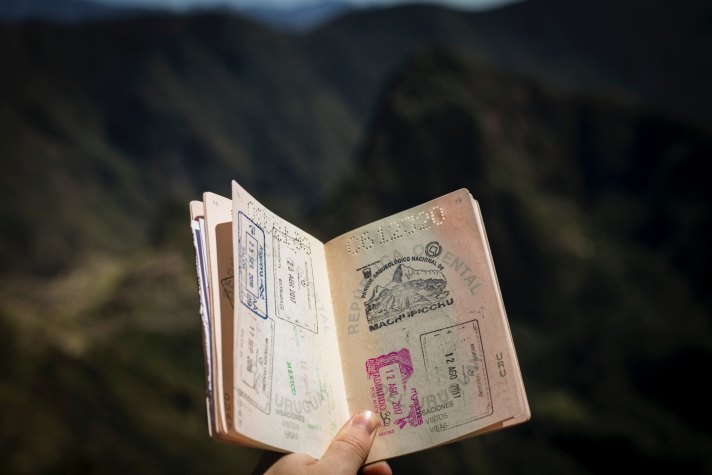 Why do you need to get your Passport renewed?
The most common cases in which a passport is renewed are:
1. Expiration of the old passport - A passport is valid for only 10 years for Adults and 5 years for minors (Under 18 years of age) of time beyond which you need to get it renewed.
2. Exhaustion of Pages
3. Passport Lost/Stolen
4. Passport is damaged
5. Change of particulars in the Passport
i. Change of Appearance
ii. Change of Signature
iii. Change of Name
iv. Change of DOB
v. Addition/Change of Spouse's name
vi. Change of Address
vii. Change of ECR
viii. Change of Place of Birth
ix. Change of Sex
x. Change of Parent's Name
What is the passport renewal time in India?
It usually takes not more than two to three weeks to get your passport renewed. In most case, where police verification is not required you may also get it in 10 days' time. If you are applying for tatkal, you will get it in one-three days' time
What is the passport renewal fees in India?
If you are getting it done through an agent, usually the charges are between Rs. 1000-1500 per person additional to the passport renewal fees which is 1500/- for a regular and 3000/- for a tatkal application. Here is a calculator for the exact requirement depending on your requirement
What is the difference between ECR and non-ECR category?
ECR or Emigration Check Required category means a person who has not passed 10th grade officially.
Non-ECR stands for Emigration Check not Required. It means a person who has passed his 10th standard officially.
ECR (Emigration Check Required) is to protect illiterate workers in emigrating to certain countries to protect them, untrustworthy employers. You can read more about it here
How can you get your passport renewed in India?
Step 1 - Option one is getting it done through an agent. They act as a mediator between you and the passport authority. They register your account, help get your documents in order and give you an appointment date with the venue of your convenience. You just need to show up, submit your documents and if approved, your passport comes home.
Option two is getting it done yourself. Below is a step-by-step procedure to get your passport done by yourself.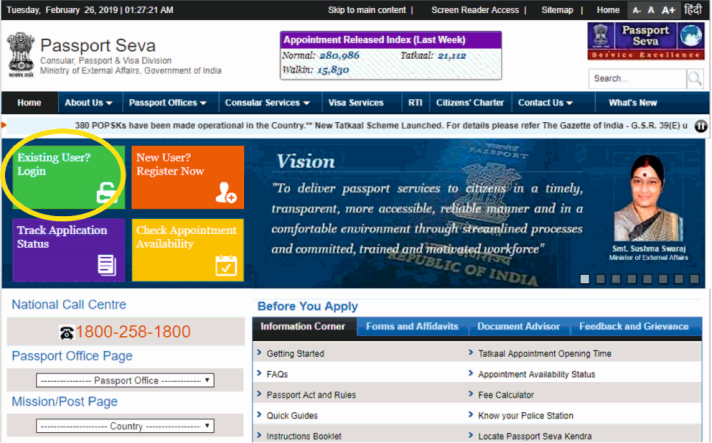 Step 2 - Once you are done with registering your account, log in which will bring you to the following page. Click on the option to Apply for Re-issue of passport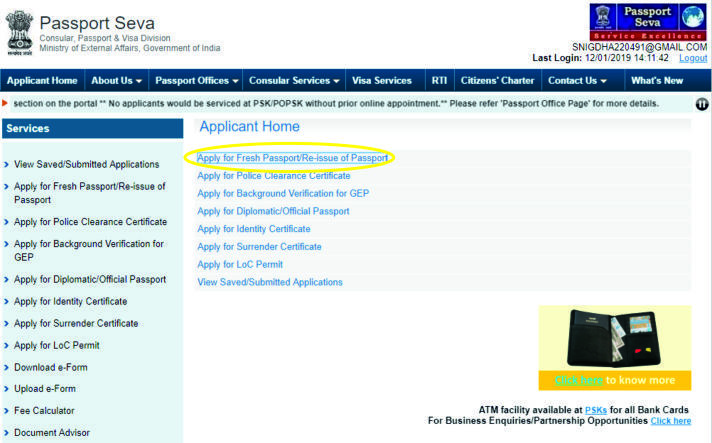 Step 3: Fill the online form. You can either fill it right away by clicking on the marked link or you can download the passport renewal form, fill it online and upload it on the mentioned link. If you have a stable internet connection and a little bit of time, I would suggest filling it online. Here is an official list of the police station. You can check online which one is applicable for your residence.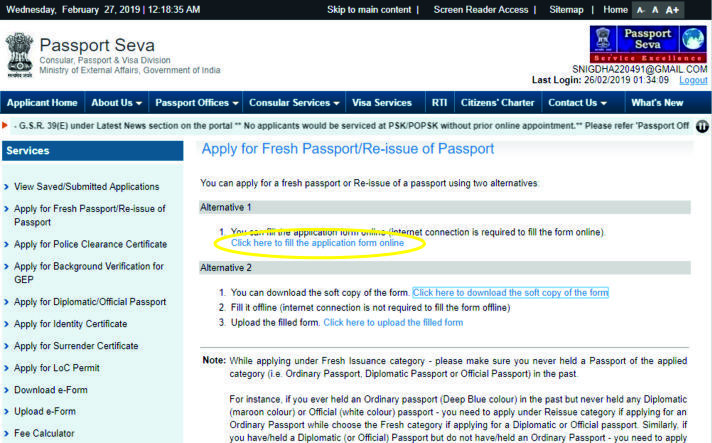 Step 4: Once you fill the application form, choose one of each row below. A passport in tatkal (super fast) will cost you 3000/- against 1500/- for the normal fee. A booklet of 60 pages will cost you an additional 500/-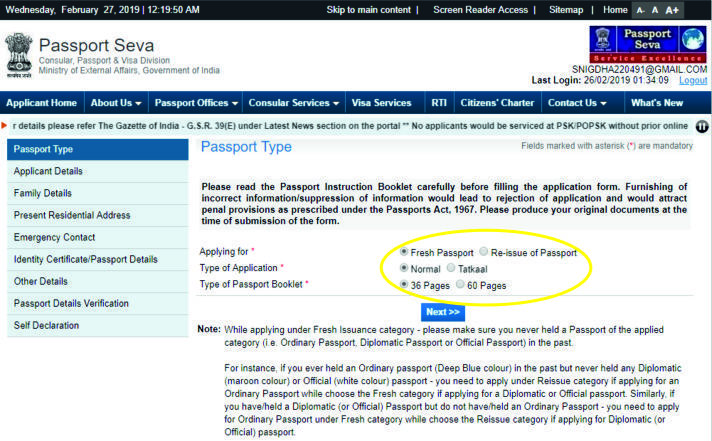 Step 5: It's not compulsory to check this option but I highly recommend that you avail to the SMS service. It will let you get updates on your application and track it real time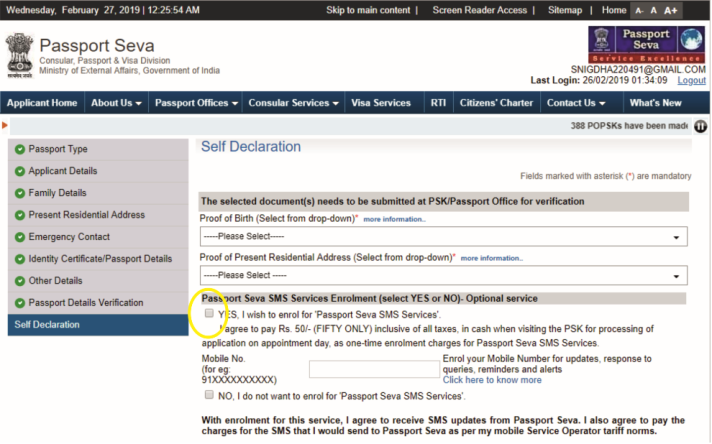 Step 6: Pay and schedule your appointment. The date of appointment can be anywhere from the next day to the upcoming 3 months at the PSK(Passport Seva Kendra) of your choice and convenience. If you want a closer date than the one you are getting you can try looking at the PSK farther away but in the same state only. You will have to travel to the place for your appointment though. So choose wisely. Here is a list of PSK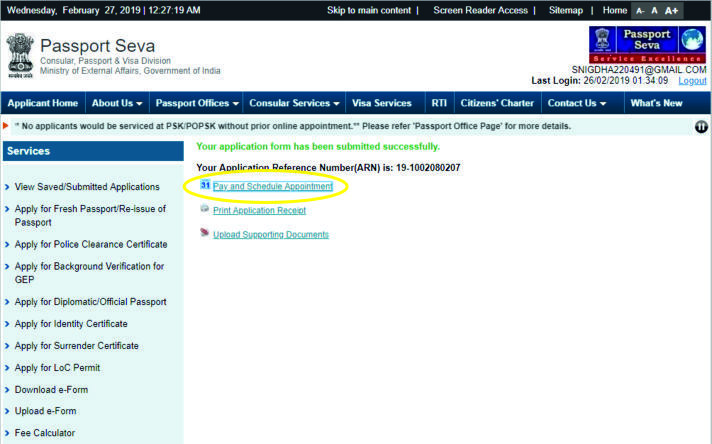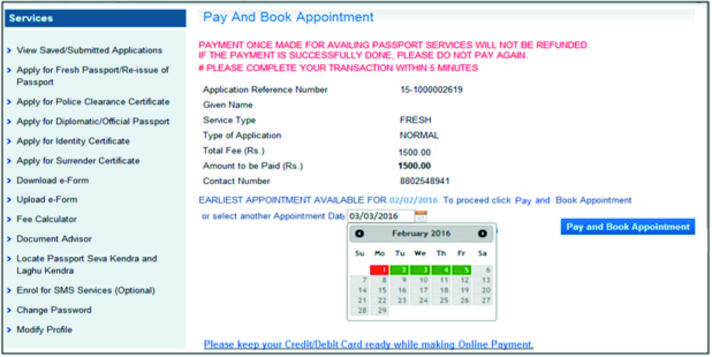 Step 7: Once you are done with setting up your appointment, below is the list of documents you will need to carry with you to the appointment for passport renewal (for non-ECR Adults). You can check the exact documents for different personal scenarios in the official website here
1. Appointment Letter
2. 2 Passport size photo
Additional Documents for Expiration of the Old Passport/Exhaustion of pages:
1. Original old passport with 2 photocopies of front and back pages
2. Address proof - if the current address is different from the address mentioned in the old passport
Additional Documents for stolen/lost/damaged Passport beyond recognition:
1. Proof of Date of Birth
2. Affidavit stating how and when passport got lost/damage as per Annexure F
3. Police report in original Address
4. Proof of current address
5. Self-attested pages of the photocopy of old passport front and back
Additional Documents for Change of particulars in passport (for all types):
1. Address proof - if the current address is different from the address mentioned in the old passport
2. Original old passport with 2 photocopies of front and back pages
Additional documents for below:
a. Change of Appearance:
1. Recent photograph (required only in case of DPC/SPC/CSC applications). The photo should be most recent showing the latest appearance. A notarized statement is required in case of a request from Sikhs who want to change from turban photo to clean shaven ones or the other way
b. Change of Name in case of marriage/remarriage:
1. Self-attested photocopy of the spouse's Passport
c. Change of Name in case of a government employee:
1. Fresh ID Certificate in changed name
2. Gazette Notification changing the name in applicant's department
d. Change of Date of Birth
1. Proof of Date of Birth

e. Change in Place of Birth
1. Affidavit stating the reason for the change in Place of Birth
2. Proof of Place of Birth First class judicial magistrate's /Sub-divisional magistrate's (civil court) court order, if change in DOB is more than 2 years or in case of conflicting documents/ if change in place of birth involves change of State or Country) (In case change of place of birth involves change of country, also attach Document No. 7(Certificate of citizenship by MHA)))
f. Change of Sex
1. Sworn affidavit regarding change of sex Certification from the hospital where he/she underwent sex change operation successfully
g. Change of Parent's name
1. Passport of parents with new name in original with self-attested photocopy of its first two and last two pages, including ECR/Non-ECR page (previously ECNR) and the page of observation (if any), made by Passport Issuing Authority and validity extension page, if any, in respect of short validity passport OR Proof such as service record/ pension order/ property documents showing that parents had changed their name OR If parents are deceased, such proof that they had changed their name during lifetimeDocuments accepted for
The below documents are accepted for Present Address Proof - One of these
1. Water Bill
2. Telephone (landline or post-paid mobile bill)
3. Electricity bill
4. Income Tax Assessment Order
5. Election Commission Photo ID card
6. Proof of Gas Connection
7. Certificate from Employer of reputed companies on letter head
8. Spouse's passport copy (First and last page including family details mentioning applicant's name as spouse of the passport holder), (provided the applicant's present address matches the address mentioned in the spouse's passport)
9. Parent's passport copy, in case of minors(First and last page)
10. Aadhaar Card
11. Rent Agreement
12. Photo Passbook of running Bank Account (Scheduled Public Sector Banks, Scheduled Private Sector Indian Banks and Regional Rural Banks only)
Document accepted for Proof of DOB (One of the below)
1. Birth Certificate issued by the Registrar of Births and Deaths or the Municipal Corporation or any other prescribed authority, whosoever has been empowered under the Registration of Birth and Deaths Act, 1969 to register the birth of a child born in India
2. Transfer/School leaving/Matriculation Certificate issued by the school last attended/recognised educational board
3. Policy Bond issued by the Public Life Insurance Corporations/Companies having the DOB of the holder of the insurance policy
4. Copy of an extract of the service record of the applicant (only in respect of Government servants) or the Pay Pension Order (in respect of retired Government Servants), duly attested/certified by the officer/in-charge of the Administration of the concerned Ministry/Department of the applicant
5. Aadhaar Card/E-Aadhaar
6. Election Photo Identity Card (EPIC) issued by the Election Commission of India
7. PAN Card issued by the Income Tax Department
8. Driving License issued by the Transport department of concerned state Government
9. A declaration given by the Head of the Orphanage/Child Care Home on their official letterhead of the organization confirming the DOB of the applicant
Step 8: On the date of the appointment, you need to take all the above documents and reach the PSK at least half an hour early. Try to carry any alternate documents as well in case anyone of it is not accepted. One alternative to address proof is Bank statement (with your current address) of one year. All documents must be self-attested. There will be three counter you will be directed to (Counter A, B, and C). If all documents are accepted, you will receive SMS confirmation of your application. If not, you will have to book an appointment again and come back with the required documents (as suggested by the PSK partner)
Step 9: In most passport renewal cases, you do not need to get your address verified and there is no police verification. In specific cases with a change in address in passport, police verification will be done.
Step 10: For a fresh passport, you will have to get the police verification done. You may get a call from the respective Police station to either visit the police station or for a time for verification at your address. The fee for Police Clearance Certificate is 500/- and to be paid at the police station to the respective officer. You will be asked to show your documents for verification.
Step 11: Post police verification your passport will go for printing and will arrive at your mentioned address in 10 working days. You must collect the passport yourself only by showing an ID proof to the delivery person.
Can you collect the passport from the respective Regional Passport Office?
In case of emergency, you may collect the passport from the respective RPO but you will have to give an application stating the urgency reason. However, the final decision resides with the regional passport officer
For more passport related queries refer to this page
Join me on my journeys at Facebook, Instagram or visit my site at thestupidbear