OK, so I got my hands on a set of the 9008 LED headlight bulbs from AUXBEAM Lighting and I wanted to show you how to install these bulbs because at first glance it looks a little bit tricky.

The car I'm going to demonstrate on is a headlight from a 2009 Ford F450. And the headlight bulbs I bought from Auxbeam are very bright and I will tell you this: These headlights are amazing!!! For now we're going to try to put these 9008 LED Headlight Bulbs from AUXBEAM Lighting into these housings.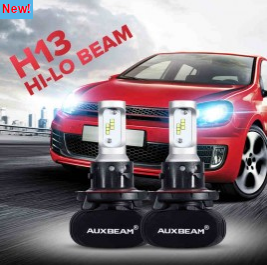 The original 9008 headlight bulb is held in place by a retainer. In the case of this Ford F450, the retainer is very tall. Sometimes they are short and sometimes they are tall, but they all work so great in all these vehicles. The retainer goes on top of the headlight bulb and holds it in place.
You can see how the original bulb sits when you take the retainer off.
The new 9008 LED Headlight Bulb is a little longer than the original bulb, but it doesn't matter for this application because there is nothing inside the housing to interfere with it. The mounting method is identical. The new 9008 LED headlight bulb has the same mounting collar as the original bulb.
Here's an aerial view showing the slots in the mounting collar between the original bulb and the new AUXBEAM Lighting 9008 LED headlight bulb. They insert into the headlight housing the exact same way as each other.
The housing for either a H13 or a 9008 will have 3 alignment tabs inside like this. The headlight bulb will only seat one way.
This is how the new 9008 LED headlight bulb should seat when you have it resting on the housing. There should be no gaps, it installs perfectly fit.
The original retainer that held the Auxbeam bulb in place will likely NOT fit over the top of your new 9008 LED headlight bulbs, they are far too large to facilitate the heat sink and cooling fan.
The mounting collar on the 9008 LED headlight bulbs comes off easily by twisting it. Separate all the parts and re-install the original headlight bulb retainer between the heat sink of the 9008 LED headlight bulb, and the mounting collar.
When you have the original mounting adapter installed between the heat sink and the 9008 LED headlight bulb collar, then you can install everything like the factory bulb was installed.
I bought all my headlight bulbs on auxbeam,they work perfectly in my vehicles , In a word,it's very worth to buy.
If you want to wholesale the best automotive led replacement headlight bulbs for your vehicles or your business, you can find all the bulbs you need in auxbeamheadlight and they are all in a very high quality and nice price.