LOADING THE PACK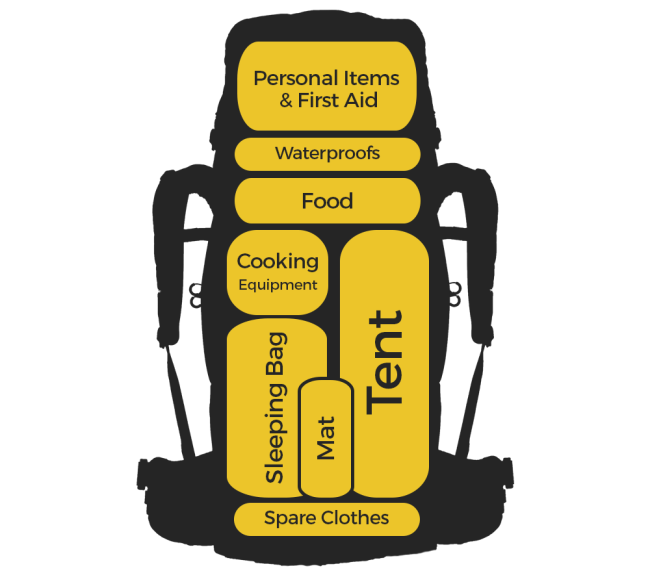 "The most important step when packing your rucksack is to leave the superfluous at home! As a general rule, a fit person should not carry more than 20 - 25% of his/her body weight over a longer period of time. The Indian military calculates with 33% - but then, we all know that their trips are more than strenuous!"
The pack's center of gravity should sit close to the body and ideally at shoulder height.
This way it is positioned over the body's center of gravity and the pack won't pull backwards. How to properly load your bigger capacity rucksacks (from about 30 l): - Put the sleeping bag, down equipment and other light objects in the bottom compartment. Place midweight gear such as clothing on the top towards the outside. Heavy equipment – tent, food, big jackets – above shoulder height, close to the back.
- Put small, often-used items in the lid pocket where they can be easily grabbed. To avoid swinging, big wind surface or wetness, minimise the number of items you strap to the outside of the pack and keep them as compact and small as possible.
- In general keep an even weight distribution, in particular for side pockets, in mind. Use stuff sacks to get organised. Waterproof sacks are also a safe alternative to a raincover.
IN EASY TERRAIN
In easy terrain (hiking routes, flat trails) the load's center of gravity should sit higher.
DIFFICULT PASSAGES
in difficult passages a bit lower and thus closer to the body's center of gravity. This packing system leads to a more forward leaning position, yet it provides more balance compared to a higher center of gravity.
Steps
1. Loosen all straps - Fill the backpack with a realistic weight. Loosen all straps. Shoulder the pack.
2. Place hip belt over the hip bones - Position the middle of the hip belt over the hip bones and tighten. If the belt sits too high, it might constrict the stomach. If the position is too low, the fins might chafe.
3. Tighten the shoulder straps - Now tighten the shoulder straps, but not too tight. The main weight should be on the hip belt.
4. Ideal position - The anchor points of the shoulder- straps are ideally positioned between the shoulder blades. Thus, the pads comfortably close around the shoulders.
5. Height adjustable sternum strap - Once you have found the perfect back length, fix and close the height adjustable sternum strap. Not too tight, since it could hinder breathing. 
6. Tighten the hip belt stabiliser straps - Tighten the hip belt stabiliser straps depending on the terrain. Tighten for more load control. Loosen for more freedom of movement. Tension the shoulder stabiliser straps on the shoulder straps of larger capacity packs. Loose for improved ventilation and more weight on the waist belt for easy passages. Tighter they deliver more load control and transfer more weight to the shoulder straps on rugged terrain. On longer trips, make sure you loosen and tighten all straps regularly to vary the load transfer.
To perfectly fulfil their function the stabiliser straps should be horizontally angled between 30° and 45°.