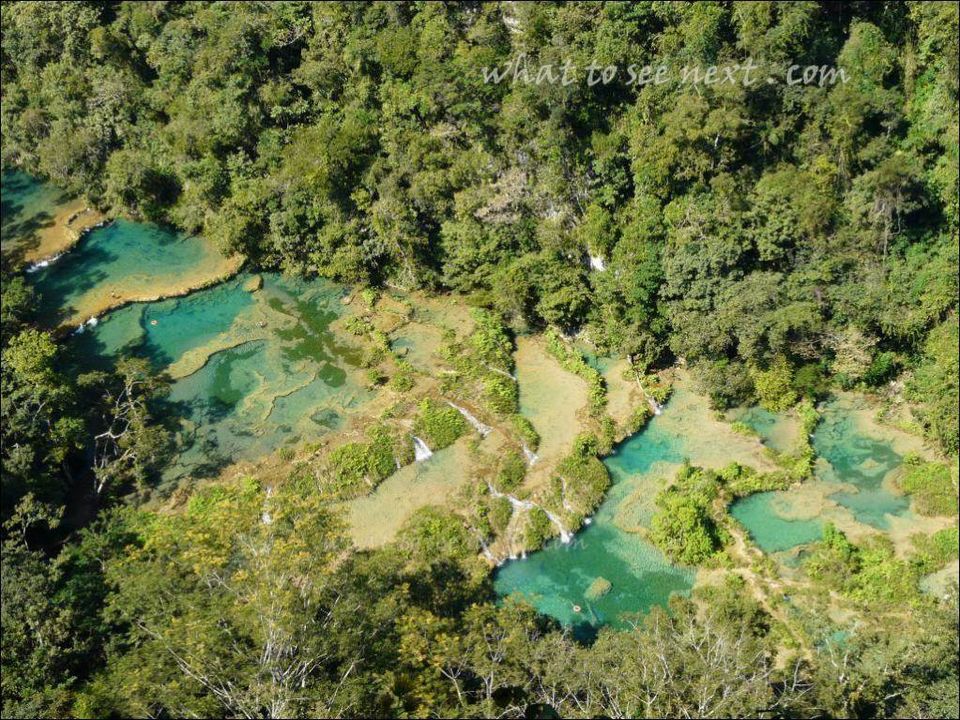 DAY 1: GUATEMALA CITY
Late arrival. We chilled out in the hotel.
DAY 2: GUATEMALA CITY, ANTIGUA
A half-a-day walking tour in the city center, including the main plaza and the cathedral. After lunch, we took a chicken bus* to Antigua (1,5 hours).
In Antigua, we enjoyed everything this city has to offer: cozy restaurants, colonial churches, cobblestone streets, beautiful views, positive vibes… It's one of those places you never want to leave. And indeed, many travelers decide to stay here longer, enrolling Spanish courses or making Antigua their base for numerous side trips.
DAY 3: ANTIGUA
Another day of enjoying Antigua.
DAY 4: ANTIGUA, MONTERRICO
After early breakfast we got picked up from our hotel by a shuttle bus to Monterrico (3,5 hours).
Monterrico supposedly serves as a weekend beach resort for residents of Guatemala City. We arrived there in the middle of the week and found it a quiet and extremely pleasant village situated on the Pacific coast. We spotted very few other tourists on the wide volcanic beach near our hotel. Plus we were lucky to stay near the "tortugario" (a place where sea turtles hatch) and witness some tiny little turtles being released to the sea.
DAY 5: MONTERRICO, ANTIGUA
The previous day we arranged a boat trip with a local guide, Estuardo. He picked us up at 5:30 am from our hotel and took us to the riverside from where we took a boat. We watched a sunrise over protected area of Monterrico mangroves. We spotted countless species of birds and can highly recommend the trip. Just remember to get a paddled boat, as a sound of a motor might scare off the animals. The whole trip takes about 3 hours. At 6 pm we took a shuttle bus to Antigua.
DAY 6: ANTIGUA, ESCUINTLA, SANTA LUCIA, LA DEMOCRACIA, ANTIGUA
At 7:30 we took a chicken bus to Escuintla (1,5 hours). From Escuintla, we took another chicken bus to Santa Lucia (there wasn't any direct bus to Santa Lucia).
In Santa Lucia, we hired a taxi driver who agreed to take us, at a reasonable price, to two main places related to the ancient Pipil civilization: El Baul and Museo Cultural Cotzumalguapa, famous for ancient anthropomorphic sculptures.
From Santa Lucia, after the trip, we took another chicken bus to La Democracia, where we photographed the huge anthropomorphic Monte Alto sculptures, situated on the town square.
From La Democracia, we took a chicken bus to Escuintla and from there another chicken bus to Antigua.
DAY 7: ANTIGUA, PANAJACHEL (LAKE ATITLAN)
At 5 am we were picked up from our hotel by a shuttle bus to Panajachel.
In Panajachel, we went straight to the harbor with our luggage and paid a tour ticket to San Juan, San Pedro and Santiago Atitlan. In each of the towns, the boat stopped for 30-60 minutes. After that, the same boat took us back to Panajachel.
DAY 8: PANAJACHEL, LANQUIN
At 6 am the shuttle bus took us from our hotel. The trip to Lanquin took us the whole day (10 hours), we arrived shortly before the sunset.
DAY 9: LANQUIN, SEMUC CHAMPEY, LANQUIN
Last evening we bought a trip Lanquin. This morning we boarded a shuttle bus (or rather a shuttle truck) and headed to Lanquin (1 hour).
Lanquin isn't a place to be missed when in Guatemala. Check out our photos to see why. We hiked to the viewpoints, we swam in the turquoise limestone pools and we explored Grutas de Lanquin (the caves).
DAY 10: LANQUIN, RIO DULCE
At 8 am we were picked up from our hotel by the shuttle bus to Rio Dulce (previous night we bought the tickets in the hotel) (4,5 hours). Rest of the day we spent relaxing in the town.
DAY 11: RIO DULCE (EL BOQUERON, FINCA EL PARAISO)
From the minibus stand, we took a ride to El Boqueron – a picturesque river canyon, where we hired a local guide with a paddled boat. From the road near El Boqueron we caught another bus to Finca el Paraiso, where we got splattered in the hot spring waterfall.
DAY 12: RIO DULCE, LIVINGSTON, RIO DULCE
In our hotel, we paid for a day trip to Livingston. The boat picked us up in the morning (there's no road connection to Livingston). We spent the whole day in this picturesque town, on the Caribbean coast, famous for its Garifuna culture.
DAY 13: RIO DULCE, FLORES
In the morning, we took a bus to Flores (4 hours), a town beautifully located on the lake island, connected to the mainland by a causeway. We spent rest of the day wandering around.
DAY 14: FLORES, TIKAL, MELCHOR DE MENCOS, BELIZE CITY
At 4:30 am (don't pull a face, if you wanna see the sunrise the departure time is 2:30 am) we got picked up from our hotel and we went to Tikal. There's no need to advertise Tikal. Enough to say being in Guatemala and not seeing Tikal is like being in Pisa and not seeing the Leaning Tower. Except Tikal is so much better than the Leaning Tower.
To save time we pre-arranged to be dropped off in Puente Ixlu (El Cruce), instead of Flores, on the way back from Tikal. The driver left us at the junction where we caught a bus from Flores to Melchor de Mencos.
In Melchor de Mencos we left the bus near the border bridge with Belize and crossed it on foot. After passing through the passport control, we took a taxi to the bus station from where we caught a bus to Belize City.
In Belize City, we arrived almost at dark, so it's good to have an accommodation booked ahead.
DAY 15: BELIZE CITY, CAYE AMBERGRIS (SAN PEDRO)
In the morning, we took a taxi to the domestic terminal. We decided to fly to San Pedro, instead of taking a ferry, because we wanted to take some photos of the islands from above. But if you prefer a boat transportation, the ferry terminal is in the center of Belize City and – depending on your accommodation – you might be able to get there on foot.
In San Pedro we went for a snorkeling boat trip, to swim with sharks and mantas – a highly recommended experience!
DAY 16: SAN PEDRO, CAYE CAULKER
In the morning, we took a ferry to Caye Caulker.
DAY 17: CAYE CAULKER, BELIZE CITY, HOPKINS
In the morning we took a ferry to Belize City, to catch a bus from Belize City to Hopkins at 10 am
(3 hours). The bus drops passengers at a junction, a few kilometers from Hopkins, from where you need to take a taxi or to hitchhike.
DAY 18: HOPKINS
The whole day at the sandy but very littered beach of Hopkins.
DAY 19: HOPKINS, BELIZE CITY
We took a morning bus to Dandrigi, where we took another bus to Belize City. The rest of the day we spent in Belize City.
DAY 20: DEPARTURE FROM BELIZE CITY
Our comment: If you fly north (e.g. to Miami), take a seat on the left side of the plane, the view is gorgeous.
More on http://www.whattoseenext.com/How_to_see_Guatemala_and_Belize_in_20_days