More often than not, Ladakh as a destination features on the bucket list of all, especially the ones who are young and want to explore the thrill that it offers combined with its many sweeping views as well as its chilly weather. Right from the Himalayas, to the Karakoram mountain ranges, from the River Indus to the Zanskar Rivers complete with umpteen glacier-carrying streams, this holiday spot offers it all. Conveniently reachable via a flight to the airport in Leh followed by a small road journey, this destination is completely worth your while! However, it is not just the flight booking that you need in order to make your journey comfortable, but also some other things to ensure that you stay completely at ease while there! Let us take a look at these items -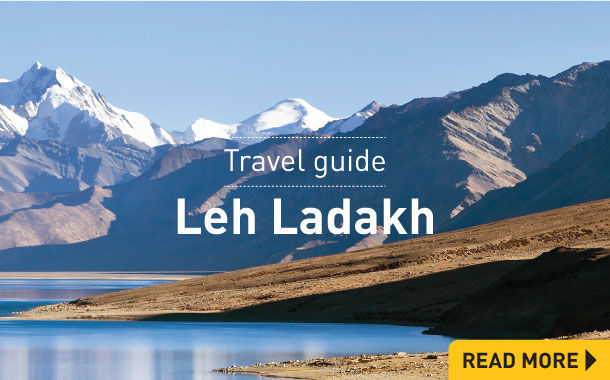 Medicines
Medicines for motion sickness, nausea, headache, cold, cough and fever ought to be a part of your travel kit. You should also carry any regular medications that you might be on.
Sun Protection
The high altitude at which Ladakh is present can be quite damaging to the skin. Hence, it is highly advisable for you to carry a good sunscreen preferably with an SPF higher than 30. Moreover, UV rays at this altitude might also prove to be harmful to your eyes, hence carrying a pair of fine-quality Polaroid sunglasses is also recommended.
Moisturiser
Given the extremely dry and chilly weather that Ladakh is known for, it is sure that chapped lips and flaky skin will trouble you. Hence, do not forget to carry along a moisturiser, some Vaseline as well as a lip balm. Most travellers have found mustard oil to be of great help when it comes keeping the skin moisturised and even for lubricating the nasal cavity. So if you wish, do carry the same along with you.
Glucose
Since you will require numerous instant boosts of energy while travelling at such a high altitude, we strongly recommend you to carry water mixed with glucose solution or powder. While most caffeinated drinks act as diuretics, this will keep you hydrated instead.
Easy Snacks
When in Ladakh, every morning, you must keep a few handfuls of nuts in your day-bag. In addition, you must also take some biscuits and chocolates along. These dry snacks are not only easy to carry but offer the much-needed dose of instant energy. And while you're at it, do carry a few spices and pickles with you, as most Indians find the local Ladakh food a little too bland.
Clothing
While Ladakh mostly experiences extremely cold weather due to the chilly winds, this place is known for fluctuating temperatures. Hence, it is best to dress up in layers when here, so that you can add or remove any layer you want to, depending on the current situation. That being said, do not forget to carry your ear muffs, hand gloves and caps along with a decent windcheater.
Now that you know all that you need to in order to be prepared for your trip to this majestic land, make your flight booking at the earliest possible.