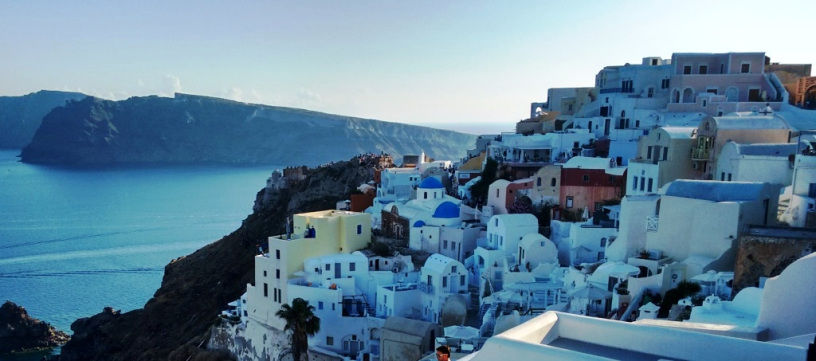 Santorini is one of my favorite places. This is where I had gone for my honeymoon; to fall in love with my husband. Instead I fell in love with travelling. That's what this place can do to you. The iconic blue domes, the whitewashed houses, an expanse of clear sky, serene beaches and the liquid golden red sunset is what makes it one of the topmost honeymoon destinations in the world. Here is my 3 day honeymoon Itinerary for Santorini.
.
Day 1 - Reach Santorini -> Wine tasting in Santo Winery -> Explore Fira -> Enjoy the sunset in Fira
You can either take a domestic flight or a ferry from Athens. The ferry from Piraeus (a port in Athens) starts early morning and takes 7-8 hours to reach Santorini. Since I had never travelled by ferry, we decided to take a ferry from Athens. We went to Piraeus port and bought a 'Blue Star' ferry ticket from Athens to Santorini for € 57. This ticket can also be booked online but you have to pay a convenience fee. We chose outdoor seating on the ferry and enjoyed some stunning views of Greece Islands. The vastness of the blue sea and the strong wind does create a vibe that you cannot feel in flights.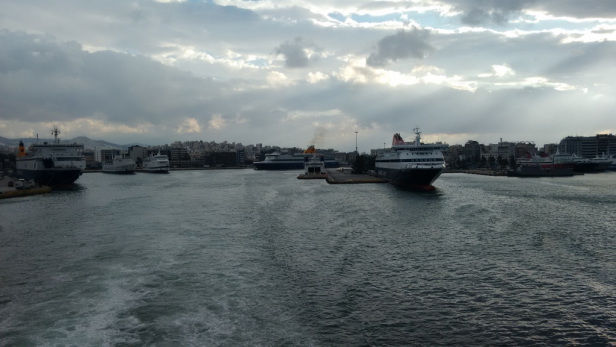 We reached Santorini by 1:30 pm. Most of the hotels in Santorini provide pickup and drop to port and airport. When we reached our hotel's minibus was waiting for us. We checked-in at a hotel in Fira and took an hour's rest. We rented a scooter and started towards Santo Winery (10 km from Fira). Santorini is famous for its unique taste of wine. Vinsanto, Mezzo and Nychteri are some of the popular local wine varieties that can be purchased. We enjoyed the wine tasting and food at Santo Winery!
We came back to Fira and started exploring the restaurants and shopping area. The cliff side restaurants are amazing. We opted for outdoor seating and enjoyed the Fira sunset and amazing Greek food and red wine. A perfect romantic dinner on our honeymoon!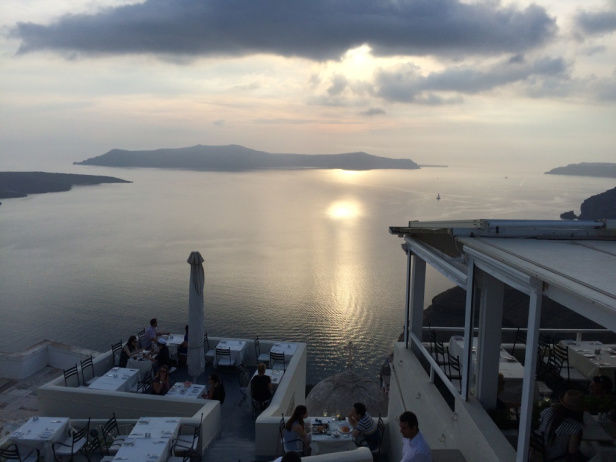 .
Day 2 - Explore some of the stunning Santorini Beaches
Perissa - Perissa is a long black sand beach with many shacks. It is the best beach on the island and a must visit place for beach bums. We just sat on the beach, had a beer and read a book. It was a luxurious experience!
Kamari Beach - Kamari is other black beach in Santorini. We just sat on the beach listening to the waves in the bright sunlight. Even though it was summer in Greece the sea water was very cold. We splashed water on each other, collected some pebbles, searched seashells, clicked selfies and shared an ice cream. We had a fun time here.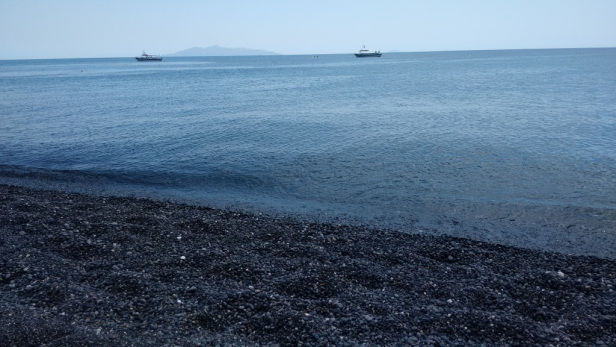 Ancient Thira - Ancient Thira is an antique city on Messavouno Mountain. It is close to Kamari beach. Even if you are not interested in the Archaeological remains at Ancient Thira, you must visit this place for the panoramic view and the long drive to the top of the mountain.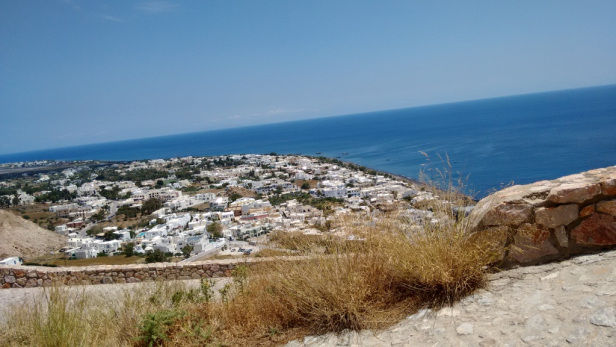 Red Beach - The cliffs around this beach are red and the beach sand is also red. The blue sea, the red rocks and the scenery make this place worth the trip! There are very few snacks options here. I would recommend you bring your own food if you are planning to stay here for long.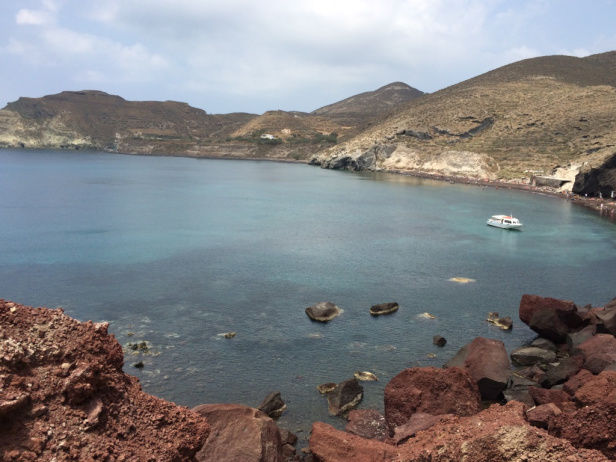 Megalochori - It is one of the picturesque villages on the Santorini Island. We visited this place as it was on the way from Red beach to Fira.
We started our day from Perissa beach and finally reached Fira to enjoy the sunset.
.
Day 3 - Visit Therasia and enjoy the sunset in Oia
Therasia -Start early morning so that you can come back at least an hour before the sunset. To reach Therasia, you have to take a boat from the old port. We first went to an uninhabited island inside the caldera known as Nea Kameni. We actually walked on the volcanic formations to climb to the top of the volcano. From the top, the view was breathtaking. We then went to Therasia and were given 2 hours by the boat operators to explore the place on our own. We sat on a beach for a while and walked around the island. The food here was very expensive and the taste was not that great. If you are visiting Santorini then a volcano trek at Nea Kameni and a visit to Therasia is a must.
The boat dropped us in Oia to see the sunset. This is the best place to watch the sunset in Santorini. To read more about the Santorini sunset and watch a video visit - Best Places to Enjoy The Santorini Sunset.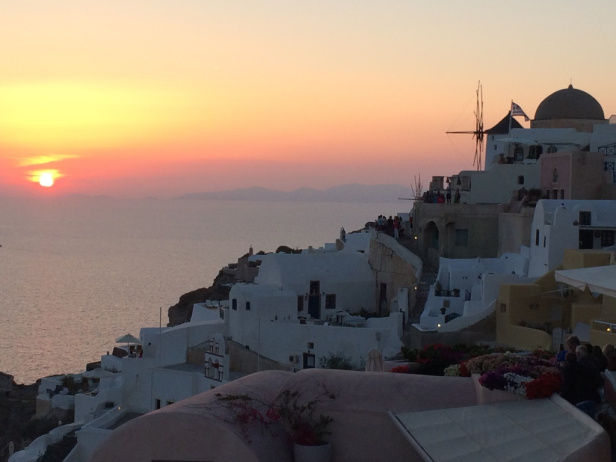 .
How to commute?
Ask your hotel owner to share the Santorini map (tourist places) and rent a electric bike, scooter or ATV. Explore the entire city on your own. Stop anywhere on the road and click few pictures, checkout the small shops on the way and enjoy some street food. You will fall in love with this place.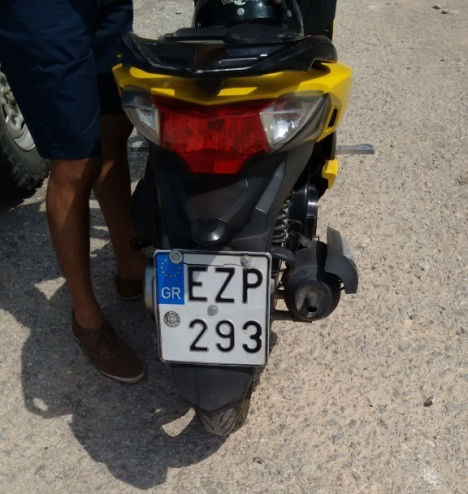 .
What to buy?
Wines - Santorini wines are special and have a unique taste as the vines are grown in the fertile volcanic soil. We bought Vinsanto red wine for € 17 from Santo winery.
Clothes, jewellery, Shoes - Traditional Greek dresses made from Greek cotton is a must buy. You might get these dresses cheaper in Athens but the collection is great in Santorini. I did check out the jewellery section but did not buy anything as it was very expensive.
Souvenirs - If you want to buy souvenirs for your family and friends then I would recommend you to buy it from Athens as Santorini is comparatively expensive.
.
Santorini is one of the most romantic places I have been to and I enjoyed every single moment I spent here. Have you ever been to Santorini? If yes, then do share your itinerary. If you haven't been to this beautiful island so far then it is time to add one more place to your bucket list.
.
Few more pictures from my Trip to Santorini