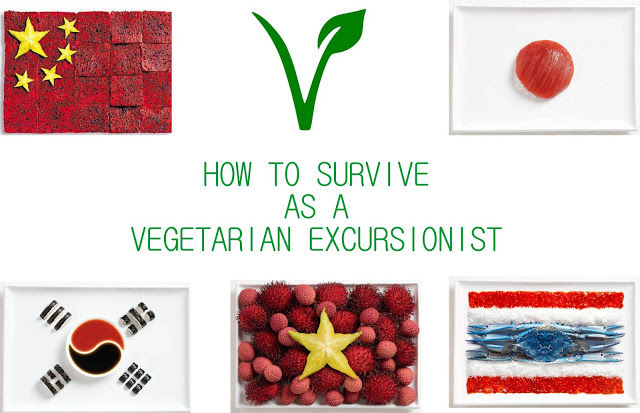 I often think I miss out a lot of things to know culturally when visiting different places, being a vegetarian. But on the other hand, it is an adventure in itself, to find delicious vegetarian cuisines at destinations, which are considered to be the worst for vegan or vegetarian travelers.
I faced this vegetarian problem recently, on my trip to Vietnam. I was baffled in restaurants when I found out almost every food article had a slight touch of non-vegetarian ingredient in them. So my first day in Vietnam was spent by eating just fruits and coke. Then next day I met a Vietnamese guy, who was kind enough to teach me a few phrases, to ask for vegetarian food, and this helped me a lot during the whole trip. Not only I ate decent vegetarian food but I also enjoyed some of the exquisite vegetarian Vietnamese cuisines.Same thing happened with me during my trip to Thailand. So I decided to learn some phrases, that will help me during my future travels. I spent some quality time on Google Translate and Voila ! I now know, how to ask for 'green' food in 5 different languages. I chose these 5 countries to start off because to find vegetarian food in these countries is like finding a needle in a haystack.
1. CHINA
Eating meat is seen as a sign of prosperity in China. Only 4-5 % of the total population of China eats vegetarian food. A few phrases which I thought asking would make everyone understand what I am looking for. Because people asking for vegetarian food in these countries are not much.
2. JAPAN
According to a 2014/12 survey 4.7% of the Japanese population are vegetarian or vegan
Now to find the food of your choice, that too vegetarian is quite difficult. I have never visited Japan, but I intend too soon. So, I researched about some of the phrases that may save my religious beliefs from getting spoiled and ultimately getting spanked by the almighty.
A few useful words and phrases: yasai - vegetables tamago - egg katsuobushi nashi de onegai shimas - without bonito (fish) flakes please ...arimas ka? - do you have...? nan des ka? - what is it? oishikatta des - that was delicious. This always made people smile. arigato gozaimas - thank you sumimasen - excuse me
3. SOUTH KOREA
South Korea is a carnivore's paradise. Cuisine in Korea is largely based around meats, seafood, and rice, although as ever, there are some options for vegetarians.
I like to dream about traveling to different destinations.Although, at the moment it is not possible for me to travel everywhere I dream. But planning to travel to places has always made me happy. So I started searching about the electronics capital of Asia, South Korea. There are few basic phrases which I learned they might help in getting some green food in this meat paradise.
4. THAILAND
I was not in a culture shock, when I visited Thailand. Because, everything felt like home. Although, vegetarian food availability was not high, but it was still manageable. Thai people are fluent in English, so we can relax. But still there is no harm to learn a few phrases, so that you are never left out, when going for a street food trail.
There are a few simple Thai phrases you'll need to help convey your preference. The words "Hello - kin chey" and " mangsavarat" both imply vegetarianism. In a sentence, you may say " Sawadee Khrap (For male) / Sawadee Kha (For females) Di chan kin chey" (for females, or " Pom kin chey" if you are male).
I do not eat meat, fish and eggs - Chan mi kin neux pla lea khi
Thai are well aware of most of Indian traditions, so if you can say I am Indian in Thai, they might understand that you may be asking for vegetarian food. But don't just rely on this. This worked for me, but not sure it will work for you. So remember the phrases or use a translator.
5. VIETNAM
I completed my maiden backpacking trip last year. I chose I do not eat meat, fish or eggs - Vietnam to be the lucky destination. This dragon shaped country, is a hub for foodies.From various street food trails, to a street-food market in almost every town. But again majority of them serve non-vegetarian food. Some of the spices were also made of fish crumbs. I survived on fruits and coke for the first day and some Gujarati Thepla for the next day. But than I grabbed some courage and asked a Vietnamese fellow traveler to help me taste the best vegetarian Vietnamese meal. Well, he than taught me a few phrases and the next few days were a delight to my taste buds. Hello - Xin chao!Toi khong an thit, ca va trung
No meatVietnamese people mostly drink black coffee without sugar and milk. If you are not used to itYou can always have the famous ' - Khong thit , ask for 'Duong' which means sugarand Pho' , ' Bun Cha' and ' Banh Mi' at every corner of Vietnam. Just ask for no meat and you can enjoy the vegetarian version of the famous cuisines of Vietnam 'Sua' for milk.
Your first line of defense in an "ordinary" restaurant is to not ask for vegetarian food per se, but to mention what you do not eat and hope the server can point out menu items that fit. You can immediately see how language skills are going to play into that process, but, at least as a starting point, you should know the basics or at least use some technology to make the person understand your food habits. We all know without healthy and tasty food, we might get lethargic and won't be able to enjoy our journey. In the end, we should know the basic language of the place we are visiting, not just food but the greetings as well. Language skills might save us big time.
This post was originally published on Indian Excursionist.