Last October we have visited Andaman and Nicobar islands. It was a self arranged tour that went all well.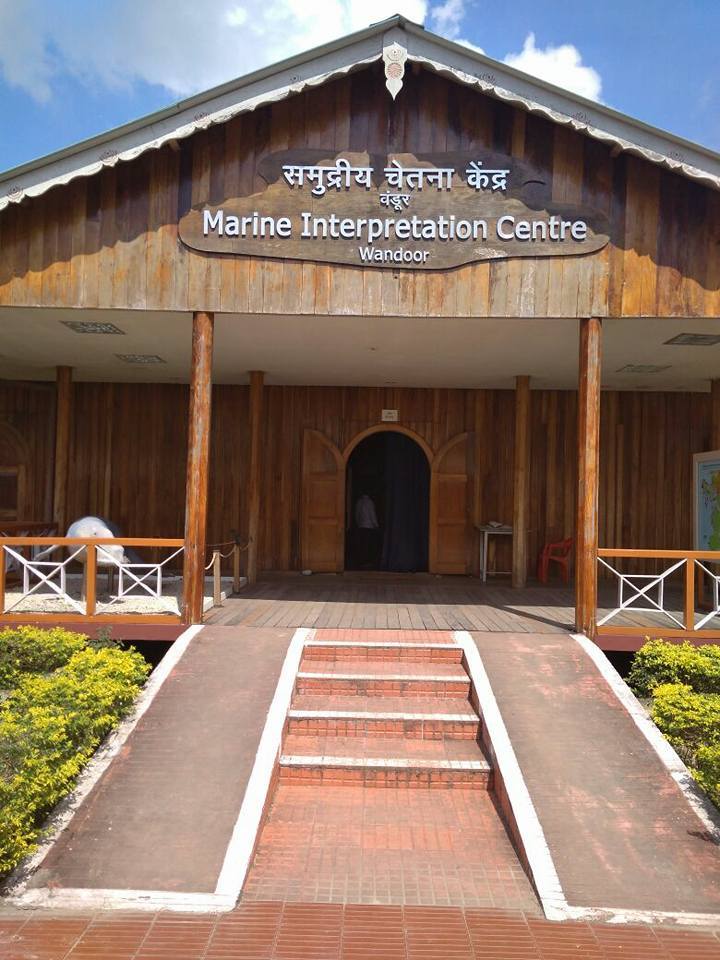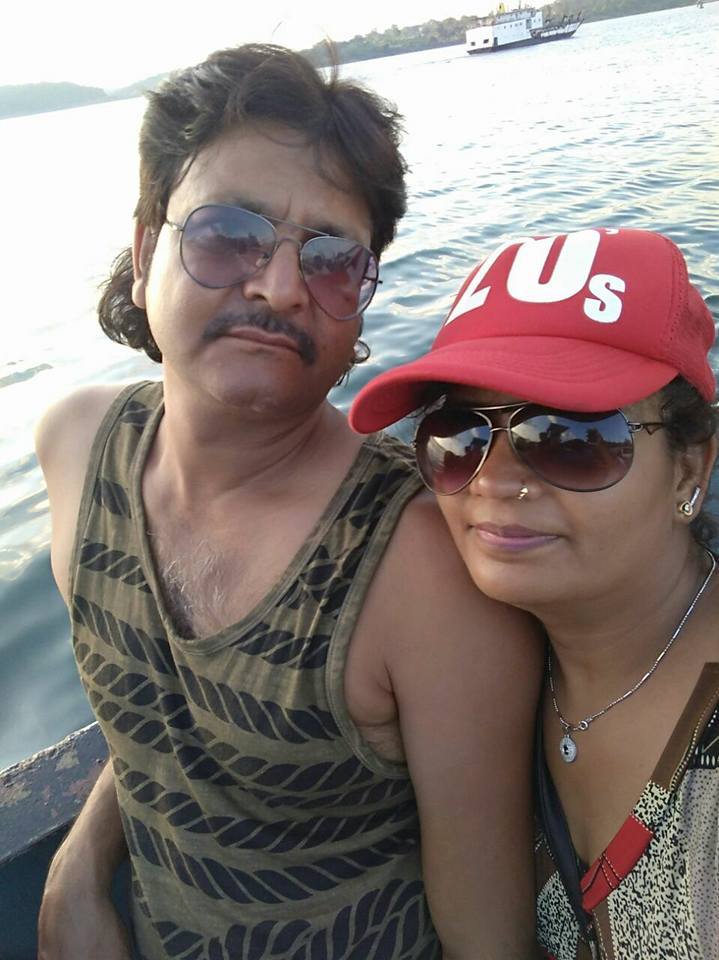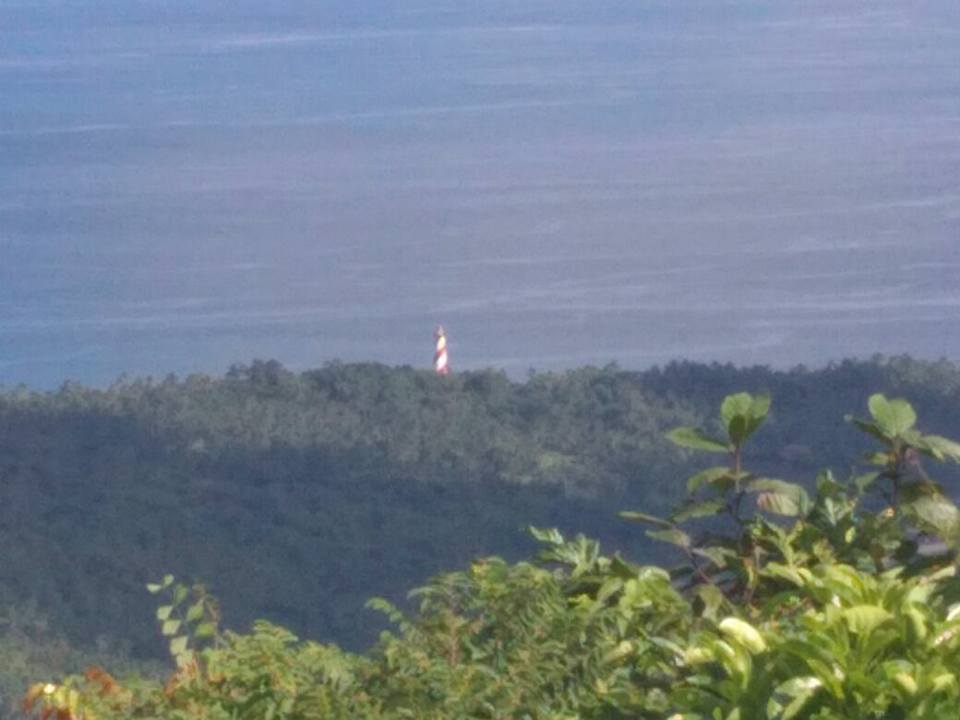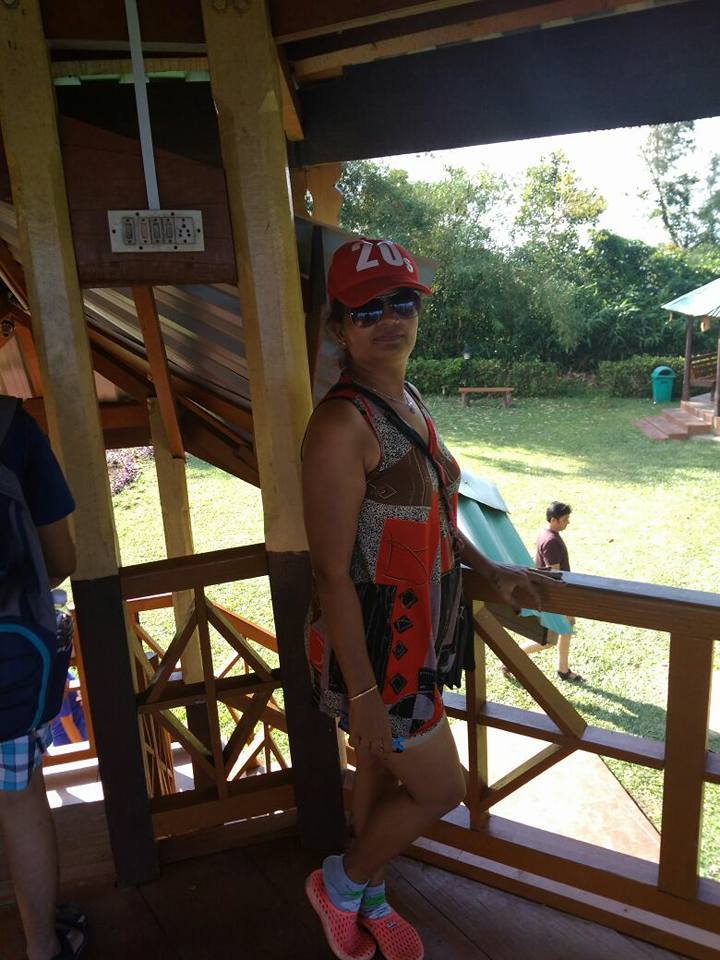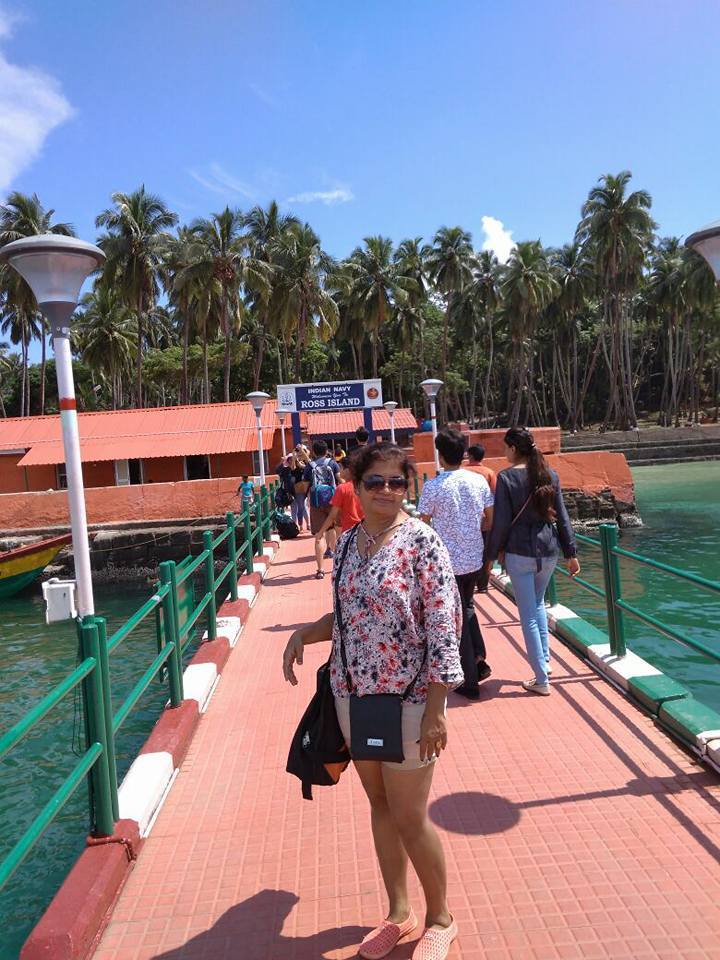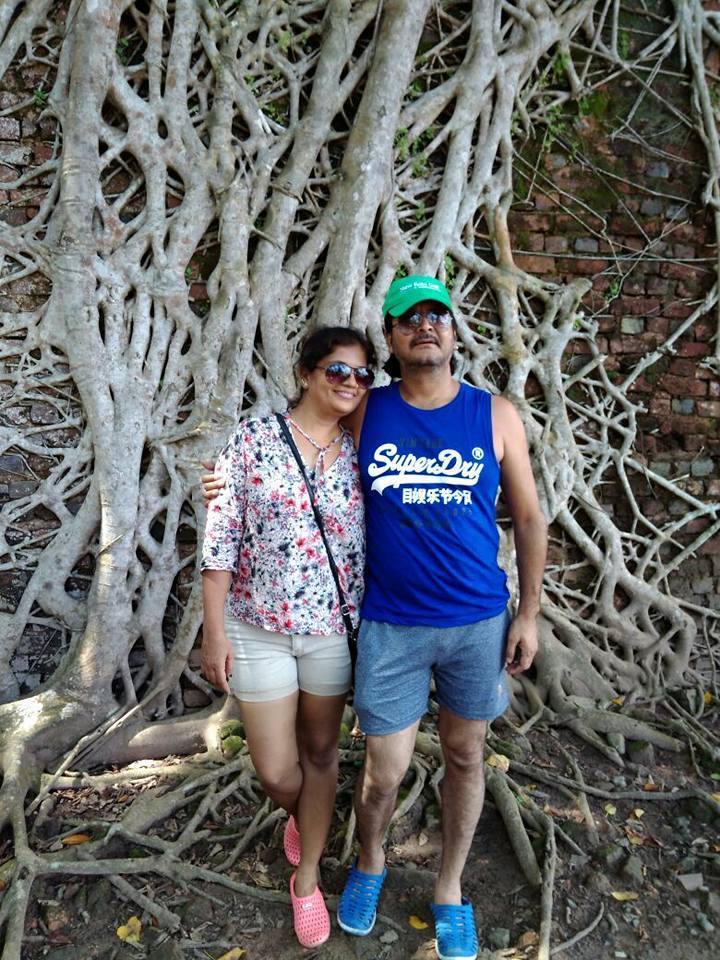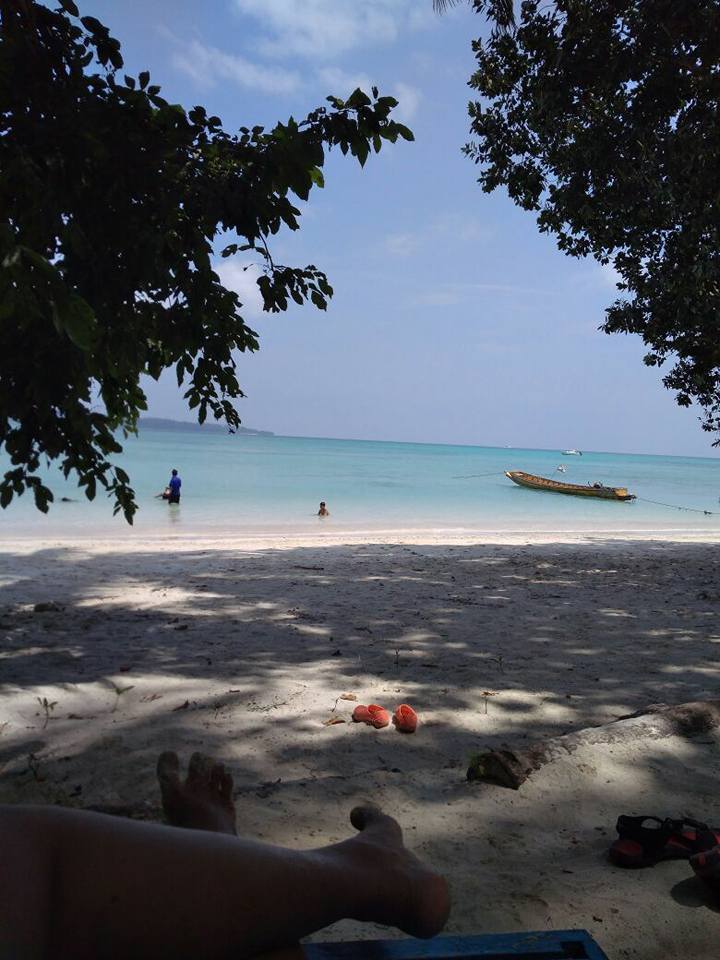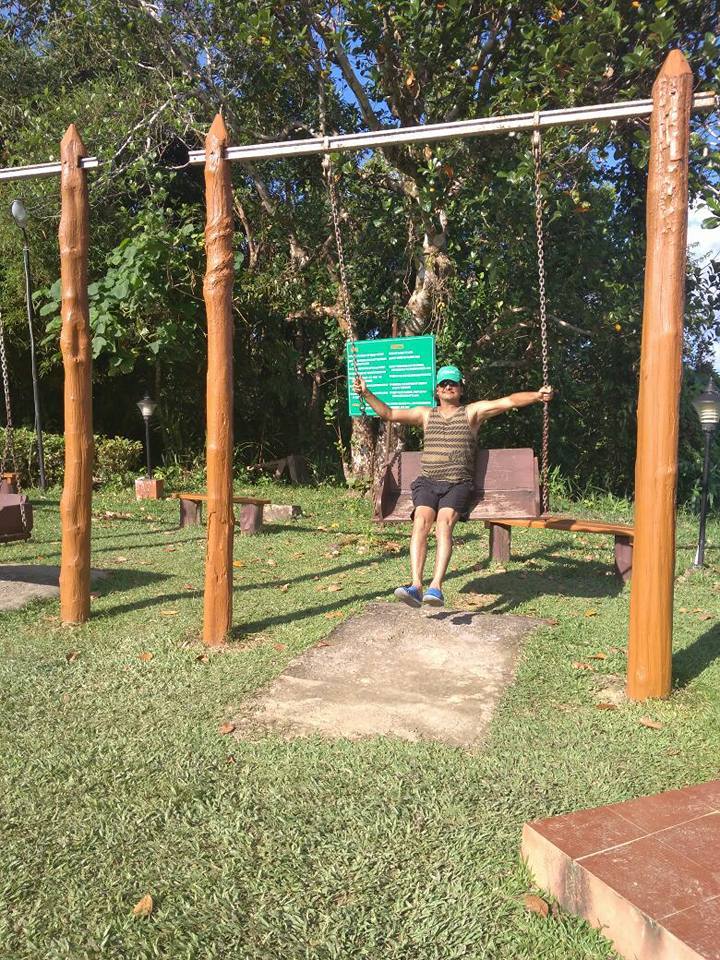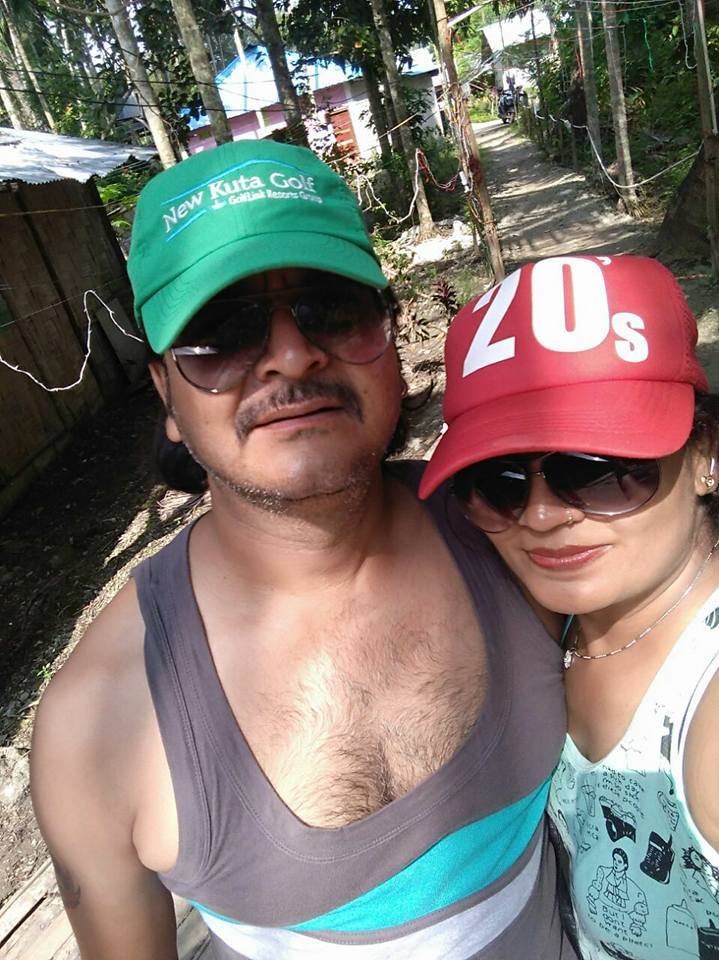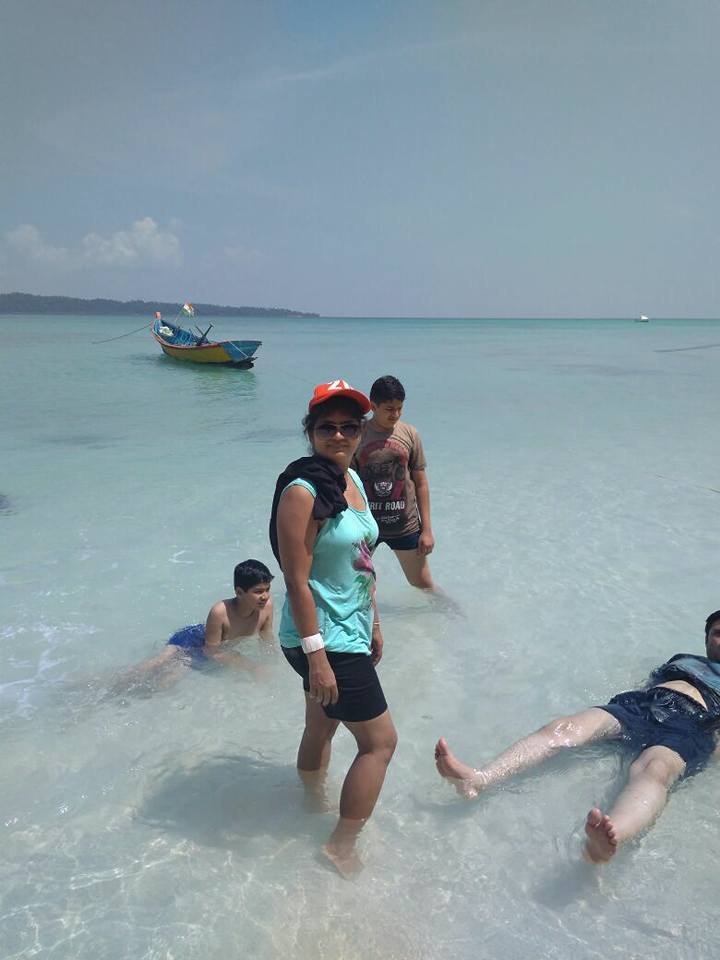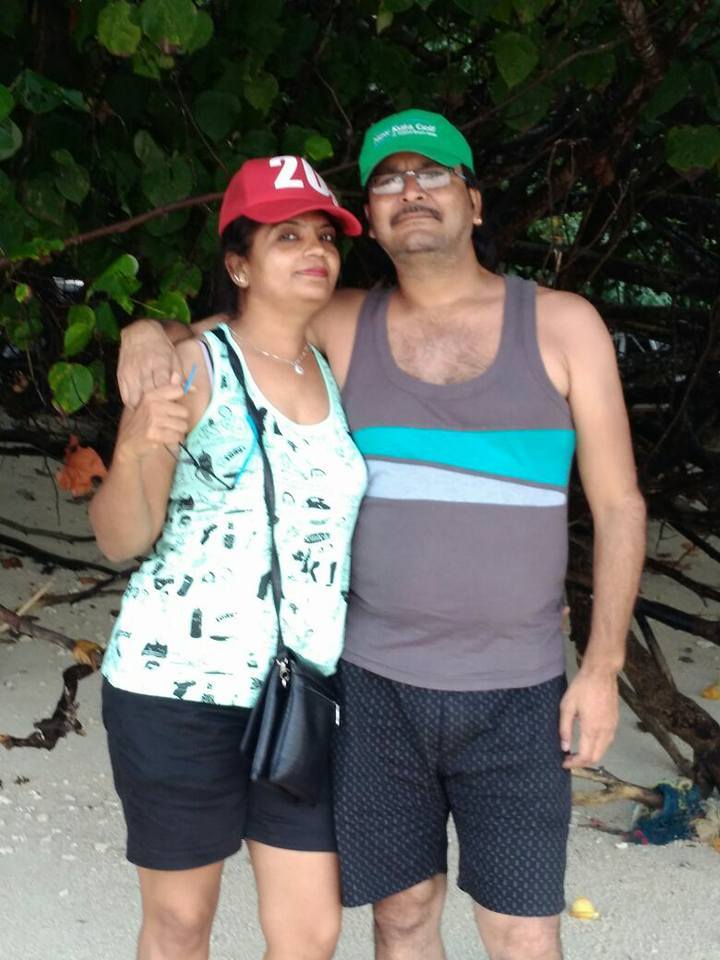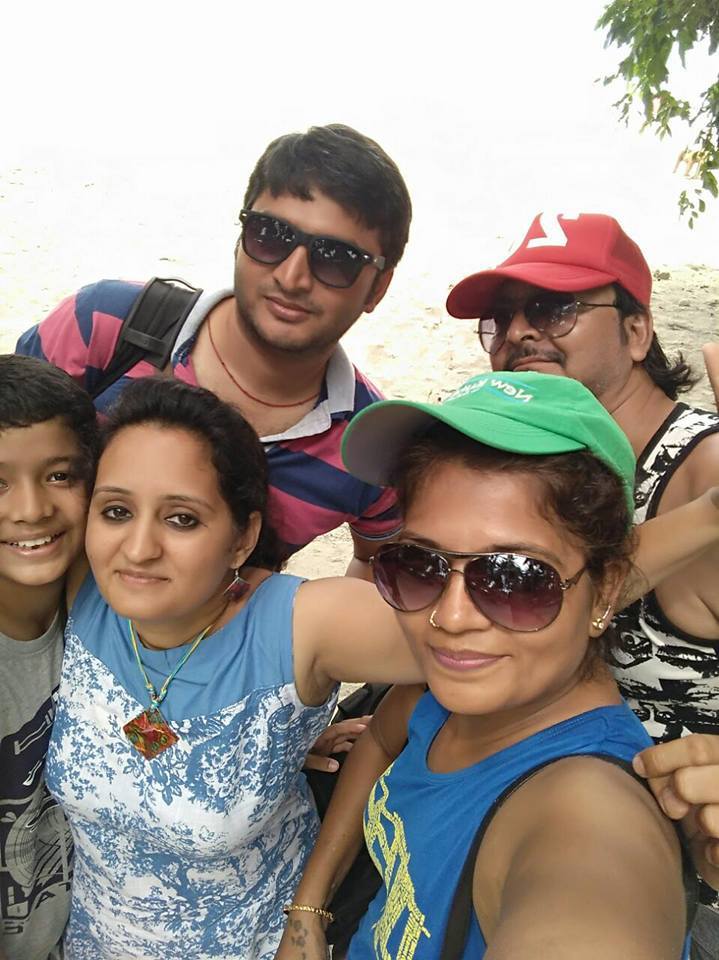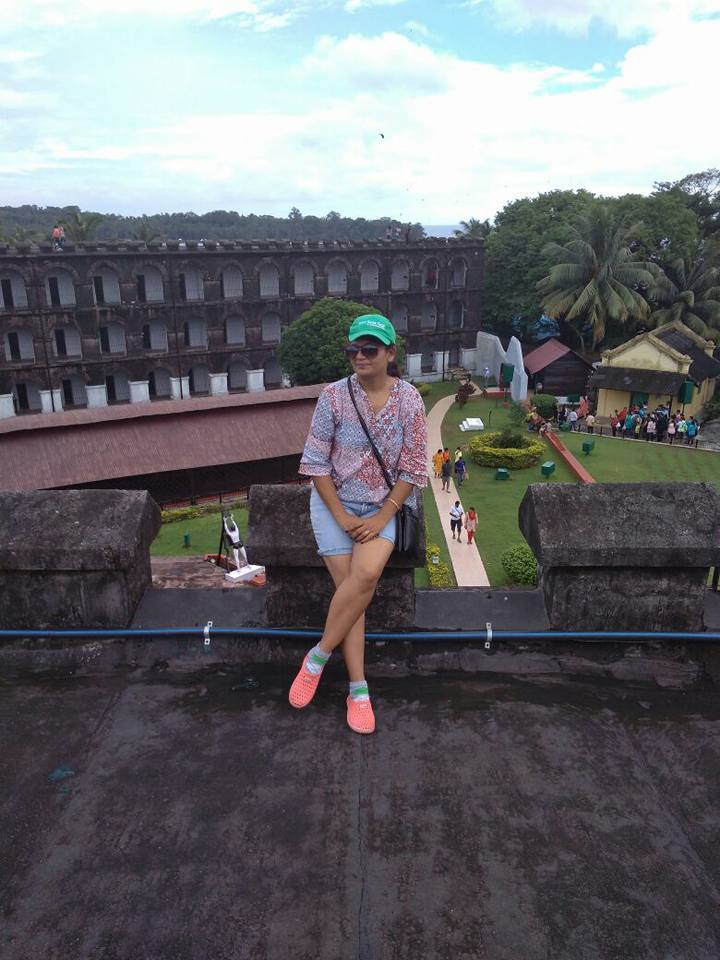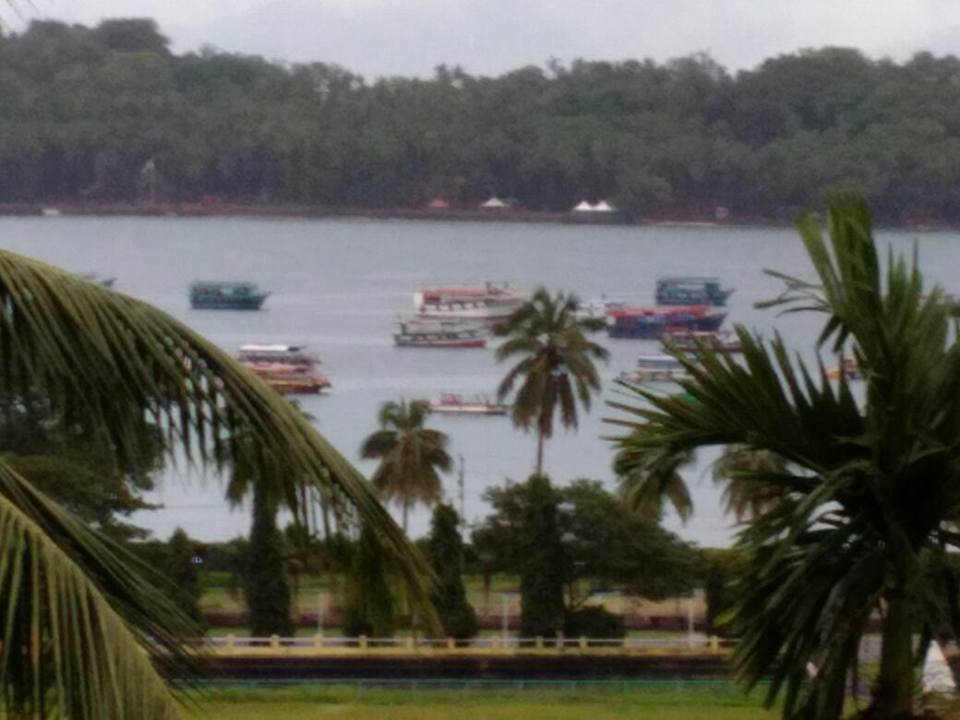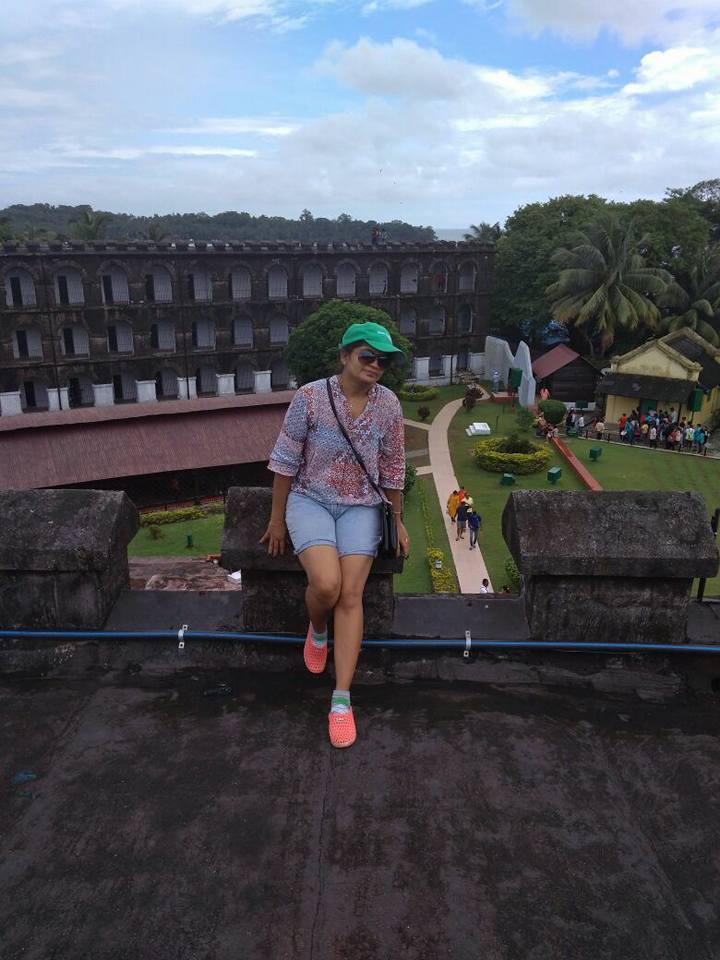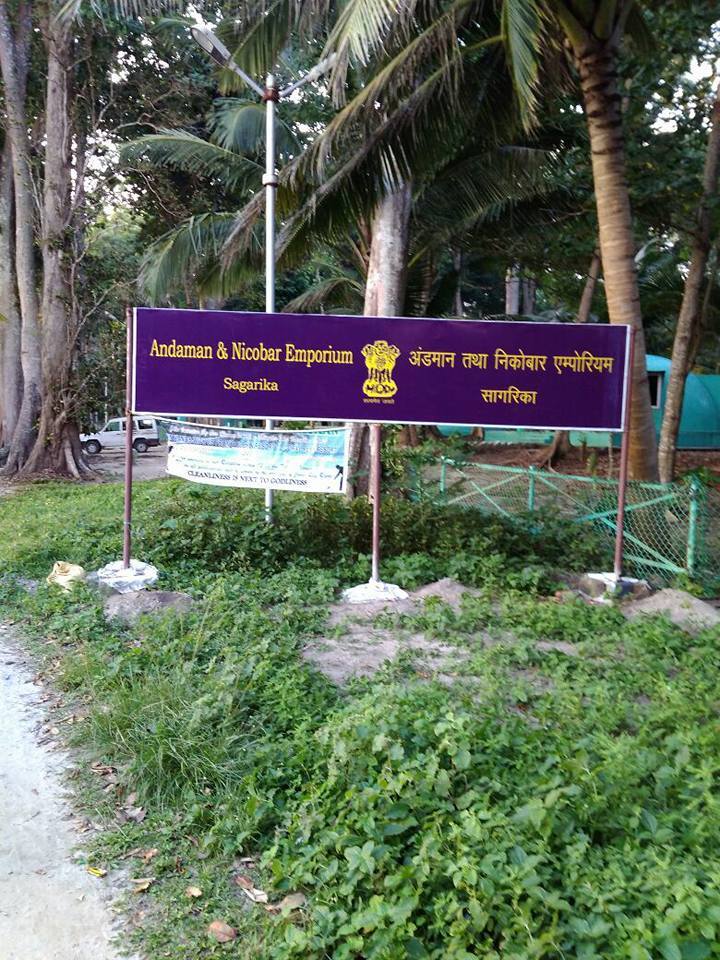 Started trip from Surat to Mumbai by hiring a car. Reached Mumbai airport at midnight and departed for Bangalore flight. We have done flight booking very early. It costs return flight 20k p.p. it's good to plan this trip in well advance so you can save money on flights and hotels. From Bangalore to port Blair, it takes 2-50 hours and landed in noon. We called our hotel in advance so he send taxi for us costs rs. 230. We booked our hotel also in advance and it was a p.g. type hotel. It's costs only 700₹ per night per room from Goibibo. Hotel blue bridge in Aberdeen bazaar. It's a Nice place for family. And you can roam on foot around this area. At this first day we got tired and done nothing. At seven o'clock went for dinner at Milan restaurant in bazar just walking distance. In Port Blair there are two three restaurant like Anna Purna and Milan are good.
We hired a car for sightseeing for 2200₹for  six persons Maruti artiga. We visited cellular jail ₹20 p.p., Munda pahad beach, chidiya tapu- sunset point, anthropological musium ₹ 20 p.p. , Marina garden. 5-30 return. This place has early sunrise and sunset so started get dark. Car was provided by our hotel staff by a call a day before. So no problem at all.
This is the day we have waited for. Going to Havelock island by maccruz fairy. We have booked this tickets prior four months from our Surat local agent. Because we heard that its  quiet rushing around diwali time. Maccruz fare was 2600 ₹ p.p. including our agent commission. We tried to book ourselves online but it can't so we paid around 300 ₹ extra to agent. Our tickets were reached on hotels and we moved in taxi ₹200 to Harbor. In security check, you are not allowed to carry any wine beer or whiskey in hand baggage. You have to put it into your luggage. And yes if you are fond of having hard drinks, take it from port Blair.. because in Havelock you cannot find as any wine shop. There are one or two bars but it costs very much high.
Three hours taken to reach Havelock. We called hotel and they sent cab. 200 ₹ . We booked hotel Holiday inn beach resort by Goibibo. Hotel was on the beach side and we got amazed to see green blue Clear sea just beside. It's a very nice hotel. Costs us 6k per couple per night with breakfast. But it was worth after see the view. Here we have to order in advance for lunch. Food is costly in comparison of our main land. But we have no option.
Our driver came at 3 o'clock for our visit to Radha Nagar beach. (1000 ₹ for taxi). This is one of Asia's most beautiful beach. Big waves and clean water and beach was fascinating. Changing rooms are available here. (10₹). Cleanliness maintained.taken dinner at shakahar restaurant near our hotel (veg) good food and busy restaurant. It is not worth to try food at any place on this island.
Our hotel was on beach no. 5 and it's a famous place.
In Havelock, we have nothing to do much but our hotel beach was awesome and we enjoyed there in blue water. No pollution, no noise, just a calm water.
After relaxing we hired a car for ₹ 800 for Kala patthar beach. A shallow water beach. Nothing much to do there. You can enjoy coconut water as much as you can.
Cycles on rent available here around 200₹ a day. Couples can enjoy cycling and surf the island.
We left room at nine in the morning and cut our time on beach sack as our return fairy for Port Blair was in the evening at four. Two hours of travel and we were at port Blair. In our hotel blue bridge.
Today we were planned for North bay and Ross Island. Our tickets were arranged by hotel staff. We started our journey from Marina park near our hotel we paid 800₹ p.p. for both island tickets. For scuba or snore keiling, also paid here in advance. We paid 3500₹ p.p. for scuba. It's good that if you can't do scuba than you get your money back 500₹ less. So no worry to pay. First visited Ross Island, made for pleasure and enjoyment of Britishers. A much historical place to visit. Church, barracks, bakery, water purifier machine of that time. Food is not available here. Just a little snacks and fresh coconut water.
From here we went for North bay for scuba diving. We all had purchased coupons for that and done scuba successfully. They are quite helpful so not to fear in my opinion. Here we had our lunch at local dhaba. Very basic food, dal rice, egg bhurji. Return at 4 o'clock at our hotel.
For trip of baratang jungle, you have to get permit in a day advance and our hotel attendant done that for us ( he was not charging us extra for these type of work.) Our taxi came to hotel early in the morning at 3-15. We don't know that this would be our most hectic day Tobe. Taxi charged 4000₹. Reason for going early, we know when reached at border of jungle at 5 o'clock. A very big queue of vehicles were there and we also Stopped there. Six o'clock border gate opened and all vehicles departed line by line. After one and half hours ride we reached at jetty, where a ferry boat taken us to an island that connects to lime stone cave and mangroves. (10/- p.p.). At this island we filled a form and taken permits (800/- p.p) (don't worry, it's worth) for mangrove jungles and limestone caves. A small speed boat of 10 persons taken us to 9 km long ride to mangroves. It was worth watching. Don't miss this experience for quiet big budget.
Return from that we came to that island again and went for a quick visit to mud volcano by jeep for rs. 600/- ( whole for six to seven persons). 40 minutes total time and 1 km walkable distance to volcano place. Nothing much to see here. You can skip this. This day trip is too much hectic because we have to follow checkpost timings so we moved fast and crossed it before 12-30. Return to port Blair at 4 o'clock. And all tired so much. But we have also seen jarwas Adivasis in return and our day was worth.
Manjeet recommend us to visit Chatham saw mill and mount harriat. We hired a taxi for₹ 2400 ( 6 pax) nine o'clock we moved for saw mill that is connected by a small bridge on Island. Asia's oldest working saw mill. Traditional way of working with wood. Just before that we had visited a naval marine museum. (₹ 30/- p.p.) small description to aqua marine life.
From saw mill we bought tickets for ₹ 10/- p.p. to go to bamboo flat island with our taxi. Which took us to mount harriat peak and national park. Nothing found her e for lunch. But mount harriat is a peaceful place. From here we can see all major Islands bird view.
Finally we think that today would be our day of our own like tour packages. But Manjeet had arranged a difficult permit for Jolly buoy/redskin islands. (800/- ₹ p.p.) so we hire taxi for ₹ 1500/-  and moved at 7 o'clock to enter the forest area. A ferry boat taken us to island. This island is amazing experience. We also paid 600/- p.p. extra for a glass boat ride watching corals ( 40 minutes) must watching. Enjoyed swimming and snorkeling. Returned early and taken lunch at icy spicy restuarant St jungli ghaat. Food was nice and tasty.
Finally with a heavy heart, we had to left Port Blair at nine o'clock. Our flight was on eleven.  We moved with a great memories.
P.s. you can visit this island whole year except in rain esp. June July August. Keep umbrella in all season. If you are fond of having hard drinks, please have a credit card with you. Without that you can't purchase any alcohol bottle. You can save money on flights and hotels maximum. Because food and conveyance are almost fixed. And water rides scuba-diving, snorkeling are also fixed priced.
#self arranged tour to Andaman and Nicobar Islands