It was back in December 2015 when 6 of us were in mid of a two week backpacking trip to Bhutan. I was leading the introductory trip on behalf of DarkGreen Adventures. On 7th day we saw some lovely monuments in Punakha and then decided to explore the remote villages of Punakha. I had read about a homestay named "Aum Chodey" in a village called "Dawakha". When I called up the publishers for more information they banged the phone saying that they don't entertain backpackers. We decided to find it out based on the little information we had. Fortunately we had a very friendly driver "Tshering" who could speak Hindi. Though everyone in hotels and restaurants could speak acceptable level of Hindi or English, rural Bhutan was very different.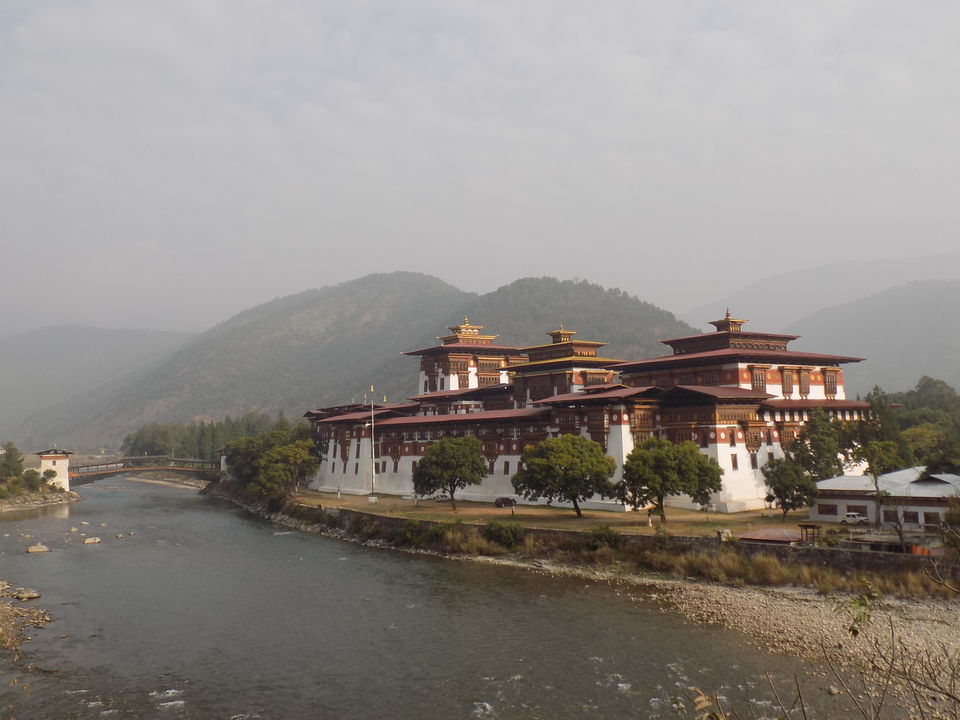 As we set out along the Pho chu river we came across unmissable hanging bridges. I told everyone that if we get late and don't find the right homestay we may have to spend night in our car trembling in cold. But we all were too excited to do photography on that bridge and ignored this warning. Anyway it was 4pm and Punakha was not as cold as other places of Bhutan. Later Tshering asked for directions to some people and went on driving confidently taking random left and right turns. As we moved ahead it was getting cold and we could barely see any home or people around. I had a strong feeling that we have lost our way so I advised Tshering to stop and ask someone. A vehicle came from front direction and told our driver that the village is in same direction in which we were going but there is no homestay out there. He advised us to go back. But I was not in a mood to back out so early and pressed to go to village and search.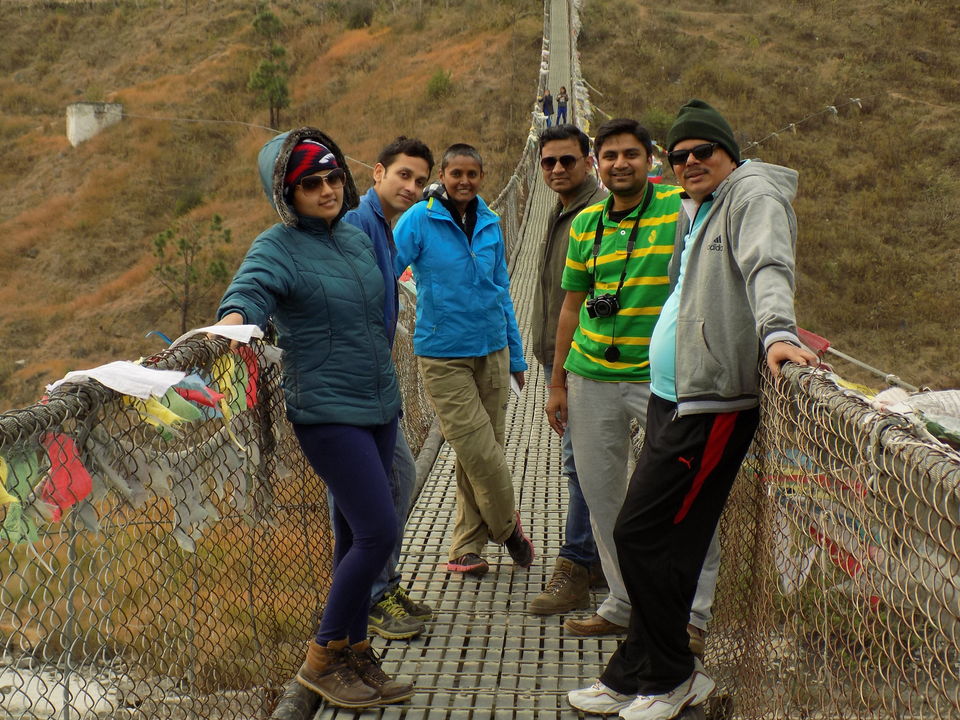 By the time we reached village it was dusk and we were already shivering a little. The curious villagers gave us the same answers that there is no homestay here and we should not have come here without preparation and prior knowledge. Till now Tshering was leading the conversation in Dzongkha language and it appeared little disheartening to all of us. Then I spotted a 15 year boy looking at us. I guessed he might be going to school and knowing English. His name was Karma.
Me: Is there any place to stay overnight?
Karma: No
Me: So where do the guests stay when there is a function in village
Karma: They stay in the hall beside the temple
Me: So why can't we stay there
Karma: Coz the hall is locked and key is with the village authority
Me: Can we try and get permission?
Karma: Yes, Let me talk to him. But do you have mattress and blanket?
Me: No, we have few thin blankets only. If you can arrange 2-3 mattresses we will manage for the night.
Karma: Okay. I will try
Me: Where can we have food?
Karma: You can go to the end of village. Take a left turn and walk 100 meters. There is a shop out there.
We took out torches and started walking towards shop. I asked others if they are scared. Half of them replied yes. The shop was so small that it was hardly visible. We helped the uncle in shop keep some newly arrived packages of groceries. Later we tried to explain him that we need food. He was sympathetic but could not understand a word in English or Hindi. He then called out a 10year girl named Nimomo for translation. Nimomo was much smarter than her age and managed to explain our situation. We cooked our food – potato curry, egg bhurji and rice at their home. They also served us hot tea and we had good time interacting with sign languages and taking photographs.
It was 9pm and we decided to return to temple area. We were trembling in cold and didn't even try to guess about we are going to do with some thin blankets and bedsheets we carried in our bags. Our eyes couldn't believe what we saw there. Karma had arranged a mattress and Kambal for all of us. We invited him and his friend Nima Dorji to spend night with us and later taught them to play cards. Nima Dorji was of same age and about to start his career to become a monk. They told us that there is a hot water spring located approximately 4 hours (two hours drive and two hours trek) from the village.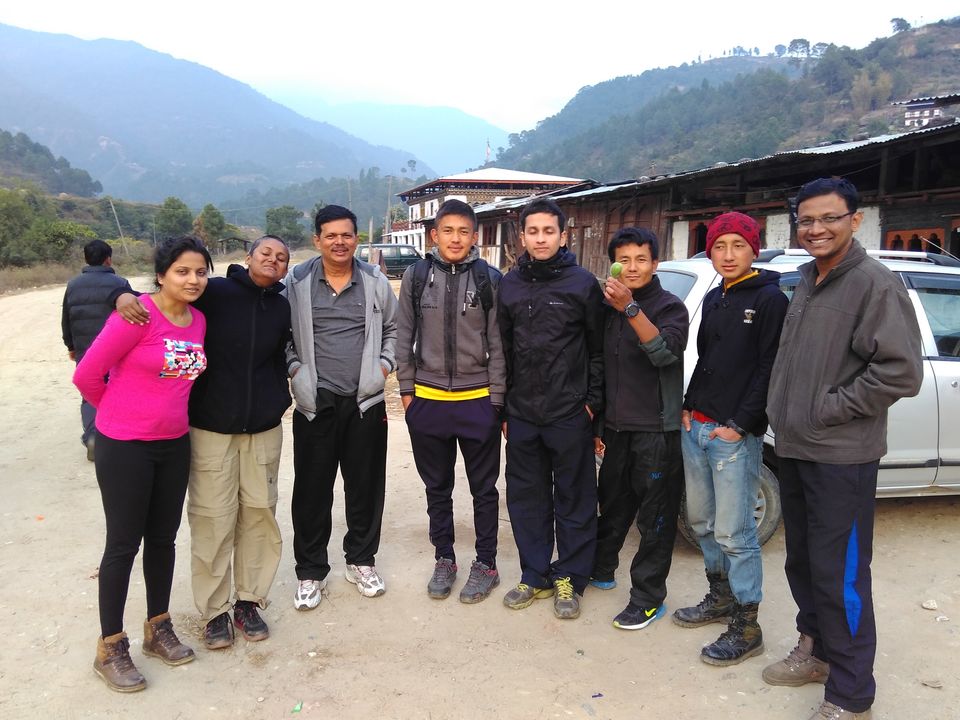 Let's go - We all decided unanimously. Next morning we packed our bags and took those kids with us. After riding through the remotest roads of Bhutan and passing through the canopy of orange trees we reached the point where we could start trek. We had some bread jam kept in our bags and tea in a local village outlet. The trek route passed through untouched and clean forests of Bhutan. On our way we saw many kind of berries but didn't dare to taste. Then we reached the hot water springs which was divided into two parts – Hot and very Hot. Frankly I did not even try very hot one. But the most notable thing was the reaction of people at hot water spring. They could not believe that we reached that point without any local guide and one of them said that they have not seen any Indian coming to this remote area before. I don't know whether it was an exaggeration or not but we do felt proud of our backpacking trip. Surely we would have missed such opportunity of exploration with any travel package.