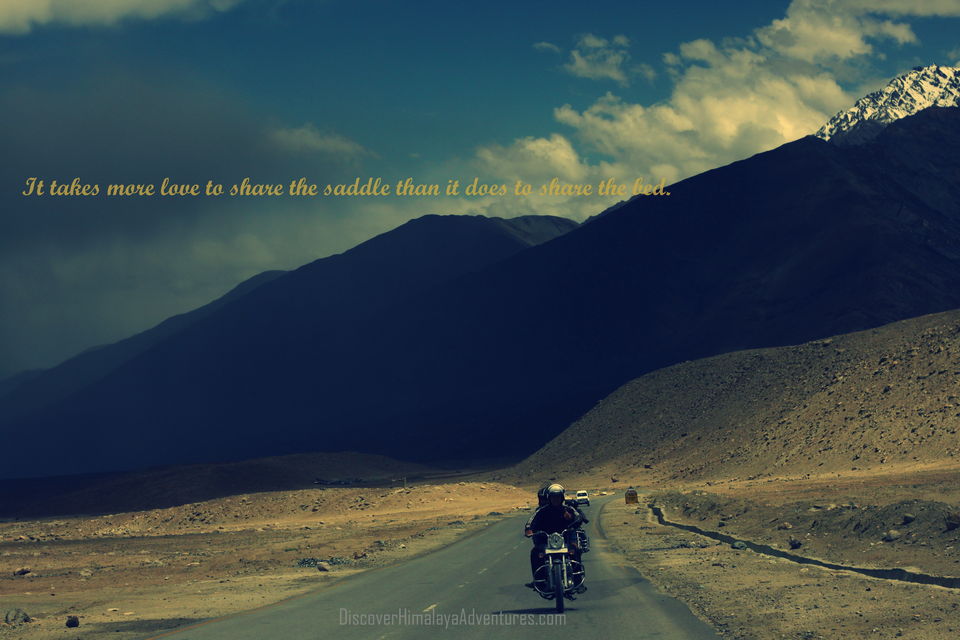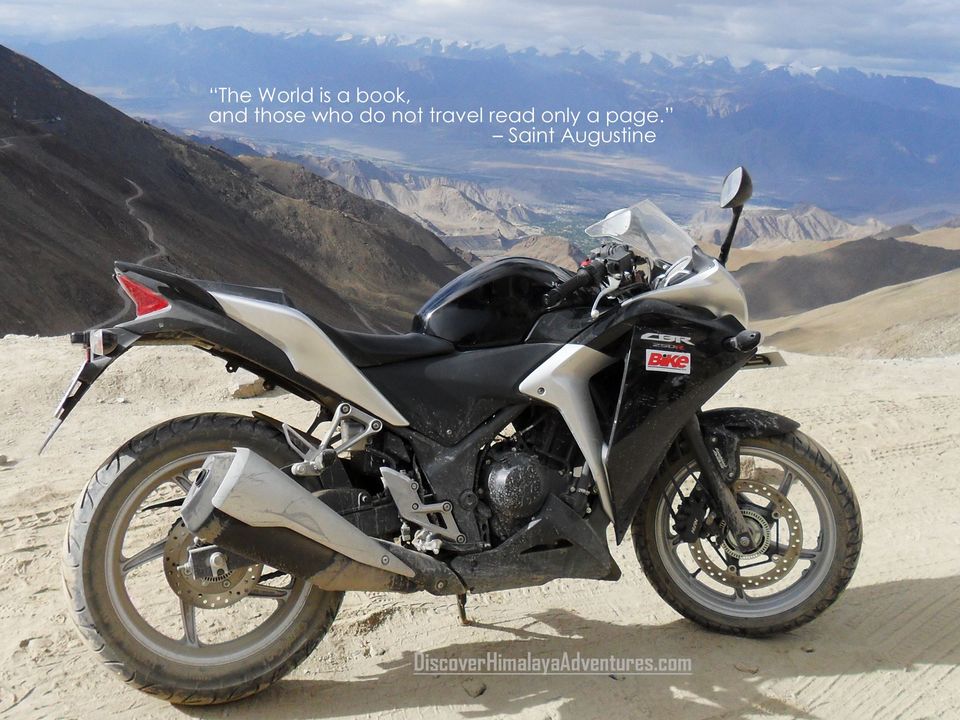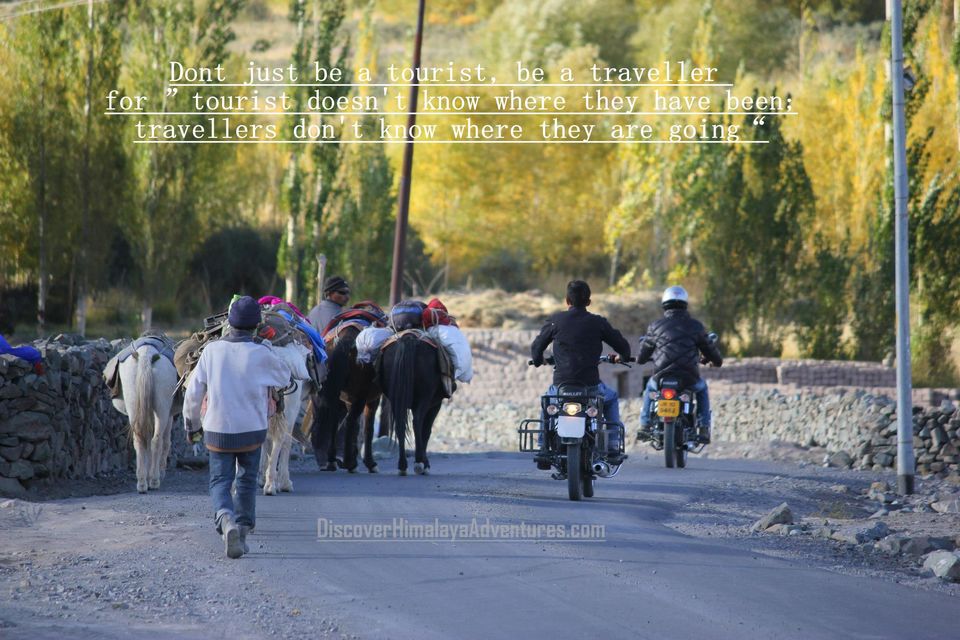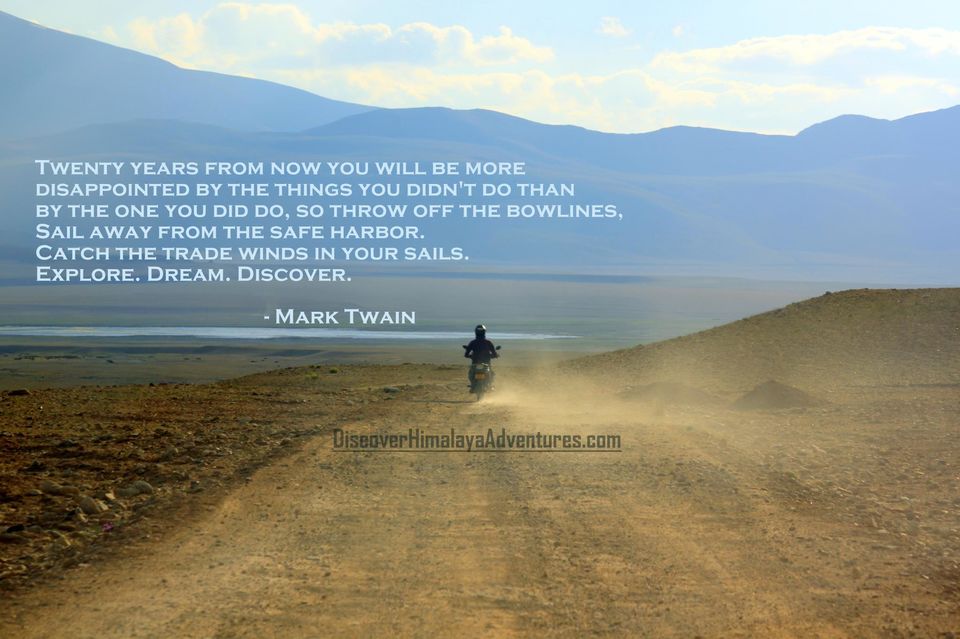 "MOTORCYCLE TOUR", 

Jammu to Leh - Ladakh via ( NH 1 A and NH 1 D ) spellbinding Srinagar, Zoji la pass (Elevation : 3,528 mtrs) , Kargil, Lamayuru ......

-'The awesome news is' all MOTORCYCLES will be provided FREE OF COST, u just have to pay for yourself (your accomodation and meals) and the fuel of course. It will be a maximum 3 days tour.

We will be throttling 723 kms, split in three days:
- Day 1 Jammu to Srinagar 295 kms.
- Day 2 Srinagar to Kargil 213 kms
- Day 3 Kargil to Leh 215 kms

Access the link below for the route map assistance: 
https://www.google.co.in/maps/dir/Jammu/Leh/@33.6364311,75.8268684,9z/data=!4m13!4m12!1m5!1m1!1s0x391e84bf169d3525:0xf233488eeb8fd8d!2m2!1d74.8570259!2d32.7266016!1m5!1m1!1s0x38fdeb21445fed85:0xd1bb09975086f710!2m2!1d77.5770535!2d34.1525864


-You should know "how to ride a bike".
(riding experience of atleast 3 years).

-You can bring your own motorcycle too.

-You need to have a valid driver's license.

-We will provide helmets.

-The dates might fluctuate depending on the condition of the Srinagar - Leh highway.

-INTERESTED RIDERS CAN INBOX ME FURTHER ENQUIRIES OR CALL @+91-9958807043/ +91-9622961953.

"MORE INFO"

I am getting a lot of queries about the other expenses like:
1. Fuel charge.
2. Accomodation fares.
3. Climate.

1. Fuel charge:

The stretch is 723 kms. so do the math give and take 5 ltrs. off of 35 kms. which is the mileage so 30 kms. on the safer side,
the tank capacity is 13 ltrs. > so 13*30 = 390,
there you go 'two times tank full' will 'speed you on' all the way to Leh.
[jammu: most recent fuel price=60.4 Rs/Ltr]

so two times tank full = Rs. 1570.4/- precise.

2. Accomodation charge: 

There will be choices from hotels to guest house to homestays.

In Srinagar, you can also stay in houseboats, there are again choices, click here for the house boats tariffs: http://www.kashmirhouseboatsonline.com/houseboat-tariff.html

In Kargil, the rooms will be cheaper, you will get a good room for around Rs. 1000/-. 

In Leh, we can arrange for rooms on the way to Leh itself.
And half and hour after reaching there you will be under a shower giving your body a good deserving bath.

3. Climate:

In Jammu, in April the climate will be minimum 10 degree celsius and maximum 30 degree celsius and on the way to Leh it will get only colder and the mercury will drop till minus 5 degree celsius.

so carry your rain jackets and warm clothes and caps if you must.

-Leh is above 3500 m (over 11,000 feet) and other parts of Ladakh are higher yet. There is risk of altitude sickness, especially for those who come from a lower altitude quickly, such as by flying in.

-Those with specific health problems should carry any medication that they need.