Humayun's Tomb is the tomb of the Mughal Emperor Humayun. Located near the crossing of Mathura road and Lodhi road, Nizamuddin East, Delhi. This glorious garden tomb is the first fine example of Mughal architecture in India. It was just a sudden trip planned by me and my friends. Turned out a nice one as it was raining that day. We started by going round the other tombs first and at the end the main tomb. This place comes as a breath of fresh air, once you are inside the place it seems like a place all away from our busy Delhi and you have reached somewhere in the rich mughal era.
The architecture, the making of the place and the fine gardens their made it a place you would love to go to find some peace. It's a picturesque place, which gives you a lot to admire, capture and get inspired. Well, I would suggest it to you if you are looking out for some quality time with your friends and close ones and also if you are thinking to add some vintage touch to your album.
Inside the walled enclosure the most notable feature is charbagh with pathways water channels holding the tomb in the middle. It was built in 1565 nine years after the death of Humayun by his senior widow Bega Begam. When Humayun died in 1556, Bega Begum grieved so deeply over her husband's death that she dedicated her life thenceforth to a sole purpose: the construction of the most magnificent mausoleum in the empire, at a site near the Yamuna River in Delhi for the memorial of the late emperor. This tomb, is of particular cultural significance as it was the first garden-tomb on the Indian subcontinent. It inspired several major architectural innovations, culminating in the construction of the Taj Mahal.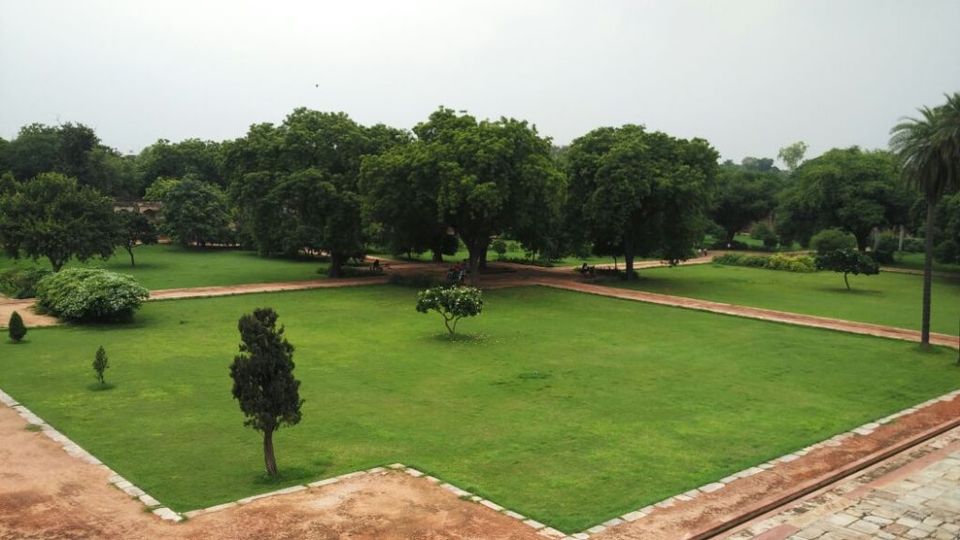 The complex encompasses the main tomb of the Emperor Humayun, which houses the graves of Bega Begum herself, Hamida Begum, and also Dara Shikoh, great-great-grandson of Humayun and son of the later Emperor Shah Jahan, as well as numerous other subsequent Mughals. The mausoleum stands on a high, wide terraced platform with two bay deep vaulted cells on all four sides. It is surmounted by a 42.5 m high double dome clad with marble flanked by chhatris and the domes of the central chhatris are adorned with glazed ceramic tiles. The middle of each side is deeply recessed by large arched vaults with a series of smaller ones set into the facade.
How to reach
It's an easy to reach place. Well here I would say, DTC's 794 no. bus will be the most convenient option to reach there as it drops you just at the desired location and in a minute's walk you will be there. If you opting for metro, then JLN Metro Station is the nearest.
Outline
Timings – Daily from Sunset to Sunrise
Entry Fees – 30 bucks for Indian citizen per head ; 500 bucks for every foreigner
Video filming – 25 bucks
Photography – NIL
Popular for – History Buffs, Experience Seekers, Photo Fanatics
This blog was originally published on 'Letusxplore'