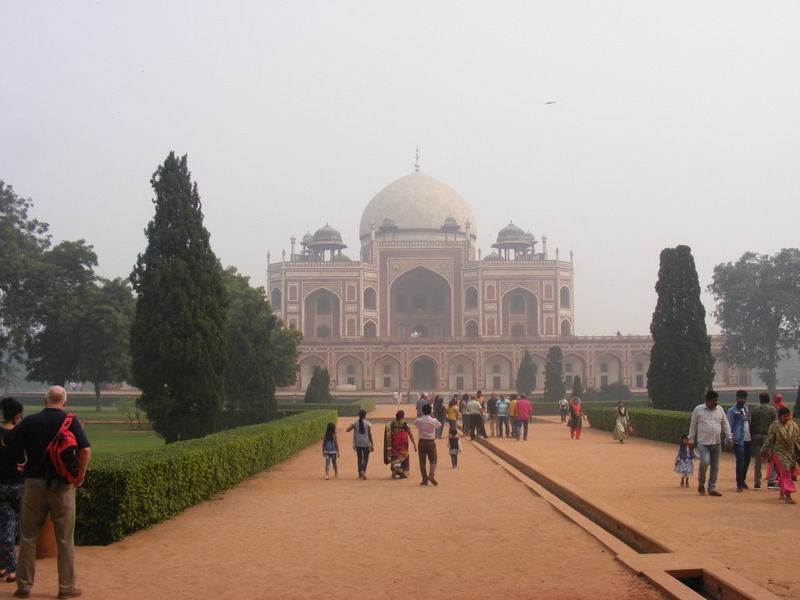 Delhi is an old flame. I love its ambience, its trees, its Raj residues and its bustling busy-ness. I took an Uber to reach Humayun's Tomb near Nizamuddin.
For all of you Delhi lovers I have to recommend a must have book-Delhi by Lucy Peck. She has documented our capital's monuments with such extreme love and historical facts and careful drawings. It is a must have for a Delhi traveller.
Humayun was Babur's son. Babur set up the Mughal Dynasty. Humayun ruled in 1530 but was ousted by Sher Shah Suri and had to run away and seek refuge with the Shah of Persia. He came back with the help of the Shah and established his empire again but only for a short time. He died after tripping on his robe as he rushed for his prayers and fell down steep steps somewhere in Purana Qila area.
If you want to see steep steps these are to be found to the entrance to the tomb platform. The tomb is enormous and awe inspiring. There are always many people present and it is a bit of rush inside the tomb. The deck on which the tomb stands is massive. The tomb was built here by Humayun's son Akbar because of the auspicious ground near the dargah of Nizzamudin Aulia.
Indeed we tried to have a look at the dargah too and frankly were scared off by the harassment of the shoe keepers and the dirty road leading towards the dargah.
November is the time to go as it was hot during the day and one gets tired easily. This year-2019 the pollution in the air was so much that even the government issued an alert and told people to stay indoors. It is the paralli stubble crop burnings and vehicle and industrial and construction pollution. God save the people of Delhi and Gurugram.
It is just a trial visiting Delhi. Reaching an Uber at the railway station is an impossibility as the taxis and the traffic jams make it extremely difficult for Ubers which are priced reas0nably to reach passengers as a result taxiwallahs fleece people at double the rates.
The government needs to build a new railway station for Shatabdi trains and these should carry on till Gurugram. Cleanliness goes down the drain at the railway station. It is an obstacle race if you have heavy luggage then you are a prey for coolies.
Humayun's tomb was in a haze of pollution. I promise to come again in the winter and see at my leisure without all the harrasment of a polluted October/November day.