Wildlife safari is an addiction. The more you do, the more you get hooked into it. This was our 3rd wildlife safari tour in the past one year. After covering Pench and Tadoba, two major tiger reserves in Central India, third one on radar was the mother of all, Kanha Tiger Reserve. Kanha comprises of around 940 sq km core area and 1140 sq.km buffer zone spreading across Mandla and Balaghat districts in the state of Madhya Pradesh.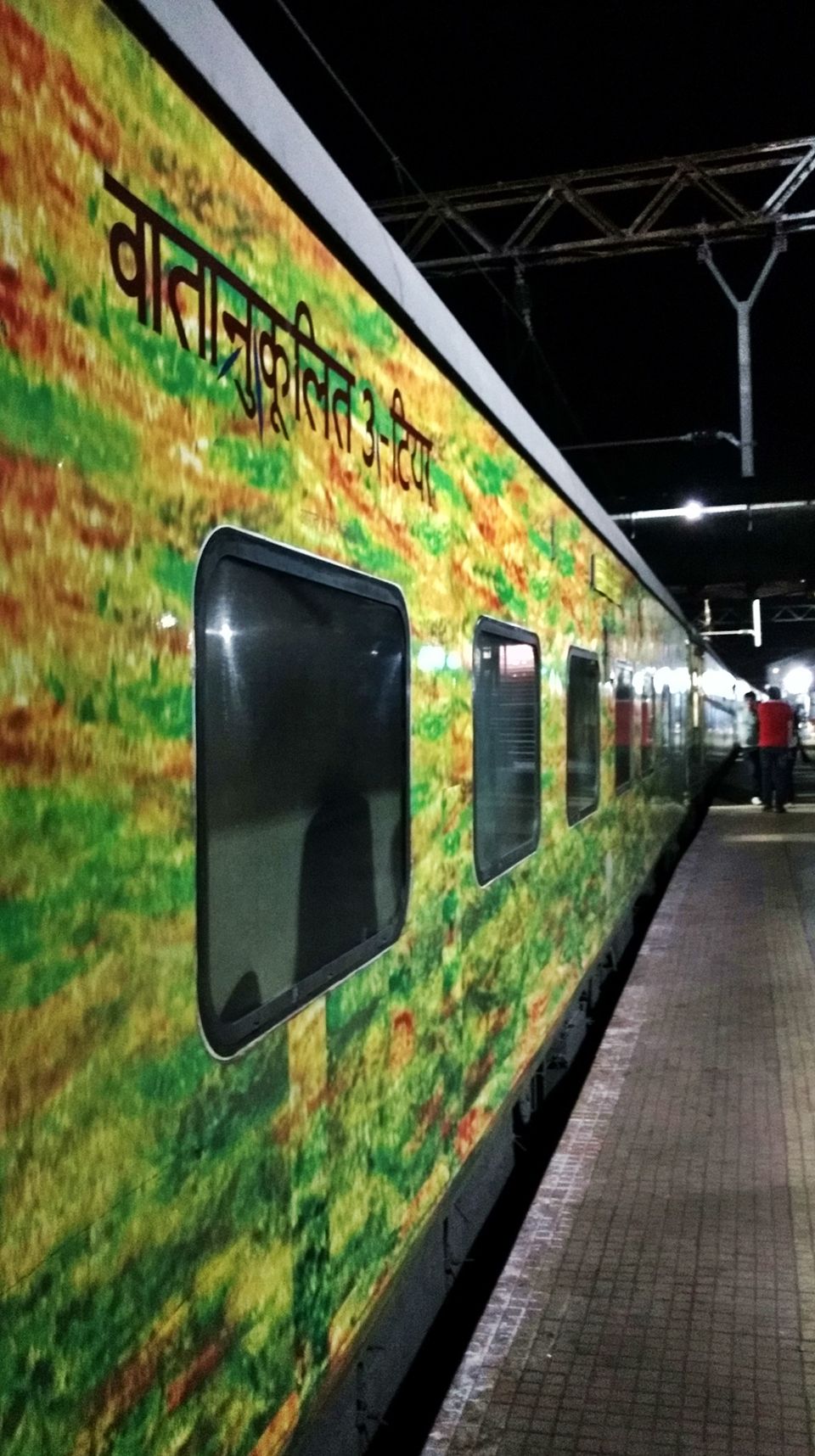 One needs to do prior safari bookings 60 days in advance. Chances of getting current safari bookings are negligible hence it is always advisable to book it beforehand. The same can be done online or through travel agents specialised in wildlife packages. We were booked on Mumbai Nagpur Duronto Express for both the journeys. Well, to talk about this train, its one crack superfast covering a distance of 835 kms between the two cities in just 11 hours. The best part about this train is that, it has minimalistic halt structure. So there is no disturbance of passengers alighting and boarding all through your journey. This makes the journey more peaceful and enjoyable.
All 4 of us got RAC tickets which meant that we had to share our berth. The up side was the berth we got was a side lower. My favourite when it comes to train journeys. It is fun to watch through the huge windows of LHB AC coach while the train passes through small country side stations at top speed. It is hard to sleep with the vibrations, jerks, honking and the clattery sound of the tracks, but we had to manage some sleep as the next day was going to be long and hectic.
We pulled into Nagpur station at 7.30 am late by 10 minutes. Well a delay of 10 min is negligible on IR. Our ride to Kanha was waiting outside the platform. We rushed into the car and in a few minutes were on our way to the land of tigers. We halted at MHKS highway plaza for breakfast at 8.55 am soon after joining NH 44 on the outskirts of Nagpur. This is a decent place to have food and has clean washrooms. A quick breakfast and we were back on the road by 9.25 am. We had a long 4 hour journey ahead. The distance between Nagpur and Kanha is around 253 km and takes approximately 5.5 hrs. The route from Nagpur to MH border is undergoing upgradation. So there are multiple diversions which puts a brake on the speed. Few newly laid patches are butter smooth where you can easily ride over 100 kmph. The road from Manegaon tek to Kurai (around 30 km) is a 2 laned highway with uneven surfaces. The road beyond Kurai to Seoni is again a well laid 4 laned highway. Some traffic bottlenecks can be observed as one needs to pass through Seoni town. Post that, it is a well laid 2 laned state highway right upto Kanha. Once the road contruction get completed, it would be a butter smooth drive to Kanha and would bring down the travel time by a significant amount.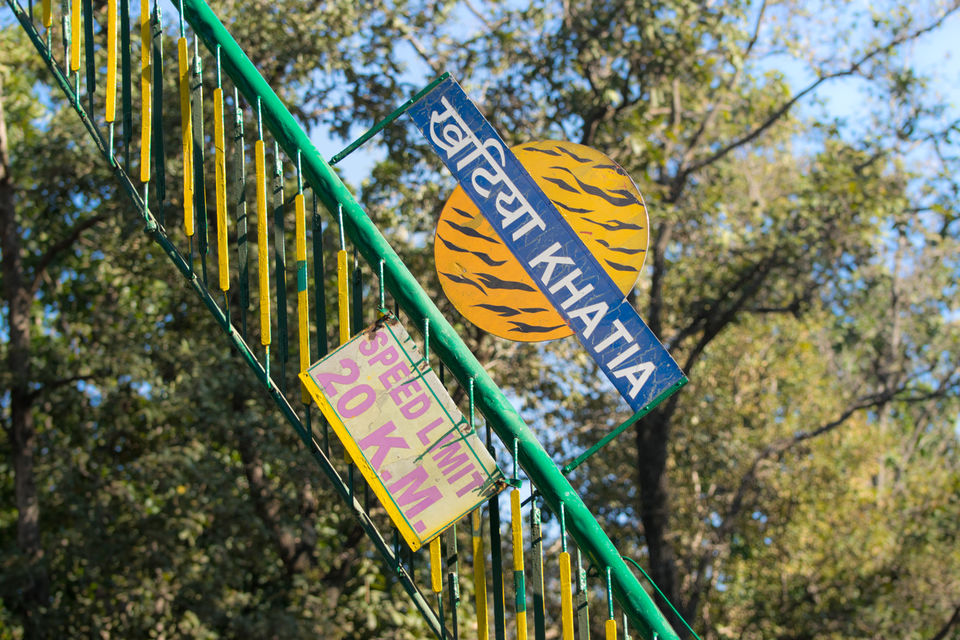 We had already informed our driver that we had to make up for our afternoon safari which was supposed to start at 2.30 pm. Our driver was a nice chap who managed to take us to our hotel by 1.30 pm. So we had an hour's time to check in and get freshen up for the safari. After a good meal we sat in our assigned gypsy by 2.30 pm. Though the gates open at 3.00 pm for the afternoon safari, you need to be present at least 30 min prior at the verification counter. Here they check your bookings, verify ID proof and assign you a forest guide. It is mandatory to have a guide and driver for the jungle safari. Everything is done manually on a FCFS basis. So always plan to be among the first 5 vehicles to enter the forest when the gates open. The probability of sighting some rare animal is higher if you enter the forest first. The logic is quite simple. The core zones are deprived of any human activity during the non-safari hours. So all the wild animals roam freely without any human disturbance. The forest is untouched before the safari and hence there are high chances that you may find a tiger or a leopard walking down the pathways in front of you. Once the animals feel the disturbance of the vehicles and voices, they quickly move deep inside the dense vegetation and hence become difficult to spot.
The afternoon safari starts at 3.00 pm and ends at 5.30 pm. There are 4 core zones at Kanha viz Kanha, Kisli, Mukki and Sarhi. If you are booked at Khatia gate, you can access all 4 zones. For us, it was Kanha zone. The forest appeared without any movement for the first 30 mins except a few spotted deers and Sambars crossing our way. Most of the activity inside a forest happens during the golden hours. Kanha is blessed with huge meadows. Being there makes you feel magical. Vast expanse of yellow grass with kaccha road tracks cutting through it, herds of Chitals and Sambars grazing at a distance, gives a unique hue to the overall landscape.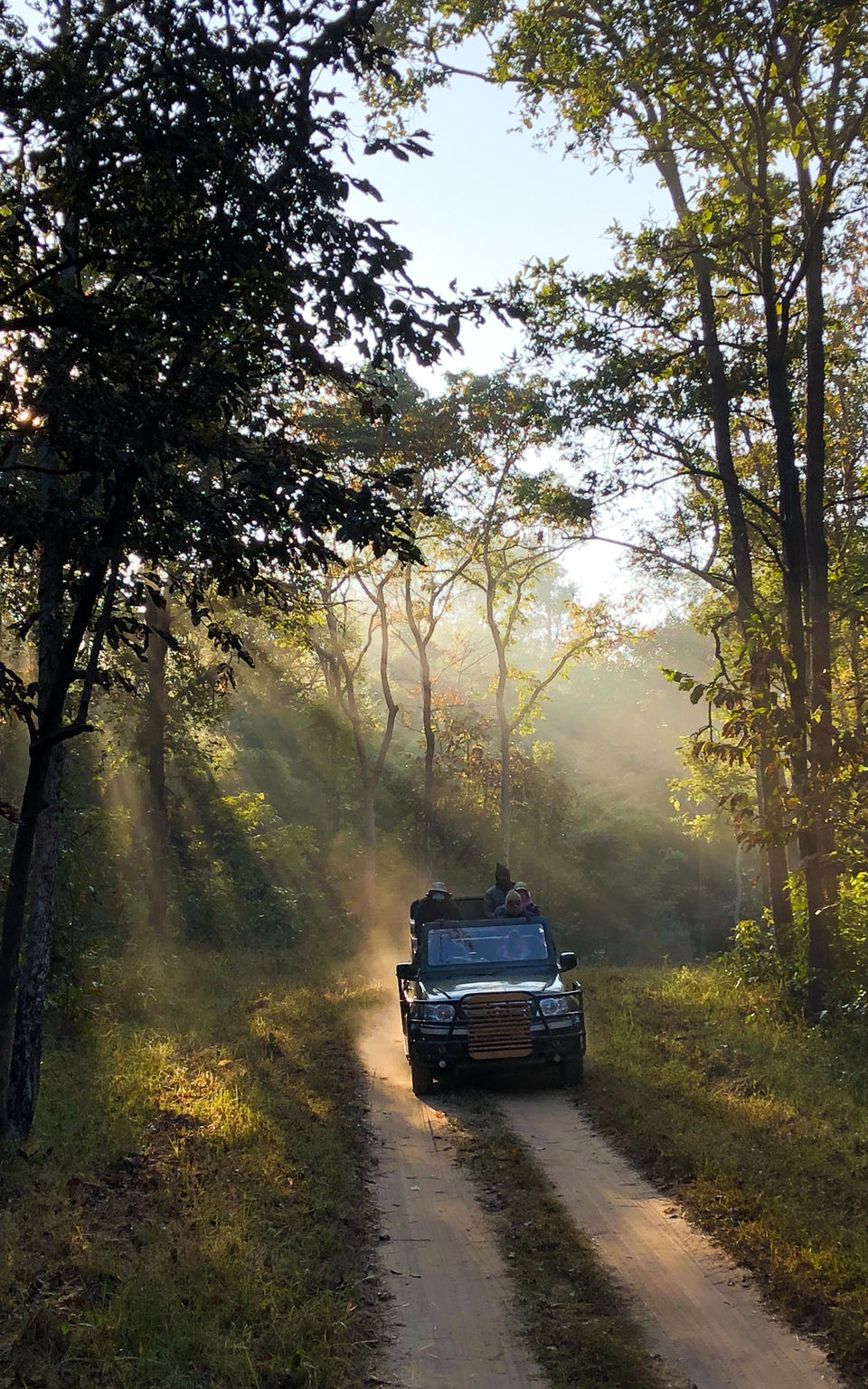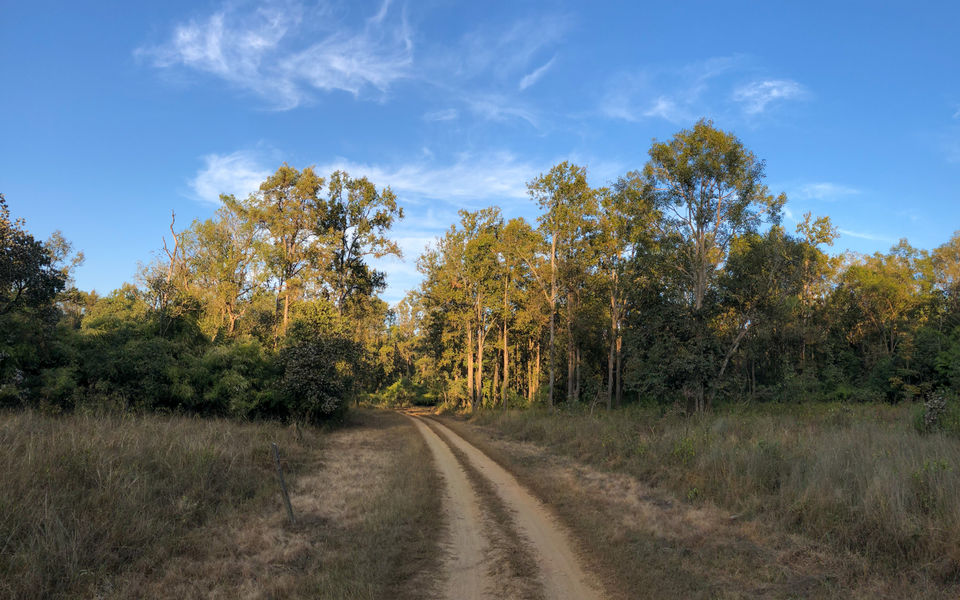 By the time we came back from the safari, it was almost dark. So, we decided to have an early dinner and call off for the day since every one of us had a considerable amount of travel fatigue. The morning safari starts at 6.30 am. So we had to be at the verification desk before 6 in order to be among the first 5. As the night advances, the mercury takes a plunge. We slept with a triple layer of clothing and a thick blanket to cover us. Everyone woke up a little before 5.30 am. Brushing teeth on the chilled morning seemed like a herculean task. But no one had any complains. We were here to experience the extreme. We left the comforts of our warm room a little before 6 well equipped with our photography gear. Took a parcel of packed breakfast from the reception and waited in queue for our turn. Being a Sunday, the number of vehicles to enter the gate was the highest. We had to cover Mukki zone for this safari. Our guide told us that different tigers can be seen in different zones as every tiger has its set territory and it seldom crosses into a different territory. Tigers here have their local names. Munna, Chota Munna, Dhamangaon male, Neelam, Dhavazhandi female, Bajrang are few of the regularly seen tigers. The guides and drivers are so trained that they can identify a tiger just by taking a glance at it.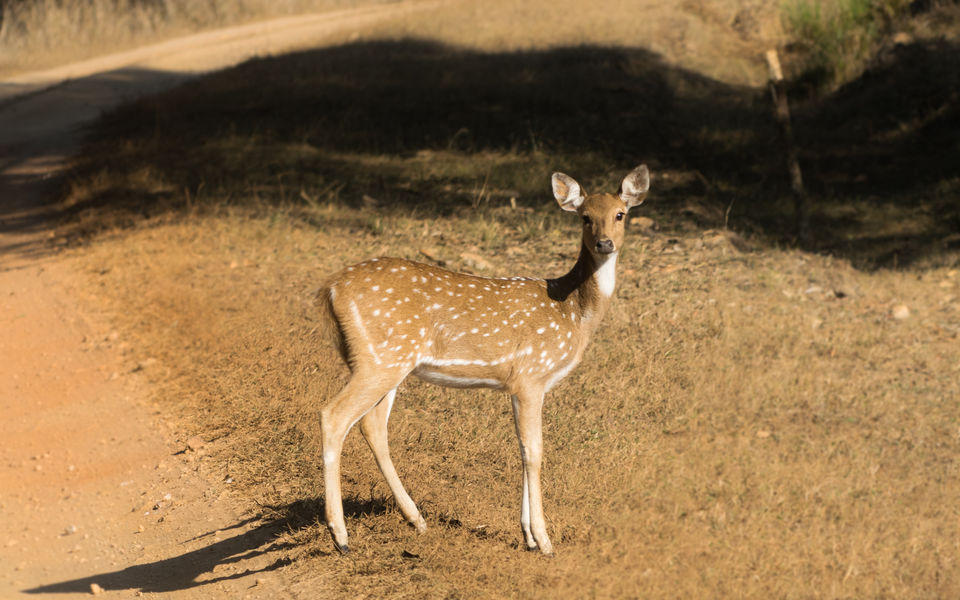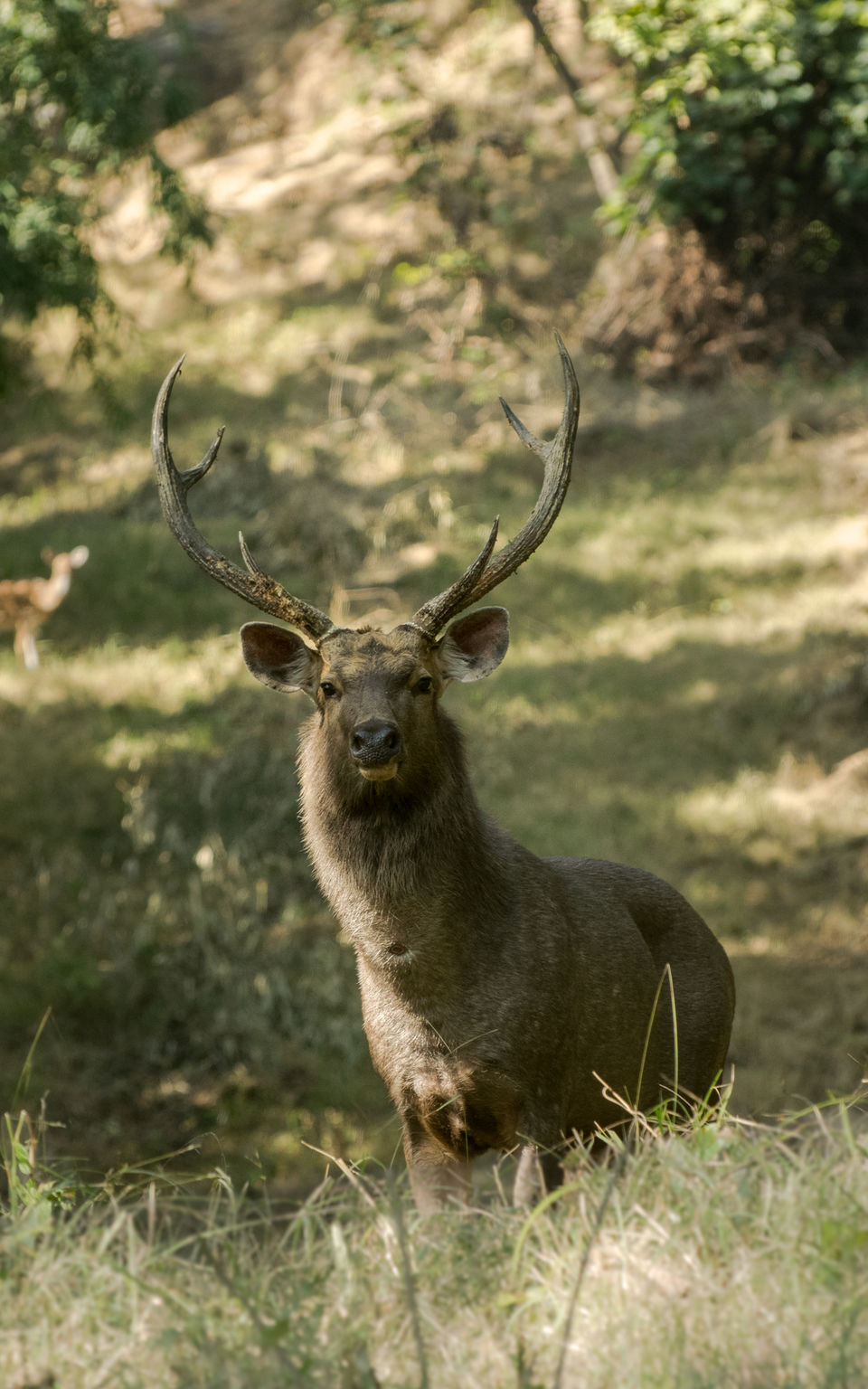 The hunt for the tiger continued throughout the safari but we had to settle down watching Chitals, Barasingha, Barking deers, Peafowls, Jackals and a couple of birds. Barasingha or the Swamp Deer is a species unique to this reserve. Once upon a time only a handful of these species were left when the government rated them under schedule I of the Wildlife Protection Act. Since then, a separate fenced area was reserved for them devoid of any predators where a strict breeding and conservation efforts were carried out which led to an increase in their numbers. Today over 500 Barasinghas live in the safe monitored environment of Kanha. During our third safari, we could hear strong calls of Chital, Sambar and Langur. It continued to come from a densely covered hill area. Multiple gypsies patiently waited there with a hope of sighting a predator. The forest fauna behave in a specific pattern. It is essential to understand this behaviour to be able to read the forest. Whenever a predator is around, all the animals of the lower part of the food chain start giving alarm calls. Each animal has its own unique alarm call. The frequency and time interval of these calls enables you to predict the location of the predator around. For example, whenever the herbivores see a tiger in motion they start giving calls to alert their species that there's a danger around. On the other hand, if a tiger is sitting at a particular place, you would hear no alarm calls since they know that the predator is not in any mood to attack.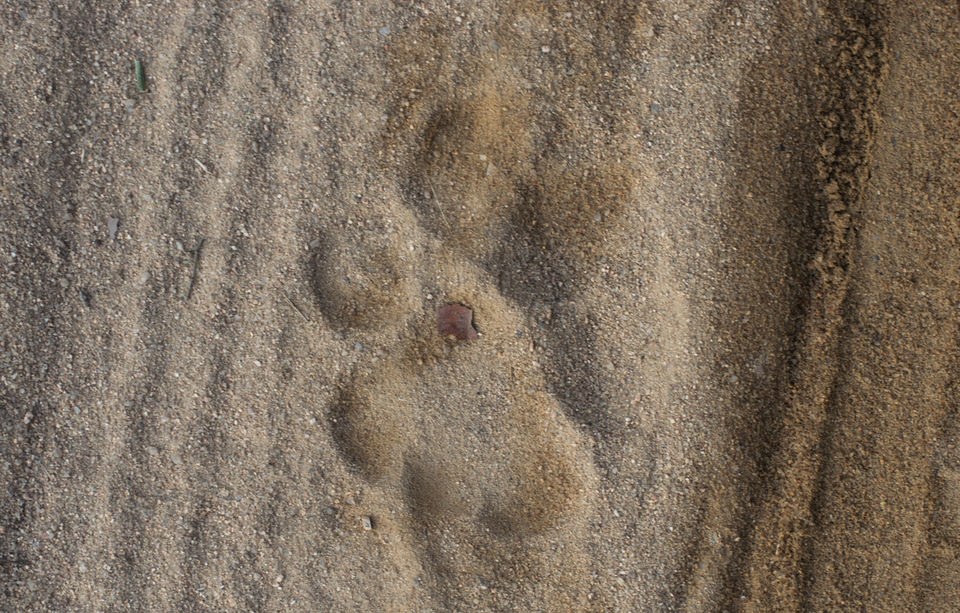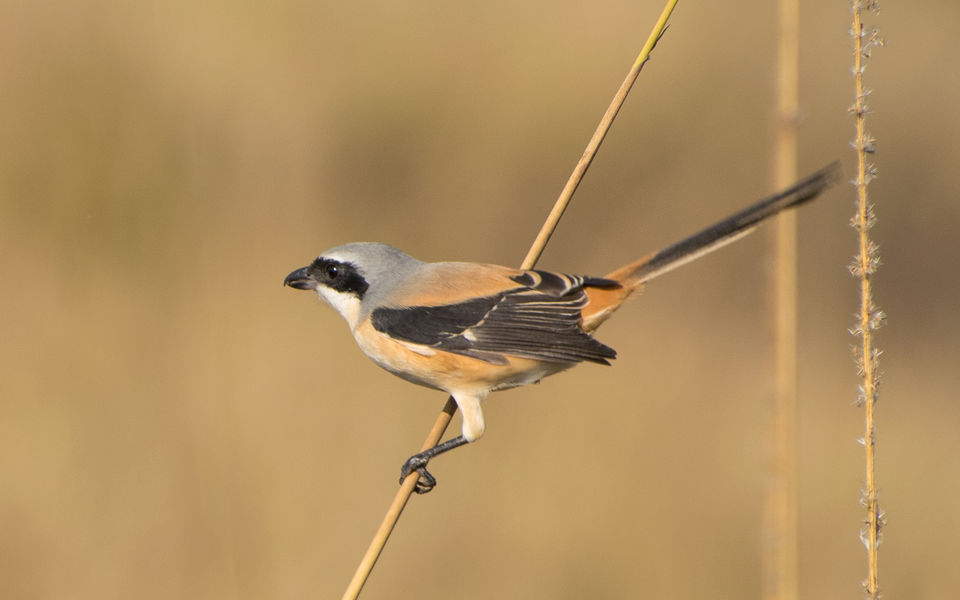 The next evening we had a friend come over to our room to share his experiences in the forest. He works as a Naturalist at a resort nearby. It was fun to listen to him, some of the instances shared gave us goose bumps. It made our cravings to see the ultimate predator more intense. Our friend agreed to accompany us in the next morning Safari to Kanha zone. The rest of the night was spent experimenting long exposure shots to capture the stars. We could overcome the extreme weather just because the thrill of getting to see a tiger in its natural environment was very high. An hour into our next safari and suddenly we saw an animal with black stripes on a golden yellow coat. It didn't take over a second to realise it's a tiger walking in front of us. There were a couple of gypsies with us who were lucky this time to spot Munna or T17, a dominant adult male. The grace of this animal is so intense that you just fall in love with it. To us it appeared as if this guy was on a morning walk marking his territory with urine spray and occasional scrapes on tree barks. We got to see this majestic animal in different poses.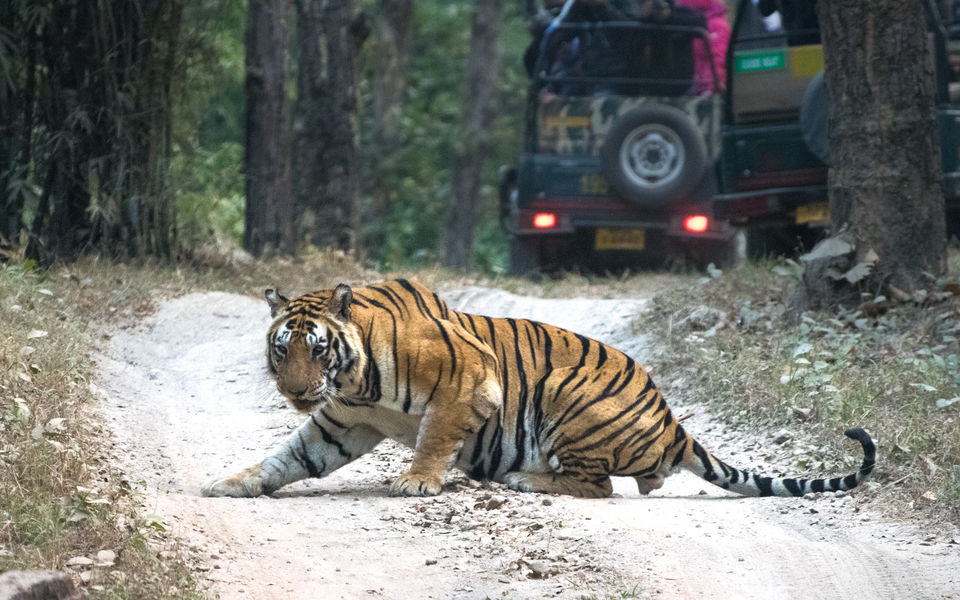 Our guide told us that he has been seeing this particular male for the past 8 years and mentioned that he has taken over many male tigers in territorial fights. Everyone present there were awestruck. We clicked as many pictures as we could of this national animal of our country. After following Munna for some 15 mins and observing his acts in detail, now it was time to say good bye to this big cat and continue with our safari. The rest of the safari was uneventful but we had those exact moments rolling in front of our eyes for the next few hours.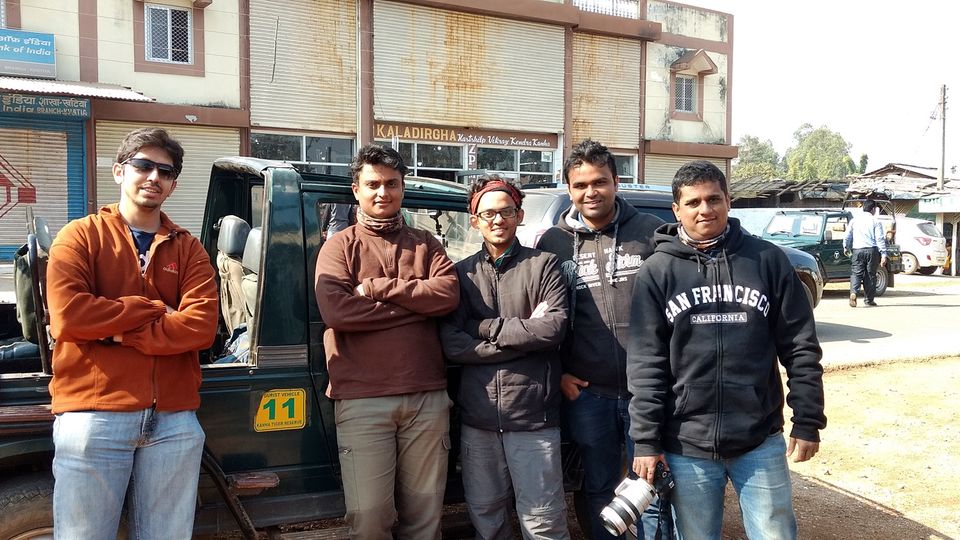 Completely satisfied, we packed our bags this time with sweet memories and promised to come back to this beautiful land of tigers after a short city break. The journey back to Nagpur was again long before we could board Duronto back to Mumbai.