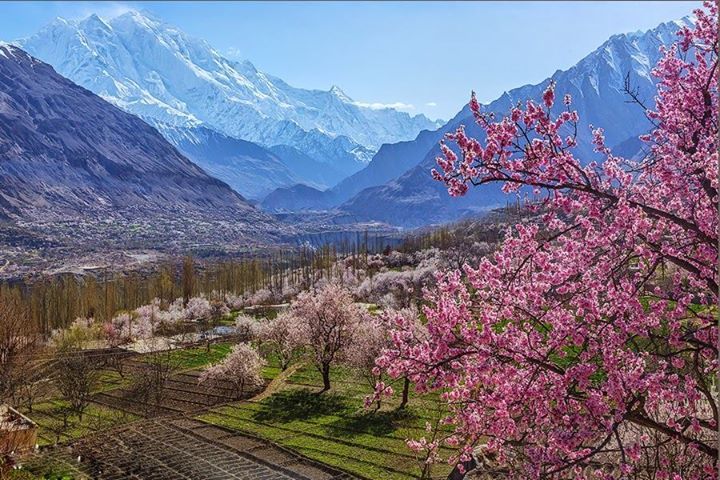 The series of four distinct seasons in the mountain kingdom of Gilgit-Baltistan in Pakistan makes up a unique blend of tourism flavor. Each season is packed with a distinct feature displaying a scenic aura unique in its own features.
Cherry Blossom (Sakura) is a Japanese ritual symbolizes a special occasion. Blossom in Hunza and Nagar valleys signals an exceptional display of a dramatic change of nature welcoming a brand new life. The harsh winters are replaced by moderate aromatic breezes and the landscape dresses in a new vibrant outfit to demonstrate its ultimate splendor. Green terraced fields; flowering trees of apricot, almond, peach, and apple; snow capped mountains; crystal clear rivers and creeks; and blue skies make up a blend of unmatched beauty.
Day 1 Fly Islamabad
Day 2 Islamabad to Besham
Day 3 Besham to Gilgit
Day 4 Gilgit to Hunza
Day 5 Hunza Valley Excursion
Day 6 Gojal Valley excursion
Day 7 Shimshal Valley
Day 8 Shimshal Valley excursion
Day 9 Shimshal to Gilgit
Day 10 Gilgit to Besham
Day 11 Besham to Islamabad
Day 12 Fly Back
Cost Includes:
Hotel Accommodations
All meals
Guide
Transportation
All visiting areas tickets .
Excludes
International & domestic flights
Any extra in the hotel
Tips & any personal booking of vehicle.