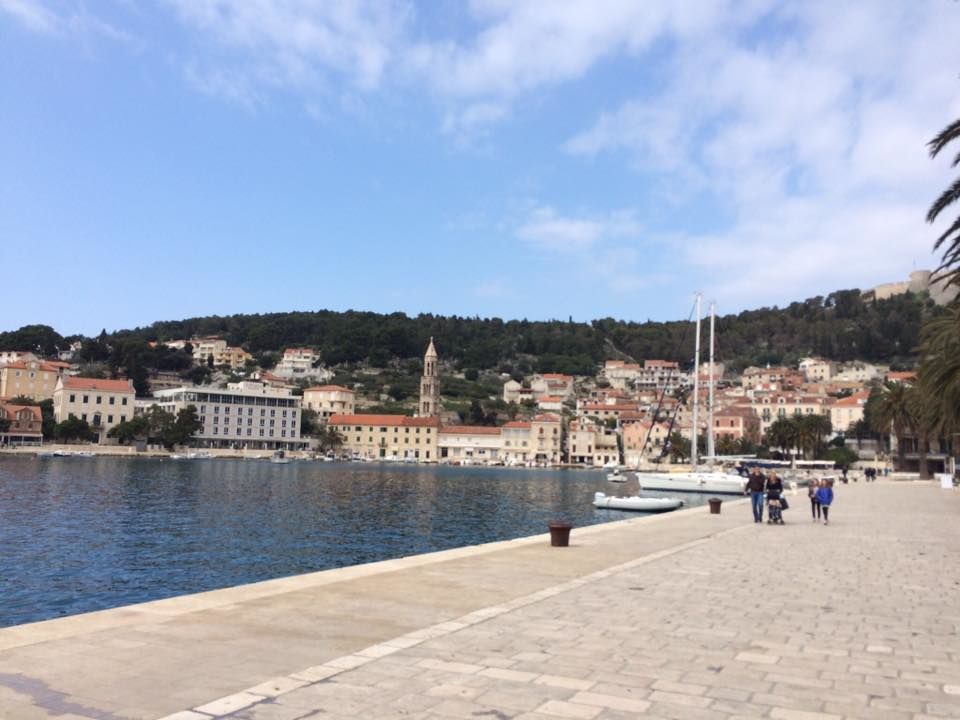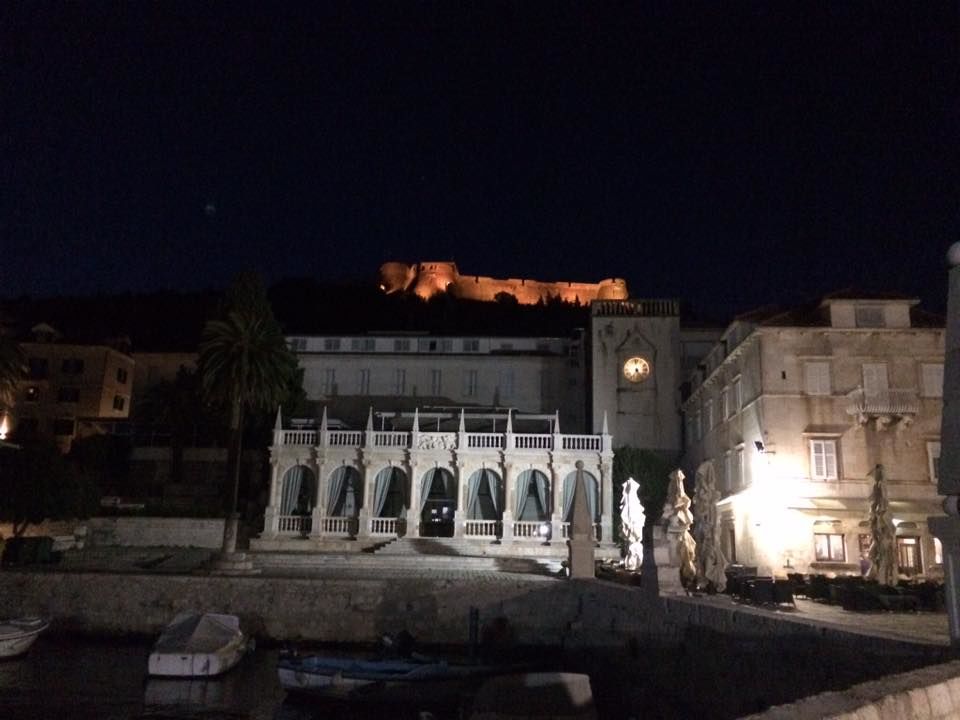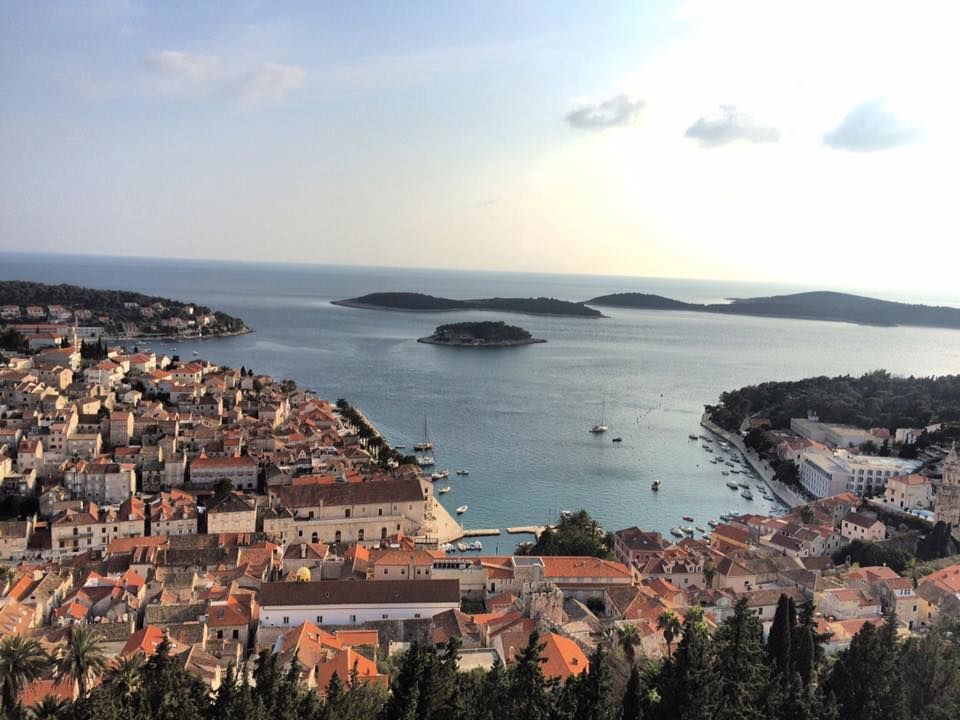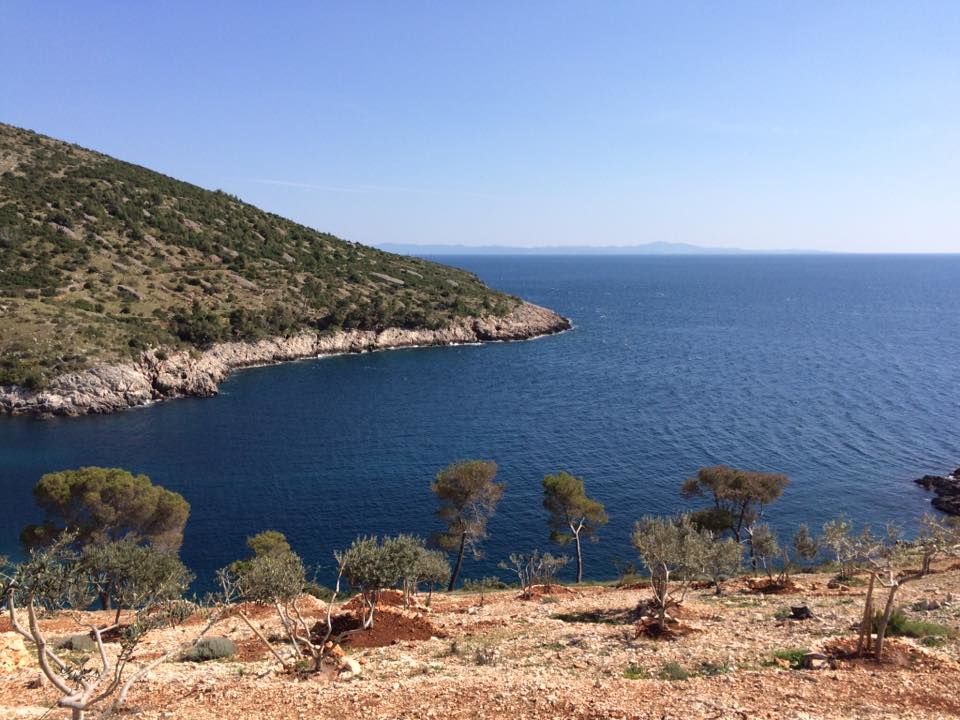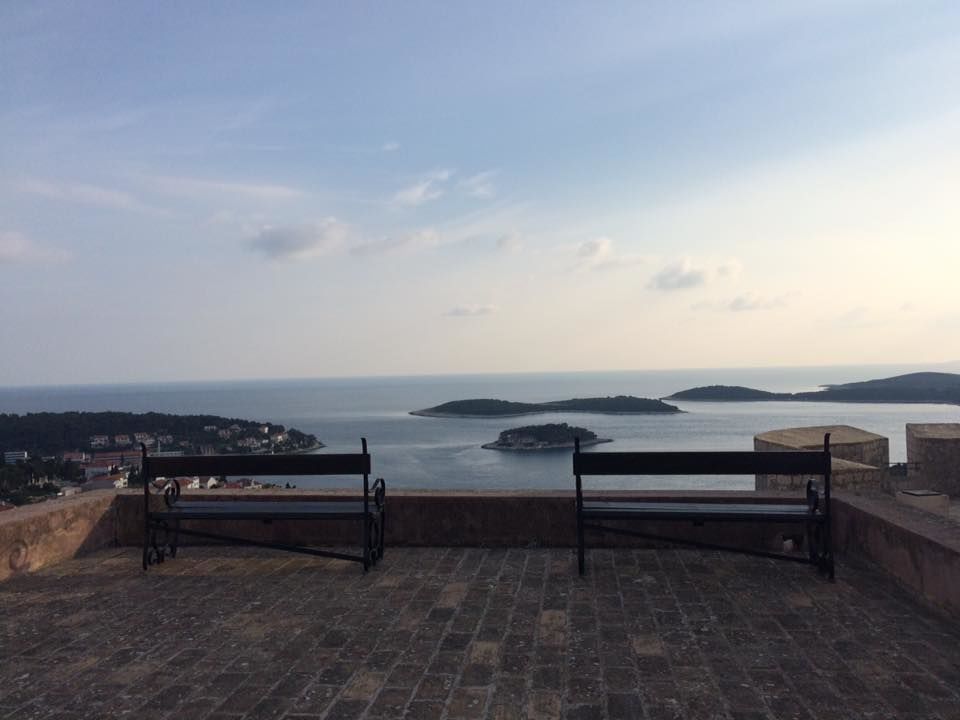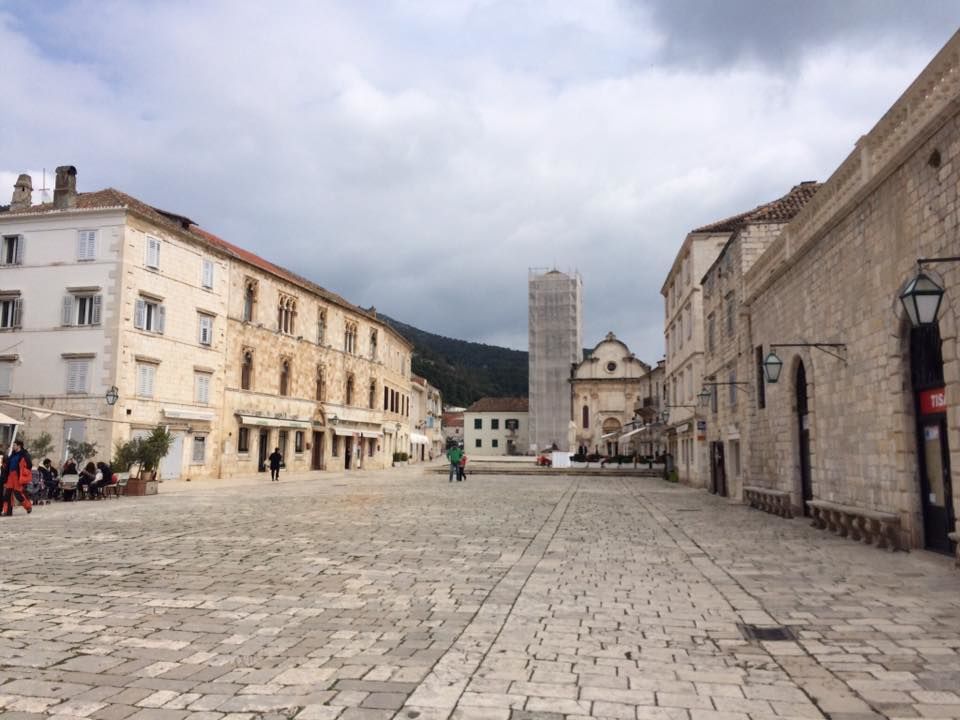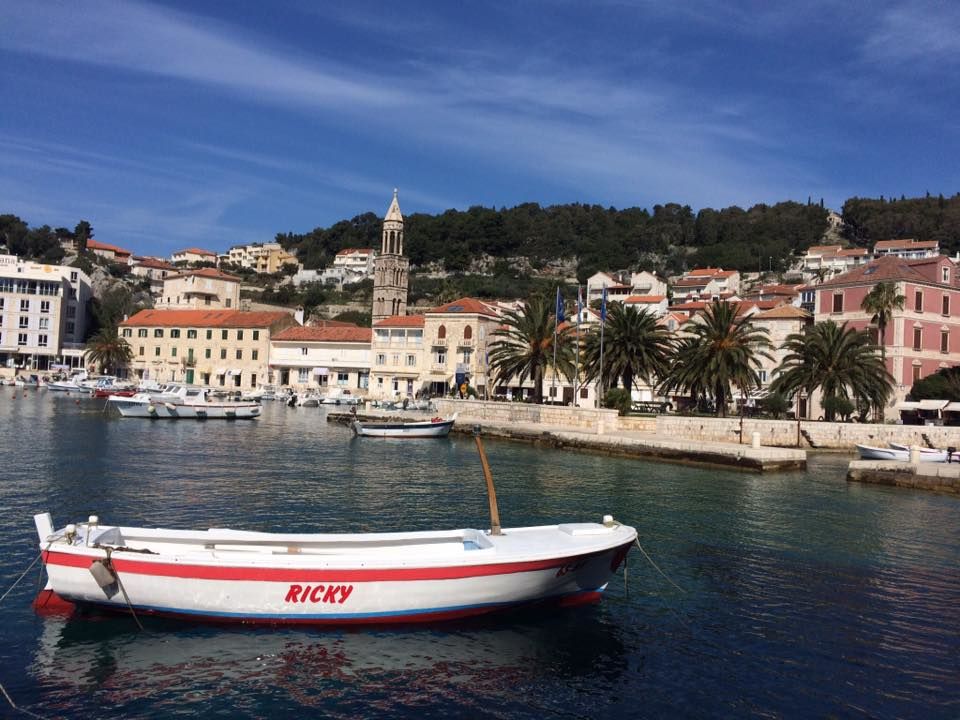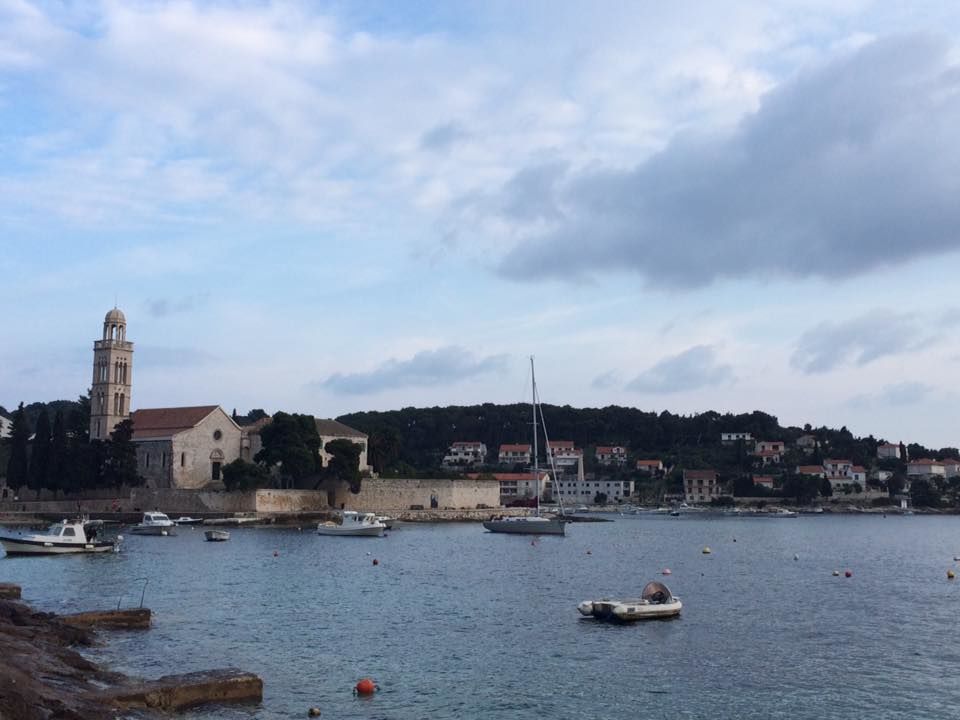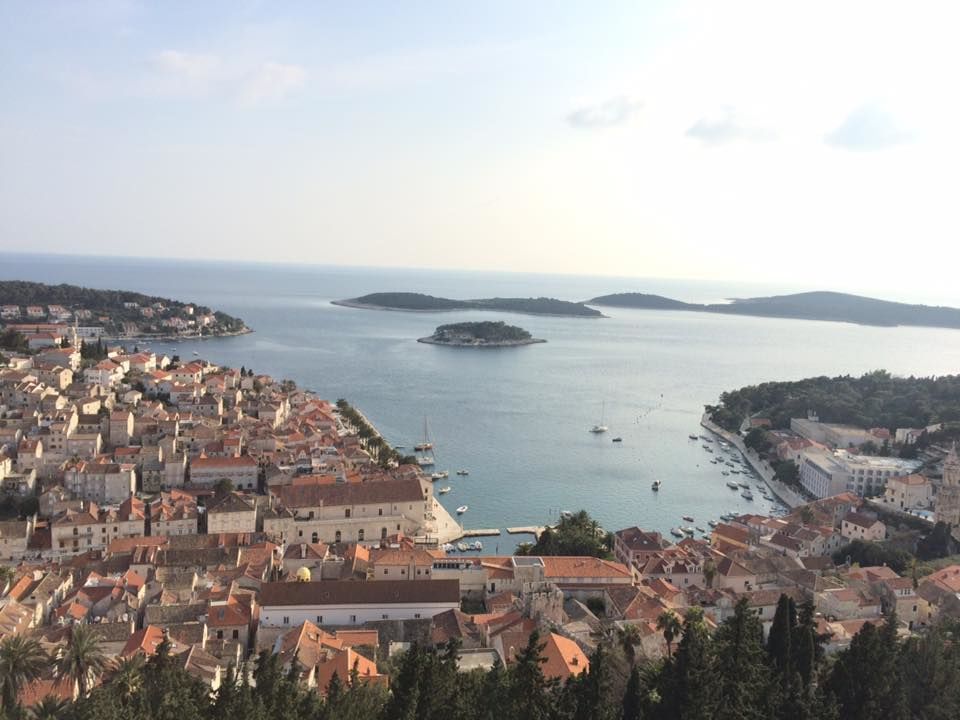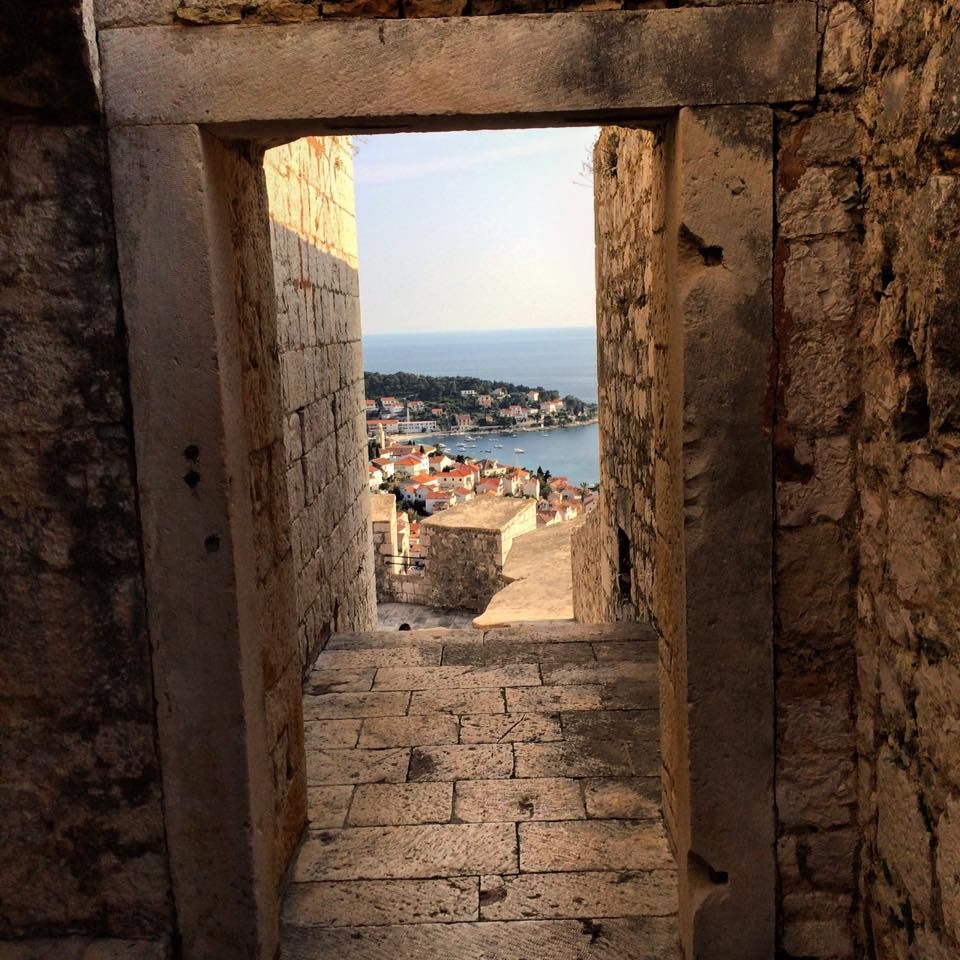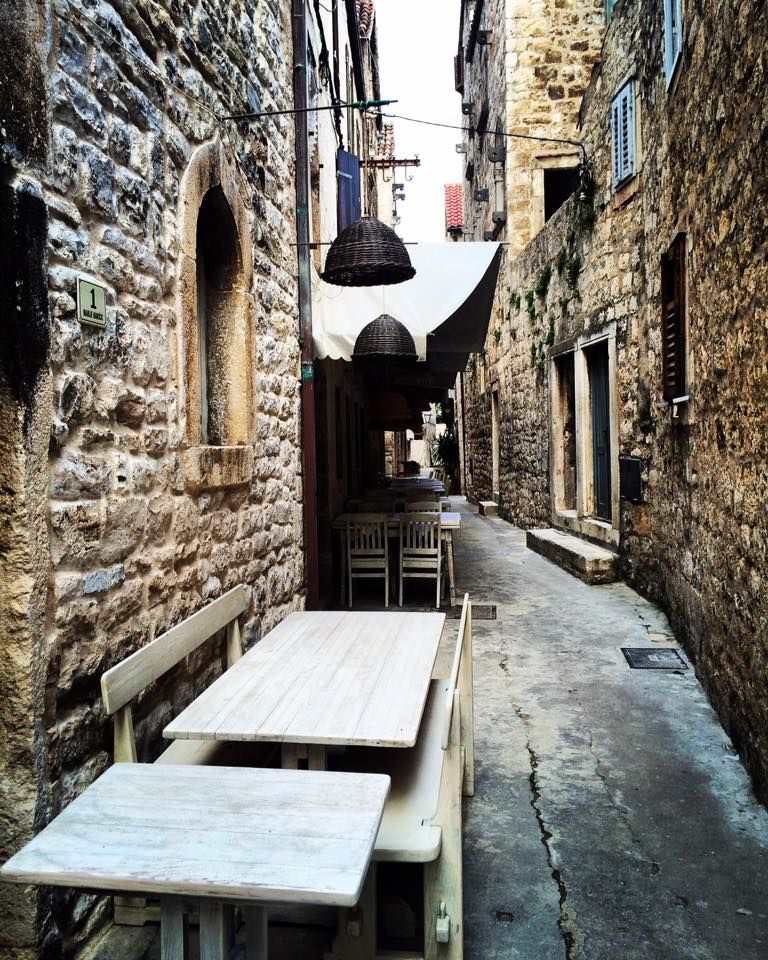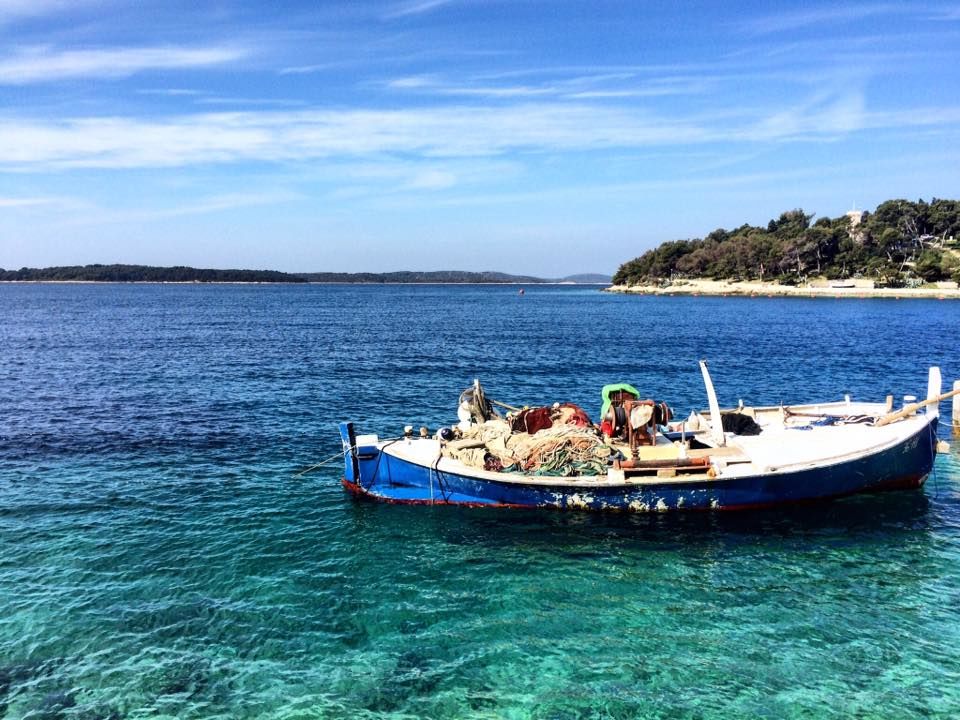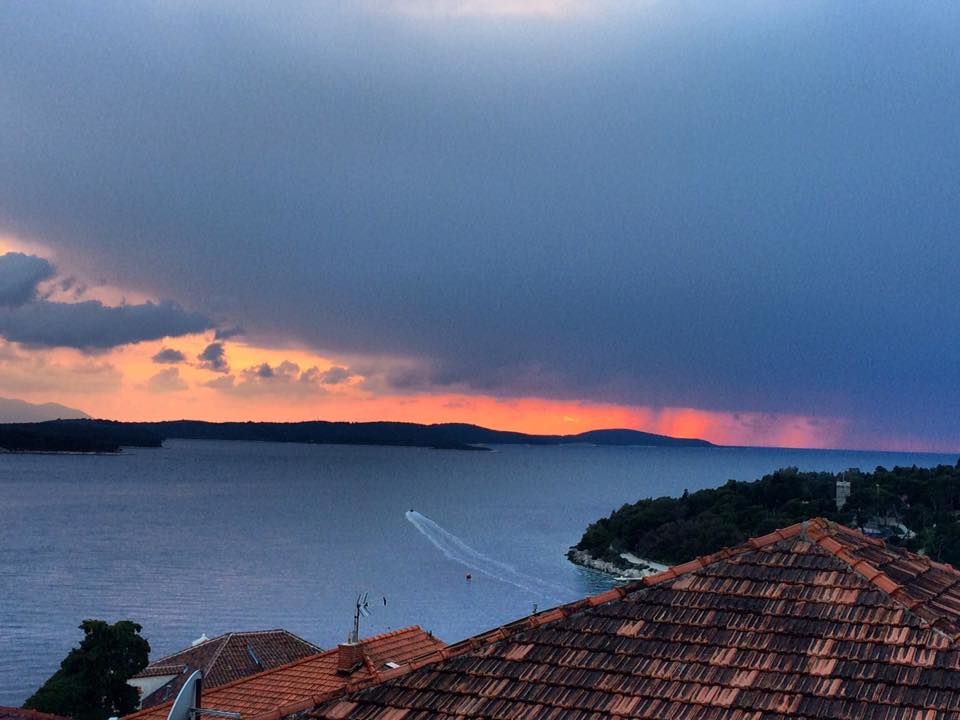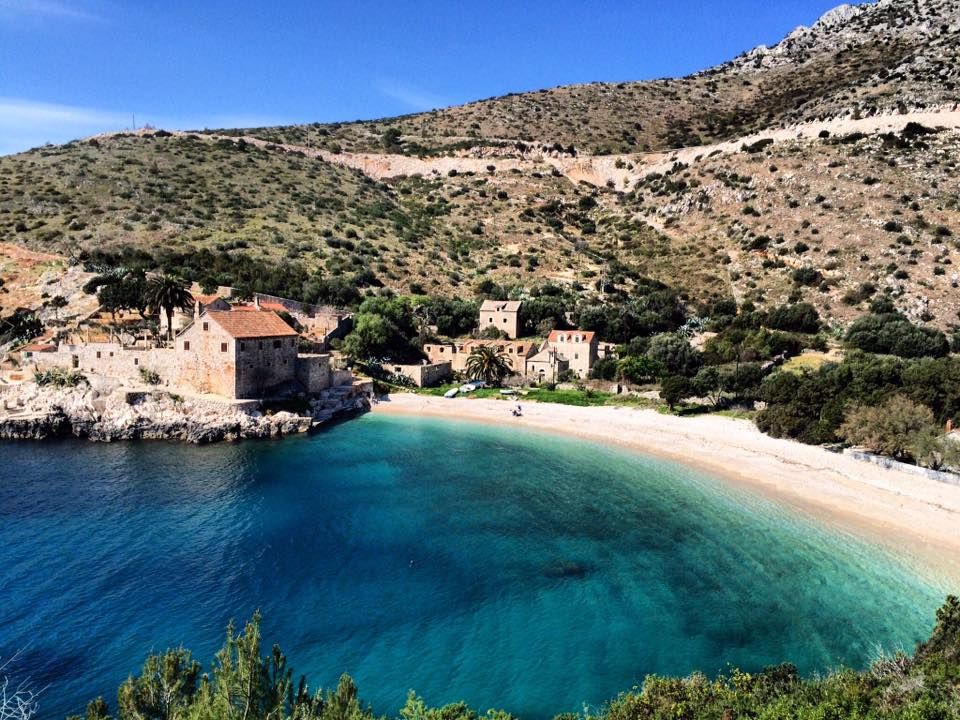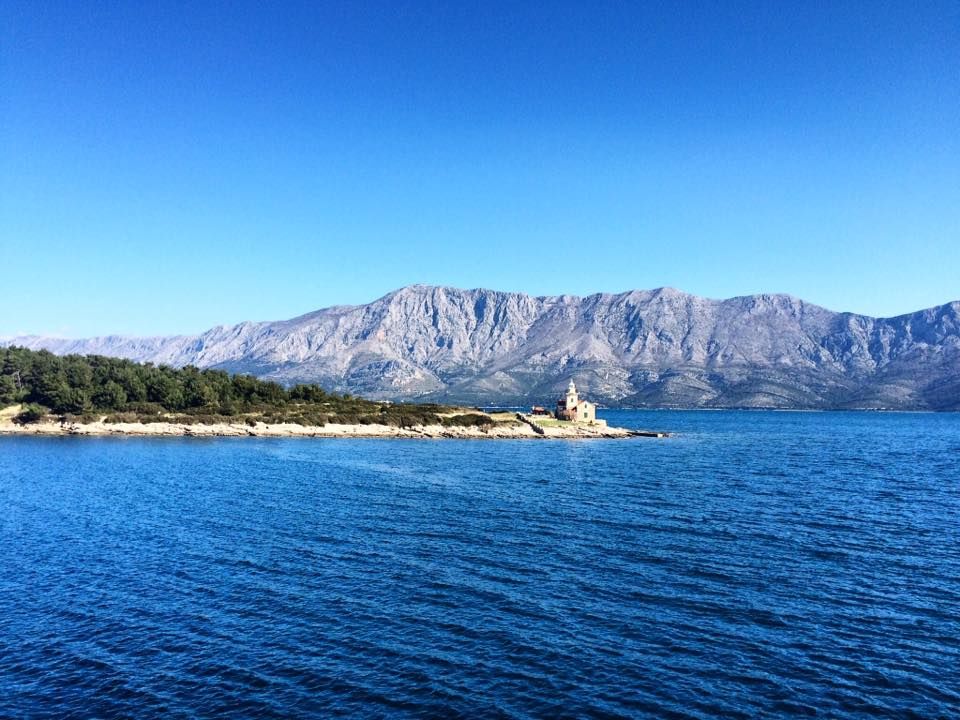 The most sunniest place in Croatia with 2724 hours of sun a year, Hvar is a delight. Of all I read and saw online I was looking forward to live some Island life in Hvar even more than Dubrovnik. A relaxed Mediterranean lifestyle, topped with a rich cultural and historical heritage makes Hvar a traveller's paradise. Hvar Town is the island's busiest hub. It's a tourist draw with its 13th century walls surrounding gorgeous gothic style palaces and pedestrian only marble streets. This small bay town is romantic and fantastic.
Hvar is a ferry ride away from Split and takes about an hour or two max. The ferry ride was pleasant, with some turquoise blue waters and islands all around. Our catamaran anchored at Stari Grad from where we drove to Hvar Town. Smaller boats & ferries go directly to Hvar town too.
With warm summers and mild winters, rich culture, beautiful views overlooking the Adriatic Sea, Hvar attract tourists. Thankfully we were in the "off-season", the whole Island looked like it was for us. I wondered how crowded this place can be during high season. As we walked down the harbour, I couldn't help feel the excitement. It was all so rather quaint and delightful. Restaurant courtyards spilled out onto the harbour and the main St Stephen's Square, overlooked by the Cathedral of St Stephen. There was an easy charm to the place. The whole feel was Eat, Drink, Relax and be merry.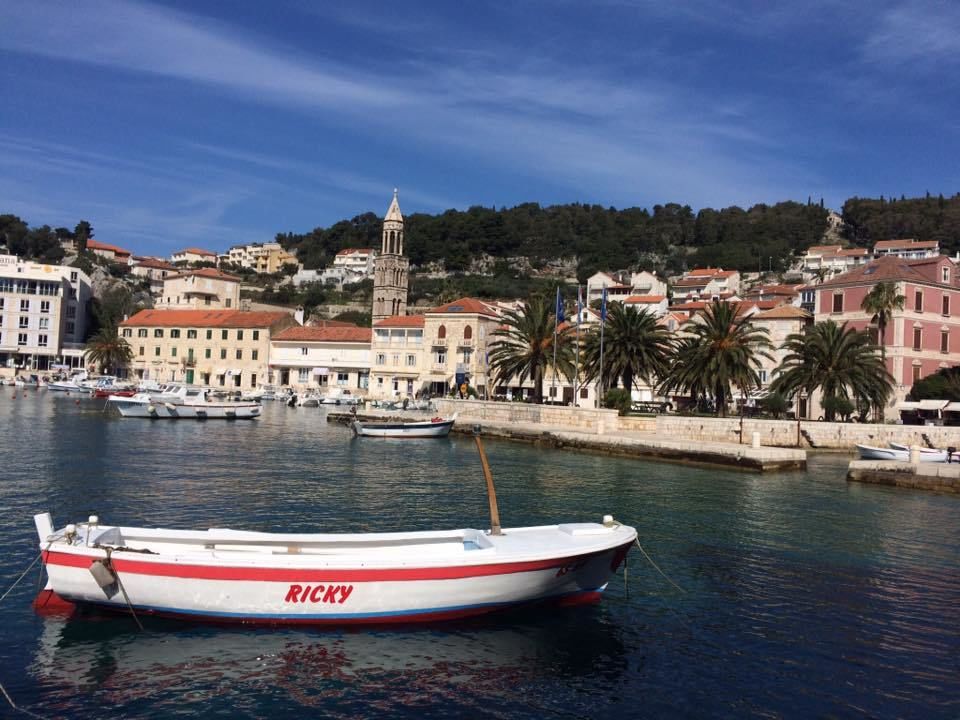 We spent 2 nights in Hvar lazying around doing absolutely nothing..or maybe something. I suggest dedicate one day just for the beaches around. The town is basically around the square and is dominated by St. Stephens Cathedral. The square is surrounded by winding stone streets and was created by reclaiming an inlet that was part of the bay. This is where the town comes alive. It dates back to the 13th century. The day we reached was sunny and it was like almost whole town was around the square. Nearby there is The Franciscan Monastery & Museum which is home to beautiful artwork and historical, detailed architecture. Built in the 16th century, the Franciscan Monastery overlooks a gorgeous shady cove
Above Hvar town on the hill sits Hvar's Fortica. Built at the beginning of the 16th century while under Venetian rule. You can get to Fortica by walking through the park. Through one of the many little streets that steps up towards the hill, you can easily climb through a park to get to the citadel.Once you climb to the top of the walls, you will be able to see panoramic views of the city of Hvar and the surrounding Pakleni Islands. It's not a tiring hike and the views from up there are just beautiful. And being tehre on off season gave the whole fort to us and did I tell you without any entry fee? Yes during off season entry to fort and many places are free.????
Another thing which you an do around Hvar is take a trip to nearby Pakleni Islands. The Pakleni archipelago is just a quick boat ride from the town of Hvar. You can get there on a day tour or by water taxi. Also nearby is one of the world famous beach of Zlatni Rat in the Island of Bol, Brac but unfortunately we were unable to go there.
Around Hvar there are a number of beaches and lots of hidden beaches if you try to explore. Dubovica is one of the most famous beaches on Hvar Island and the one we totally loved. Along the beach are the beautiful, old stone buildings with beautiful crystal clear water surrounded by hills all around. Getting to the shore requires a small hike, but once you are there, you will love every second of it.
On the south side of the island, there is Lucisca Beach where many people head during summer for swimming. If you like skinny dipping then Jerolim Beach is a nudist beach you can go to. All the nearby towns on Hvar Island have a beach or two and one can just wander off and stumble on to many hidden beautiful beaches. I could only mention a couple here but you will find many more there.
The island of Hvar has a wonderful natural gift, Lavender. Don't forget to buy Lavender souvenirs from here. The town is really popular stop over in the summer months for yachts sailing in the Adriatic. One can see a lots of fancy yachts around the harbour. During high season getting a place to party and eat surely can be a task. Carpe Diam is the most popular and happening club around.
Accommodation– Accommodations in Hvar can increase depending upon the season. I recommend Airbnb since they offer incredible value and comfortable. This will help you stay without splashing a lot and maintain your budget. If you haven't tried Airbnb before, sign up with my referral link for a credit of $30 on your first stay. Expect to pay around 30-40 euro per night with some beautiful views from the apartment.
Eat & Drink- There are many cafes and bars around the main square and around the harbour. One can choose from Indian to Dalmatian to European cuisines easily.
Transportation- The old town is easily walkable and can be done on foot. Though to go around we would suggest hiring your own car.Keep in mind that car ferries between Hvar Island and other islands are limited – so buy tickets for ferry transport early. Car rentals can be arranged on Hvar ahead of time. Buses are there and are a cheap option too but then matching to their time can be a task.
The nearest airports to Hvar Island are in Split, Zadar & Dubrovnik. To get to Hvar Island from these airports, you will need to take a bus, car, or a ferry.
Hvar combines the pretty old town architecture and cobblestone streets of most of Europe with a coast prettier and cleaner than most I've seen. The trip to these beautiful gem of a place was one of the highlights of my trip. A medieval little picturesque wonder with waters so pristine that we could jump in for a dip just about anywhere.
This post was originally published on 'CHASING THE EXPERIENCE'.