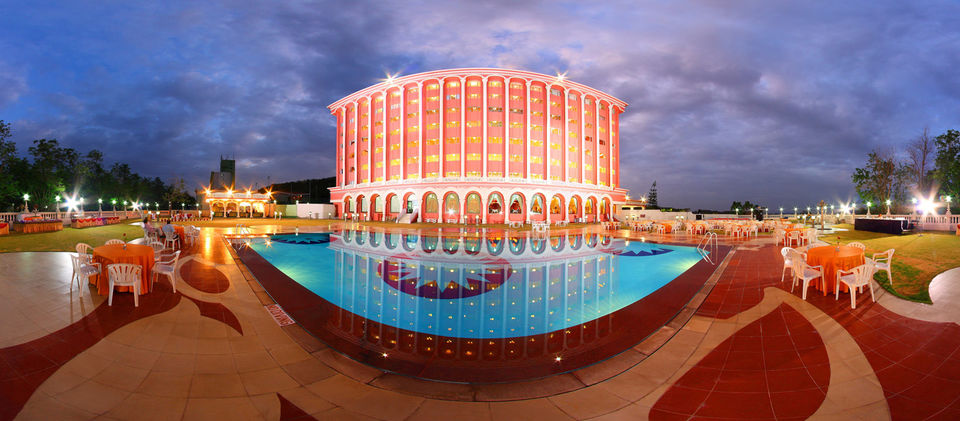 The culturally rich city of Hyderabad — which is at present the capital of two states namely Telangana and Andhra Pradesh—is regarded as an extremely popular tourist destination, courtesy of its mouth-watering non-vegetarian cuisine, 'bindass' lifestyle and illustrious association with pearl trading.
Where to stay?
Generally regarded as one of the most hospitable cities in India, Hyderabad boasts of some luxurious five star hotels. 'Taj Falaknuma', 'Taj Krishna' and 'Taj Banjara' are just a few names that come to mind. Located in some of the most posh areas of the city these hotels offer top-notch services and are equipped with well furnished rooms.
Alternatively, you can also opt for relatively less expensive yet equally comfortable options and save a few bucks. Central Court Hotel, Quality Inn Residency and Hotel Minerva are some of popular hotels that come under this category.
Salar Jung Museum: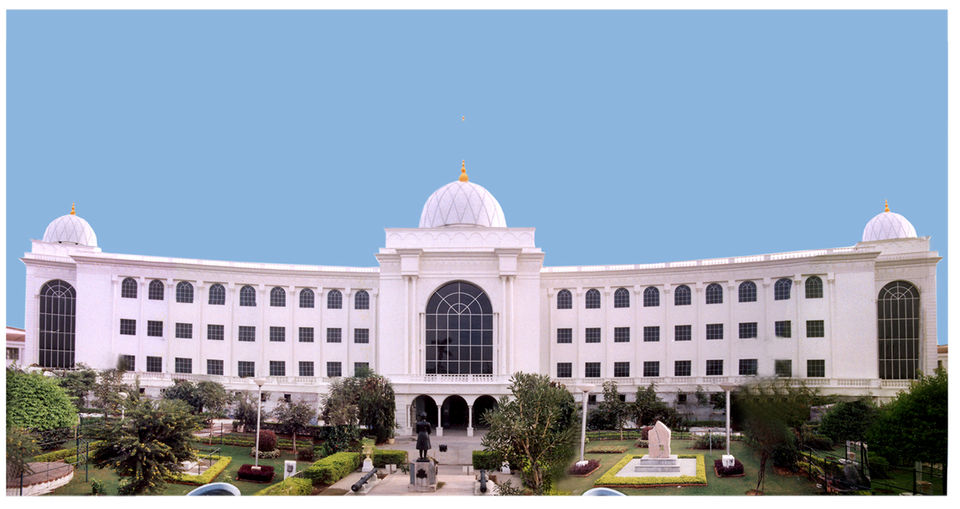 Bearing testimony to India's storied past; the Salar Jung Museum is located on the southern bank of the Musi river. It is home to some rare collections of paintings, textiles, manuscripts and ceramics. Interestingly, a significant of this valuable collection can be traced back to the royal Salar Jung family which ruled Hyderabad for over two centuries.
Golconda Fort: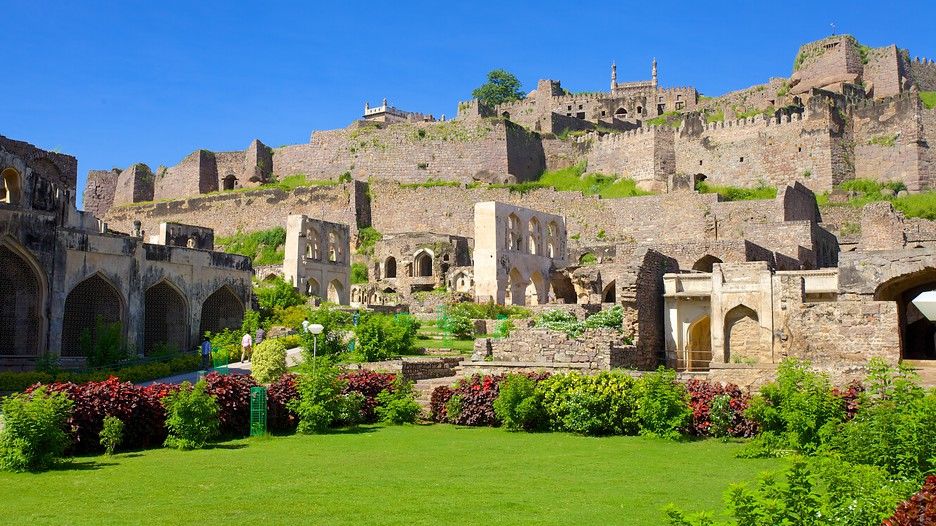 Located merely 11 Km west of Hyderabad, this historical monument was constructed in the 1600's. It was once considered to be home to a vault containing the 'Hope' and 'Kohinoor' diamonds. Interestingly, the Golaconda fort is mentioned in a popular Russian ballad titled 'La Dayadere'.
Nehru Zoological Garden: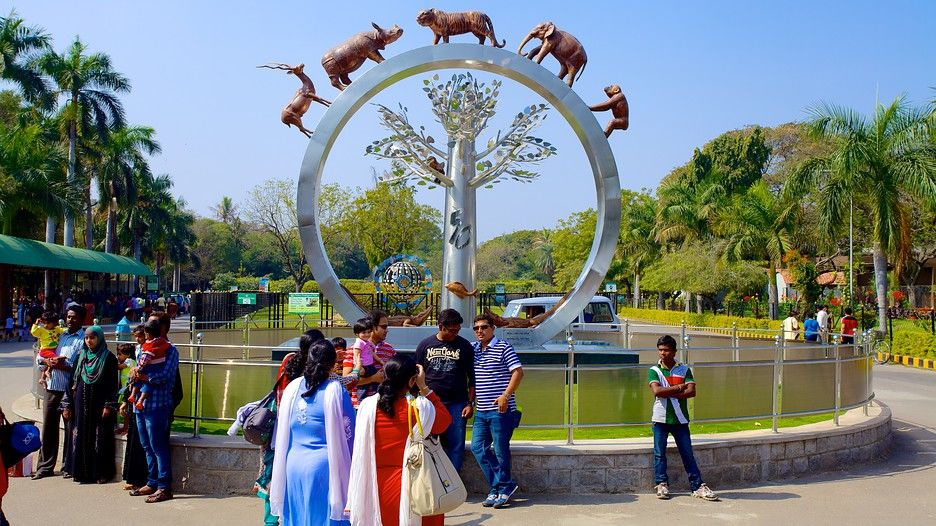 Established in 1959, this well maintained zoo houses well over 100 rare species of birds, reptiles and animals. Indian Rhino, Bengal Tiger and Python are some of the attractions that make the place unforgettable. Moreover, it also boasts of some other interesting features such as a beautiful aquarium and dino park.
Charminar: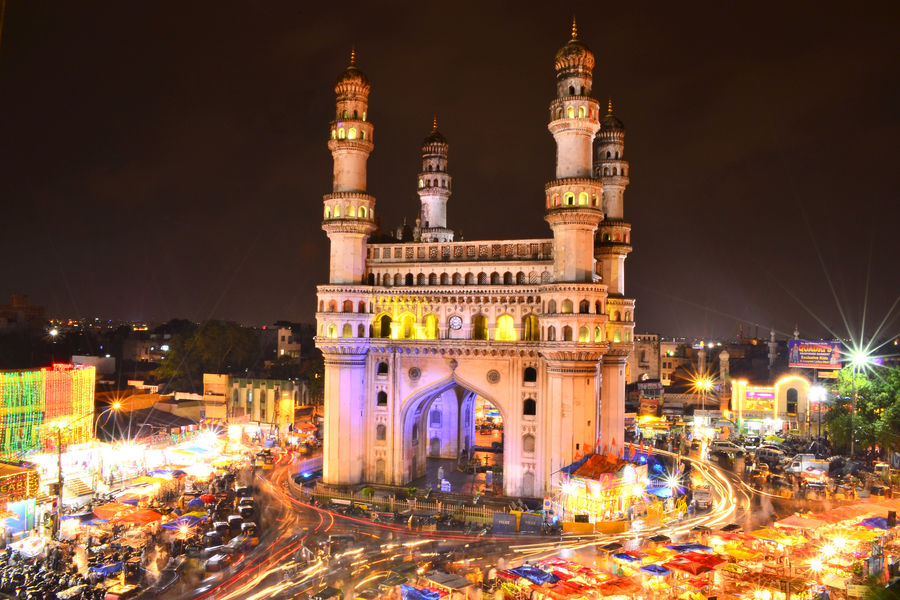 A must visit place for anyone who wants to treat his eyes to an architectural masterpiece, the 'Charminar' is shrouded by myths regarding the purpose behind its construction. Interestingly, a replica of this revered monument was erected in Pakistan nearly five years ago. Moreover, the area surrounding it too is quite famous, thanks to the presence of thriving jewellery market.
Jagannath Temple: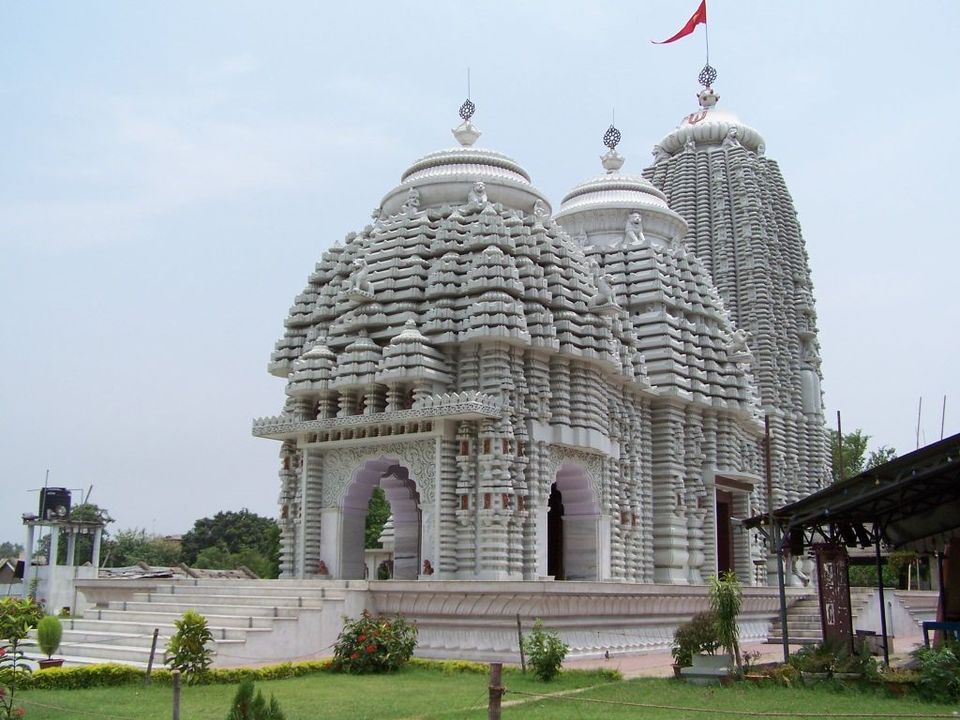 You can add a spiritual/religious flavor to your trip by visiting the 'Jagannath Temple' which is located in the Banjara Hills. A replica of the original temple in Puri, this sacred monument serves as a fitting tribute to the Oriya community in the city.
Ramoji Film City: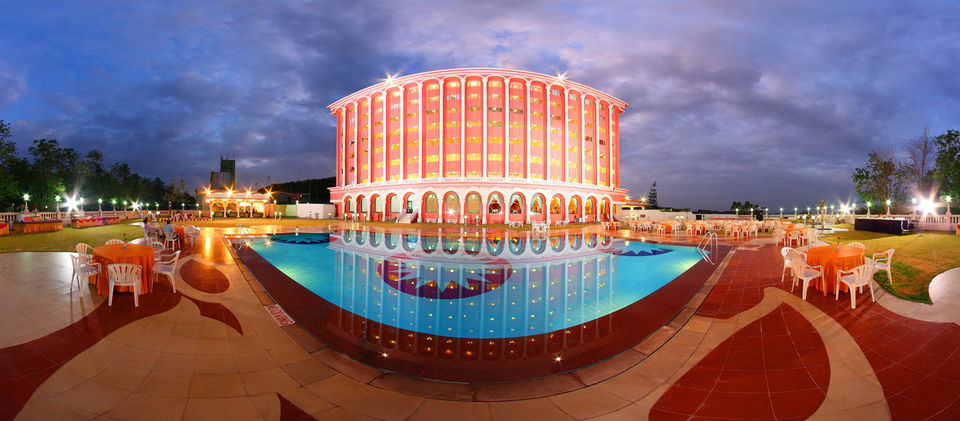 The brainchild of noted film producer Ramoji Rao, this celebrated facility was certified the world's largest film studio complex in the world by the Guinness book of world records nearly two decades ago. A host of films have been shot here. A popular tourist attraction, it boasts of some impressive features such as a full-fledged amusement park.
Hussain Sagar: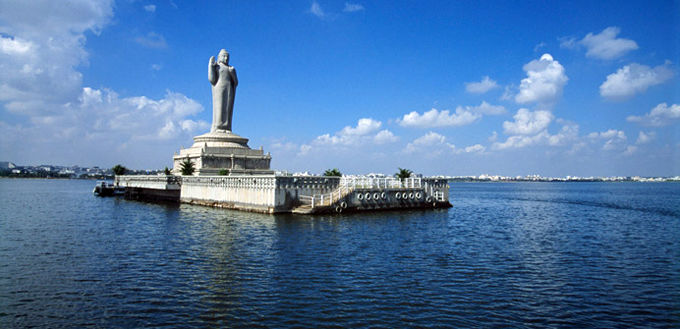 Built by noted Sufi saint, Hazrat Syed Hussain Shah Wali in 1526, this lake is located across an area of 5.7 sq.Km. It receives its water supply from the Musi River. Boasting of some exotic surroundings, Hussain Sagar serves as the ideal location for a tranquilising evening with loved ones.
Mecca Masjid: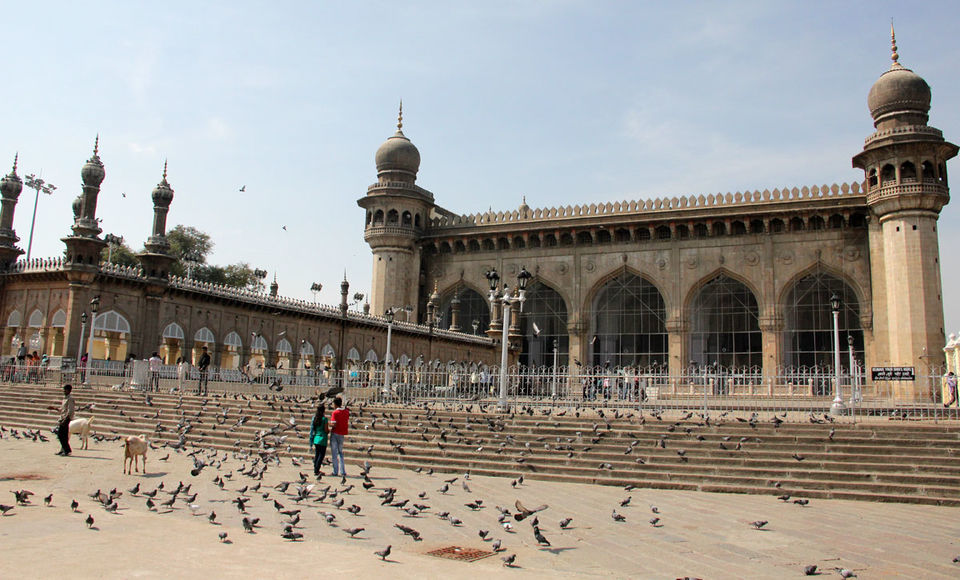 Regarded as one of the most sacred and oldest mosques in the city, Mecca Masjid is listed as a heritage site. According to a belief, those who sit on the benches located there, will be forced to return very soon, so if want to try your luck this is a must visit location.
Lumbini Park: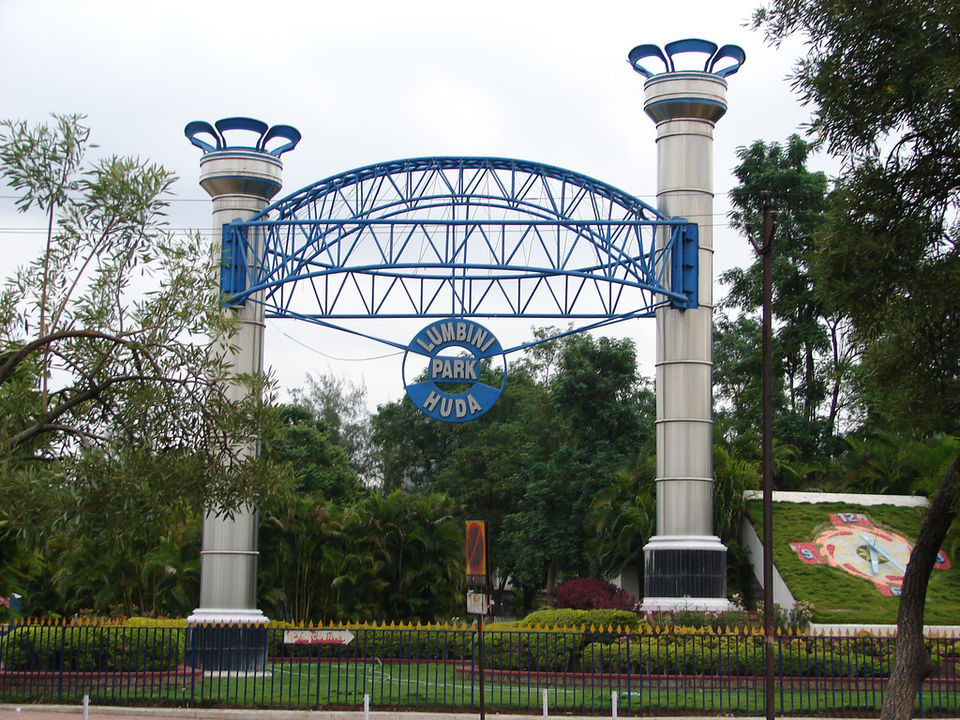 Maintained by the Buddha Purnima Project Authority as per the directives issued by the Telangana government is urban park was constructed in 1994. It is a dream come true for those willing to enjoy scenic beauty and that right in the heart of Hyderabad.
Falaknuma Palace: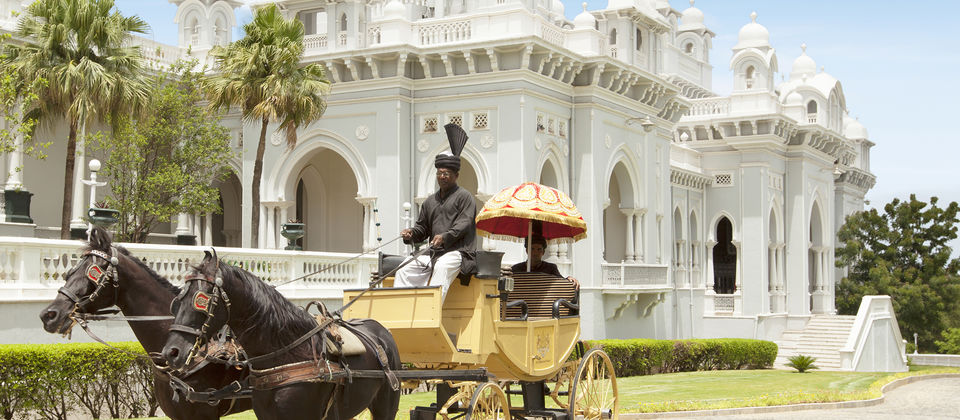 Equipped with a lavish reception room and a library which has a roof carved from Walnut, the Falaknuma was once private property of the Nizam's royal family. On the architectural front, it a blend of the Italian and Tudor styles. Interestingly, its last significant guest was Rajendra Prassed who visited the palace in the 1950's.
How to reach?
You can plan your trip to Hyderabad from cities like Chennai, Bangalore, Pune, Nagpur, Vijayawada and Kurnool.